Discussion Starter
·
#1
·
My dad and I got an early start this morning. Left port with the full moon still high overhead.........................................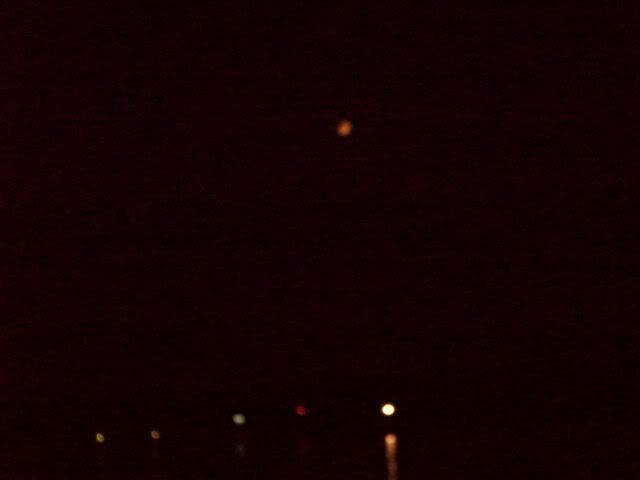 Still loads of bait in the coves and rivers. Passing through Selby Bay, the water was alive with ripples from bait on the still calm water. Here's a shot on the meter in Selby..............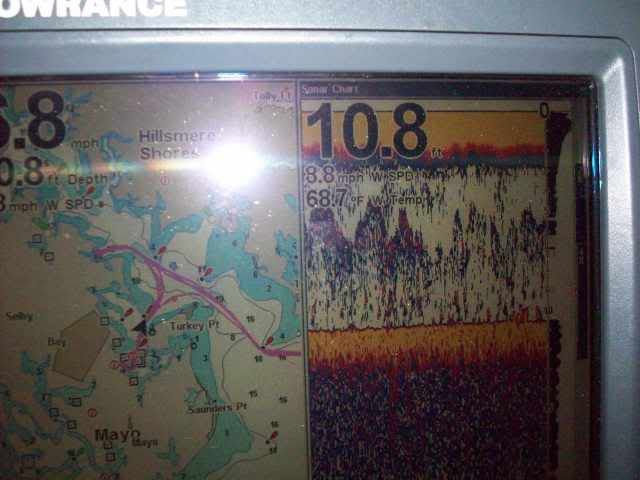 (sorry for the camera flash...but you get the idea)
Picked up spot from the spot pen and headed towards Sandy Point. Arrived at Dolly's a short time later.........Man you can really make some time when the water is this calm...............
I was surprised to see that there were only 2 boats on Dollys, 27 Sailfish (Skip) and Drichitt (Don). Where was everyone? Today was one of the most perfect weather days of the year! The tide was perfect this morning as we caught the last of the incoming and the beginning of the outgoing tides. The tide shifts have been real good around the rockpiles. (of course you do have some down time when water goes slack) During this down time, we motored over to Dollys to say hi to Don and his crew (his wife Dawn and brother Mark). Good fishing with you guys (and gal) today. Well, I must admit, I had a dual purpose.....to say hi of course and to drop off this guy to Don and crew...............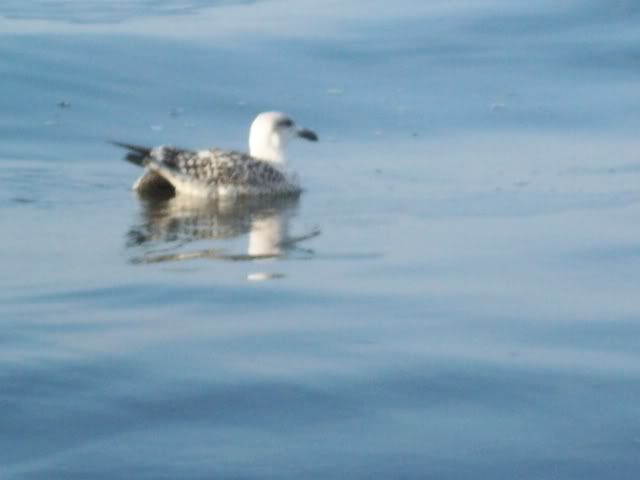 This was one brazen sea gull. He followed us all morning. Everytime we threw over a spot, he would make a mad dash to try to get it before it dove. I knew that Don's wife, Dawn, would think he was cute and wouldn't be able to resist the temptation of throwing him some tasty morsel. Well the plan worked. The last time I saw our feathered friend, he was parked near Dawn's side of the boat;-) Sorry guys (and gal), but he was getting on my nerves. Oh by the way, thanks for the spot. We put them to good use as the tide began to run.
My dad and I caught a dozen rock, with most around 22 inches. We did have one nice fish at 28 inches. After catching our rock, we decided to go back to Dollys and load up on spot. Both Don and Skip had mentioned that they caught a lot of 6 inch spot today. (perfect size) They were right. We caught more bigger spot today than in quite a while. After loading the livewell, we decided to call it a day and headed back south. The wind really picked up on the way back...........................
We had at least 2 inch breakers to contend with
If you were not able to get out today, hopefully the pics helped you to at least imagine the day.............................Mark