Discussion Starter
·
#1
·
I opted to hit St. Mary's Lake today to shake off the skunks and frustrations of my past few trips. I fished from noon to 4pm. Water temperature ranged from 57* to 60* depending on where I was and how shallow the water was. The plan was to pick up a fish or two in my usual spots, then explore and try some new places and a new technique.
I trolled the baby bass colored Deep Little N that Joe gave me everywhere I went, but nothing hit it this time. Jigging my Cicada at the usual haunts didn't work, either, and I was striking out along the shoreline with a 3" chartreuse grub. I had caught a bunch of little bass at the pond at Calvert Cliffs park on a 1/8oz fire tiger Vibric Rooster Tail while trying to catch the recently stocked trout two weeks ago, so I tied that on in hopes of at least catching a little bass to get the skunk off.
The Rooster Tail was the ticket: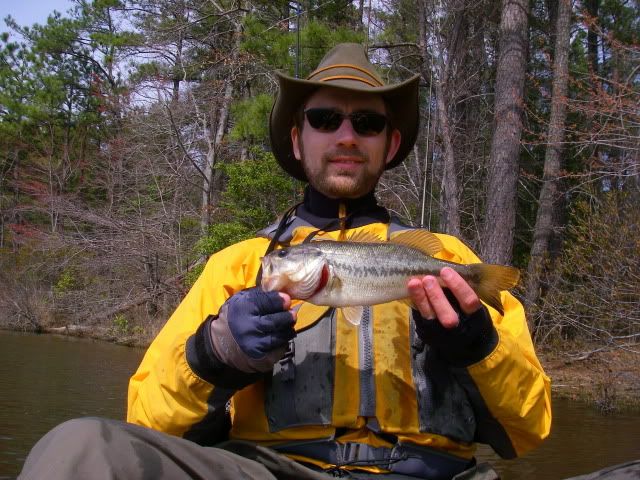 I still can't smile on command.
That bass was the biggest I caught all day, but I caught over 15 others that were smaller. Here's another shot of a "bigger" one that I caught later in the day:
What really made my day was catching a few bluegill, which I haven't caught in years: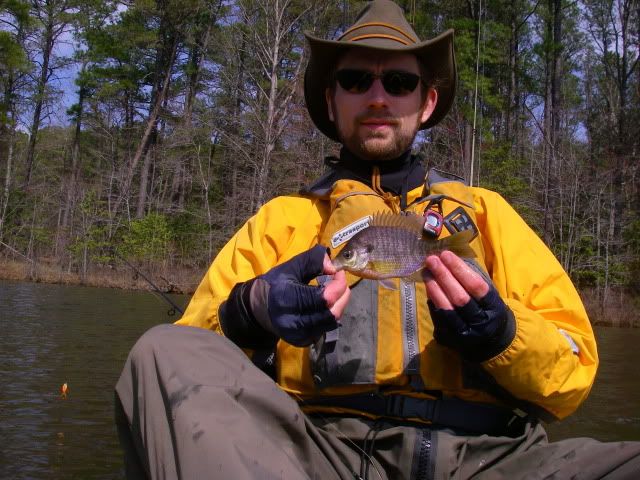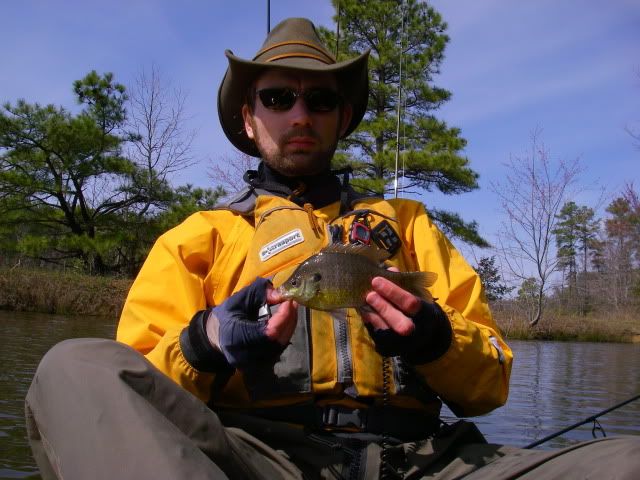 I caught about 8-10 bluegills total, which was a lot of fun. :high5: It reminded me of fishing with my father when I was a kid and catching a bunch of sunfish.
I also caught two pickerel, which was the icing on the cake for today. :clapping2: They were a little bigger than "hammer handles" but not by much. Maybe "hatchet handles":
They were the only pickerel I've caught in awhile, too, which kind of makes up for not getting any yellow perch this year.
I tried a few other crankbaits and also tried for some crappie using a slip bobber, which I haven't done before. Neither were productive.
In all, it was a lot of fun even though all the fish were small. It was kind of like being a kid again, which was kind of a theme today. Another bonus for today was seeing several father-daughter fishing trips where everyone was having a good time. One set was fishing right at the boat ramp using nightcrawlers and clobbering the same sized bass I had been catching. She was having a hard time waiting for the bobber to dive but got the hang of it. Seeing the bobber go under was another nice reflection from when I was kid.