Discussion Starter
·
#1
·
I've been coming out of Tilghman Island and starting around the 84/83 each day so far.
Saturday - Opening Day 4/18
Spread out and fish on before 8am on the Eastern side of the channel south of Red 84.
90' back off board on a white umbrella. 38" (back she went)
Went across the channel into the fleet that was already there and when we came back across hit 3 more all together.
a 39" on the WWB (250') line with a Chart daisy and the other 2 others were on ?? (forgot with all the action going on).
Both of the other two were 38". All 4 caught and released before 10am. (3x 38" and a 39") Even pulled a Sea Lamprey off one of them.
Trolled south away from the crowd down towards the CR buoy and beyond the rest of the day and stayed out till 6pm without another fish.
Sunday - 4/19
A little windy and rough coming out but not as much boat traffic. Only had about half a day today since the guys fishing with me had other places to be. Followed the charters out of Knapps at 6am and had the spread out by 7am.
Only had 1 guy with me and since he could only fish till 10:30-11am he made the call that he didn't want to clean and check the lines for Jellies. BIG Mistake. We trolled the area E & W until about 11 when the wind picked up and we decided to bring in the spread. 10 of 11 were covered in jellies. Mark that 1/2 day down as a SKUNK.
Took Monday off as they were calling for rain and high winds that didn't happen.
Tuesday - 4/21
Pretty rough going out but knew this was the best day of the week for wind and it was supposed to lay down in the PM.
Picked up the first fish at the channel edge below 84 again. A nice 42.5" (in the box) only 1 more to go. Fought the wind and waves for the next several hours clearing the lines and checking for Jellies every 30 minutes to 1hr. Finally picked up the 2nd fish at 10:30am. It was just on the ragged edge of 36" but we decided to let it go and hang with it for the day.
Believe it or not from as far North as I could see (up to Bloody) and as a far South (almost to Sharps) we were the only boat out there except 2 charters out of CB and Deale area. Continued to work the area and the wind layed down nicely and turned into one hell of an afternoon and we had the place all to ourselves. Began steadily picking up and releasing keeper sized fish on the Western side just south of 83 over good bait and marks looking for the next big one.
Talked to fellow TFer 24Albemarle and once we got into the fish we tried him on 68 but never heard from him again.
In total we ended up catching and releasing a 41", 37", 36", 5x 35", a 32", and a 29". Every lure caught fish.
Umbrellas, Tandems, Daisies...Clear Sparkle, Chart Sparkle, Chart, and White. 90' to 45' off boards.
We kept a BIG 44" male :bigfish: and the early morning 42.5" female.
Couldn't believe that with two of us on the boat and 12 fish caught only 1 was in the slot.
What a great day!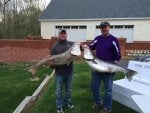 Wednesday 4/22
We were so excited about the day before that we thought we would try to hit it again on Wednesday morning before the wind picked up. It was not to be....we went out to the same area and fought the wind as it got worse and worse and right about when we had had enough and were heading east across the channel towards the marina (BOOM) a board line goes off on a tandem chart about 75' back off the boards.
We reeled in and quickly released a spunky 39" with some sea lice.
So then the mind starting thinking too much..."maybe we should just hang in there and pick up our 2 fish" so back west we went and the wind started to HOWL!! We rocked and rolled across the channel a couple of times before we called it quits at around 2pm.
1 released slot, but not a skunk.
Lesson learned...keep cleaning for the jellies they are the worst I have seen them in years..if not ever.