Discussion Starter
·
#1
·
The fish played some tricks on us today.
Left Breezy at 7:45 am with Blue Lou,Riptide 1947 and Naptown hooker.Yeah-I wish-Naptown is a senior at the US Naval Academy-great guy but kept calling me "Sir".
We saw Catman as we left the ramp and we both ran ENE towards the C/R marker in a slight chop.We set out the rods and began an East to West troll.Soon we had the first "trick"-a 4' log on the far planer board rod.
p
That was a funny joke alright.We continued to dodge debri and worked south after a call from Francis.The fish kept up the tricks by striking lures but not hooking up.Carl (Naptown) was beginning to think fishing on April 1st was a bad idea.About 10:00 we came tight to a fish:clapping2: and soon Carl had one to the boat.
We had a few more stick fish as we passed #78-staying in deep (55' or more) water.The snap of a rubberband from the board had Ed (Riptide) pulling on a good fish.
We were now down near the False channel and the water was much cleaner/less debri.Sun tried to poke through but was playing more tricks on us.Saw some Gannets-they never fool me
) and soon Blue Lou was on a fish that hit a Chart. parachute on the wire line outfit.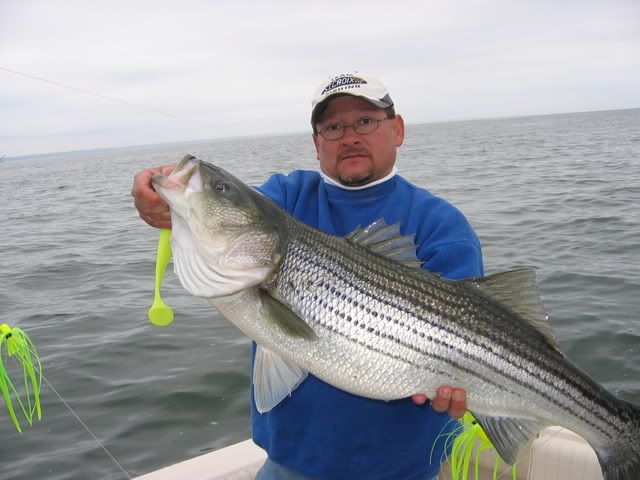 Not feeling like "fools" anymore we began a nice steady pick at the fish.Most of the fish were hitting the planer board rods with white doing better then chart.
The bay was calm and the fish really started to bite.I carry 50 clips for my boards and we were running out.
Some clips were popped by sticks or short strikes but between 20 and 24 fish were boated.:clapping2: We had the bay to ourselves-OneFish (Ron) was about a mile south of us.The gannets were diving into bait and we stayed near the C/P marker.The crew was getting worn out from reeling in fish and they gave me a turn to reel one in.My good luck-it was a fat 40'' that weighed an estimated 30lbs.The camera decided to pull a "trick" and not record the fish.
We got her back quickly-too quick to realize the photo was missed.By now it was pushing 6 pm.Out of food
-we reeled in the lines and ran back at 35 knots on smooth seas.Had to dodge some debri/logs but easy run back.The boards all carried daisy chains or parachutes-some single-some tandems.Fish were hanging near baitballs off the channel edges.Most were over 30''s although one was a shorty at 26''.3 fish were around the 40'' mark and all fought hard.Water temp is 48-49*.Long fun day-so I guess we weren't "fools" after all. Skip