Discussion Starter
·
#1
·
Left Sandy Point ramp at 7:15am with fellow Tfer Abter1 (Leland) , my friend Alberto and his son Oscar.Fair amount of trailers there on a perfect fall day.Ran over to Dollys on flat seas and found Spot in 16 feet of water.We bailed them and put 55 in the livewell in an hour with a few double headers :thumbup:. Was not sure if it was really October seeing how many Spot are still here.Got into the donuts
on the way to the western rockpile.Stopped just short of it and anchored in 35 feet of water over some good marks.The current was going out and picking up speed.We put Spots over and I got lucky and had the first hit.The fat 19'' went in the cooler and I let the guys fish.Figured it would be a fast limit and there were still donuts left.The guys caught six Rock but all were 17 to 17 1/2 inchers.Then the Blues found us and we lost about 12 Spot to them.Not wanting to waste our bait- we pulled anchor and ran north to Podickery.Got up there and no one else was fishing.Set up over a snaggy area I like and put the bigger Spot over on BFG bobbers.They got hit right away but it was Blues
.The guys used weighted rigs just off the bottom and Alberto got a nice 21 '' Rock.One of the bobber rigs on a baitrunner got hit and Oscar set the hook on it.The Rock pulled but then got loose.The big Spot was crushed so we rebaited and set it back out.Alberto got another one around 22'' and then the bobber rig got hit again.This time the hook held and Oscar reeled in a nice 27 incher.Alberto got the next one that hit the bobber and it was about 30 inches.
Fellow Tfer Hakuna Matata (Jerald) came up next to us.He had offered to let me see his 3D fishfinder so I got on his boat for awhile.He ran all the way up from Chesapeake Beach as a favor :clapping2:. Tell me TFers aren't good guys.We looked over the snag and a few other areas I dive and heard Oscar yelling.Saw the guys net a Rock about 25 inches - funny seeing my boat from the water.The 3D finder was cool :thumbup: and Jerald dropped me back on my boat and anchored near us.The current was going slack and this is often the best time to catch big Rock.Leland's baitrunner started screaming and we reeled the other lines out of the way.He set the hook on a good fish and the Rock really gave him a fight.We held our breath as the fish ran towards the anchor line but it turned back around and was soon in the net.The fat 34 incher weighed 15.6 lbs :yes:.Leland was real happy with it.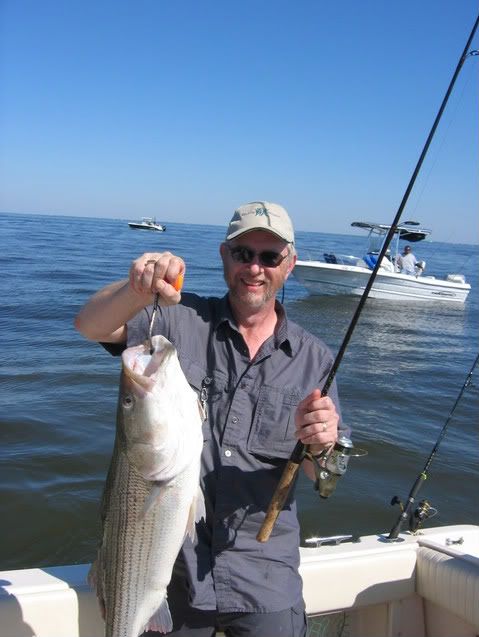 The current went slack and we got hit by more Blues.Moved about 1/4 mile and waited for the current to start in.While waiting we ate lunch and bottom fished in 25 feet and catch more Spot.Once the current started-the fresh Spot were put over and Oscar got a 24 incher that finished our limit.The weather was perfect - the catching was just icing on the cake.Got back to the ramp and while I got the truck-the guys took photos and divided up the fish.Here's Alberto and Oscar with two.
They took more photos but with Leland's camera.I hope he will post them.My grandfather told me that October is God's way of apologizing for winter.Today makes up for a bad winter in my book - it was perfect :thumbup:.