Discussion Starter
·
#1
·
Conditions:
Early patchy fog giving way to mostly sunny skies; Wind from the North then switching to NNE at 5-10mph. Water was extremely clean and very clear.
Report:
The "King of the Hill" Gang today consisted of Bucket, Dixie, Kibaro, Park03, Skffisher, Wild Bill (Bucket's Bro in-Law from FLA), and Mrs. Park03. Needless to say we had the beach covered pretty dang good. Kibaro and I decided to fish a bit south of the others to try a different spot, but between us all we must of had 16-20 rods with bait in the water.
I was first to strike today with the first cast on BWFB. I hooked into this little guy, who decided to deflate for his photo opportunity:
While I was retying a shock knot on my 1267 R/S and Penn 965, my 1569 R/S went off and Kibaro came to my rescue and scored a 3ft biter! Little sucket was fiesty and toothy and decided to give me a little tail slap for good measure when I was unhooking him. We then looked up the beach and noticed some commotion at the other group. Seems Park03 lost a decent sized biter in the wash, but then Wild Bill scored a nice biter for himself:
After that it was kinda quite for awhile as Park03 picked up a blue, and that was about it. Well that was it until Kibaro's croaker head went singing on his 525mag. After a brief little fight, Kibaro picked up this little biter as well: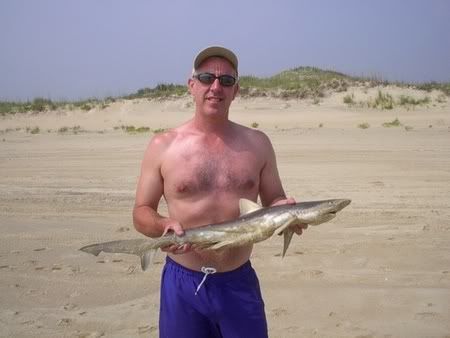 As beautiful as the water was, nothing and I mean nothing else was happening! No spot, croaker, blues, nada! Kibaro and I packed it up and left about 12:45pm. Maybe the others scored something else on the way out.
As we hit the parking lot, the Wild Horses made an appearance, even the one who took a nasty snake bite last week and fought through it.
A partial "King of The Hill" gang photo opp (L-R Kibaro; Skffisher; Park03; Wild Bill):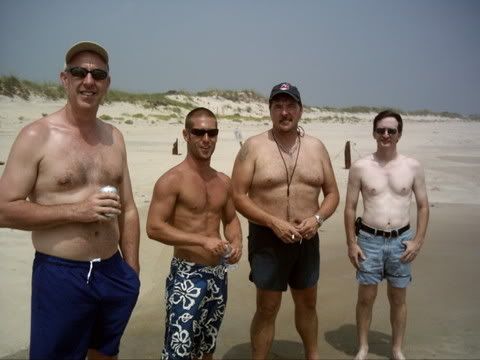 Hope to get out later this week on Wednesday as it's my B-Day and I look to doing a little fishing on it!!!! [excited][grin]