I just got home from Va Beach and let me tell you guys, it was ON today! I got to fish with TFer Francis on his 21' Boston Whaler this morning. I can only speak for myself, but I can honestly say that today was one of the best fishing days i've ever had. I can say with certainty that it was without a doubt the best LTJ day of my life so far. Francis said that he had not seen a day like today out of Va Beach in over 3 years!
I'll start it off with the fog- it was thick this morning so we delayed our launch until 7:30. We put the boat in at Bubbas on the Lynnhaven side of the bridge tunnel and headed for the first island. The current was barely moving and we didn't see much on the meter so we kept going. The fog slowly lifted as we searched for marks on the meter. After about 30minutes of searching we saw some birds working a few hundred yards away from the bridge.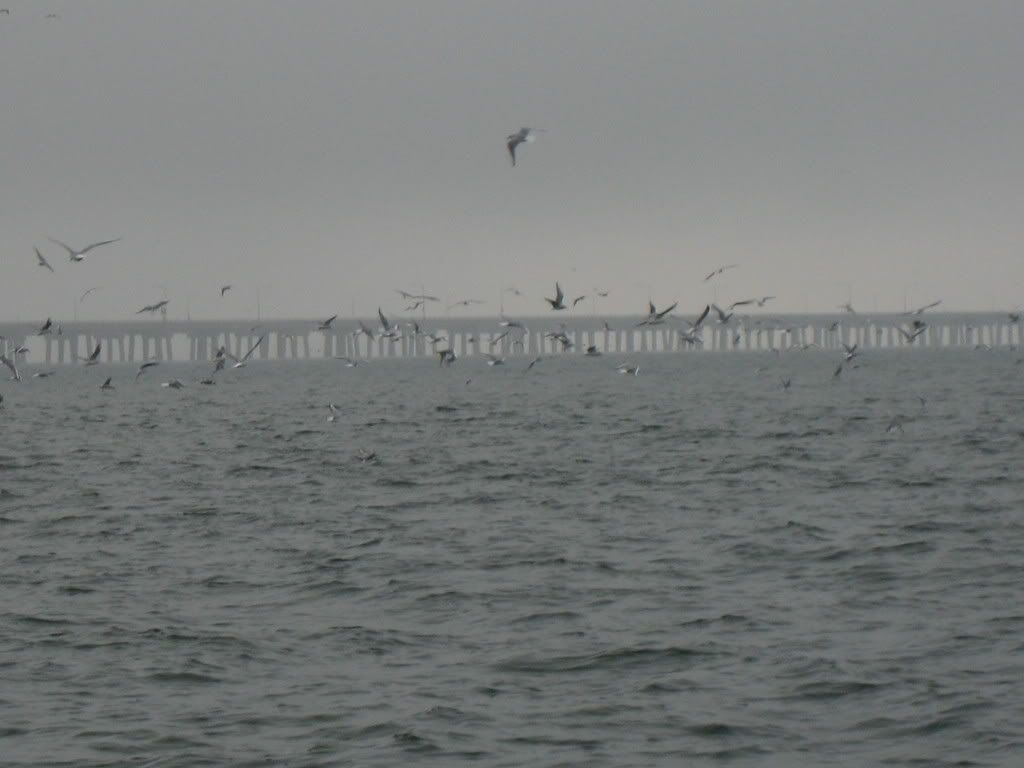 The birds were working some smaller bait pods. We started jigging and bailed plenty of nice mid to upper 20's butterballs to start the day.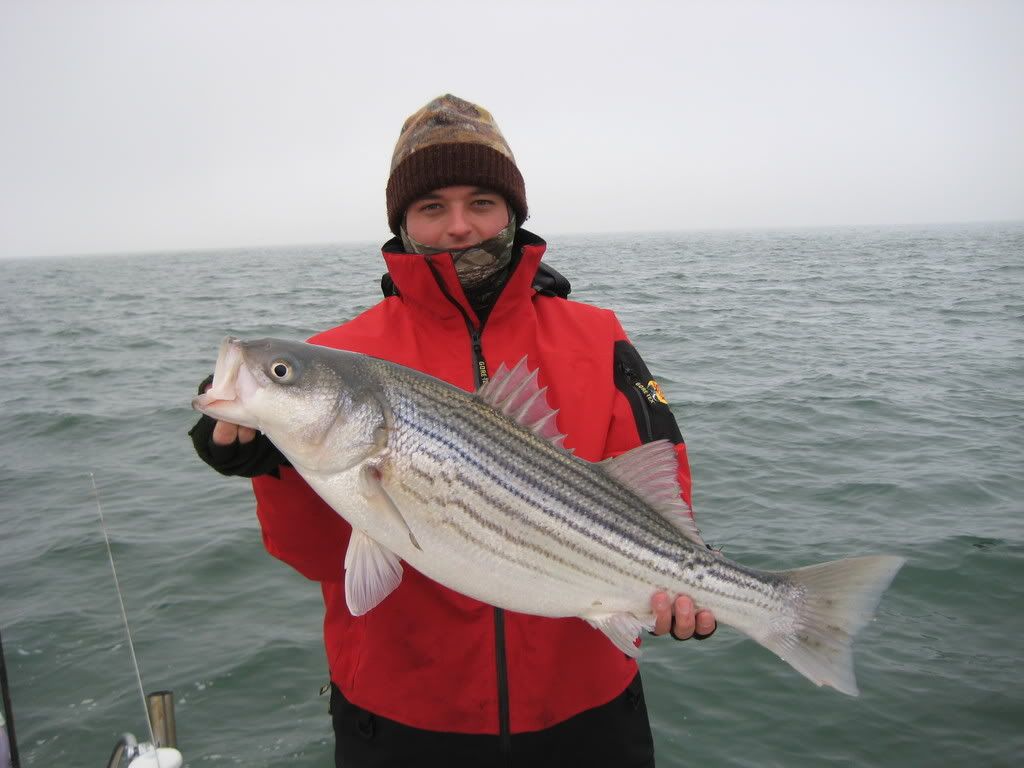 To me, this was heaven but I could tell that Francis had the "this ain't nothing" attitude going on. I had never jigged the CBBT before so I really didn't know what to expect. All I knew was that this was the "promise land". Francis kept noting that we were just getting warmed up and I thought he was kidding. We were having fun on those fish but decided to work into the piles to see what we could do there. Right as we started fishing the phone rang. Francis answered and by the smile on his face I could tell that something good was going on. He started pressing buttons on the chart plotter and making all sorts of calculations. I didn't even try to make another cast. I just hung up the rod. Francis hung up the phone and said we are only a few miles away and we can run at 30 mph, LETS GO!! So off we went. We got to the spot and saw the bird show!!
http://i386.photobucket.com/player.swf?file=http://vid386.photobucket.com/albums/oo303/spynet000/Birdshow2.flv
There were good bait marks on the meter so we dropped down our BKD's. I hooked up first with a nice low 30's rock that I could have sworn to be 60lb wall hanger.
Then Francis saw some rock feeding on the surface and made a cast. He hooked up immediately but it broke him off at the boat. He wasn't going to let that happen again! I got his next catch on video…
http://i386.photobucket.com/player.swf?file=http://vid386.photobucket.com/albums/oo303/spynet000/MVI_0512.flv
We then landed some real nice mid 30's rock. We frequently had doubles on. Here is Francis with the first set of nice doubles...
We had to run & gun to the birds as they were bombing the water in groups that were split up. Just as soon as you'd be on good marks, you'd be off. It was night and day with the bite. These fish were moving quick! Most of the fish were caught bouncing bottom.We also had competition from the trolling fleet that was doing circles around us which didn't help but we didn't let it get in our way. We were bailing one after another bug-uns.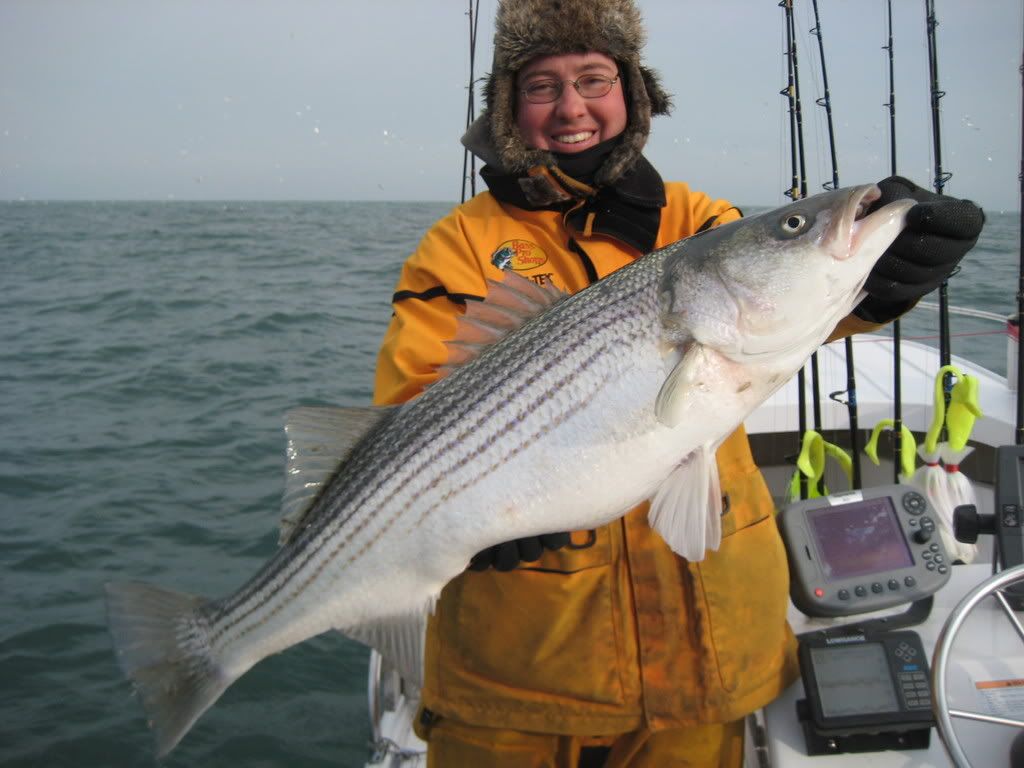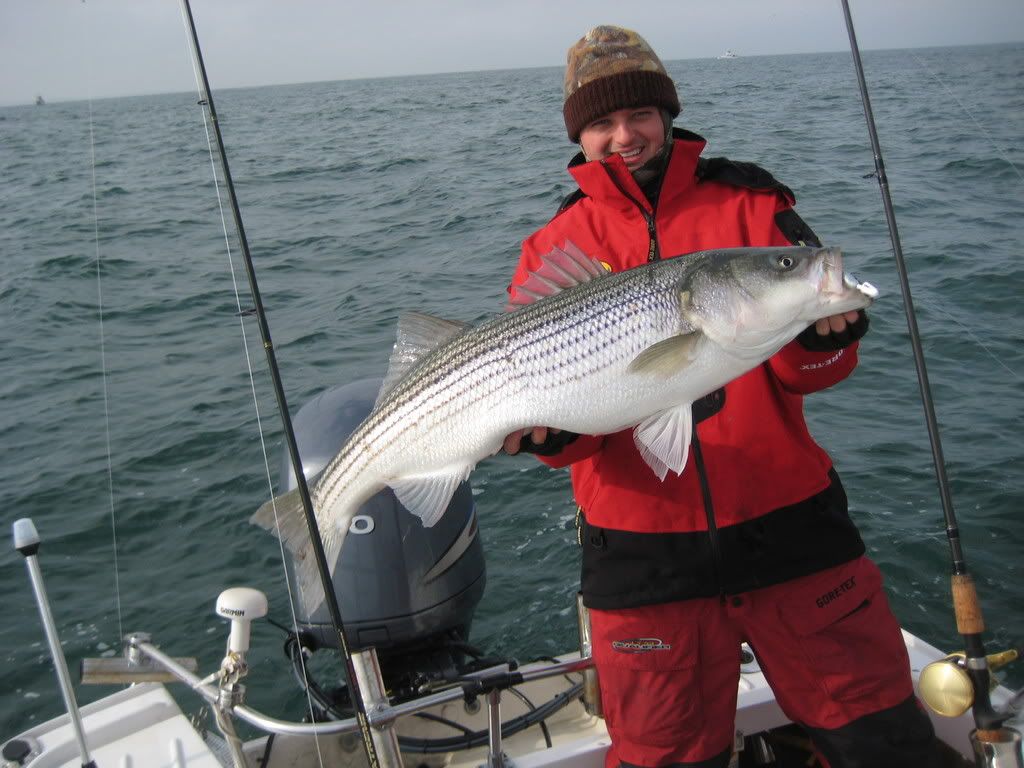 Here is another video of Francis with one of the rockfish listed in the pics above
http://i386.photobucket.com/player.swf?file=http://vid386.photobucket.com/albums/oo303/spynet000/MVI_0487.flv
I could literally just keep going with pictures but I do want to get to sleep tonight. It is almost 4:00am.
After a while all of the boats trolling around kind of killed the bite so we went looking for a different flock of birds. We ended up finding a flock of gannets bombing a few miles from where the fleet was trolling. We had this flock all to ourselves. This was also a bigger class of fish! Right away we hooked up with doubles! They ended up being 40 and 42inchers.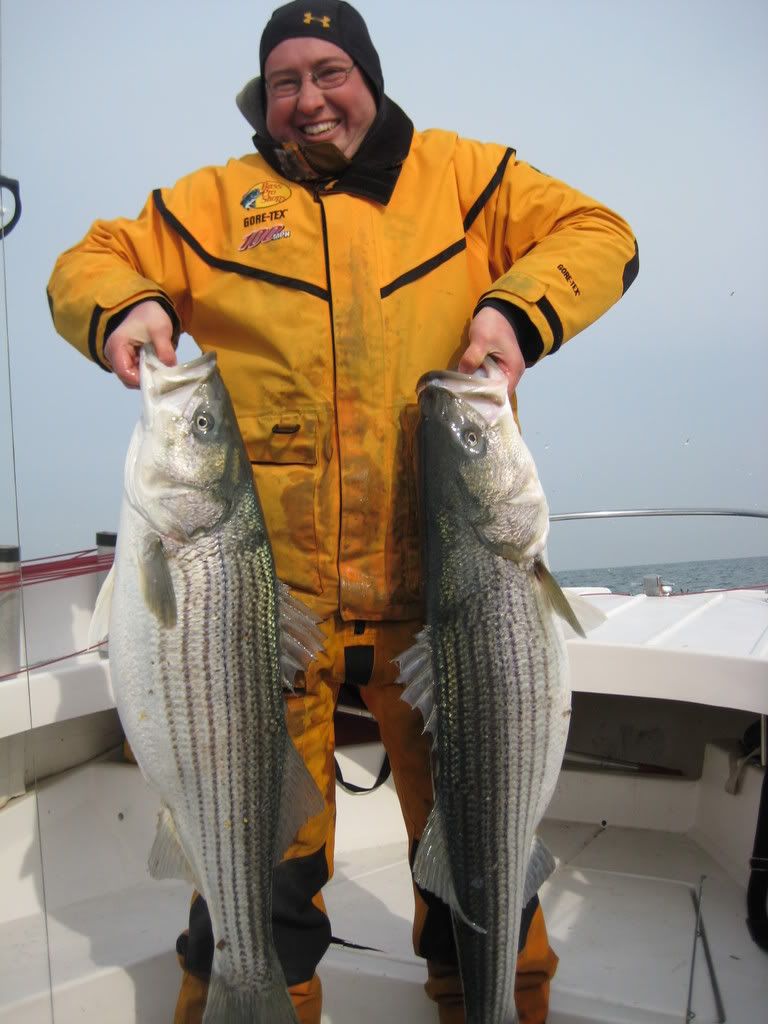 Here is a pic of me holding those two fish as well
I got hooked up with another nice one and had Francis take a video of me...
http://i386.photobucket.com/player.swf?file=http://vid386.photobucket.com/albums/oo303/spynet000/Davevid.flv
Francis then hooked up with another over 40''er!!!
Then me with another beast!!
We had to have landed 30 to 40 trophy stripers just the two of us. We caught and released every bit of 15 that we didn't even get pictures with. 5 or more of these fish were over 40'' with the biggest being 42. None of these pictures are of the same fish either. The day is not even over yet...
We had about an hour and a half of daylight left and needed to start heading back. We decided to leave the area and head for the bridge to see what we could do there. My vote was to anchor and sleep on the boat
We finally got to the bridge and started jigging over some good marks. From then on we continued to catch footballs one after another, drift after drift clear into darkness. Here we were using 7'' purple bass assasins. As the sun set we found that the fish liked white better than purple.
If you care to know about the tackle we were using, I took a pic.
Francis mainly used a Bass Pro Extreme rod with a 4000 series stradic and I used a Bass Pro Shop Graphite Series medium heavy with a 201 calcutta. 20lb power pro and 30lb floro which was a must because of some dogfish around today that love to try and break you off.
Hot bait in the ocean was a 10'' BKD Alewife Glitter and Purple Glitter on 2 oz of lead. At the bridge was a 7'' Bass Assasin in Purple Glitter and white using 1 to 1.5oz.
Francis, WE WILL BE FISHING AGAIN SOON!
:yes: I can't believe I came home
Thanks for showing me the ropes!
Dave