Discussion Starter
·
#1
·
Even a Blind Squirrel Eventually Finds a Nut
Being as it is dated, this is not as much of a fishing report as it is a tale of a great time on the water
Summary
After taking a skunk despite two or three short strikes on my opening day last week, we not only caught fish today, but we were treated to spectacular conditions and very light winds. We pulled eight board rods, one boat rod, and a "way-way back". With me today was Norm and our friend Scott. We fished in the morning, took a break for lunch, and then had an afternoon session of fishing.
Scott boated his personal best, a 35½-inch male rockfish that inhaled a 2 oz single set 100 feet back. Norm gave me his seat, and I reeled in a fat 38-inch striper that smashed a 6 oz white chute with a see-through green glitter shad in tandem with a 2 oz chute with a purple head and chartreuse hairs with a 9" pearl shad set 60 feet back; this angry slot fish hit the 6-ounce bait. The hookups both occurred while we were travelling northbound, running against the current, and occurred in 40 and 60 feet of water respectably.
We got four definite short strikes today, two of which came on that slightly goofy but very lucky 2/6 tandem that caught my 38-inch throwback. The other two missed knockdowns occurred on lines set 80 and 100 feet back, and we got one other possible short strike on a tandem set 100 feet back on the #1 rod, but this could have been a nuisance trip as well. We lost a 6/9 chartreuse tandem when it struck a piece of debris in the afternoon and broke off.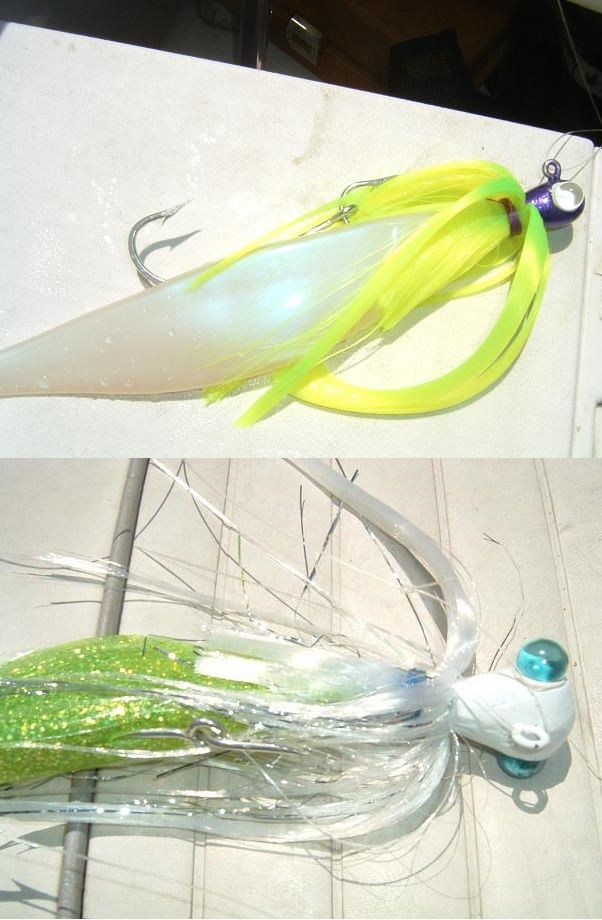 I Wish That The rest of My Tandems Did This Well This Year
All of our fish, and most of the short strikes, came in the morning. Overall, the bite today was very good, considering the declining stock. Given the quickly rising water temperatures, the fish will be gone in less than 2 weeks. The fish appeared to be in the high part of the water column today. We were underway at 7:40 am, and left the marina at 7 pm. The boreal jellies were very minimal today, but there was a fair amount of pollen on the surface, and grass, especially on the western side. Lines were checked regularly.
There was a first on Unfinished Business today; we forgot to install the bilge plug, discovered the error of our ways while still in the river, and had to race back to the ramp to install the plug after we discovered that the bilge drain was difficult at best to access from inside the vessel. Also, I lost a planer board flag while deploying the boards in the afternoon during the start of the second half. The good weather was forecast to extend into tomorrow, and I planned on taking advantage of it; however, today left me pretty exhausted, and it will be difficult to get up.
Conditions and Observations
We had very Ideal fishing conditions today, and we could not have asked for better weather, and more forgiving wind and waves. The skies were clear, the winds were light, and the seas were light. There were high thin clouds in the morning, and skies were clear in the afternoon.
The temperatures were unseasonably warm inland, and cool on the bay. The morning low temperatures were 59° on the bay and 54° in Bowie. High air temperatures on the water were in the low 70's, and were around 80° inland. The water temperature was 61° at Thomas Point Light before dawn, was 62.2° according to the chart plotter when we started deploying lines, and rose to 68° in the channel by 6pm.
.
Winds started out of the ENE at 4-5 knots when we started out, laid down to 2-3 in mid morning, and were 2-3 knots out of the SE in the afternoon. The waves were anywhere from flat to a mild 6-inch chop.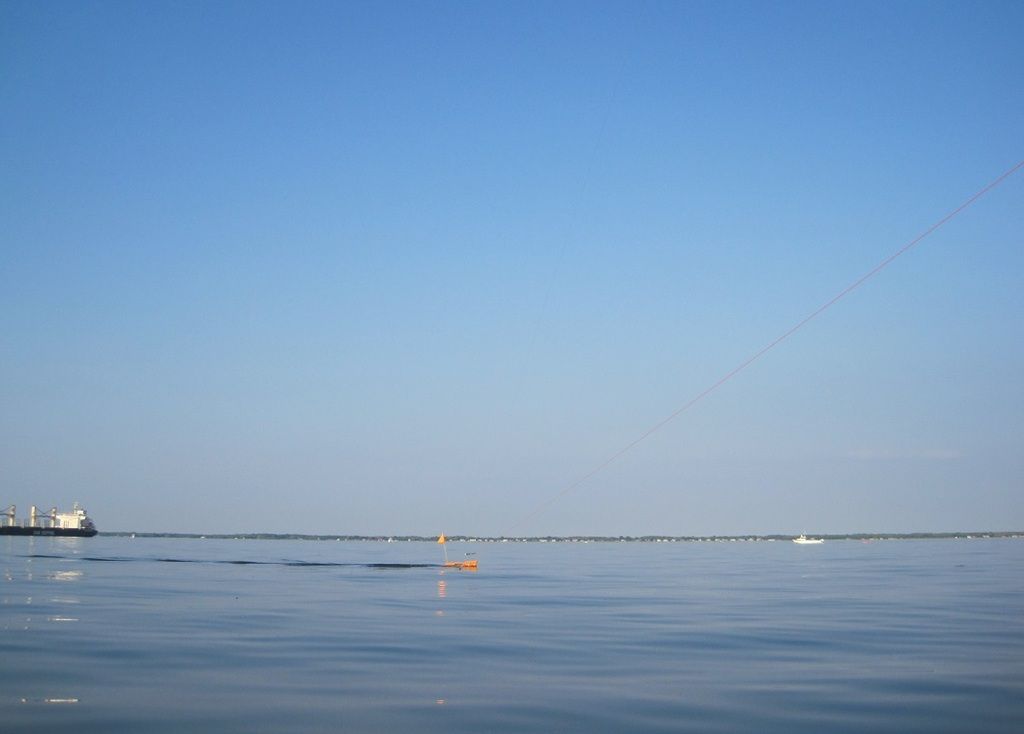 Winds Were Calm Much of the Day
High tide at Thomas Point Light was at 7:35 am and low tide was at 2:44 pm. Sunrise was at 6:01 am, and sunset was at 8:04 pm. The moon was 92% full and waning. The salinity at The Gooses was about 10.5 PSU and was fluctuating, but was up slightly since last week.
Baits/Spread
All shads were 9-inch.
Port Board Rods: 100', 2 oz white single; 80', 4 oz chartreuse single Spankin' Striper with white shad; 60', 4 oz chartreuse single; 40', 6 oz chartreuse single.
Starboard Board Rods: 100', 2/4 oz white Spankin' Striper with chartreuse shads; 80', 2/4 oz white tandem; 60', 6 oz all-white Alien with silver tinsel with a 9" see-through green glitter shad in tandem with a 2 oz Alien with a purple head and chartreuse hairs with a 9" pearl shad (Skip Special); 40', 6/9 oz chartreuse using "Lucille", my combo which employs my old Penn blues reel from the 1970's. This rig was lost on a piece of debris in the afternoon, and a 8 oz white Chesapeake Bay Lure shad was swapped in.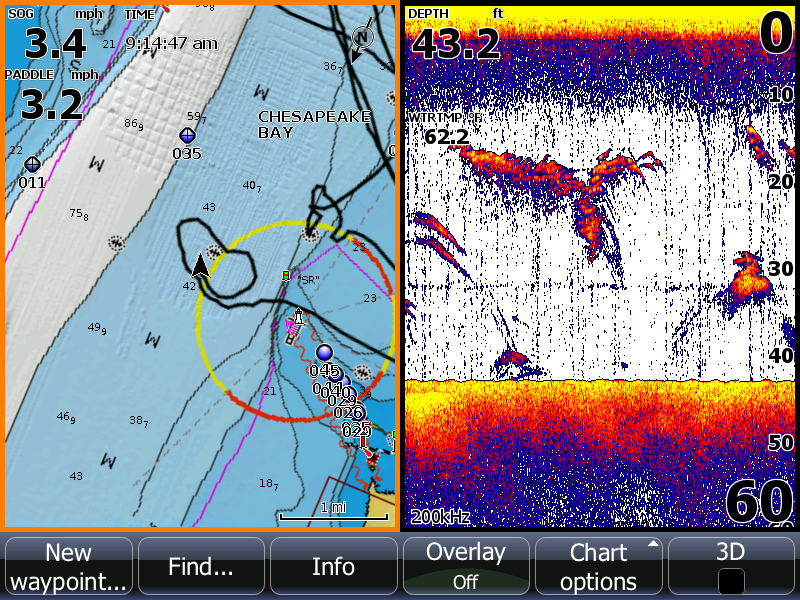 Marking Bait and a Few Fish
Boat Rods: 20 oz combined BFG tandem, larger bait/smaller leader cut down to about 2 feet to trail immediately behind 6-arm white umbrella, 75 feet back. A 24 oz Chartreuse Chesapeake Bay Lures paddle tail with 6-arm chartreuse umbrella was unused, but would have been put 50 to 60' back.
"Way Way Back": WWB, tandem 11/0 silver crippled alewife on a 30-foot leader with extra Sampos, and a white 3 oz chute on a 9-foot leader was not deployed.
Details of this day with epic weather and decent fishing may be found below.
----------------------------------------------------------------------------------------------------------------------------------------------------------------
----------------------------------------------------------------------------------------------------------------------------------------------------------------
Delightful Forecast and Declining Jellies
Since getting skunked last week at the Radar Towers, I was chomping at the bit to get out and right things. The weather was finally not only shaping up, but Thursday and Friday were forecast to be absolutely delightful. Plus, I read reports of a bite picking up near Thomas Point, and declining levels of boreal jellies. Things were lining up nicely, but would they hold?
Before going out to dinner with Kate the previous evening, I loaded up the truck with gear and re-checked the weather forecast and latest fishing reports. The forecast did not change, and the outlook for Thursday was for clear skies and very little wind. I arose the following morning, made coffee, and ate breakfast. I visited with Kate at the bedside and she wished us good luck, and I kissed her goodbye. Next, I went down the street and picked up Norm at a little before 6:30 am.
The Good Forecast Did Indeed Hold
Like a Little Kid on Christmas
It turned out that I was not the only one that was waiting for this trip with great anticipation. "I spoke with Scott a little while ago, and he's like a little kid on Christmas", Norm commented on our friend Scott's demeanor with respect to the prospect of a day on the water and a chance at catching a big fish.
We left Norm's house at 6:35, arrived at the marina at about 7:15 after stopping for donuts, and met Scott. There were quite a few song sparrows singing at the marina, and we saw a couple tree swallows, which have always brought good luck to us. We had the boat loaded and splashed, and were underway at about 7:35 under clear skies, lit up with anticipation.
We Made the Obligatory Donut Run
A Huge Mistake
With Norm on the helm, we passed under the skinny bridge and made our way out into Selby Bay as I was getting gear organized. I went into the head to retrieve something, and saw almost an inch of water of the floor of the bathroom. "What the hell? There's water in the head. How the hell did that get there?" I exclaimed. "It sounds like your drain is plugged," Norm speculated. "Well Kate's not going to be a happy camper; I'll worry about it later. Let's go fishing." I answered.
We got past the no wake zone, where Norm opened the throttle. The boat and engine were behaving strangely. "Oh good grief, when it rains, it pours! Is there something wrong with the motor? Why won't it get up on plane?" I asked. Slowly, the boat got up on plane, but something was not right; everything seemed sluggish. Norm added "It feels really weird, as though we were carrying around a bunch of wat…", and then it hit us. "Oh f-ck!" Norm and I exclaimed simultaneously. In our haste to get out onto the water and find stripers, we had forgotten to put in the plug!
Unscheduled Return
I turned on the bilge pump, and water immediately began streaming out of the discharge near the stern of the vessel. We immediately turned around and headed back to the marina, but not before running around for a couple minutes to help drain some of the water. The first thing that I thought of was the old trick that was taught to me of jamming a rag into the hold. This was great in theory, but in practice, I could not easily reach the bilge. We would have to return to the ramp.
We got back to the marina and backed the boat into the ramp. Next, Norm took off his shoes and socks, stepped out of the boat, and installed the plug. He was only able to turn the plug about ¾ of a turn with the wrench, but we were soon on our way at 8 am with the bilge pump still running at full tilt. I made a mental note to try and practice jamming a rag into the drain hold from dry land.
We Saw a Lot of Ospreys Nesting on Pilings Today
Ospreys and Good Marks Out Front
On the way out to the bay a second time, we took note that almost every day marker had a pair of ospreys building a nest on it. We got to Thomas Point, and started marking fish and bait in about 37 feet of water just east of the ledge and the lighthouse. We deployed the boards and started setting lines, and by 8:45, we had our eight board rods and the way-way back deployed. Then, I started a couple stationary video cameras that I had mounted on the way out while we were still in the no wake zone. I then started and donned my hat camera. A short while later, we deployed a single boat rod.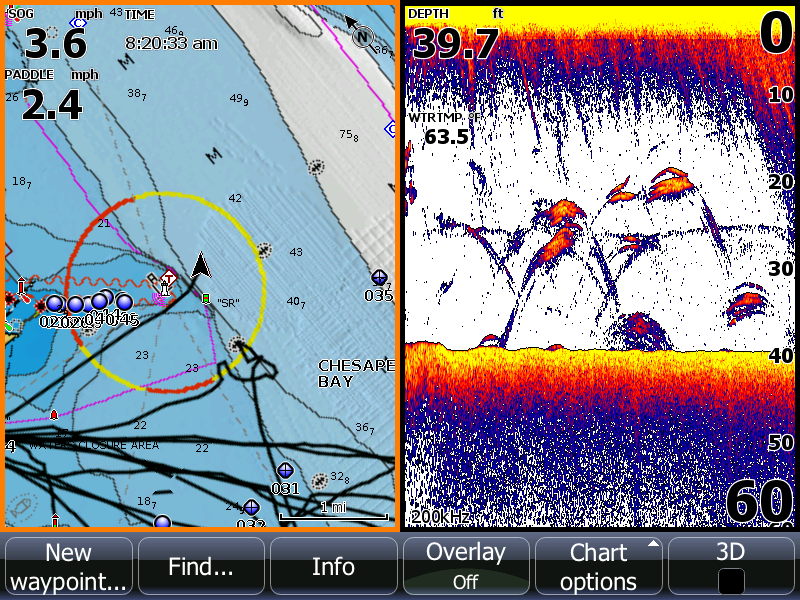 The Marks Looked Promising from the Start
Sea Grass and Short Strikes
Between 8:45 and 10:15, we checked lines a few at a time, and cleaned them of any debris. There was grass and a small amount of jellies on the heavier lures. Scott was a fast learner, and did a great job helping to retrieve, check, and re-deploy lines. At 10:10, we got a short strike on the "Skip" 2/6 tandem set 60 feet back. At 10:15, we got another short strike, this one on the #2 tandem set 80 feet back.
Holding Fast
We continued to check lines, one or two rods at a time, and at 10:50 am, Norm commented "What was that?" "What?" I replied. "Something was just banging a little bit" Norm replied. I look to the left and to the right, and everything was tracking normal. I then looked up at the rocket launchers to see the #1 rod, a 2 oz single set 100 feet back, bowed over and twitching vigorously in its holder. "Woah fish on!" I yelped. Finally, a fish had hit and had held fast after the short strikes. Instantly, the good conversation and subdued mood induced partially by the steady drone of the engine was replaced by exhilaration. The fish hit while we were heading north in about 60 feet of water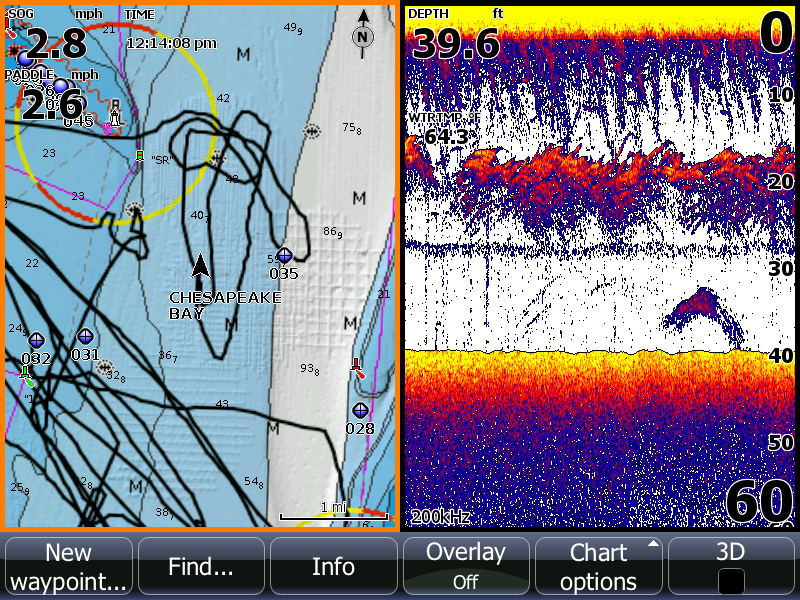 Snake Bit
I reached up and grabbed the rod, and Norm added, "Something banged, I heard it! Go Scott!" As Scott put on a fighting belt, I started a retrieve, and tested the line. "I'm going to keep pressure on it" I commented, as Scott readied himself. After all the short strikes and subsequent disappointments this morning, last week, and last spring, I was snake bit and expected the line to go slack. This did not happen, and I felt resistance on the line. I handed to rod off to Scott, and immediately went to work retrieving the lone boat rod to clear a fighting lane. As I retrieved the boat rod, Scott did a pump and retrieve. Norm put the boat on autopilot and grabbed the net. I retrieved the boat rod to find a small amount of snot on the large shad. "Good job!" Norm commented to me on my quick retrieval.
The Battle Continues
The three of us barked at each other, laughed, and hooted with approval as the fight continued. The fish did a few head shakes and took a little drag. I snapped a quick picture of Scott on the rod, as Norm commented "Steady pressure! Steady pressure!" The fish broke water about 100 feet dead astern, as I noted, "It's on the hundred footer." "It's on the thousand footer! I'm reeling this sh-t in!" Scott quipped. I re-started a stationary boat camera as the action continued.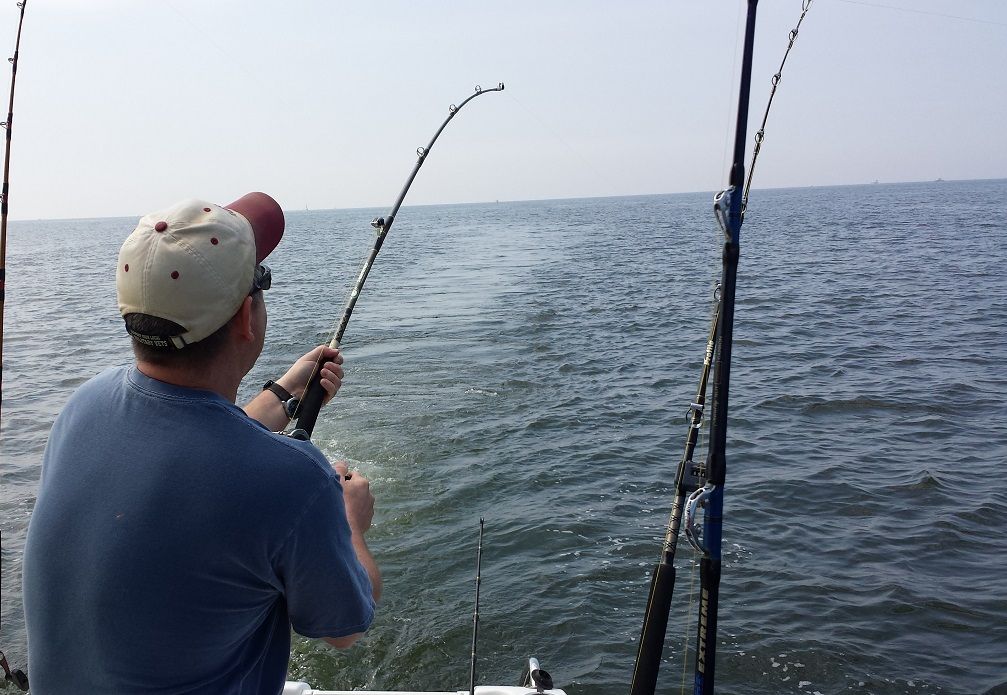 Scott on the Rod
Reliving a Nightmare
A large shape came into view about 30 feet astern, as the mood intensified. "Oh hell yeah baby!" Norm said, and Scott continued his retrieve. The three of us continued to yelp at one another as I readied the net. The fish was close, and Norm and I offered instruction to Scott on passing the rod around the other rods and walking it forward. Norm assisted Scott as I stood ready with the net. "Keep reeling!" I said as I sighed and got the net in place on the surface off the stern. The fish was at the port side, and suddenly, I was playing out another port-side episode in my head from a couple years ago with Norm on the rod and me on the net when I muffed the landing, and we lost a big fish.
Moving in Slow Motion
"Walk forward!" Norm instructed, as I commented "He's barely on there!" "Please don't mess this one up! Please don't!" I pleaded silently to myself, as the fish came in the final few feet. Gingerly, I maneuvered the net into place, even withdrawing it slightly as the fish swam from right to left. Things were now moving in slow motion. With the fish now dead astern, and with clammy hands, I slipped the net under it and lifted. "He's in!" Norm barked, as the net rolled slightly to the right and left. "No he's not!" I answered, as the fish became fully enveloped in the net. "Yeah he is!" I said, correcting myself.
A Personal Best and a Gentlemanly Gesture
Norm helped me to lift the fish over the side, as we all let out hoots of approval. With the fish in the boat, I clamored for the measuring tape, to quickly measure and return the fish in the event that it was in the slot. The spirited male rockfish measured out at 35½ inches and we measured this fish several times to be sure. After numerous pictures, Scott's personal best rockfish was iced down, and the lines were reset. Next, Norm announced that I was up next in the chair. "Are you sure Norm? That's not the way it usually works. You can take the next one if you would like." Norm insisted on me reeling in the next one, and this was not a first. About four years previous, Norm gave me his seat, and I ended up catching a nice 38-incher on a boat rod.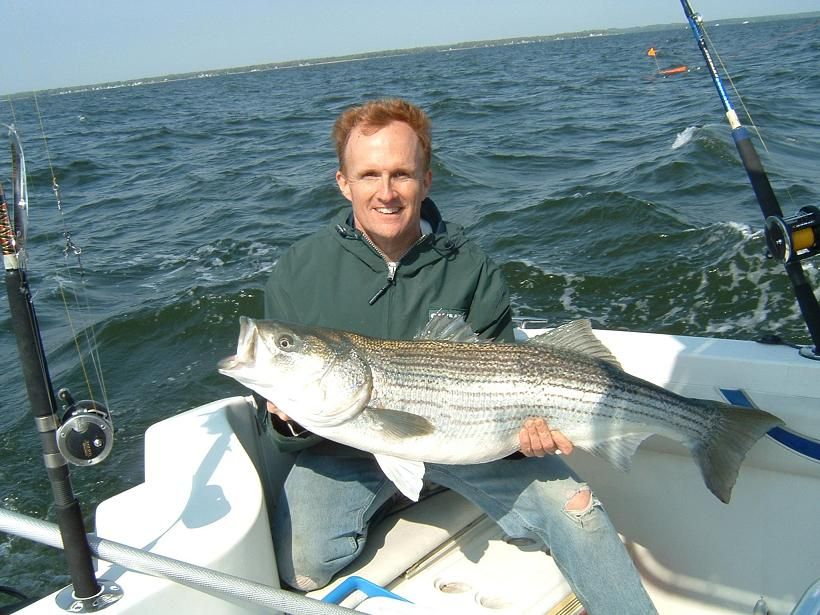 File Photo, April 2010: This Should Have Been Norm's Fish

Another Short Strike and a Googan Dead Astern
At 11:15 am, we got another short strike on the 2/6 tandem set 60 feet back; this has been a very popular rig this season for us. At 11:30, the #1 tandem set 100 feet back tripped, and this one may have been a nuisance trip. At 12 noon, we got a short strike on the #2 white tandem set 80 feet back.
At 12:30 pm we were in about 40 feet of water, when a boat passed to our port side and cut dangerously off of our stern; the crew was not paying attention to what they were doing, and I feared getting our way-way back entangled with their gear, or even worse, their prop. I grabbed the way-way back rod, and began reeling furiously, as Norm yelled at the clueless captain and crew to watch what they were doing. Luckily, the boat passed without incident, and I paid line back out on the long rod. Norm made a comment about checking the rod as I was putting the rod back into the holder as I snapped back "Check hell, I was getting it out of the googan's way! The last thing that I needed was…."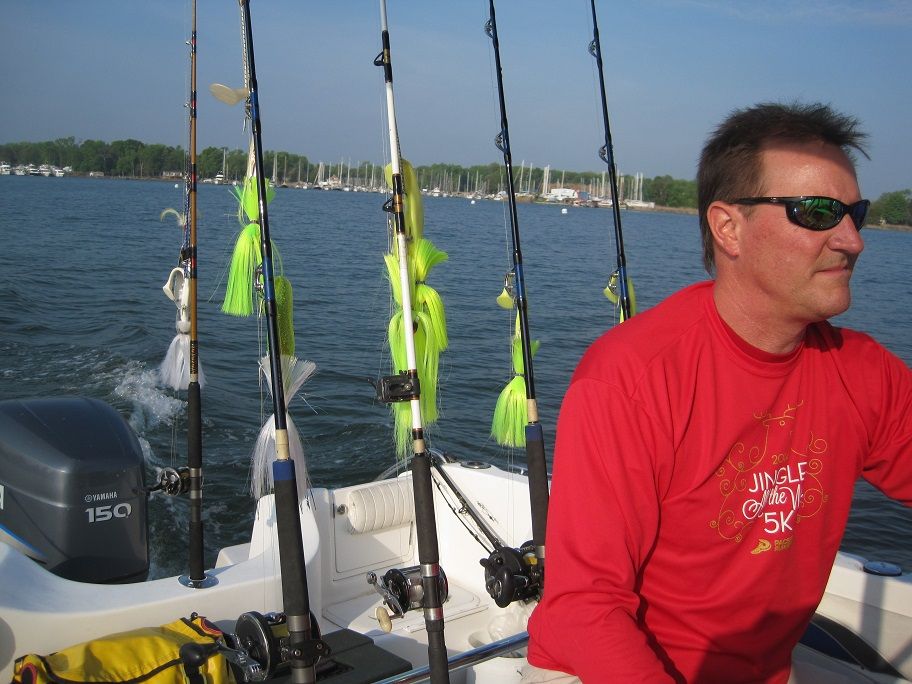 "Fish on! Fish on!"
In mid sentence, I was interrupted by Norm as he announced "Fish on! Fish on!" I looked to the starboard port to see Scott approaching the inside 40-foot rod Lucille which was vibrating in its forward holder. The inside rod was still attached to its clip, but was merely shaking as a result of the lucky "Skip" 2/6 tandem getting struck. I immediately thought "short strike", but this one held fast. "Oh! It's on this time," I said, as Norm speculated, "Is that a double hookup, or a single?" "It was a single, and this rod finally held fast!" I answered, as I began my retrieve.
Head Shake and Lateral Moves
The fish did several head shakes, tracked from starboard to port, then did several more pronounced head shakes. "This fish has a mind of its own!" I commented, and I passed the rod behind the way-way back rod. Once again, the mood was one of sheer exhilaration with a little confusion in the air. Unbeknownst to me at the time, Lucille had tripped from its holder, and Scott commented "There's not a whole lot of resistance on it," referring to Lucille. "No he's on it," Norm said, referring to me. "He's large and in charge over here," Norm added.
Next, I gave Norm the rod for a short while, while I started the starboard stationary boat video camera. I started the camera and resumed my battle. No sooner had the fish moved to port, when it tracked back to the starboard, all the while doing violent head shakes in a bid for freedom. "Big head shakes! This 'Skip rig' finally took hold!" I said, and I continued my retrieve. Scott took the helm, and Norm readied the net. "This thing's pissed!" I commented, as the fish dove down and continued its big head shakes. "Come on! Don't be slot!" Norm added, as he stood ready with the net. "I gotta get 'em in the boat!" I answered.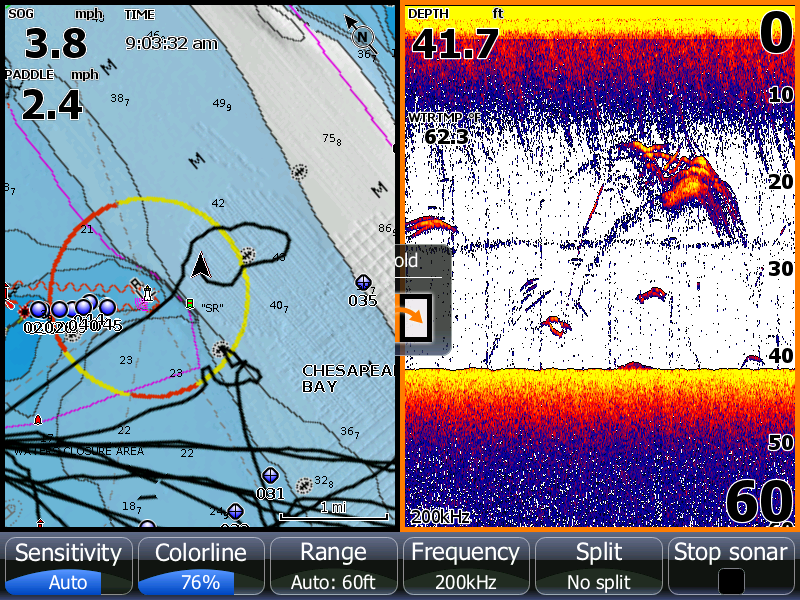 Not a Happy Camper
The fish moved once again to the port, and continued its bid for freedom. "There he is!" Scott announced, as we saw the fish for a brief second before it sounded and stripped off a bit of line. "He's not a happy camper!" observed Norm, as the head shakes continued. I continued the pump and retrieve, as the fish surfaced briefly before diving again and tracked back portside. "He's trying to get into the propeller" I speculated, as I passed the rod back around the way-way back. Norm positioned himself at the stern, and the fish began to go right off to the port stern. Norm and I barked at one another briefly, but Norm executed a perfect netting, and the fish was hauled aboard five minutes after it was hooked. At the time, the battle seemed to last longer than it actually did.
A Lucky 38-Incher
I quickly and gently removed the hook, as Norm speculated that it might be an over 40. "He looks like a bit of a shorty" I commented, as I readied the tape. With Norm at the tail and me at the head, we took a measurement. We measured the fish. "Son of a bi-h! Thirty eight inches!" I announced with a little disappointment in my voice. We took a couple quick pictures before I revived and released the lucky slot fish. The fish paused for a few seconds at the surface before bolting towards the bottom to breed and fight again. Once again, we were heading north, running against the tide when the second hookup occurred, and it occurred not that far from the first hookup.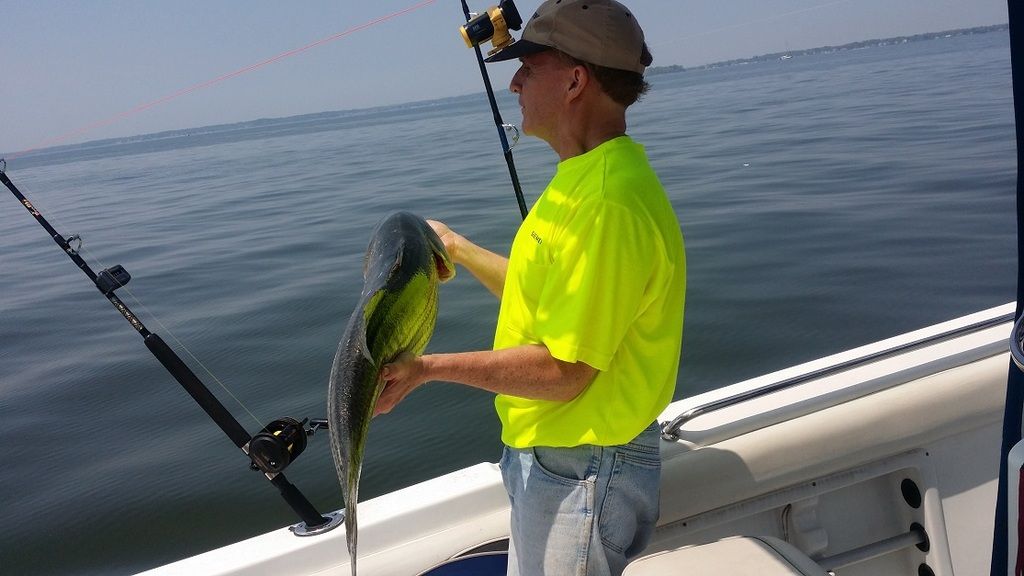 Releasing the Fighter
Lunch Break at Mike's
We reset the lines, and fished for another hour while enjoying the flat seas and warm sun. Then, between 1:30 and 2 pm, we slowly pulled the spread. As I retrieved each bait, I combed out the hairs on the shad before racking the rod, causing Scott to comment, "It looks like you're combing the hair on a Barbie doll." At a little after 2, we buzzed up the South River and tied up at Mike's Crab House where we had a very enjoyable lunch. I had the cream of crab soup and a very tasty soft crab sandwich, and we each washed down lunch with a beer. Scott was kind enough to treat us to lunch, which was completely unnecessary. "Well, one down, and two to go" someone commented, and we boarded the vessel and cast off at Mike's.
Lunch Break
A Spectacular Afternoon and Calm Seas
At about 3:30, we were heading back down the river. At 3:45 pm, we were greeted by very flat seas at Thomas Point, where we started deploying the spread. When we were deploying the first board, the planer flag came loose, and it sank to the bottom. "I hope that Jim (Marty's) sells loose planer flags" I commented, as I watched the flag disappear below the surface. We trolled from Thomas Point to Bloody Point, and by now, there were fewer boats on the water. The afternoon was absolutely spectacular, but the fishing slowed significantly.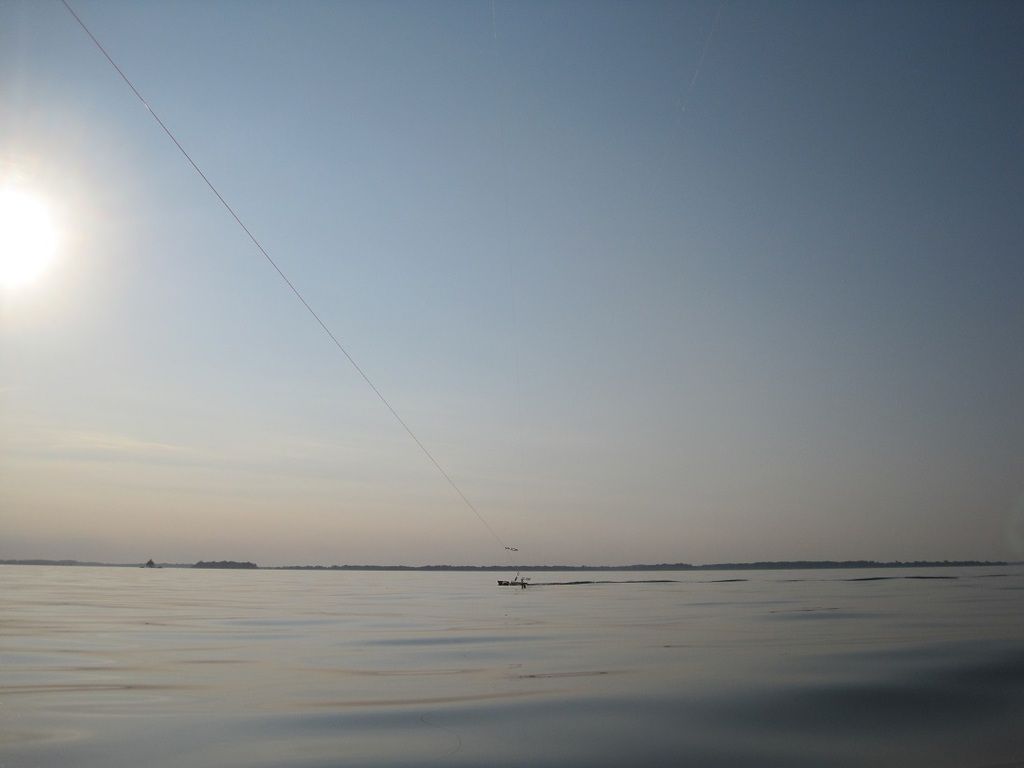 Another Short Strike and a Foul Hook
At 5:15, we heard a loud pop, only to discover a short strike on the #2 chartreuse single set 80 feet back while heading north in about 95 feet of water. At 5:40 pm, all hell broke loose when a piece of debris of some kind got snagged by the #4 chartreuse 6/9 tandem. The trip was so violent, that it shook two other lines off of their clips. During the course of this, we lost the 6/9 tandem, but everything else that shook loose was recovered. After this fiasco, I put an 8-ounce white Chesapeake Bay Lure on Lucille, and the lines were reset.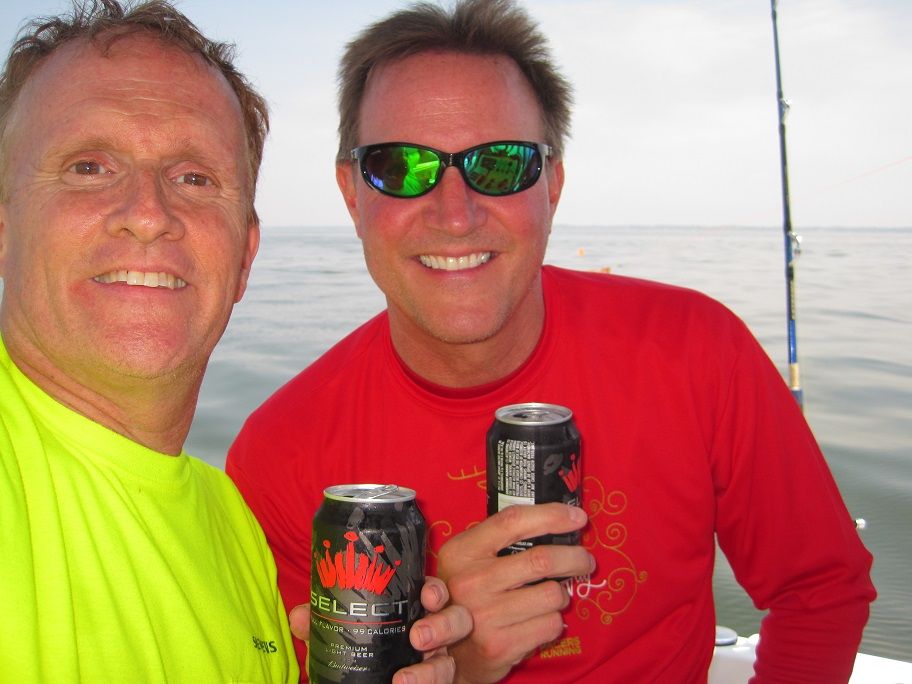 A Rite of Passage
At a little after 6 pm, we started pulling lines, and we had everything put away and were heading back at 6:30. At 7 pm we reached the marina, and decided to tie up at an unoccupied slip, being as I would return the next day at dawn to take advantage of another spectacular forecast. Throughout the course of the day, we saw many double crested cormorants either swimming and diving on the bay, or flying low in twos and threes just above the water.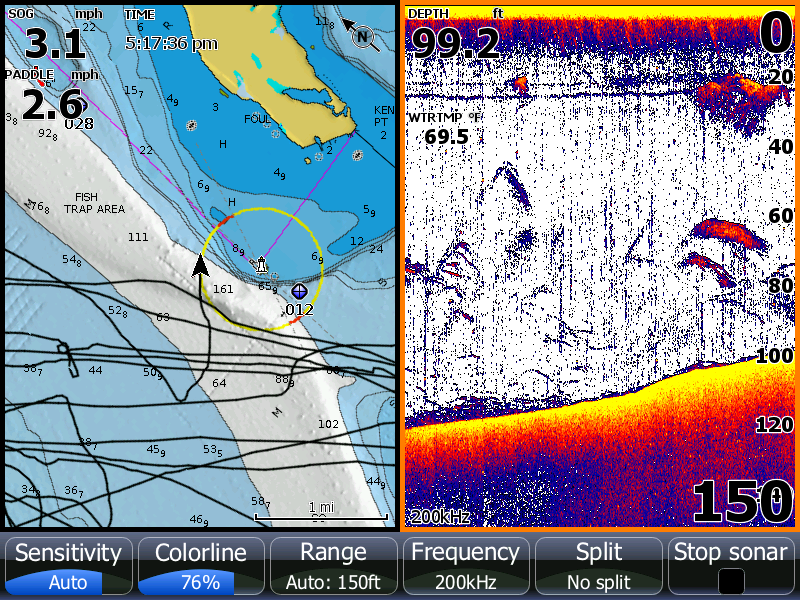 Bloody Point Afternoon
The slot seems to be a rite of passage. I was grumbling about it when we boated the 38-incher, but I like it overall. "There are a bunch of yahoos who are not honoring it. (The DNR should) catch them, and throw the book at them" Scott commented at some point during the course of the day. I would return to the marina and venture out again barely twelve hours later to more spectacular conditions.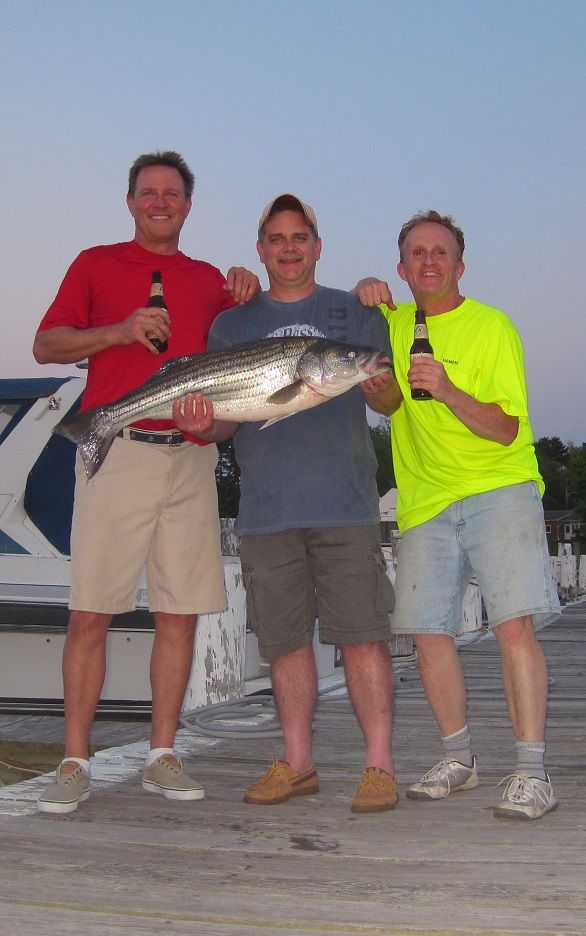 Posing Dockside