Discussion Starter
·
#1
·
Left Sandy Point at 7:45 and ran south along the western channel edge.Only got 2 miles past the bridge and started to see bait on the meter.Had fellow Tfer's Morsax (Hans) and Oriole (Steve) along with Steve's friend Tim.We set everything out and worked east towards Mattapeake.Luckily it was calm enough to spot the deep crab pots out in 75 feet
. Swung south and worked past #87 and then TFer Hookin Up called to say they had fish near #88.Decided to troll that way but worked a SW course going over towards Thomas Point.Got a strike and Hans reeled in this beauty.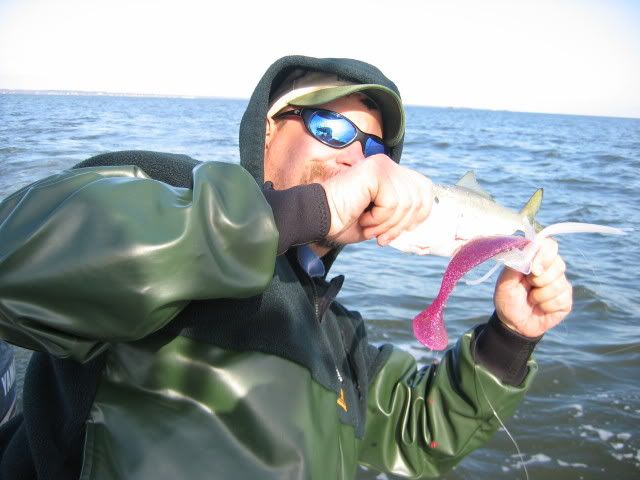 The bait was thick and we snagged 6 others during the day.I guess the cooler water at 49* makes them swim slower.We wandered along the edge in 65 feet and about 11:30 decided to eat lunch.We all got about 3 bites when the WWB got hit hard.Steve did a good job and reeled in a far 45 incher that went about 40lbs.It hit a parachute.
We swung back and a planer rod got hit.Tim reeled in a nice 34 incher.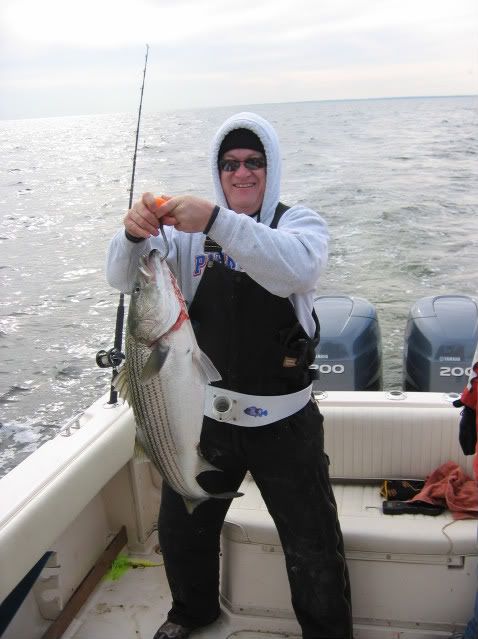 We got that one in and saw alot of bait on the meter.The WWB got hit again and Hans reeled in a nice 40 incher that fought as much in the boat as on the way in
.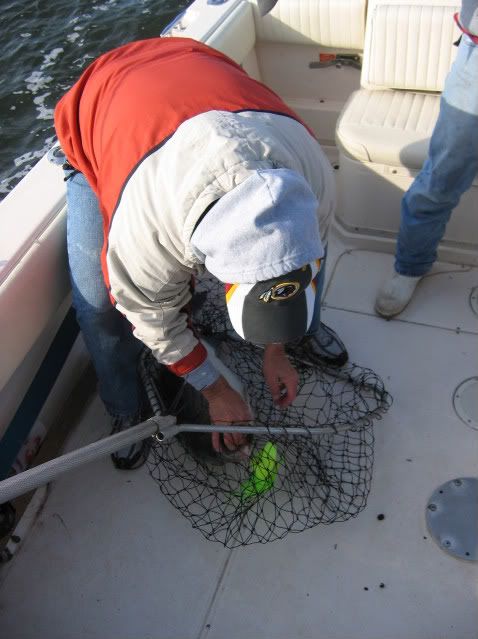 That made three keepers and once again we swung around the bait pockets.A planer rod got hit but the rubber band did not break so we had to reel in 3 other rods.Tim was holding the rod when the rubberband finally snapped - extremely hard.I had an idea what happened and as he struggled to reel in the fish- my idea was confirmed.It was two Rock on a tandem.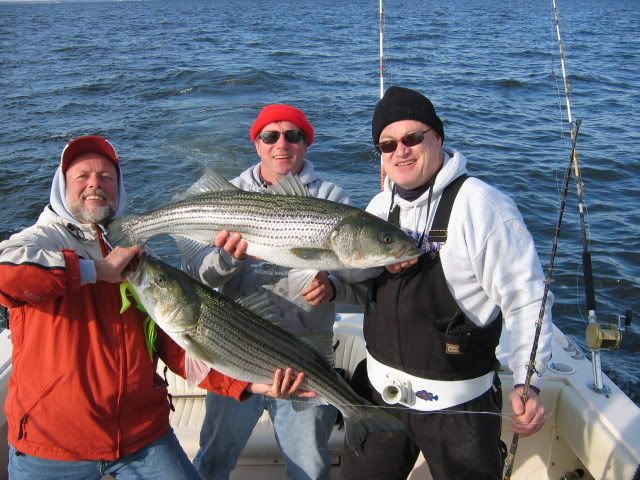 Tim was too beat to hold the fish.We kept one and tossed the other back.The smaller one must have been on when the bigger one took the other lure and snapped the rubberband.We trolled around #84A but then worked back north.A downrigger at 30 feet with a tandem got hit and soon a frisky but lucky 36 incher was let go.We turned back for another pass and a wire line outfit got hit.I reeled in a nice 38 that hit a 13/0 CA spoon.We turned to try again when I realized Sandy Point likes everyone at by 4:30-5:00 so we pulled the rigs and ran back over calm seas.Went through the gate at 4:45
p and stopped at Angler's for some citations.
Saw more bait up here then off Breezy.