Launched at 7:30 am this morning with fellow Tfer's Frank G (Frank), Bunker Chum (Jim), Nosloclan (Eric) and his son Hunter.Eric bought a set of planer boards from me and wanted to see how they work.Since Hunter was carrying two dozen Dunkin Donuts- he got to reel in the first fish.It was foggy so we used radar and ran SSE to #78A and set out the boards in 50 feet on the west side and angled towards #78.A few other boats were out and we had about 1/2 mile visibility in the fog.Water temp. is 58* and the water is clean.We had 4 rods out and Jim was sending the 5th one down the planer cord when it starting jumping.He threw the reel in gear as the Rock broke the rubberband.Hunter was given the rod and the fight was on.The fish hit a single 6 oz white parachute on a light rod with a 320LD and really put on a show-dragging Hunter across the cockpit.The fat 38 incher was soon netted and it was only 8:30.
Hunter needed dad's help holding the fish up for a photo.With one on ice-we finished setting the spread.Got everything out and circled back to #78A while eating some donuts
.Around 10:40 -in 61 feet a tandem white got hit and Jim reeled in a nice 32 incher.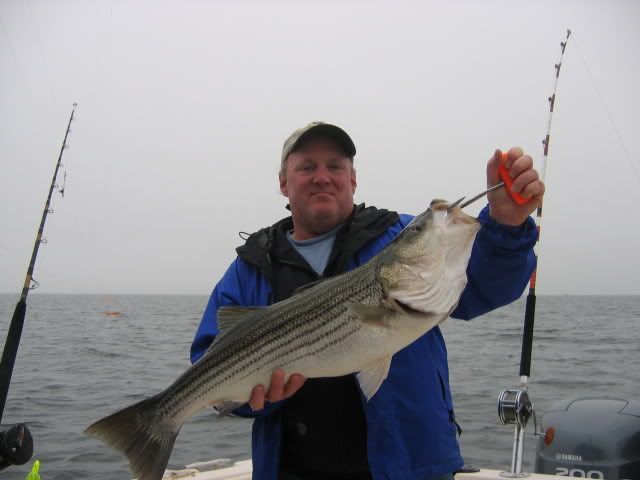 The front lure was carring a yellow shad and I switched it to a chartruese one since yellow has not been doing anything.Sent it back out and within 5 minutes-the new lure got hit.Frank reeled in a frisky 37 incher.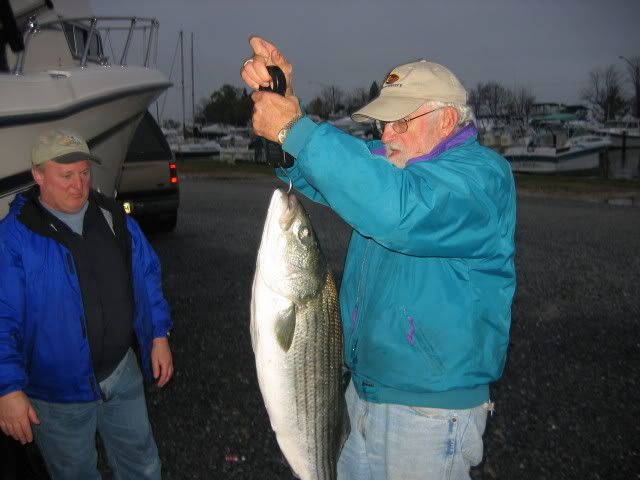 There were a few other boats working the area - some had boards without flags :eek2: - tough to see them.We saw scattered fish and bait on the meter and around 11:00 another tandem got hit and Eric reeled in a greedy 24 incher that ate a 9'' shad.Went behind #78 and had a close call with crab pots but luckily just missed them.The entire eastern edge in 50-60 feet is loaded so BEWARE.Right at noon- in 60' another tandem off the board got hit and Eric reeled in a nice 37 incher.It hit a chart. parachute with a green glitter/black back shad.Went back towards #78A and at 1:20 a single off the board got hit.Hunter reeled in the 36 incher that finished our limit of over 28"s :clapping2:.Around 2:00 the center rigger with the 320' spoon/parachute got hit and since we had a limit-the crew let me reel it in - or maybe they knew it was WWB.The 36 incher was full of fight and also sea lice.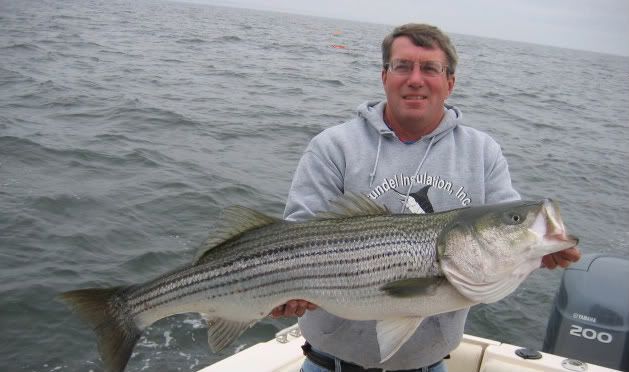 About 15 minutes later - a chartruese daisy chain (Warren's) got hit and a fat 33 was released.We worked east/west as the current carried us north.Scattered bait was on the meter most times we got a hit.Got another hit at 3:15 and Jim reeled in a nice 36 incher that ate a single 4 oz. chart. parachute.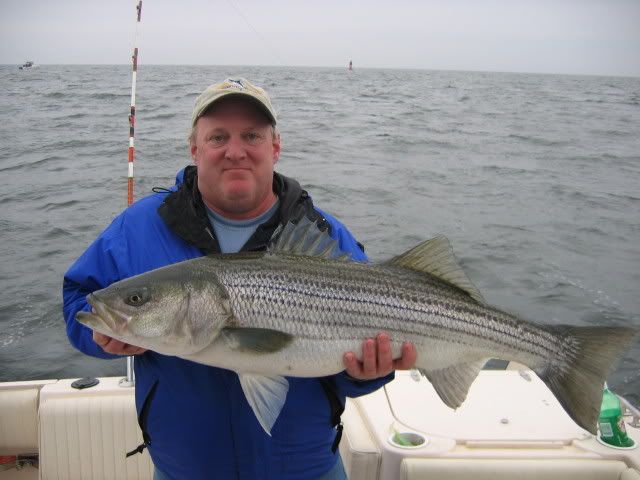 The wind was beginning to pick up so we called it a day at 3:30 and reeled all the rods in.Had whitecaps starting as we pulled in the boards.I ran the boat at about 3,500 RPM on the way in and she just loped along at 24 knots keeping the windshield dry.Heard of gale warnings for Saturday- feel sorry for the crews fishing the MSSA tournament.