Discussion Starter
·
#1
·
Hi Guys:
I spent the first week of December in Cabo fishing for "Big" Stripers. It was my 10th week of fishing there and thought you might like to share in the adventure.
I left the Saturday after Thanksgiving to fish for 6 days with my friends Mike (who currently has his 32' Contender at the CBBT) and Carl, an old friend from Americus, GA.)
Continental got us there right on Schedule. It is always exciting to fly across barren desert and arrive in an incredibly beautiful place.
At the airport we rented a Suburban to take us to our Condo in Cabo, which is about a 45 minute drive. First we made a stop at Walmart. (Yes, there is a Walmart there AND a Costco)
I always stay at The Terrasol which is just up the beach on the Pacific side from the Cabo Arch at the entrance of the harbor. It's a beautiful location and the 2 bedroom 2 bath unit made our stay in Cabo very relaxing.
The next morning we arrived at our boat and headed out. The Cabo harbor is an incredibly busy place as you can see.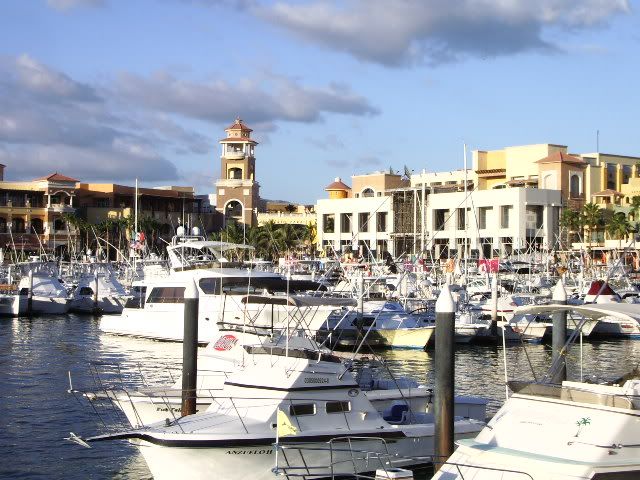 First stop to get bait which is sold by bait boats for $2. This is only for an emergency as we caught all of our bait once we stopped to fish.
Once we had the bait we headed up the Pacific about 35 miles to the Golden Gate Bank which had been hot for weeks.
First stop was to catch more bait. Here is Juan, our able Captain catching some "Greenies" which are Mackerel which is like candy for Striped Marlin. We were happy to have Jon Schwartz an outdoor photographer who was in Cabo doing a story for Sport Fishing Magazine. He spent two days with us and took some fabulous photographs, some of which I will show here. John had spent a few days previously catching Marlin from Sea Kayak's. I believe one guy caught at least 5 one day.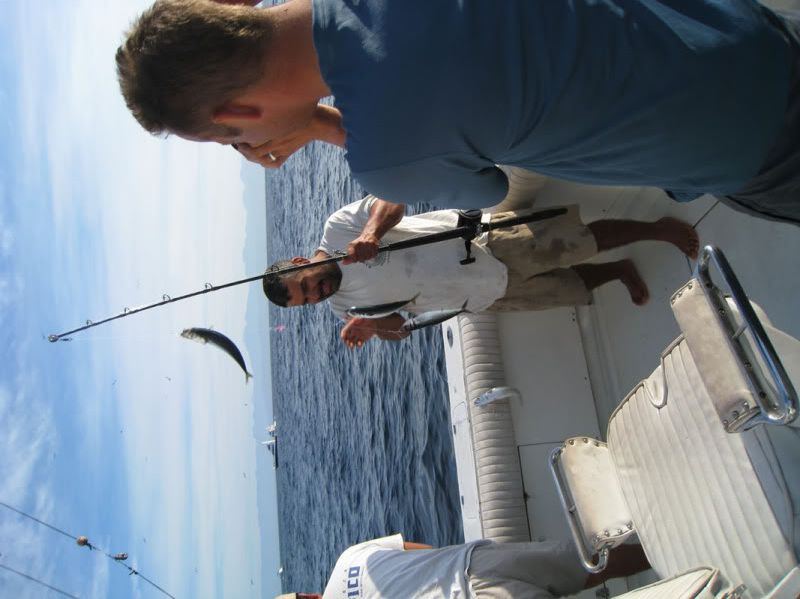 Once we had our bait more boats had arrived and this is the scene as our day begins.
Nothing seems impossible to many anglers when it comes to fishing in Cabo and here is proof of it.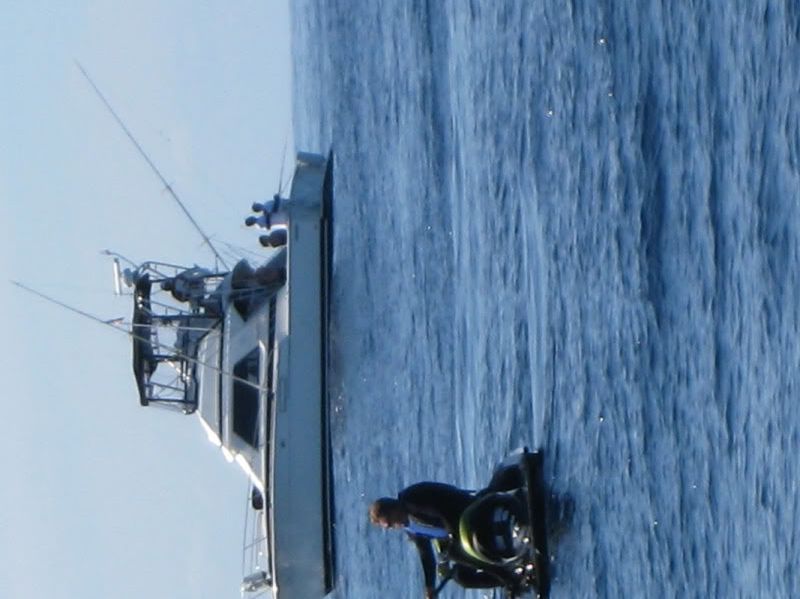 The amount of wildlife on the Golden Gate is nothing short of miraculous. In addition to Marlin, there were hundreds of Humpback Whales, Sea Lions , Birds, Dolphins and much more. I could not believe the amount of whales that were there each day.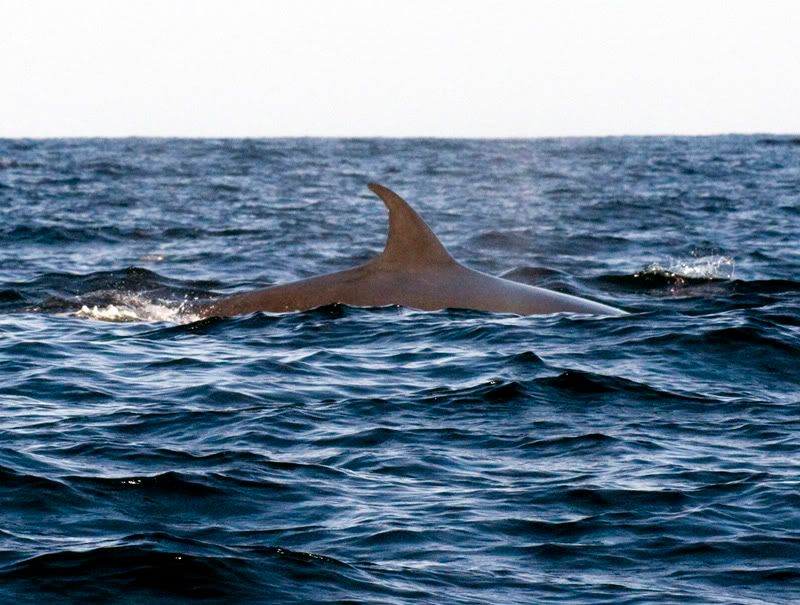 It was not long before the fishing heated up and this is an all too common sight.
To give you an idea of just how good the fishing can be, I estimate that the entire fleet which numbered in the vacinity of 75 boats on an average day released at least 500 Marlin EACH DAY. Untold numbers are hooked up and lost.
Soon we were hooked up and Carl with Mike looking on was putting my TLD 30 2-speed to work.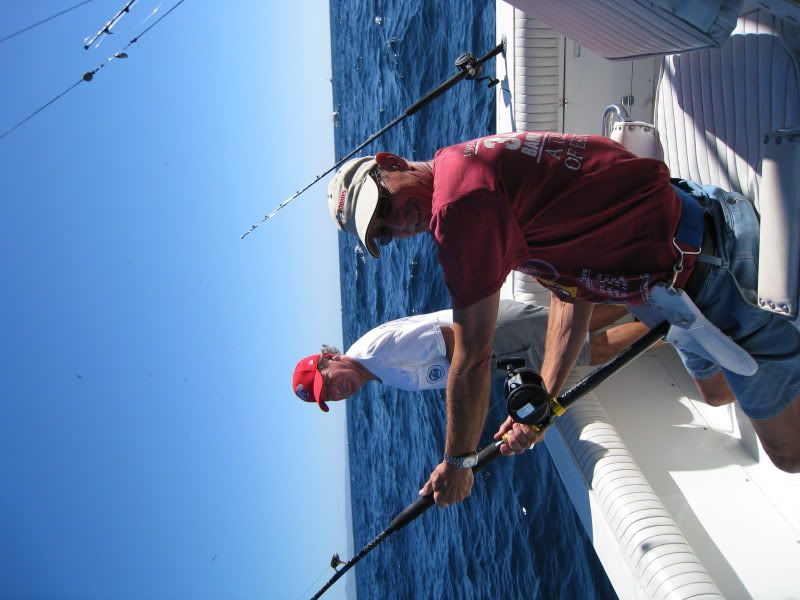 These Marlin put on a great show. Here is one of Jon's great shots.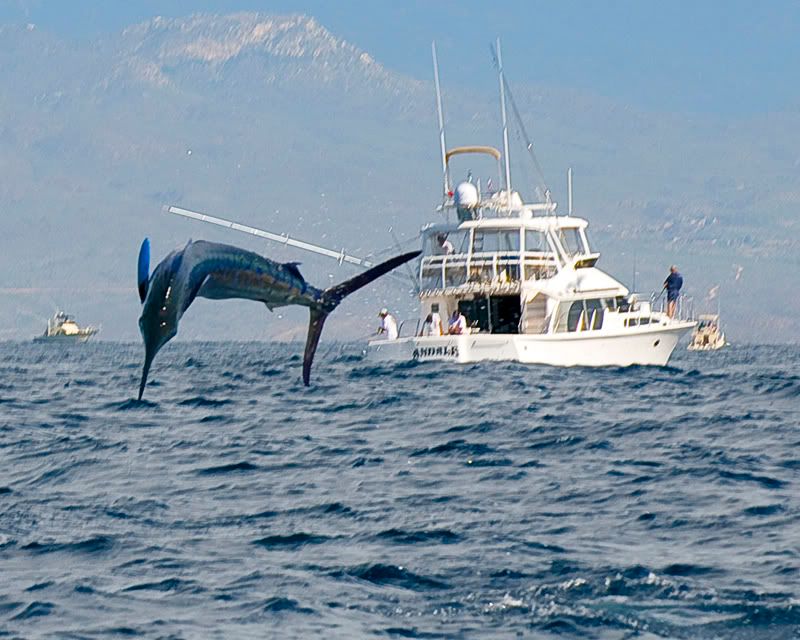 They are incredibly beautiful and it's hard to reproduce on film how electric the colors are when they are "Lit up". Here is an effort.
Here is Carl with a typical Cabo Stiper.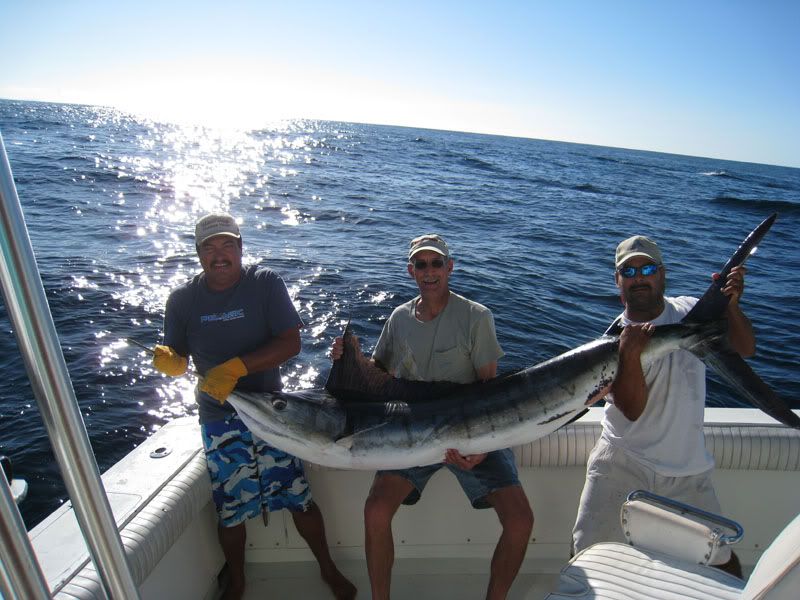 And Mike with one around 175 pounds:
And Me: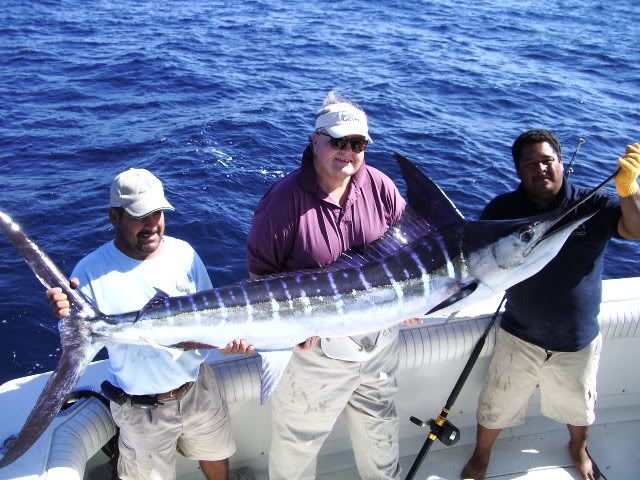 Here is Jon "swimming" with a Marlin getting an underwater image.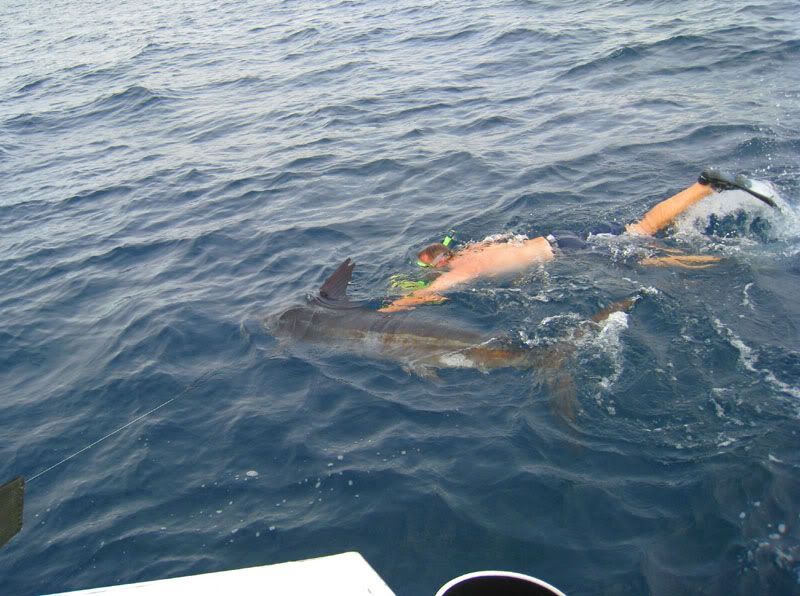 And here is our happy, and very hard working and competent crew at the end of the trip.
Here is Jon Schwartz website. Take a look and share some of his adventures with him.
Bluewater Jon Schwartz: Extreme Big Fish Kayak Fisherman, Film Maker, Teacher and Author
I urge anyone who can to make a trip to Cabo. There is no place else on earth that offers Marlin fishing like Cabo and the beauty of it is that it is one of the great bargains in the fishing world. I will be back for # 11 ASAP.
In 6 days we released 27 Marlin, but should have had many more. We used circle hooks for the first time which is the right thing to do, but made hooking the fish harder. We had at least 75 hookups, but between the pulled hooks and breakoffs we had a poor ratio based on my previous experiences. Many were lost to other boats who were also hooked up. In one case our mate took the rod from another angler and took it around our boat and handed it back to him still hooked up. Believe it or not this happened twice on "ONE" fish and I still landed the Marlin. These crews are very, very good.
I hope you enjoyed the post.
GT