Discussion Starter
·
#1
·
Hi Guys:
I posted this on the Maryland Board, but thought it might be appropriate to also post here. While I live in Maryland now, as an "Old" graduate of Hampton High School I have fond memories of growing up in the area and still get back to see my brother who still lives there.
This post is a report from last week and reflects only my opinion of the state of the Striper fishery. I am sure some of you will disagree, but it becomes harder each year to ignore the decline in the numbers of big fish that winter near the mouth of the Bay.
Here is my original post.
Fished Thursday thru Saturday morning at the CBBT with a new crew. Had John (Cat Tales) with me for the first time. He was a great addition to my crew and I greatly enjoyed his company. We met up with Wild Bill and Simon on Simon's new 23' Regulator. It's always a good time with those guys.
We also met up with Bill's friend George and his buddy "New Guy"
Traveled 230 miles on Thursday and Friday looking for big ocean fish. Caught only 14 on Thursday with none over 36".
Here is John with a regular grade fish: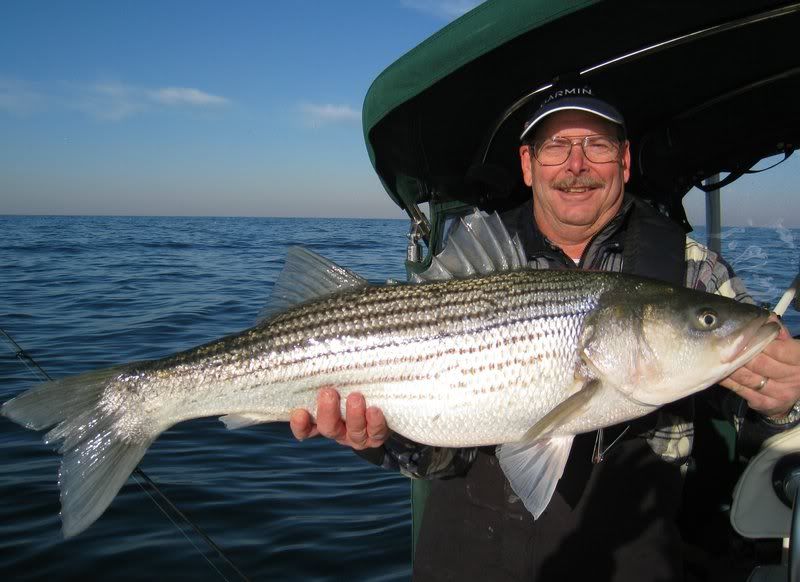 NOW FOR THE SAD PART.
It is very sad to see the decline in the numbers of fish, especially big fish, over the past few years. The hammering that they have been taking up and down the east coast from Commercial, Charter and Recreational fishermen alike, who all share the blame, has taken it's toll.
Yet we hear from the regulators that all is well and the population is healthy. These guys should all be fired for allowing the fishery to get to the brink of collapse.
I fish from Cape Cod to Carolina and what I personally see and hear from others, whose opinions I respect, leads me to the sad conclusion that all we have left is a fragment of the number of big fish we had only a few years ago.
I know others may disagree, but the evidence is to the contrary.
There are still small fish at the bridge and we released more than 200 (up to 29") during this trip, but the days of drifting for hours on one school of fish at the bridge are over.
I will keep on chasing them, but now I mostly release everything I catch.
I don't have time for another moratorium and am not sure what I will do when the fishery collapses totally. Hopefully, someone will do something to save the few breeders we have left.
Sorry to end this post on such a negative note, but IMHO that's where we are. Anyone who thinks otherwise is smoking something, blind or trying to cash in on the few remaining fish we have. There is still time to save the fishery from a total collapse, but I don't see it happening, given our past failures here and around the world in this regard.
GT
__________________
Parker 23 SE
Chesapeake Beach