Discussion Starter
·
#1
·
Just got home and headed out in minutes for a wifey thing, so this will be brief. I fished with Bob, and Motherducker joined us in New Guy's Grady. Fri started with air temps of 17 degrees and choppy. Headed right to the bend of the third island and found a chilly 38 degree water. Much to my surprise the fish were there and eating--sort of. The bite was very subtle. We caught until sundown with BA's, Sassy's, BKD's and bucktails with twisters--mostly white. Fish were plentiful but largest was 28".
Met Real Addict Lee and he gave us a tip for some fish south. Thanks a bunch Lee. Put some serious miles on the boat but found a better grade of fish, with a few over 30 pound and one over 40. Big shad were the hot tick.
Called the Hillbilly to get directions to Kelly's in Cape Charles. Serious upgrade from SR's. Their Shepard's Pie is outstanding, they had a nice selection of drafts and I could not resist the chocolate banana cream pie.
Great trip for what fish are left. Will try to get back down with Chuck this week.
New Guy(courtesy of Motherducker)
Bob with a Pretty Fish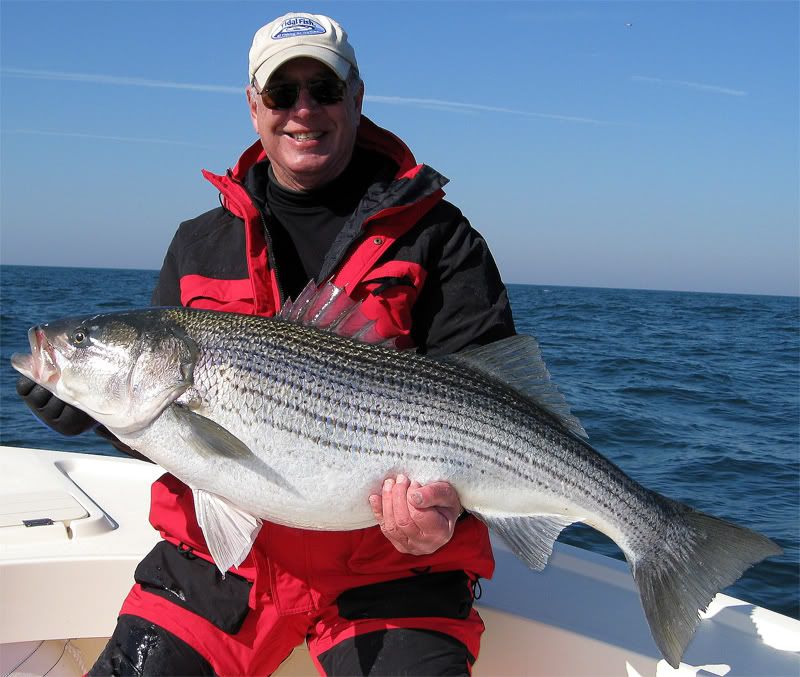 This Guy was Eating Well