Discussion Starter
·
#1
·
Volume 1 - THE BEGINNING

Written by Pete (WhiteLakeBuc) and Steve (Di Hrd)
Preface written by BULLHOG

PREFACE:
The following is a story about the trials and tribulations of attempting to reach a goal of consistently catching big hogfish on hook and line. Attempting this accomplishment would lead the authors on a journey through science, exploration, hard times, and along the way, they set their final goal of landing the World Record Hogfish. This story was written to share with you a story of how anyone can accomplish a goal when you focus and apply yourself.

July 2008
Hogfish are spectacular animals. The long dorsal filaments, the color, the unique mouth, and some of the best table fare in the ocean. These fish have intrigued us for many years. The idea to go out and catch a hogfish was something that we have talked about beginning many years previous to 2008. The catalyst for really focusing our efforts on catching hogfish was their unique qualities as a fish and the rare occurrences of landing them on hook and line. In July 2008, we finally quit talking about landing one and enacted a plan to go out and catch this elusive animal. The plan wasn't just to catch a hogfish, but to catch a big hogfish. Pursuit of this plan would eventually lead us to setting our final goal of landing the world record hogfish.
By profession, Pete is a biologist. Therefore, he had the first task in accomplishing our goal of catching a big hogfish. Gather the facts and come up with a plan on how to get them to bite. He began by researching everything there is to know about hogfish. Most known publications, websites, commercial catch history, etc. I cannot tell you how many times I have read on websites, forums, and publications that "hogfish can't be targeted", "hogfish are bycatch", "hogfish don't bite hook and line". Reading these things did not sit well initially. We discovered that some fishermen in Florida had mild success on small hogfish utilizing live shrimp in shallow water, but were not certain how that would translate to the waters of southeastern North Carolina. There were so many questions that needed to be addressed. We had to start somewhere? But where? I think the first logical thought in the process was the hogfish population. Were there enough hogfish off the North Carolina coast to even target? The first source of information was the North Carolina Department of Marine Fisheries. They keep annual commercial catch history for many different species. There we found the first "nugget" of information. We found the commercial catch history of hogfish dating back to 1979. What did we find? Well…… in 2007, for example, there were 7,112 lbs of hogfish commercially reported in North Carolina. Ok, that is some good data, but what does it mean? In comparison, there were 200,818 lbs of gag grouper and 448,580 lbs of red grouper commercially caught and reported in 2007. Both red and gag grouper are plentiful so looking at this information; it would lead one to believe that hogfish just aren't here in numbers. What if it is true that big hogfish can't be caught on hook and line consistently? Then they could be here in numbers but not caught in numbers. We needed more answers.
Steve came up with a great idea…….. one that made a lot of sense. "Let's ask some divers!" They can just tell us what they see". Off we go, Pete started by reviewing internet diving forums and Steve by talking to divers in person. What did every diving resource say? "There are plenty of hogfish down there!" and "they are everywhere!". One diver Steve spoke with was very intrigued with our goal, personally, the diver didn't think it would work, but the conversation soon led to a job offer for Steve. The job was working on a commercial spear boat out of Carolina Beach. This move put a lot of good data in the file. The owner of the boat was a master diver and an amazing shooter, many times shooting ten or more hogfish on a single dive. While Steve never had the chance to get in the water and participate in spearfishing, he was able to spend time topside studying the depth, water temp, fish movements, and what the preferred habitat looked like on the fish finder. The information acquired from Steve's time spent aboard the dive boat later proved invaluable in catching hogfish……….. especially being able to identify the proper habitat on the fish finder.
We had now confirmed through divers and Steve's experience on the commercial dive boat, that a hogfish population exists in numbers sufficient enough to target them on hook and line. That was good data…….. a revelation…… but in comparison to the commercial landings report……. Why are they not caught consistently by commercial hook and line fishermen?
The title of this story reads Chronicles of an Obsession, and an obsession it was. Now that we know a viable population of hogfish exists, how do we catch a big one and where do we go? The research revealed good facts about hogfish and Steve now has experience on how to identify the proper habitat on a fish finder. Now what? Remember when I told you it was now an obsession? Well, Pete had been doing his homework; he utilized the scientific method to come up with a theory. By using the literature, anatomical features, and dentition structure of hogfish he developed a theory on how we could get a big hog to bite. The theory sounded plausible….. Steve knew the habitat they preferred…. Pete had a plan on how to get them to bite…. It was now time for a mission.
Saturday August 9, 2008 - The Beginning
We left Carolina Beach inlet on a jigging trip with some friends. Off to the deep looking for monster grouper, aj's, African pompano and others that would fall for our offerings. The day proceeded and you could see the anticipation in Pete's eye. He was ready…….. ready to test a theory. We jigged all day and it finally came time to go. With time running out, we were packing for the long run in and noticed that one of the live bottom areas Steve thought had suitable hogfish habitat was near. Needless to say, Steve got us over the mark and it was time to test the theory!!! With time running out, building seas, and patience growing short, Pete dropped in on the live bottom waited a few seconds, set the hook and came tight. "Oh My God!!!!!!!!!! Are you serious?" "That was the first drop you have ever made trying this!!!" Steve commented "Its gotta be a red grouper!!!" As we stood looking over the side of the boat, we saw faint color. At first……. "Looks like a red grouper!"……. then "Its orange not red that is a HOGFISH!!!!!!!!!!!" Steve reached over, grabbed the hog, and pulled it aboard. We all stood there in disbelief. It was a great feeling, coming up with this theory and the first drop, first time ever trying it, BAM!!!!! I could tell, as happy as Pete was over the catch, he had doubts. Was it coincidence? Was this the one lucky time that someone catches a big hogfish? We needed more time! We needed to confirm this theory! We needed to catch another hogfish!

Pete (WhiteLakeBuc) with Hogfish #1 (estimated at 12lbs)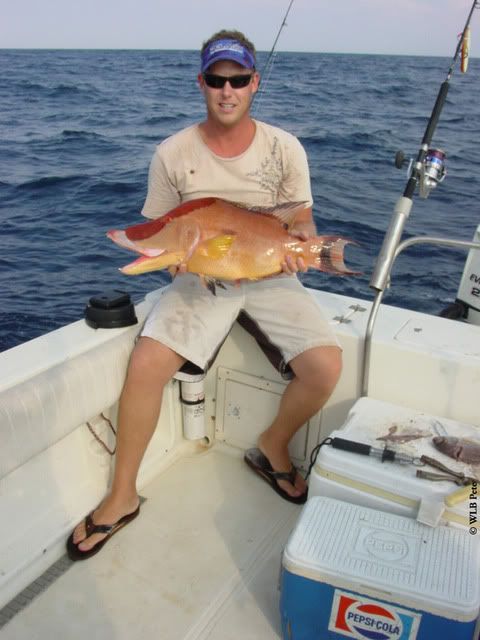 The signature hogfish photo op. was also invented!!!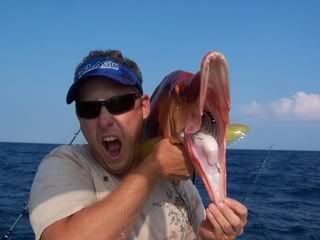 Close up of the infamous hogfish #1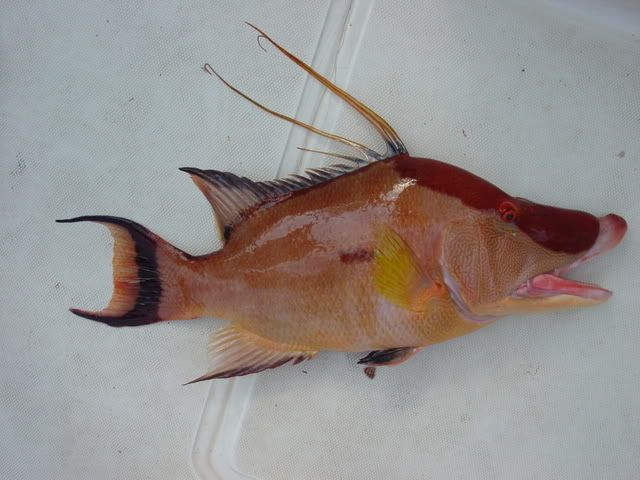 Trip Report:
http://www.sportfishermen.com/board/f172/aj-hog-snapper-report-51049.html
Friday August 22, 2008 - The Confirmation
Days and days have passed and the hogfish theory has become a complete obsession. Several weather systems has come through North Carolina and "fishable" weather was very limited. We were dying to get back out and try this theory again!!! We got a break on Friday, August 22, 2008. That day was a dedicated grouper trip. We had GREAT grouper action and as the day wore on, I noticed we were near another area Steve had previously identified to have the proper habitat for hogfish. A quick 5 mile run over there and on the second drift through the live bottom area, I came tight again…………. But this fish was pulling drag………. 30lbs of it. I knew I had a good fish, but after pulling 30lbs of drag, I thought it was an AMBERJACK. The fish came closer and we could see color again…. It was orange again……. "It's a big hog!" Sure enough…. a big hog comes over and flops down on the deck.

Pete (WhiteLakeBuc) with Hogfish #2 (16lbs 8 oz)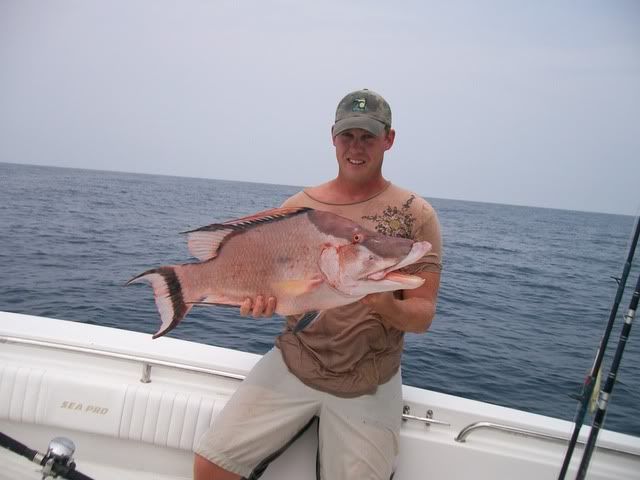 The signature hogfish photo op. #2!!!!
Trip Report:
http://www.sportfishermen.com/board/f172/bloody-mary-pig-ponytail-51773.html
This was the fish we needed. Caught in a different area utilizing the "theory" it confirmed to us that we now were on to something special. The first big hogfish was not a coincidence…. It was not luck…. We had accomplished our goal of catching big hogfish on hook and line!!!! BUT this was only the beginning!

Chronicles of an Obsession: Hunt for the World Record Hogfish Volume 2 - ACCELERATION
The acceleration had begun. We had replicated the experiment by catching two hogfish on different days in different areas. Now it was time to really invest into our "theory" and advance our knowledge.

August 30, 2008 - First Multiple
By now, the hogfish was almost an animal of worship. Pete had developed a superstition and was now wearing the same underwear, shorts, and shirt on every mission. It was very quickly becoming an addiction and an obsession! August 30, 2008 was day to remember. Steve has yet to catch one and that would soon change. The day started off jigging with some friends……. as usual…… but the call of the hog kept screaming at us. Unbearable, we went on the hunt, looking for hogs. We knew of two places that we had a chance of catching one but we opted to explore new water, shoot from the hip per say. After an hour of searching, Steve strikes gold and goes nuts when he recognizes the "tell all" sign on the fish finder. Steve says "That's it!!! Right there! Do you see those marks?" He wheeled around, positioned the boat, and bombs away! Soon after, Steve sets the hook and comes tight. We were looking over the side and see a big hog coming up! MISSION ACCOMPLISHED!
Steve (Di Hrd) with his hog - Hogfish #3 (Estimated at 12lbs)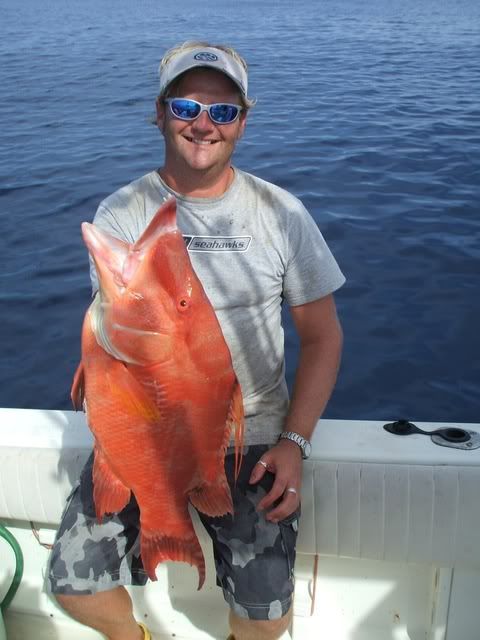 The signature hogfish photo op!!!!
You could not wipe the smile off Steve's face. The culmination of setting a goal, doing your research and planning, then executing is a great feeling, one that we will never forget. Steve's smile soon turned to strain because another hog had just slammed him.

Steve's (Di Hrd) hogfish #4 (Estimated at 14lbs)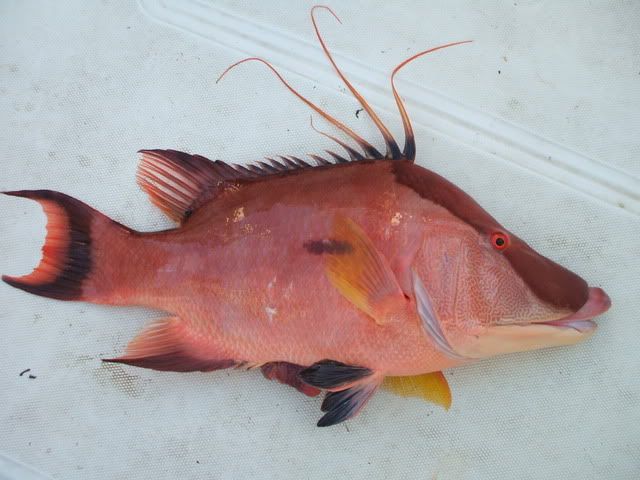 This trip was already memorable but soon was to turn epic. While Steve was icing the fish, Pete dropped in on the newly found spot. What happens next?

Hogfish #5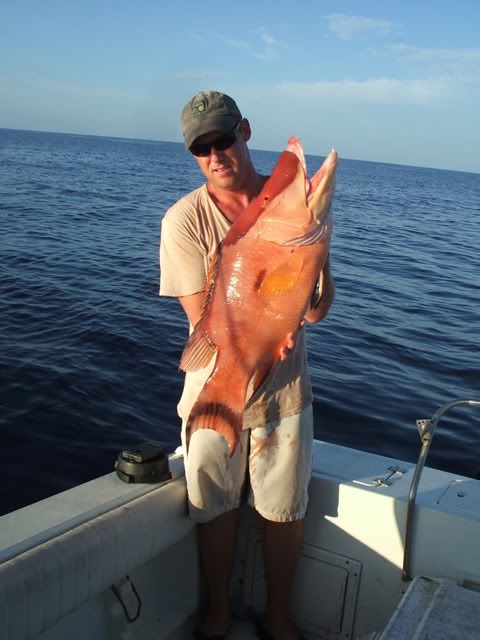 Steve repositioned the boat and we fished this area a while longer catching one more hog and pulling off two more. By now, the sun was setting and it was time to begin the journey home. All smiles on the boat and we had just been on the best hogfish bite we had ever had at that moment!

Catch of the day!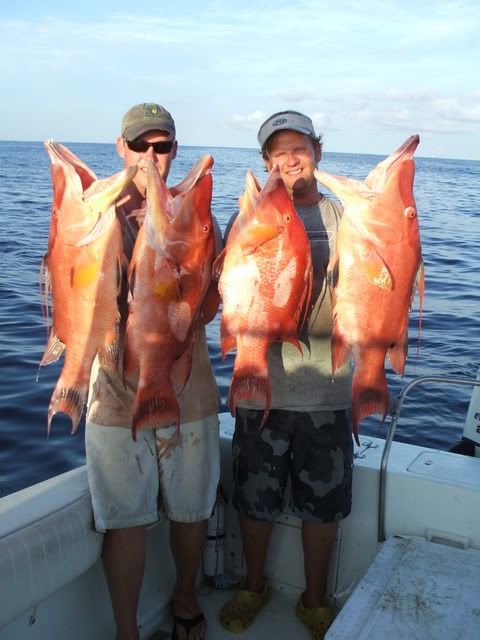 In just over three weeks, we had taken a theory, tested it, proved it, and now began to refine it. There was no longer a theory………. We had now developed a technique. During the fall of 2008, we discarded our conventional fishing trips. The jig rods and grouper tackle had been put aside, and we now were fully committed to targeting hogfish and only hogfish. October would lead us on several exploratory adventures. Fishing in weather we shouldn't have, exploring new fishing areas, experimenting with new tackle and above all… refining our technique.

October 2008
September was pretty much a wash Hurricanes Hannah and Kyle had both mixed up the water causing unfavorable conditions for focusing on refining the hogfish technique. We had been bouncing ideas and over thinking everything. Some of the ideas would prove worthy! Others would go the way of the dinosaur.
Exploring pays off big time. The saying no guts no glory is a fact of life, sometimes it can leave you dejected but other times the payoff is immense. In October, we had been on an exploratory mission in an area that we rarely fish and had zero GPS waypoints. Our mission was to find and indentify new areas that had suitable hogfish habitat. This day would test our patience but late in the day we ran across one "nugget" that had the tell tale marks that we had come so familiar with. We had time to make one short drift and sure enough, a bull (male hogfish) was home. It would be several weeks later before we could return to this spot. The wait was well worth it.
Later in October, a weather window opened. We had one shot.… one chance at this new spot….. the weather had deteriorated the night before and was borderline of being fishable. With Steve's boat already gassed up and iced, we said to hell with the weather forecast and went for it. The ride out was very difficult, we took a couple of waves over the bow and passed through intermittent heavy rain storms before we reached our spot almost three hours later. We had all of our eggs in one basket but we had great confidence this particular spot was going to pay off…. and it did.

Fourteen hogs* in one hour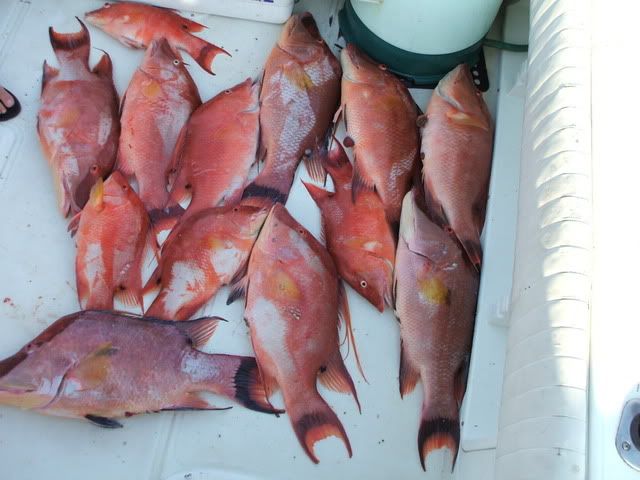 *(Picture taken with 13, number 14 was accidentally left in the cooler) October 2008
Conditions continued to deteriorate. Wind and sunshine one minute led to rain and thunder the next. We quit fishing and headed in because it was the smart thing to do... the safe thing to do… but not because we wanted to. We discovered something on this day. It would not come to fruition at that time but would later prove instrumental in focusing strictly on large BULLS and eventually focusing our efforts of achieving our final goal.
Our initial goal of catching big hogfish on hook and line had been accomplished. We had taken a theory and developed it into a technique, and now had made another great stride in advancing the technique into a deadly weapon. Right after the trip above, we decided to set our goal on the ultimate prize, catching the world record. The world record hogfish is 21 lbs 6 oz. caught near Frying Pan Tower off southeastern North Carolina. Research revealed that it was caught grouper fishing and was not the targeted species of the angler. At the time, the biggest hogfish we had landed was hogfish #2 at 16 lbs. 8 oz. which was generally close to the world record with only our second fish. We knew we had a legitimate shot at the record so we set the next goal……
CATCH THE WORLD RECORD HOGFISH!

Chronicles of an Obsession: Hunt for the World Record Hogfish Volume 3 - CONFUSION
Winter had come and fishing weather in North Carolina had become very limited. The water temperature had cooled drastically and two subsequent world record hogfish missions had failed miserably and left us confused and humbled. The changing weather conditions and hogfish population movements proved very challenging. Pete went back to the books and studied hogfish even more in depth than the first time. I believe he raked the internet completely clean of all hogfish knowledge. Then, after reviewing our previous trips and facts gathered on those missions, he plotted our confirmed hogfish catch GPS waypoints on GIS then added a couple of other mapping layers and a pattern emerged. In order to check out this newly found pattern information, it was time for another exploratory mission.

January 3, 2009
The weather was predicted to be challenging in the morning and improving throughout the day. The weather man was correct, for once, and we were getting beat on our way out with an offshore wind and pulled up short hit some grouper spots. Today was one of those days that everything seemed to go right. The grouper were definitely chewing and we were having a blast but we would not be satisfied unless got a chance to hogfish this new area with new information. Shortly before lunch, the conditions began to improve so we made the call to head on off and give the hogfish a shot. Sure enough, the hogfish were home and the pattern that had emerged on GIS was confirmed. Late in the day we noticed that a slight change in our presentation offered a profound difference in the results. This tweak would prove to be a breakthrough on another front because both of us hooked up with BIG RECORD CLASS hogfish that we could do nothing with, breaking us off on 25lbs of drag, 150 lb leader material, and handing us our ass as well. The new tweak did yield twin 17lbers, our largest hogfish yet! We would find out later, this new tweak in the technique, would also pave the way for learning to catch hogfish in the cold winters ahead.

Steve (Di Hrd) with a 17lb BULL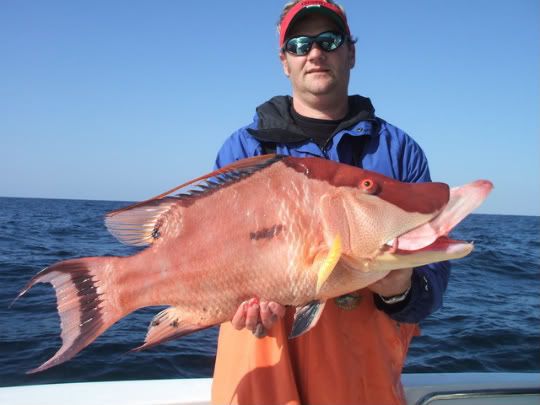 Pete (WhiteLakeBuc) with a 17lb BULL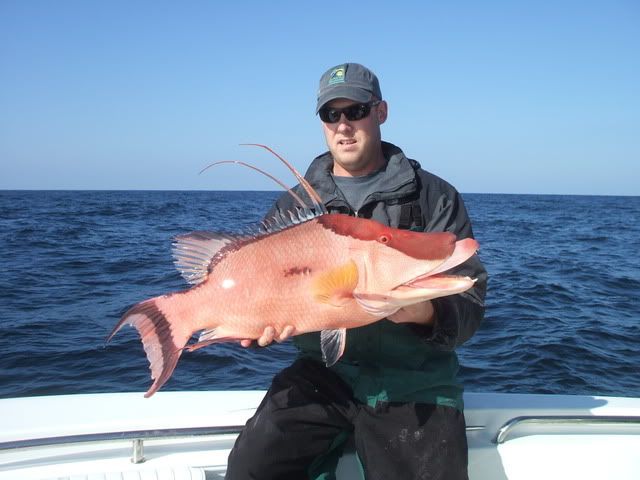 Trip report:
http://www.sportfishermen.com/board/f74/wrightsville-beach-exploration-trip-1-3-09-a-61233.html
THE FOLLOWING PARAGRAPH AUTHORED BY BULLHOG:
After posting three trip reports online, there was an avalanche of people inquiring how to catch these fish and it placed the authors in a very precarious position. This technique had been developed from scratch. It was the hard work, time, dedication, invested into accomplishing their goal. The very FEW friends that had accompanied them on some of these missions were asked not to speak of the technique and to please have respect for the hard work and dedication by the authors. Being able to trust someone is very important in all relationships and especially your friends. Problems developed when the authors did not feel comfortable telling how these fish were caught. Many people wanted to know how to catch these fish and in some cases, demanded to know! This caused problems because "WHAT DO YOU DO?" A technique developed through dedication and hard work given away? Risk the trust between friends over a fishing technique? If the technique was to be shared, who was it to be shared with? The whole situation was so confusing and the authors had a major decision to make. Do they share the technique? They either had to share it with everyone or no one. They made the decision not to reveal the technique they had worked so hard to develop. In their eyes, nothing was worth risking the loss of friendship over. The authors felt it was best to keep to themselves, refrain from posting trip reports online, and disappear from the fishing and jigging communities. In doing so, they asked their friends for continued trust in what they had witnessed, the friends agreed, and the authors fell silent.
END OF BULLHOG NARRATION.
To Jim, Chad, Joey, and Capt. Wes - Thank you for being our friends and respecting the goal we are attempting to accomplish. Your trust is greatly appreciated!
The decision not to reveal the technique we developed has been a very contentious decision and continues to be to this day. Later on, we would learn that someone would break our trust, leak information, and severely jeopardize the future of a friendship.

Chronicles of an Obsession: Hunt for the World Record Hogfish Volume 4 - INTEGRATION
The technique we had developed was brand new and we had unknowingly developed a nomenclature to describe what we were doing. One thing that sparked the nomenclature was Pete's continued study of the hogfish. Notice in the pictures above, some of the hogfish look similar but some look different. What you are seeing are males, females, and transvestites. Pete explained that hogfish (Lachnolaimus maximus) are protogynous hermaphroditic where as all hogfish are born female and only a certain few switch sexes to become males. The sex switch, however, is based upon population dynamics and the male to female ratio within a given area. Contrary to popular belief, the switch from female to male is not based on age or size. Pete continued to explain the differences and the morphology when we noticed that the nomenclature had been born. The male hogfish was now referred to as a "BULL". We called the males BULLS because of the way they interacted with other fish and the way the fight. The female was now referred to as a HEN. We called the females HENS because of the way they bite, sometimes aggravating, and they are not as large as BULLS. In a given population of hogfish, there will be more HENS than BULLS. Sometimes, the HENS will gather and for a small group generally being accompanied by one BULL sometimes a few. A congregation of HENS we now referred to as a "HAREM". Every now and then we would catch one that had traits of both BULLS and HENS. These hogfish were in the middle of a sex change and were morphing from females to males. The hogfish that displayed traits of both male and female are appropriately named transvestites or "TRANNY" for short. TRANNY's fight the hardest of all! The following pictures will serve as a primer to determine the differences between male and female hogfish.

Bull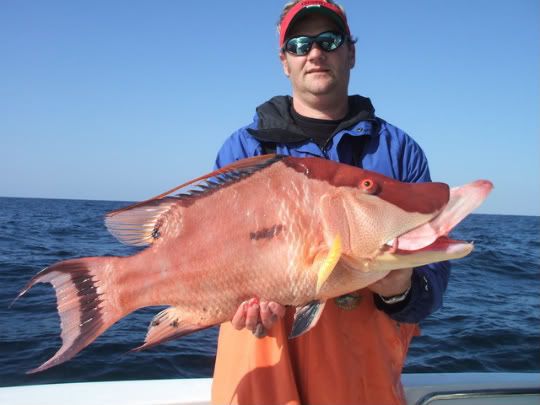 1 - Notice the burgundy coloration stripe along the forehead. Beginning by the dorsal fin extending anterior through the eye down to the mouth. This area has a distinct burgundy color. Very prominent.
2 - Notice the black spot by the pectoral fin. Very Prominent.
3 - Notice the elongated mouth structure extending anterior. Very prominent.
4 - Notice the overall color of the fish lateral. Distinctly Coral/Pink in color.
5 - Notice the small black spot at the base of the rear dorsal fin posterior. Not prominent.
Additional examples of Bulls.

BULL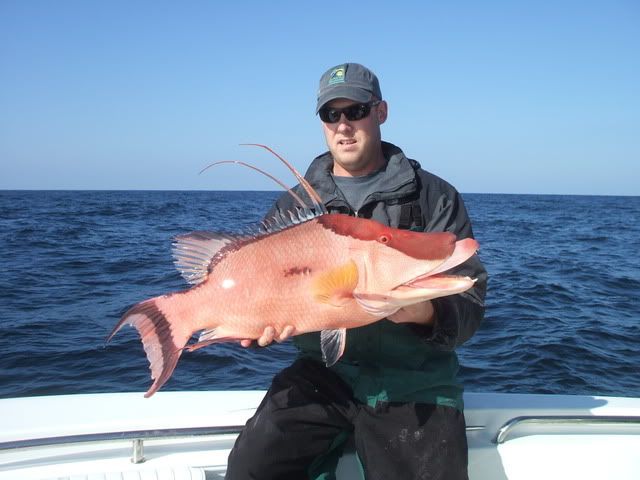 BULL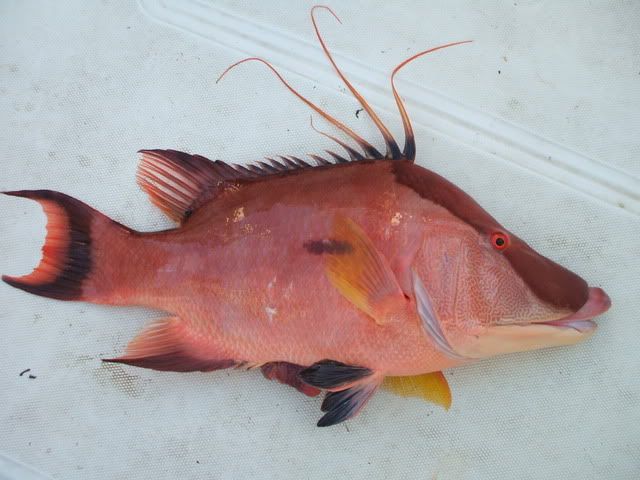 BULL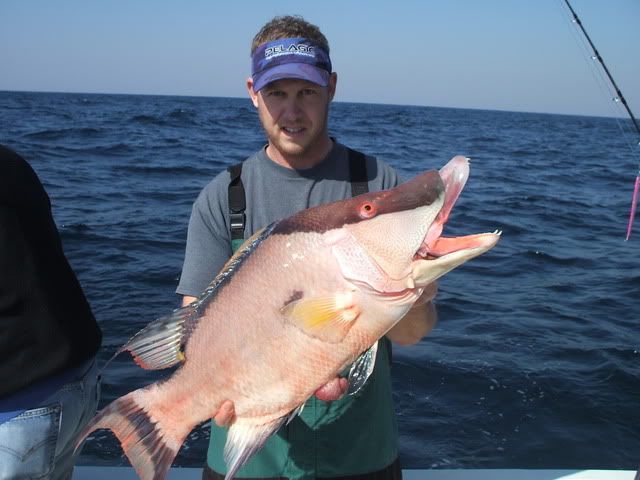 HEN
1 - Notice the burgundy coloration stripe along the forehead. Beginning by the dorsal fin extending anterior through the eye down to the mouth, this area is not distinct, and in many HENS it is blended and not visible. Not prominent.
2 - No spot by the pectoral fin. Missing
3 - Notice the compact head and mouth structure.
4 - Notice the overall color of the fish lateral. Distinctly Red/Orange.
5 - Notice the small black spot at the base of the rear dorsal fin posterior. Prominent
Now, let's go over some examples of HENS
HEN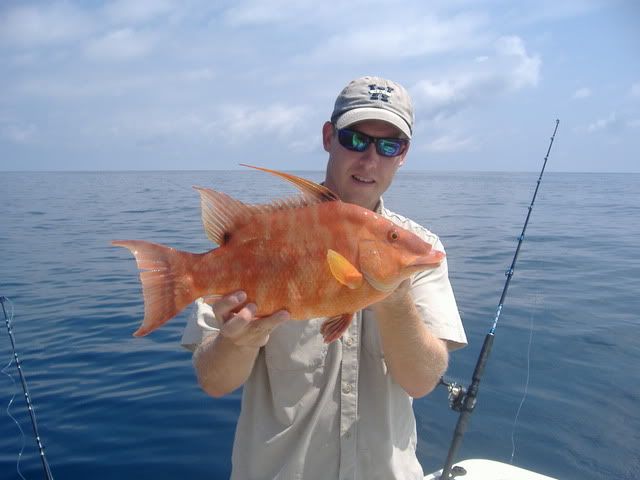 HEN on the left BULL on the right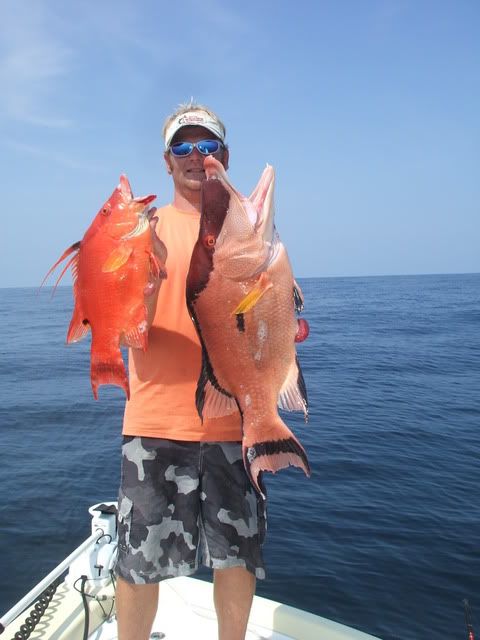 TRANNY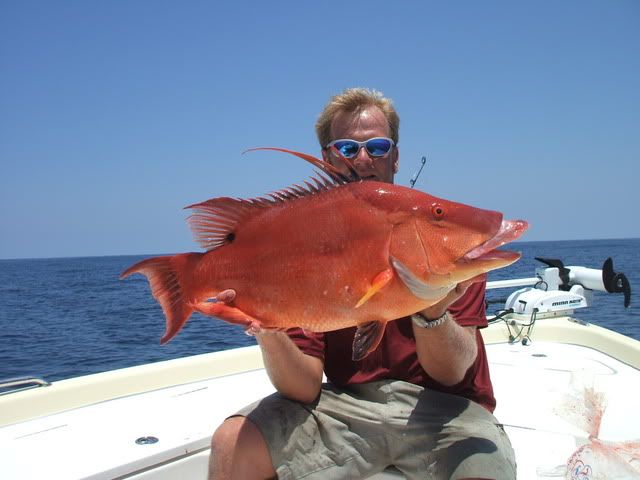 TRANNYS will carry features of both BULL and HEN.
1 - Notice the burgundy coloration stripe along the forehead. Beginning by the dorsal fin extending anterior through the eye down to the mouth. This area is "Becoming" distinct. Somewhat prominent.
2 - Spot near the pectoral fin is forming. Somewhat prominent
3 - Notice the head and mouth structure is beginning to extend anterior. Somewhat prominent.
4 - Notice the overall color of the fish lateral. Red/Orange beginning to migrate to Coral/Pink.
5 - Notice the small black spot at the base of the rear dorsal fin posterior. Prominent (This feature may vary at different stages of the sex change)
Now, let's go over some examples of TRANNYS

TRANNY

TRANNY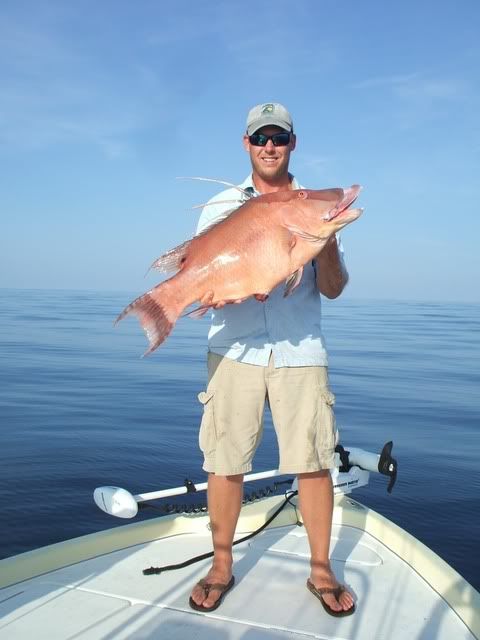 TO BE CONTINUED:
The next Chronicles of an Obsession: Hunt for the World Record Hogfish Volumes will tell the story of Steve's near record 19lb hogzilla, a commercial fishing venture, death by a bay boat, 2009 review, and a brand new technique emerges.

19 lb Hogzilla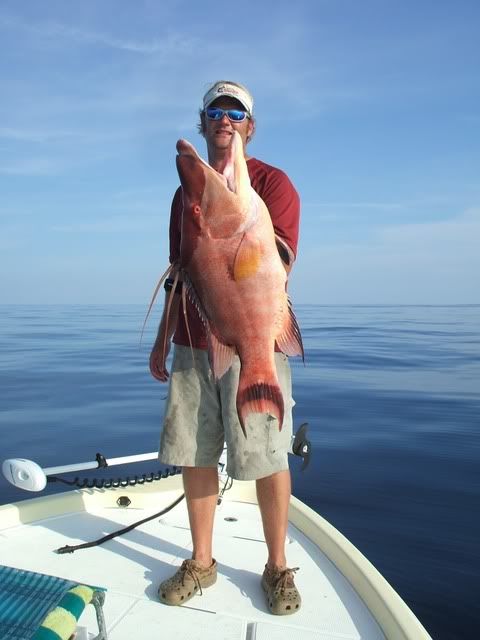 Another new technique results in a profound change in the hunt for the WORLD RECORD HOGFISH
: