Well it is official, from the name changing ceremony to the first 3 trips (although not in that order) bringing home limits of Striper's all three days, Circle Back is officially broken in!!! :fishing2:
Bill is under the weather today so I will do the best I can with this... I am sure he will add more to this later...
Many of you know Bill purchased the SHADY a 37' Shearline back in June of 2010. He watched her for a long time never imagining he would ever own her. But as luck would have it, he would own her and so the story begins. :high5: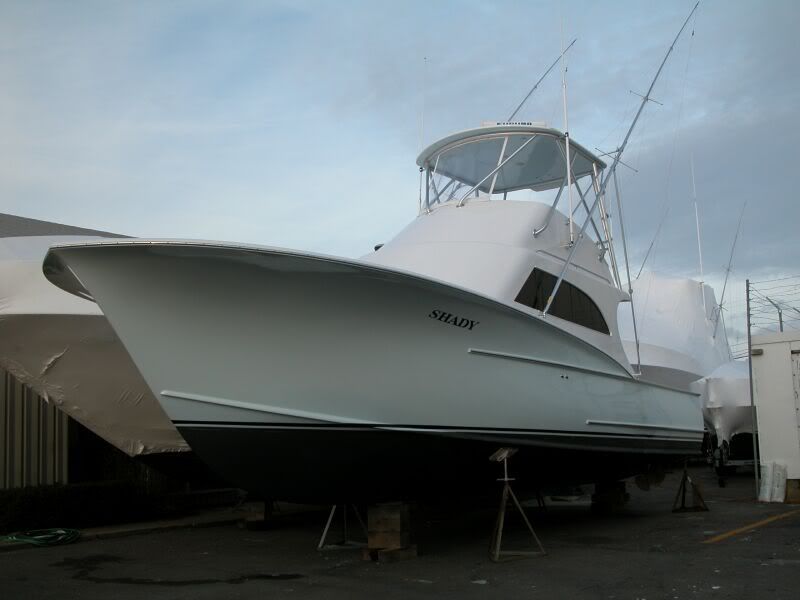 Bill invited some of his best friends to accompany him for her maiden voyage home. :clapping2:
While bringing her home in the rough seas of New York as the sun was going down he hit a log. Bert saw the long and yelled and Bill quickly turned the boat but it was too late. He struck the log which was floating up and down rather than sideways and it turned out to be the size of a small telephone pole. We limped into a New Jersey port to do a short haul and to assess the damage. Tony had called in to some friends and we received an escort and extremely friendly service while there. They even gave me a ride to the store to get more supplies. While there we learned that we had bent the Port shaft and prop. Not good for our journey home... This meant we would have to make the remainder of our trip home at trolling speed with no fishing poles... I think the worse part of the trip was once we could see the Oregon Inlet bridge... It must have taken 3 or 4 hours from that point just to get to the bridge... doh The up side to the long haul was Bill had bought some prime live lobsters for us all to feast on!!! They were the perfect size and delicious!!!
Once home, Bill called in a few people to assess the damage and there was some strut concerns found. Bill contacted the owner of Shearline Chip King because the hull was still under warranty. Shearline is a top notch builder!!! Not only did Chip come and assess the damage and agree to come here and do the work, but he also brought his top team players Scott Montgomery and Roger Davies... These guys are work horses and they do the job right! During the time they were here it became obvious that they have total pride in every vessel they build. They take ownership in these boats! It's more to them then taking your money and seeing you on your way, it's about building a name and standing behind it! It's still about the handshake and standing behind your word! Thank you for that! :yes:
During this time Bill also hired a few other folks to do a few other things to the boat... He needed curtains, a fish box, rod holders, Green Stick Mount, He wanted to alter some items like the ice chest, tackle storage, electronic box and a few other line items...
He hired Ernie at Ernie's Boat Canvas to do the curtains... Seems I don't have any pics of the curtains... :nono:
He hired Harbor Welding to add the rod holders and green stick mount... Craig and Ronald did a fantastic job on those... Ronald added another row of rod holders and Craig was the master mind on the green stick mount... That took talent to figure out how to mount that baby without messing up such a beautiful boat! Thanks Craig!!! Can't wait to get to use it! Craig also made the struts for Shearline when they were doing the hull work! Which also proved to take talent!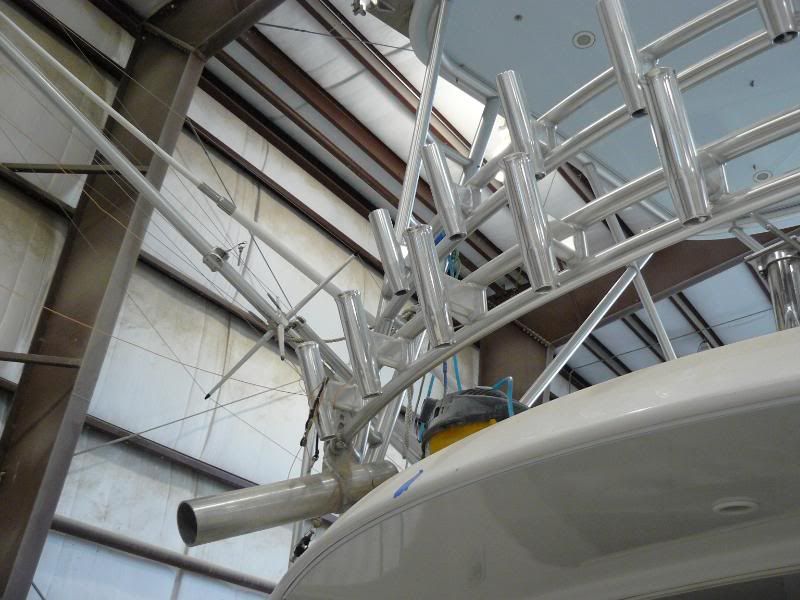 Now we move on to the hard stuff! Bill hired Freedom Boatworks to complete the rest of his checklist... Jim Polatty has been incredible... When they first met Bill came back and said I think I've found the guy who can do what I want done and he was right! I wish now that we had taken more pictures along the way to keep better record of before and after but this will have to do... But Jim has been invaluable to SHADY becoming CIRCLE BACK...
Bill and I asked Jim to remove the name SHADY as one of his first line items... It seemed the name was bringing bad luck to all in her path so Jim did. Ironically enough it also seemed that things started to get better as soon as the name came off... I'm not usually a superstitious kind of gal but things definitely improved... Bill and I decided to place the stickers CIRCLE BACK on ourselves one semi calm day... I say semi calm because if you've ever been to Wanchese you know the wind is always blowing there??? Go figure... dancedance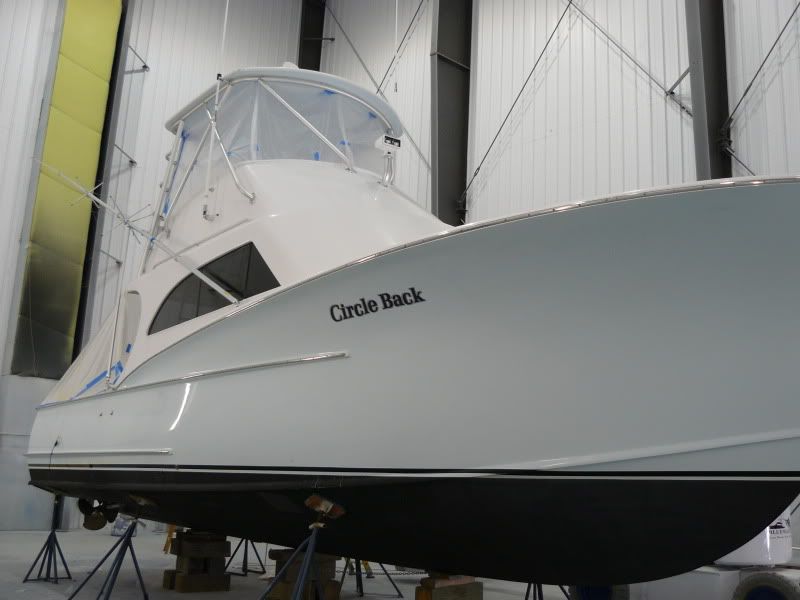 I apologize for not remembering the order of all the items that came next but I can tell you this... Jim put a lot of effort into making sure that each and every line item was done the way Bill wanted it done. I would have to say the most difficult item was the removable stainless steel lined fish box. She weighs in at over 300 lbs and holds plenty of fish as we found these past 3 trips... Bill had Kelly at The Welding Shop do the Stainless part of it and Jim at Freedom do the Fiberglass part and she is a box to be reckoned with... Can't wait to fill her with tuna's!!!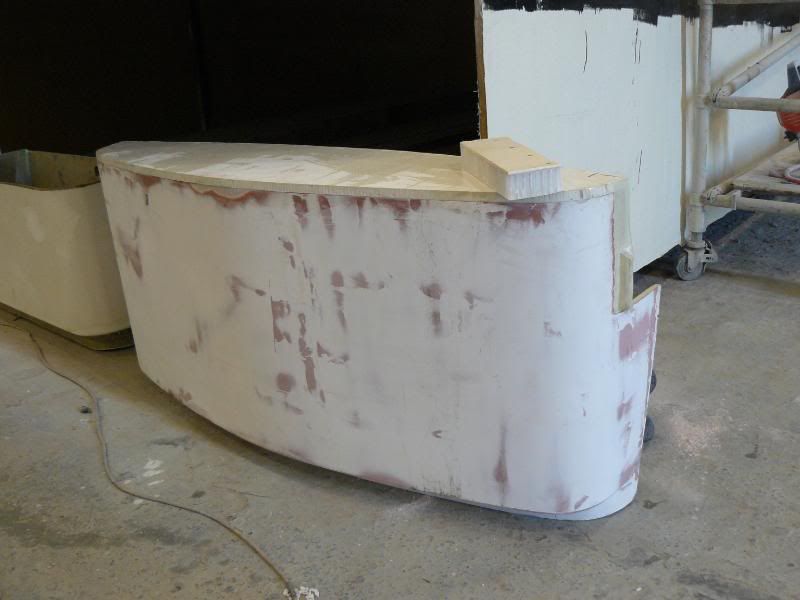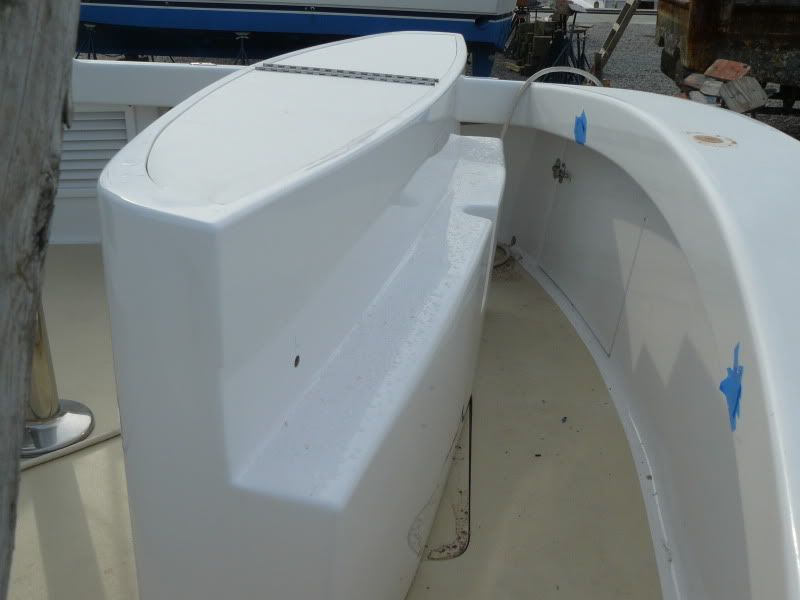 Wow, is that not exciting???
Ok, here are just some random pictures... Bill asked Jim to remove the partition from the ice hold, add shelving for the tackle storage area, add electronics in the bubble (Jim had to tell me what the bubble was), remount gauges elsewhere to make room in the electronic box, re-do the teak up top and he also had to move the lazerette door and fighting chair mount because of the size of the fish box.
Ice hold before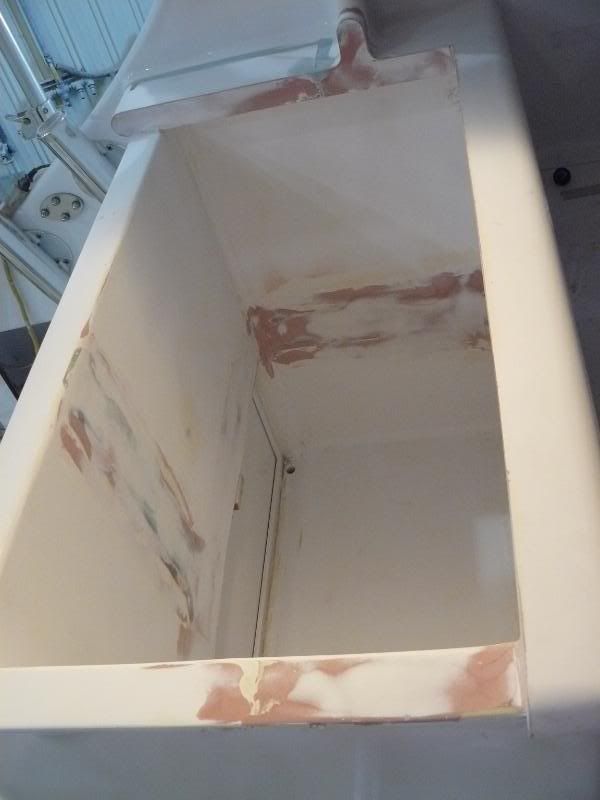 Ice hold after
Tackle storage before...Again, I wish I had taken pictures because this was just one big hole... It didn't have any shelving at all before. Robert did a fantastic job building this!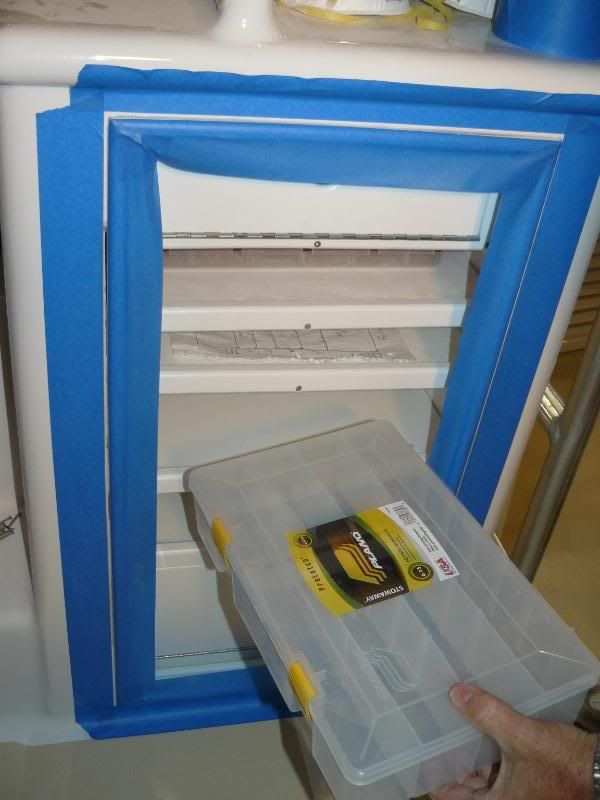 Tackle storage after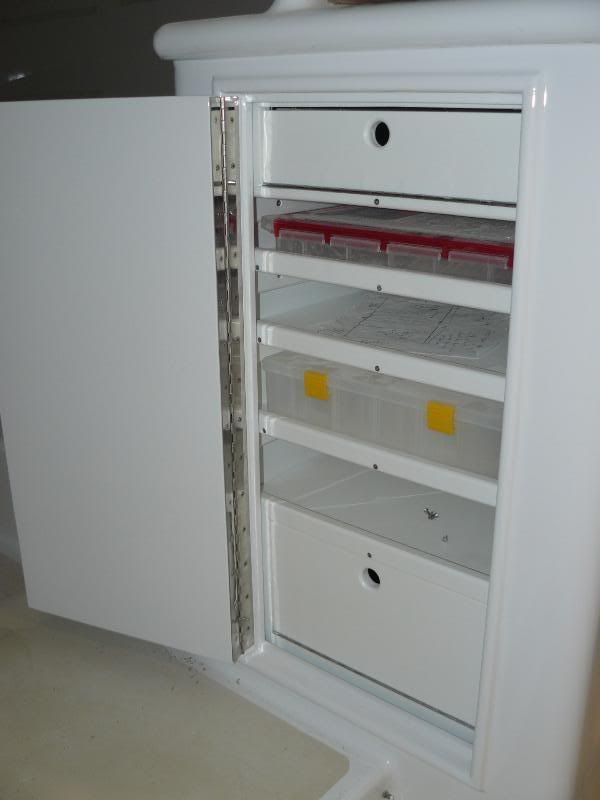 Lazerette / fighting chair / engine baffeling changes
Electronic Box before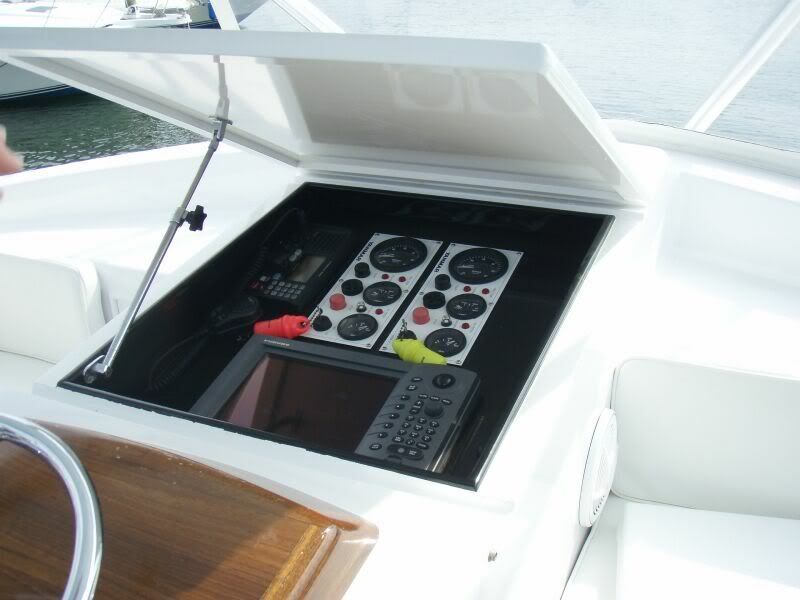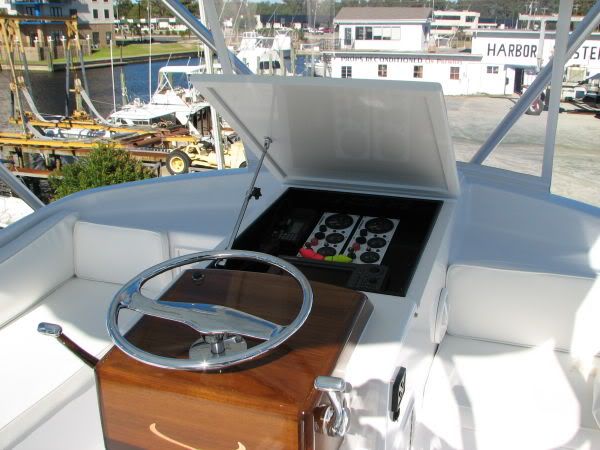 Electronics Box Now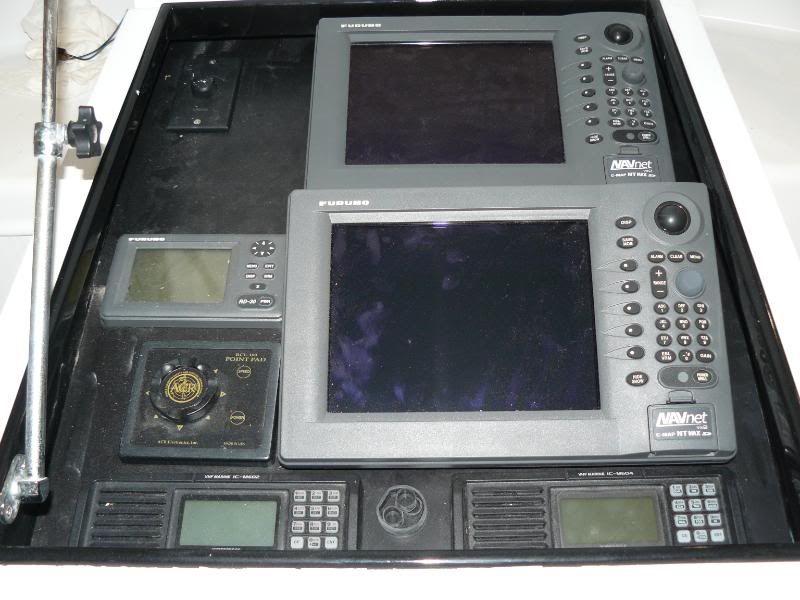 How did Jim get all of that in there???
I am sure I am forgetting stuff but wow this is a lot and I haven't even gotten to the fishing report... I am going to post a reply to this thread to for the fishing pics because I am afraid it will not allow me to post this many pics... But I will add one more picture here of the name changing ceremony because I think it's appropriate... We didn't get any really good pictures (only one in fact) but it's worthy of putting up here... The sun was setting fast and Circle Back had just brought back her first limit of fish! How appropriate! She had an exceptional crew aboard and everything just seemed right in the universe! Thanks to all who participated and may Neptune and the four winds forever be gracious to all who step aboard her!!!
Becky-