Discussion Starter
·
#1
·


All,

As you know, I always try to provide a free catch report with any advertising I do here. Here is a cobia catch that was provided by Chris Gass who had been fishing off of Cherrystone.


​


Chris and his dad visited our 4th of July tent at the Cape Charles festivities this past weekend. Many of the folks who visited our booth asked us for a boat division and wished we had been doing it that weekend. Maybe next year we'll do that for flounder and cobia. I've got a potential sponsor who called this morning looking to guarantee a $5,000 cash purse.

A pic of our booth is shown below where we showed the Live Leaderboard, trophies, T-shirts, etc.. Sponsors like Chris' Bait & Tackle, UnderWaterFishingLights.com, et. al. continue to pile on with prizes and other cool stuff. The total value of the "in-kind" prizes is beginning to overtake the guaranteed $1,200 cash purse prizes.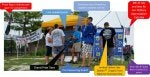 ​


As I came across the Bay Bridge Tunnel on Sunday and visited with some folks fishing off the pier, the response from my fellow "pier rats" was very good, especially from the Coast Guard and Navy guys that didn't know anything about the tourney or the Military Appreciation Calcutta. The kind folks also asked some excellent questions that I need to add to our Q&A section of the website (e.g., "Can an angler hoard spots on the pier?"). I was also asked "Can I be assisted in the catch if supplying a catch to the Military Appreciation Calcutta Division?".

I realize that most of you boat guys don't care about a pier tournament, but please pass the word out about our Cape Charles Queen of the Bay Pier Tourney to my fellow "pier rats". If I had more time, I'd stop by all the piers this weekend and pass out flyers. It is for these folks who can't necessarily afford a boat that we created this alternative type tourney format (and of course our Special Angler community). We'll be flooding the event with streaming web cams, setting up underwater lights, daily prizes, etc. to make this as fun as possible for a small tourney (and of course we have use of the FD Live Leaderboard system for the national audience).

Even if you are a "boat guy", consider coming out and coaching some of these young anglers. You can still fish in the Open Division, and if you are active or previous served military, your catches automatically get factored in the Military Appreciation Calcutta Division. The purse for this is currently at $100. We will be taking donations at the tourney to add to this (100% of what you donate goes directly to this purse).

Link to tourney website is here: http://fishdispatch.com/queen-of-the-bay.html Select the Cape Charles even for details. We will have to limit the number of anglers on the pier, so priority for those spots is being done on first come first served basis. Early registration secures your spot and gives you priority all four days of the tourney.

Joe posts . . .