Intended to head out in the bay today to try for some tog and flounder, but the NE wind alone started my back to hurting. Time for a 'plan B'! We hit the water around noon and decided to try the bridge rocks again. Instead of fishing for baits we headed to the structure with jigs. Figured if this didn't produce some fish we could fall back on the live croaker deal.
Current was ripping as we got up close to the pylon to hide from the wind. First drop of the 1oz red jig w/7" white gulp jerk shad got hit on the way down and came back up with a 23"er. Ray was using a 1oz chart. Spro bucktail w/jerk shad and didn't get hit for a couple drops. He changed up to the red/white combination and got nailed by a 25" rock on the first drop.:clap:
Several more drops without hookups and we moved to the next pylon (closest to Yorktown). My first drop there got hit on a slow retrieve back to the surface and a nice 27" rock hit the deck.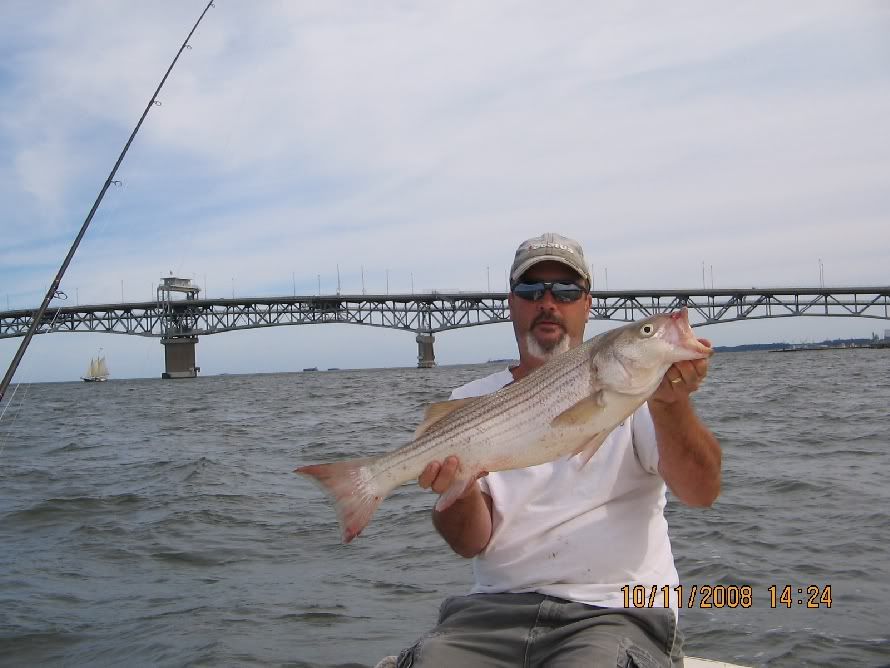 Total time on the water so far was 30 minutes and it looked like we were going to break the speed limit.
For some reason the bite shut down cold. We couldn't buy a bite! Didn't understand it cause everything was the same.... ripping current, waves crashing the pylons, but it just quit.
We jigged the two pylons for about two hours longer changing to a 2oz jig for a better feel of the bottom, and trying every angle on the structure we could think of. No more hits. We eventually gave up and went to catch some live bait. That was just as slow today as yesterday, so while we drifted a rod for bait we snapped a couple picks, ate some combos, and had a mountain dew.
We finally caught a lonely croaker and headed back to the bridge. The current was barely moving out now and I positioned the boat on the up current side and held it steady. Ray dropped the croaker up next to the pylon and let it down slow. The bait made it all the way to the bottom without getting slammed.
I geared over to the leeward side where we got them with jigs and that was the ticket. The Croaker was no more...
Last fish for our limit was a 20"er.:thumbup:
It's been a while since I've been out in the bay and I was a little disappointed that the wind was up today.....until that first rockfish hit the deck.
After today I think jigging is going to be 'plan A' for the near future and I'll relegate the live lining deal to 'plan B'.:yes: It's always nice to have a plan B!
James