Discussion Starter
·
#1
·
Ray showed up Thursday night wanting to do some fishing. Took a day off work and hit the water early. The plan was to get a quick limit of rockfish and then head out to look for something else to fry. Well, it took a lot longer to get 4 fish in the boat than we had planned.... Main problem was finding the bait!
The area I gathered bait last weekend wasn't as fishy today and we ended up moving around quite a bit. Gave up after spending too much time putting 4 croakers in the live well and headed for the bridge. First bait down got hammered and up came a 22" for the box. The larger hooks did the trick on hooking up before the fish swam around the structure. I settled on 8/0 Owners and hooked the baits just enough to hold 'em with plenty of hook exposed. This time it was twitch, twitch, slam, 3 Mississippis, and bring 'em home.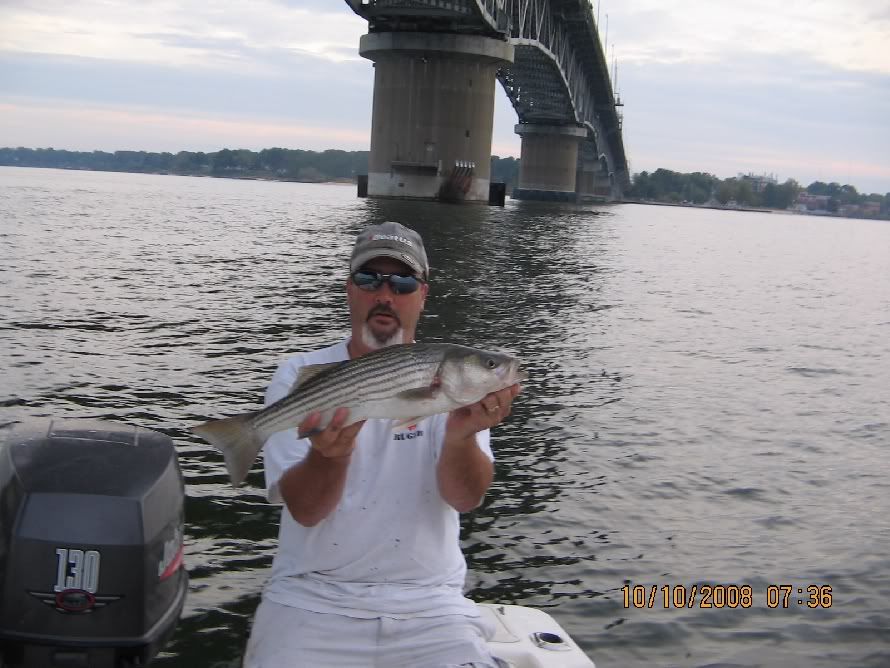 Ray's first bait got slammed and rendered useless, but he got hooked up on his second bait and brought in a 19"er. My second bait met the same fate as Ray's first, so we were baitless in about 10 minutes.
Off to gather more bait!:clap: Tried out in front of VIMS and picked up a couple, then went toward the mouth of Sarah Creek for a couple more. Not wanting to head back to the bridge until we had enough bait to last a while, we decided to try up in the creek. Caught a 9" spot, a 14" croaker, a 8" perch, and a lizard fish.... not exactly what I was looking for.
Hit a couple docks on the way out of the creek, picked up 2 more suitable baits and headed back to the bridge.
The wind/tide/waves made it a bit difficult to stay in the sweet spot up current of the pylons and we were not getting bit like earlier in the morn, but Ray managed another at 21" and I caught a 23" on a red 1oz jig with a jerk bait. Our limit secured... and it was too late to venture out for other table fair. Oh well I guess we'll have to venture out tomorrow.:yes: