….on the lake
Every once in a while I post a bass fishing report when the bay reports might be lacking due to rain / wind like tomorrow (12/10) looks to be.
This year I have done a lot of fishing in the Chesapeake thanks to this site. I found out about Tidalfish in March of this year and since then I have met some really good fishermen that have turned me onto the bay. It seems like every time I fish with a new TFer the fish get bigger and bigger. I love meeting new fishing friends and catching huge rock. However, I can not forget where it all started and the friends it started with.
I haven't been out on the local lake with my buddy Matt in quite some time. The last time was a few months ago but before then it had been a very long time- too long…here is the report from that day if you have some time and care to read it.
http://www.tidalfish.com/forums/che...oo-windy-bass-fished-instead-w-pic-vid-3.html
As teenagerss Matt and I used to fish the lakes on a regular basis together. I have hundreds of pictures and Matt literally has a thousand or more of bluegill, crappy, perch, walleye,northern pike, smallmouth, largemouth, trout - you name it, we have a ton of pictures. We often took girls out on the boat sunbathing while we slayed big summer pigs;-)- those were the days! My point is that even though I sometimes drive hours to catch huge rock, I still have fun catching fish in the local lakes that kept me coming back for more throughout my youth. To Matt and I, landing a 5lb smallie thrills us just as much as landing a 50lb striped bass. I can't even get Matt to go fishing with me on the bay!! Even after showing him all the pics you guys have been posting lately of huge trophy rock in the area, he still believes there is a 10lber waiting for him in the lake
Anyway, we had a great afternoon today and here's how it went…
We headed out about 1:00 and went to a point where we have caught fish this time of year before. Matt had pulled a few off of this spot last week so we knew it would most likely be holding fish. The water temperature was about 45 degrees and slightly stained. We fished 30ft of water because the bass tend to school up deeper seeking warmer water temps further down this time of year. The presentation is sllllooowwww this time of year. The meter showed perch / crappy holding on a brush pile near where we were fishing off the point (I wonder how that brush pile got there;-)).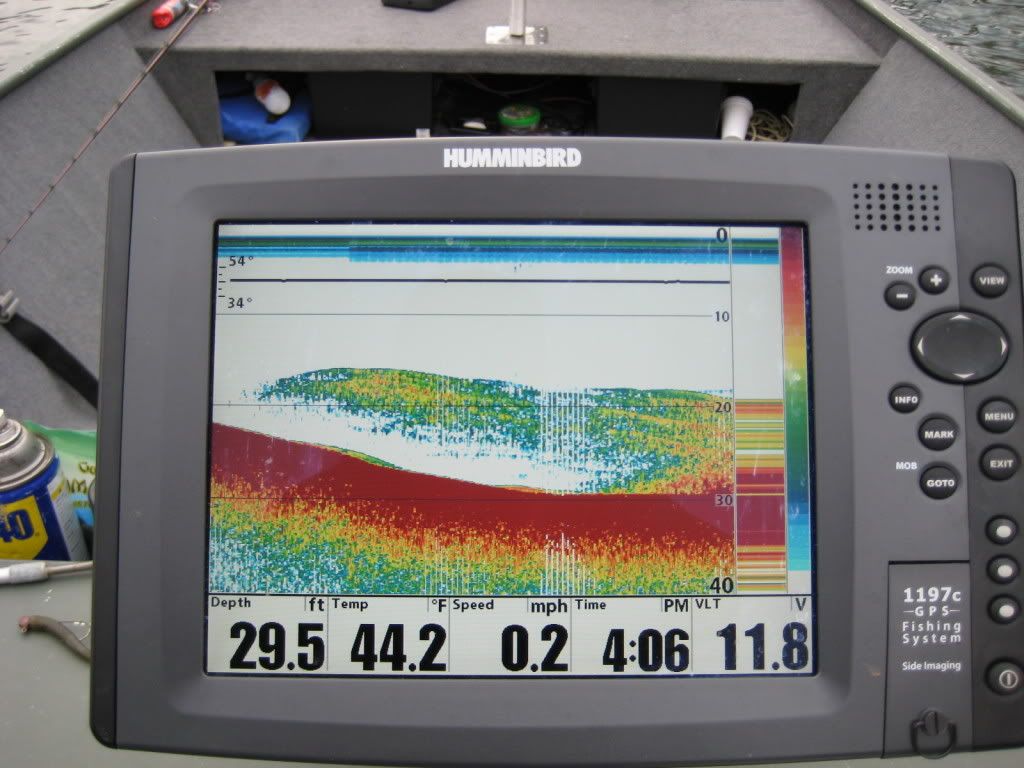 I quickly hooked into a nice bass off the point:clapping2: Yes, I know the hat looks funny but its warm!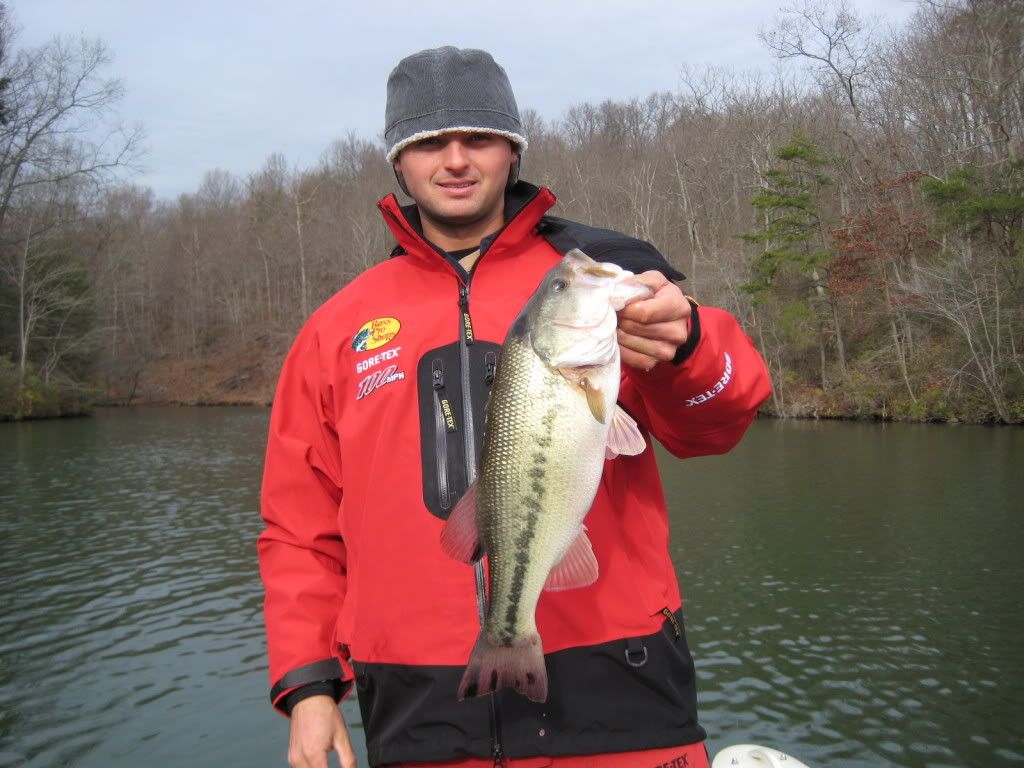 The score was quickly 1-0 and I sure made Matt well aware
I said something like "it'd be a shame to outfish the captain...again" with a smile. But Matt had other plans for the afternoon:eek2: He got into this fish right away...
http://i386.photobucket.com/player.swf?file=http://vid386.photobucket.com/albums/oo303/spynet000/Movie1.flv
You can see the smurk on Matts face in this pic knowing he had just settled the score. We caught and quick released a few more bass at this spot but then decided to leave after we snagged the brush pile a few times disturbing the area. We would come back to this spot.
Headed to a rocky strip that sat in roughly 40ft of water. Here it is on the meter. If you take a good look, the side scan image looks a little like the view we used to have back when girls would sunbathe on the boat if ya know what a mean
Matt made quick work of another nice bass at this spot too...
http://i386.photobucket.com/player.swf?file=http://vid386.photobucket.com/albums/oo303/spynet000/Movie2.flv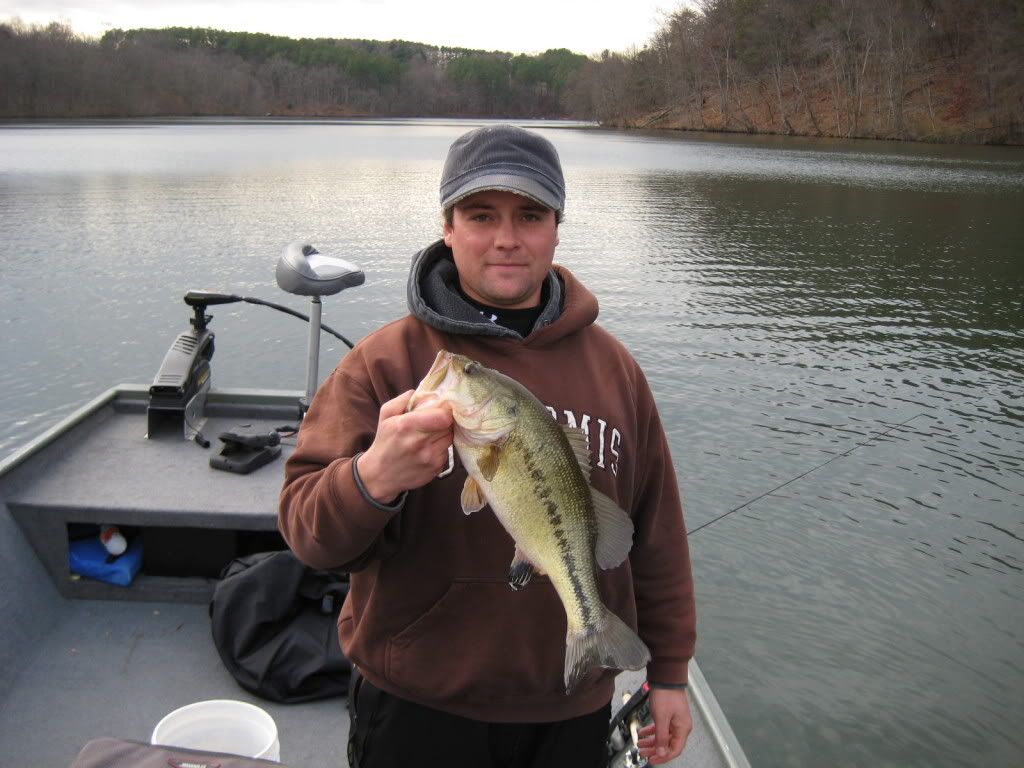 That spot didn't produce like we had hoped so we went back to the first point / brushpile. Matt was way ahead in the score so I put the camera away and we soon put a pair of doubles aboard:clapping2:
Matt wanted to relocate to try and find a lunker since we already had our fair share of medium sized bass (3lb range) before it got dark on us. We tried several rocky areas but left them quickly because we didn't feel confident they were holding fish. On the way back we stopped at a place where we had done well last year. At this spot last year, we pulled a 7lb walleye and a few other smaller ones off just after dark. It took about ten minutes but Matt locked into this 5lb smallmouth:clapping2: The drag went zzzzzzzzzz. It reminded me of what the WWB 21 Tony / parachute combo sounds like when it gets hit on the bay
http://i386.photobucket.com/player.swf?file=http://vid386.photobucket.com/albums/oo303/spynet000/Movie3.flv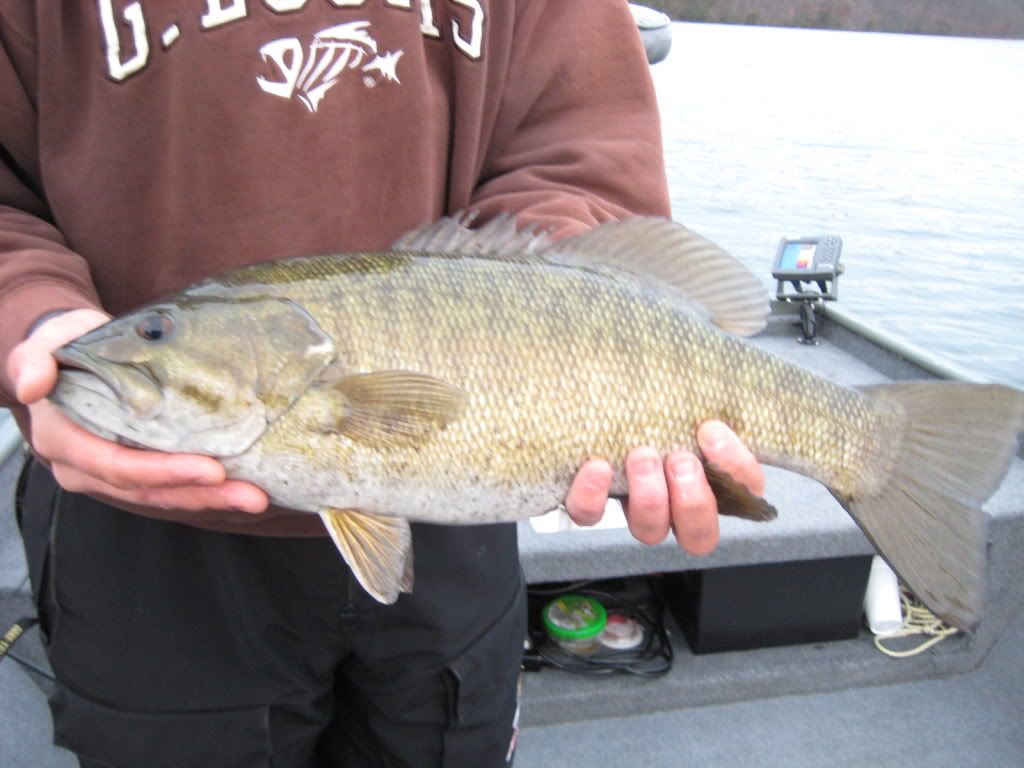 That was the one we were looking for! Needless to say I stopped keeping score
Matt really put it on me today, but as a team we got into a lot of nice fish. It was a great afternoon that reminded me I might be catching bigger fish in the bay now but its just as fun coming back to where it all started to show those bass who's boss! Here's to still catchin' in December!:chugbeer: