Discussion Starter
·
#1
·
Had a good day deep dropping with Matt, Mark, Heath, and his dad Roger Wed, 29 Apr 2015. Little rough starting out with the NOAA 5-10 forecast as it was blowing 20 when we left. Fishing started out slow until the wind and drift slowed but finished strong in the afternoon.
Good news is not a single dog all day. We had a nice slow pick at some nice sized golden tiles. As the wind and current slowed we started manually dropping and Matt lands a monster golden that went 48 lbs on my hand scale. We are heading over to weigh it this morning as it might be the new state leader for the citation program.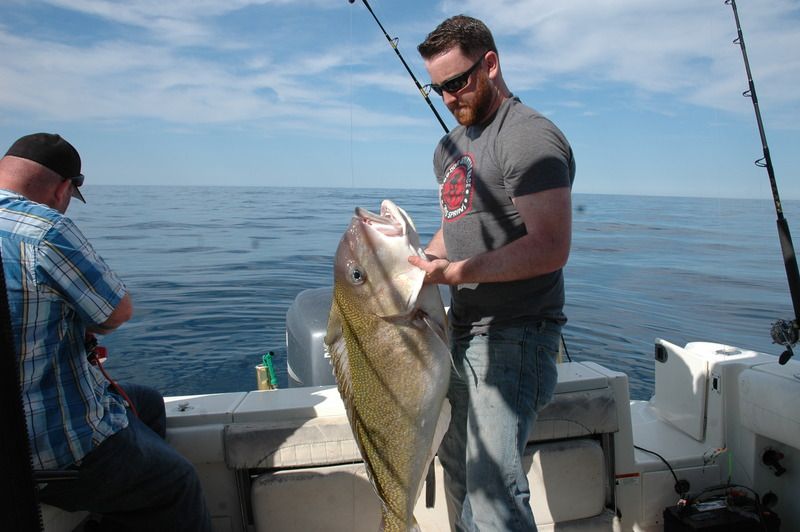 Heath had the idea to put out a no weight rig on a 50w while deep dropping. Great idea as we caught 2 makos on whole bunker. We boxed the first one at 58 inches which put up almost no fight. The second mako was a monster reeking havoc on the crew as we where hooked up on big goldens when the mako screamed off line. I could not maneuver the boat until all the deep drop lines are in. Roger fought this fish like a champ but had to release it as we can only keep one per boat. This one was over 100 inches around 9 feet.
Water temps at the end of the day was 64 with no signs of pelagics and few birds working except a few following us around looking for scraps. Did hear a boat on the radio who was carrying some research scientist that spotted a big school of giant BFT east of the Norfolk but it was too late in the day for us to chase them.
At the end of the day we got into the big chopper blues landing 13. Here is Heath with a nice one.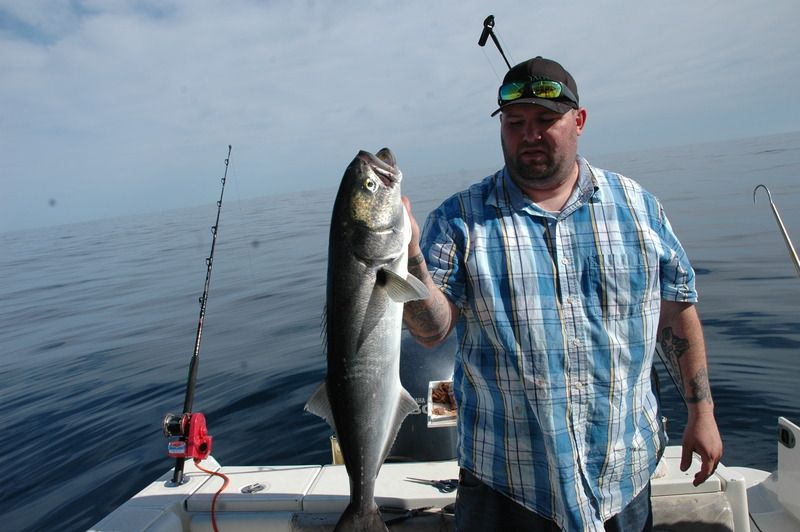 Ended the day with 10 goldens with several that were huge. 19 bluelines, 13 bluefish, 1 big rose fish, 2 makos (1 released, 1 kept).
Here are more pics. Great day aboard Seaduction.