Discussion Starter
·
#1
·
Left the house this morning at 4:30 with fellow Tfer Chris Bowers and Jason (GoMad) to fish on Chris' 22' Aqua Sport with my gear. Launched at Solomons at 6:45 and headed towards the moiuth of the river when an engine bit the dust on us
Luckily we had two:yes: Thought about turning around but we made a two hr pull to fish and the problem didn't seem to be a fuel issue that would affect the other motor so we continued. Got to 45ft and started setting lines. Heading south and notice that there were a million other boats thinking the same thing:eek2: It took us a while to get everything situated and 20 lines out but by 8:15 we were fishin'. At 8:37 a planner rod went off and I landed a nice mid 30's rock to start the morning. The fish took a white tandem 6 oz off the board 40ft.
Shortly after a chart 6oz single parachute got hit off the board back 60ft. This one was Jasons.:clapping2: I got the pic holding this one though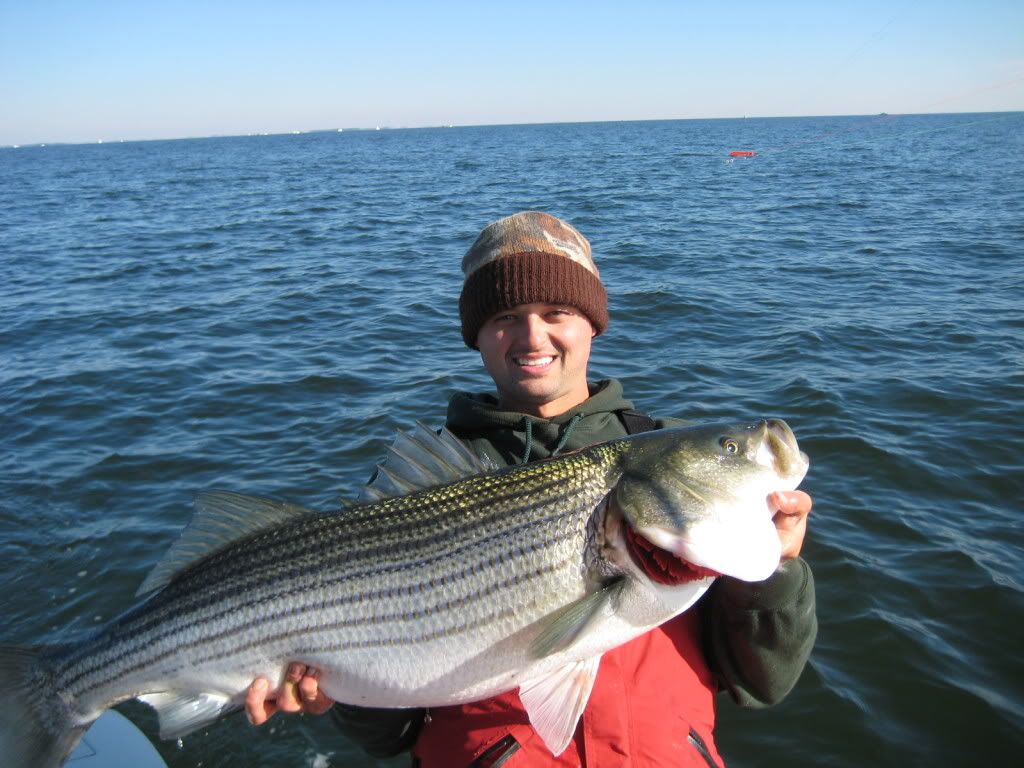 About 25 minutes later I noticed the WWB had been a little off so Chris grabbed it and said "FISH ON"!:clap: Topped off our over limit fairly quickly with some nice mid- upper 30's rock for the freezer.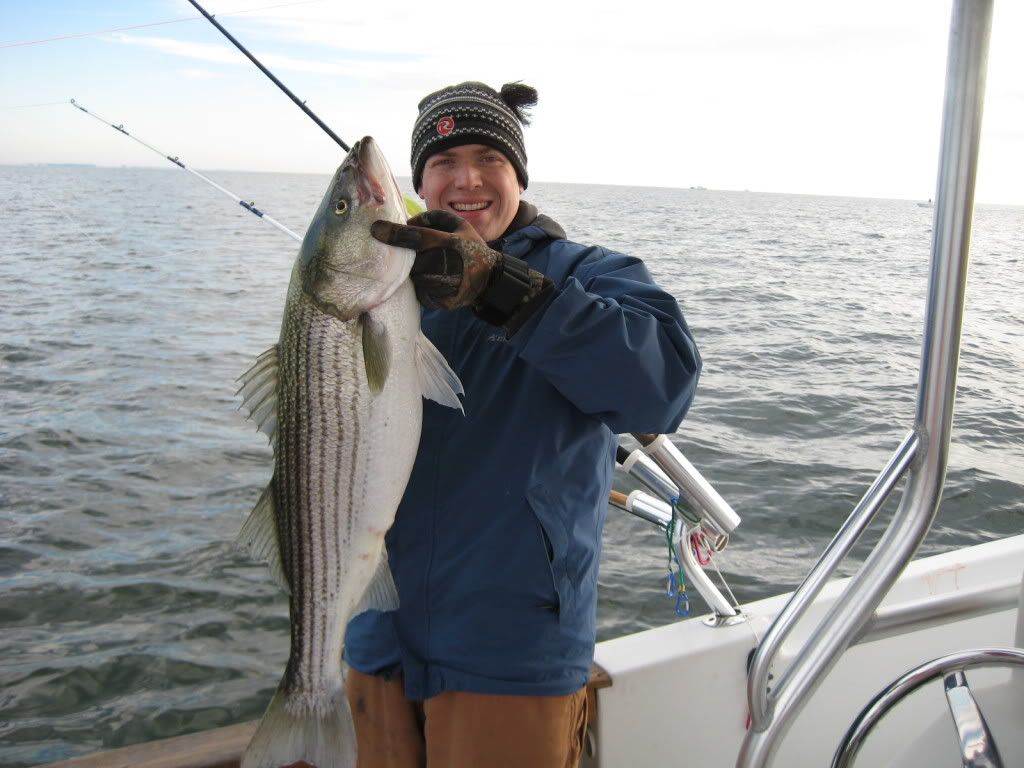 At 10:30 another board rod got hit. This time it was a Tsunami Storm shad- I think. Here is a short video clip you can see the bait for yourself. This fish was released.
http://i386.photobucket.com/player.swf?file=http://vid386.photobucket.com/albums/oo303/spynet000/Tsunamistorm.flv
About 10:50 the dummy line started acting weird and we pulled in a nice fish just under 28 to put in the box for one of our "under" fish:clapping2: This fish hit a double umbrella w/ white 6'' storm shads. For the nex hour or so we didn't get a hit. Boats were slowly fading when we decided to work shallower (50ft) when suddenly a huge bait ball showed up on the meter. I told Jason to make a sharp turn to put some action on the baits. 30 seconds later a chart 6oz single gets hit 50 ft off the board and then the WWB started to ZZZZZZZZZZZZZ. I grabbed the planer rod knowing that instead of setting the WWB to its normal 325ft, I set it back to 375ft this time out
Here we are with a double hook up:clapping2: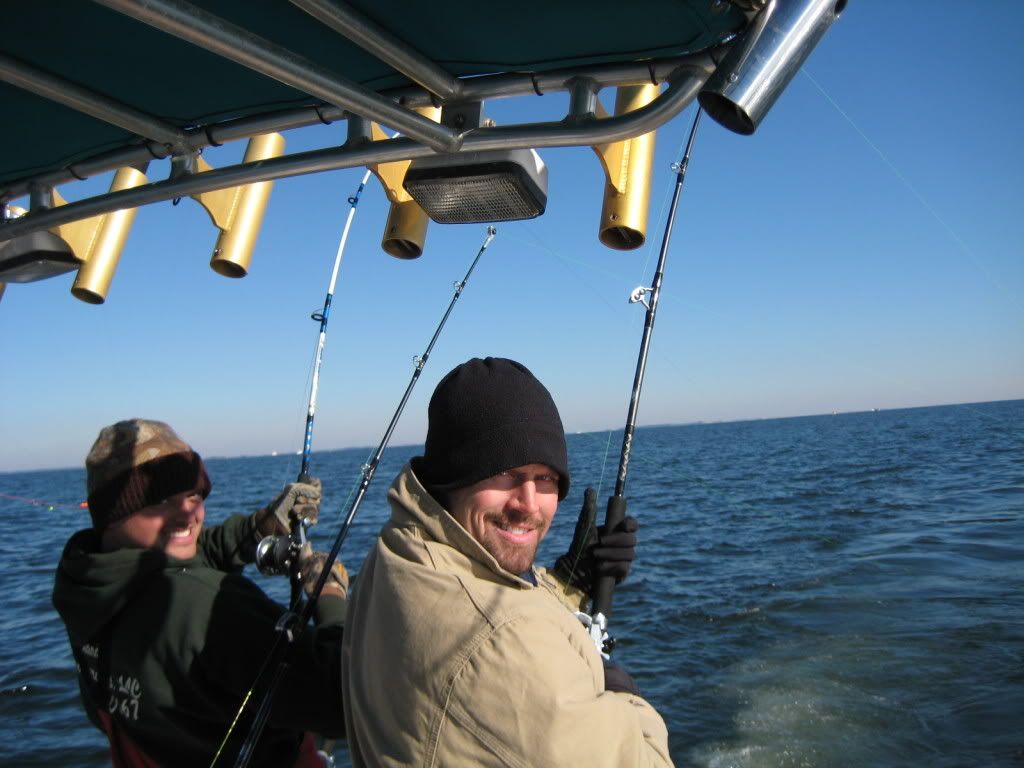 I got my fish to the boat and made a quick release because Jason said he definitely had a hog on. Here is my fish as you can see jason struggling with the WWB.
As Jason got the fish closer we noticed a smaller fish flapping at the surface. Me and Chris quicly called him a sissy and told him to man up. Jason then realized he had two on:eek2: Here is Jasons catch on a UTUBE video. ..
YouTube - MVI 0322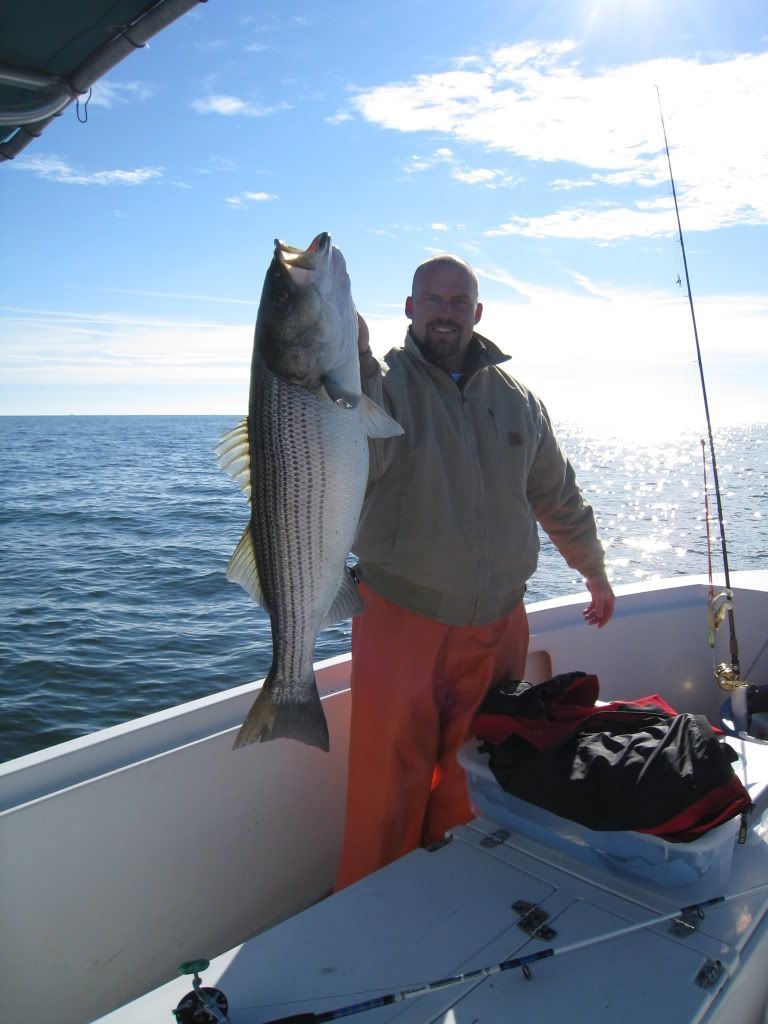 As you could tell, Jason was very excited about his catch
He even called himself "Big Daddy". The big fish ended up being a nice low 40's rock that was released and the smaller rock was just legal for another one of our "unders". The big rock hit a 21 Tony and the smaller rock hit the 6oz chart parachute that was in tandem. Had two more fish boated by 1:00 which completed our over / under limit and threw back the other. Here is Chris with our last "under".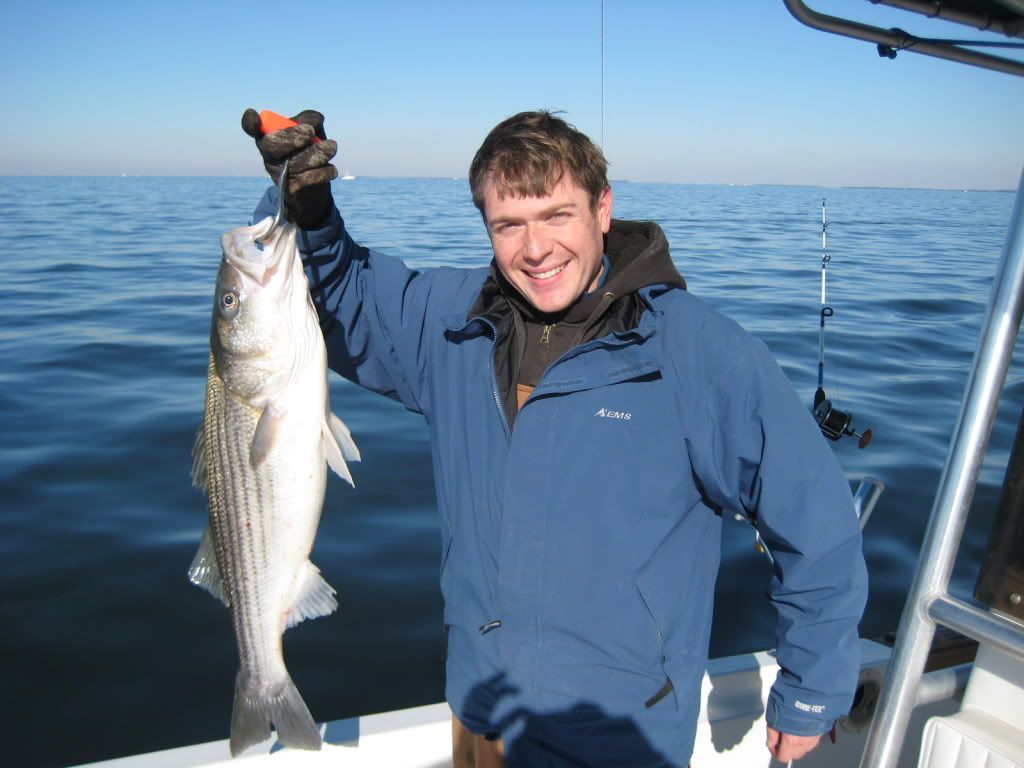 This made a total of 10 in the boat with 3 or 4 other hits on the planers that didn't set. A great -almost December- day on the bay:clapping2: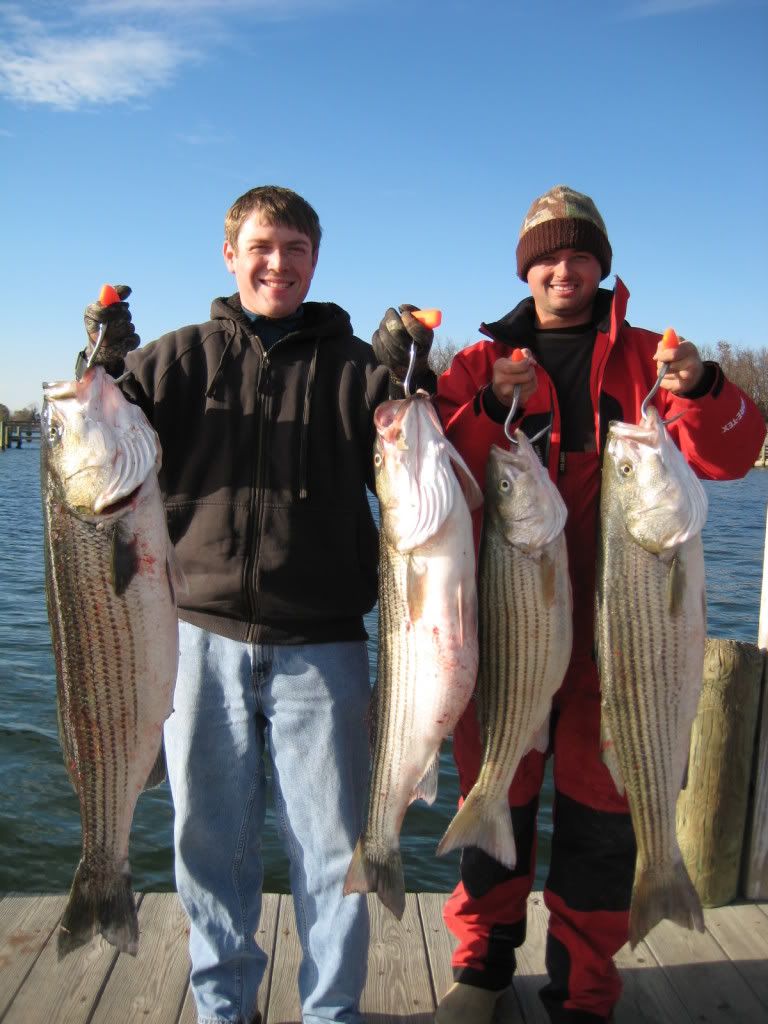 Summary: We caught most of our fish in 50ft of water and only one of our 14 knockdowns was on a deep rod. 3 fish on the WWB, 10 on the planers and 1 on the dummy. I put 6 rods on each side of the planers and mixed it up with color and sizes. They hit everything today.