Discussion Starter
·
#1
·
Finally got my boat back after having both powerheads replaced.Ed Miller did the work and called me last week that the boat was done.Great but all the ramps were iced in.Sunday morning the 18th I went to Fort Armstead ramp and saw open water :thumbup:.Called Ed and he brought the boat over to test her out.Now Ed is a huge Ravens fan and the kick off was 6:30 but he still took time to help me out.We ran the boat slowly and Ed hooked up pressure guages and computers to verify everything was working correctly.He made a few adjustments and then we ran the boat at 3,500 RPM's.Both motors ran fine and we put about an hour on them.Yamaha is still trying to figure out what caused the motors to have trouble but the new powerheads and other parts seemed to have fixed the problem.
Ed helped me put her on the trailer and he got home in time for the game.I was left with a long list of break in procedures to follow.
Got back out today (Thurs) but noticed a strange mess on my hitch.It was all reddish brown - never seen this before
.
Trailered to the park and launched about 10:00.The road into Armstead is rough but the ramp was ice free.My plan was to run way south for 2-3 hours and then come back and try for some Perch at the bay bridge.I have to put 9 more hours on the motors at various RPM's as break in.Ran south and the river was calm.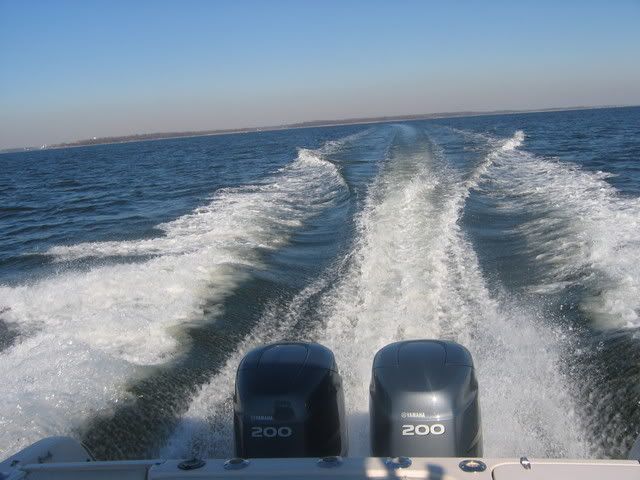 Once past Bodkin Point-I turned SE and saw the bay was even flatter.Too flat - it was a sheet of ice.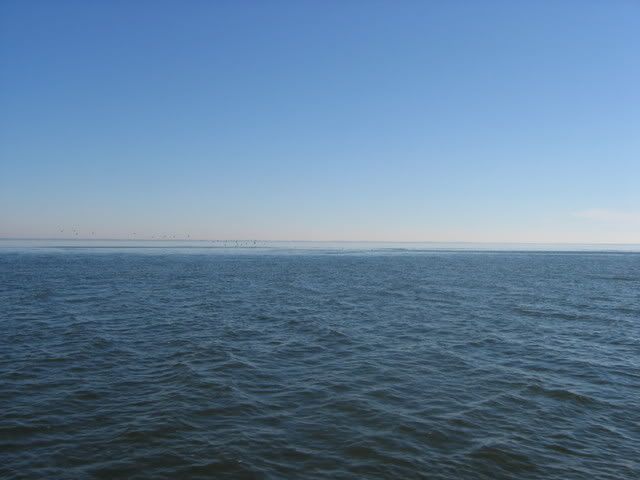 With a SE breeze and incoming current-I knew the ice would be into the river before long.I ran as far south as Gibson Island along the shore but had to turn back due to ice chunks.These were as big as pick up trucks - no fun to hit at 25 knots.The water temp was 34 in the bay but 39 in the river so I swung around and went north to Fort McHenrey.Had to go through some slush but very little ice in the river.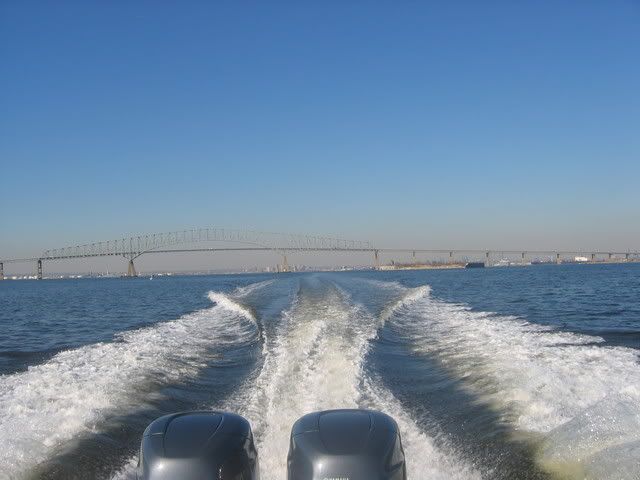 Saw a netter by the bridge in the channel.Great one hour down-only eight more to go.I retraced my track and ran back towards the range towers.The breeze pushed the ice in along the shore so I had more open water to run in.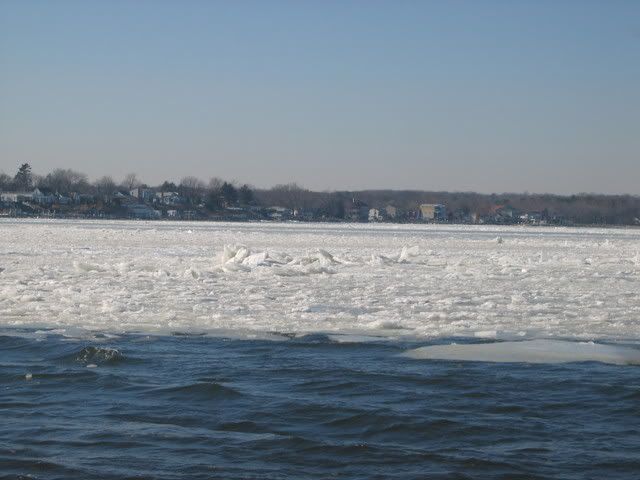 Heard the Coast Guard on VHF telling of 3 inch thick ice near Pooles Island.I just kept doing a big 6 mile loop - felt like a dog in a small yard
.The ice broke up somewhat and I found a path through.Got down to Baltimore light as the breeze shifted.Not wanting to be stuck in ice-I ran back into the river.Good thing as the ice was 3/4 blocking my path.Had to play dodge em icebergs a few times.My GPS was getting full.
After 4 hours of running under 4,000 RPM - it was time to really test the new powerheads.I ran them up to 5,400 for about 10 seconds and they loved it :thumbup:.After that-I have to stay below 4,500 for a few more hours.It was about 4:00 as I got near the ramp.Took a gamble and made one drift near where the netter was.Water temp was 39.5* and there were fish near the bottom.Got one little 17 inch Rock on a 5" chart. Bass Assasin on a 1 oz head.Decided to get on the trailer before dark.Headed home into rush hour traffic but I did not care.Felt so good to have my boat back :yes:.One more trip and the break in period will be done.Then it's time to go fishing again.Running around in circles gulping fuel sucks.