Got to Breezy Point at 7:00am and there was no line and only about 12 empty trailers there.Did a quick check at the fish cleaning station for Capt.Bob's knives but no luck.Launched the boat with help from my crew- fellow Tfer's Vinny 83 (Vinny), Fishing-Rod (Rod) and Jdimig (Jay).We ran out on a slight NW chop and saw alot of boats between 78A and 78.Never a fan of crowds- I steered past the fleet and slowed to trolling speed just south of Parkers in 50 feet on the western edge.Water is clear- clear enough to tempt diving.The temp. is 50* - cold enough to forget diving
.Got everything out by 8:00 and settled in an east/west pattern.Saw very little bait on the meter but about 8:30 a single chart. parachute 90 feet off the board got hit.Jay reeled in a nice 36 incher that hit in 65 feet.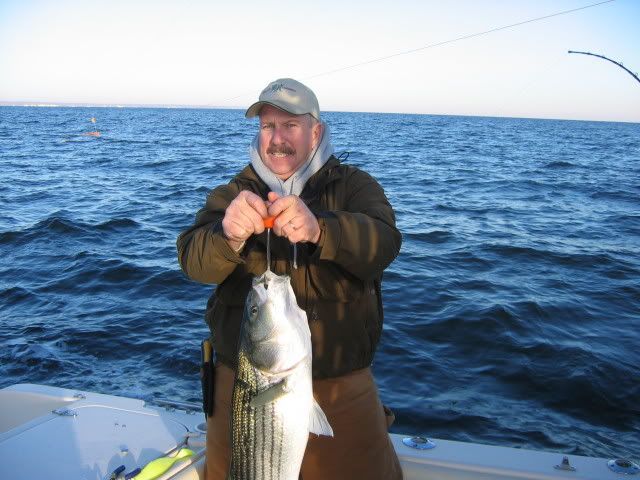 Jay had bought a set of planer boards from me and wanted to learn how to use them.He learned real fast :thumbup:.We had a good hit on the WWB but the fish missed getting hooked.My guess is it hit the spoon- not uncommon for Rock to miss on a spoon.We went into 45 feet on the west side and saw a pocket of bait.A planer rod with a single white got hit and Rod reeled in a nice 35 incher.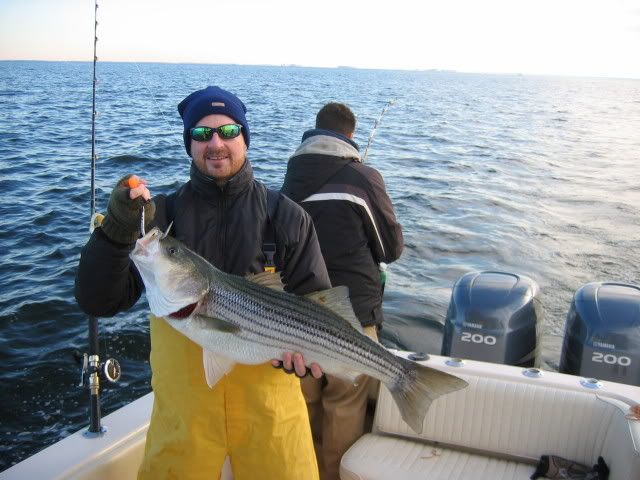 We just had that one on ice when another planer rod got hit and Vinny reeled in a nice 37 incher that hit a red hose/parachute tandem.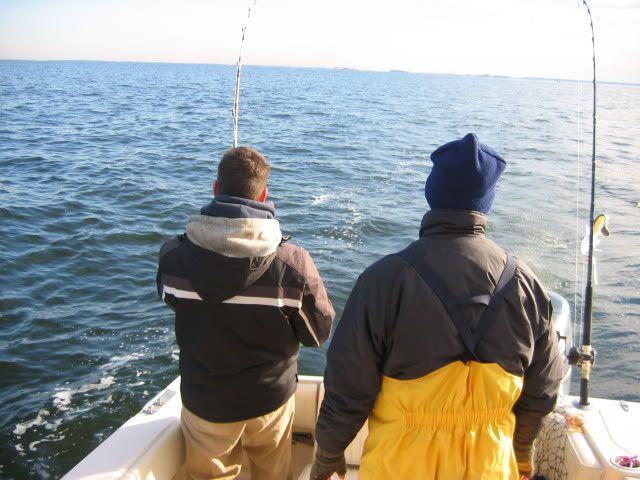 We swung back around but could not find the bait again.The meter stayed blank for most of the day as we searched all the way to the CP marker.Saw a few fish caught but most on the VHF reported slow fishing.The weather was unreal for Nov. 30th - flat calm and warm.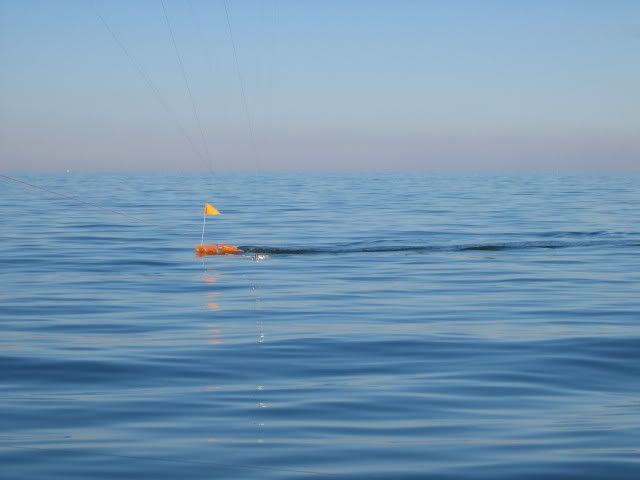 The guys had their fish but mine was playing hide/seek and winning.The current started moving in and we started working our way back to the ramp.About 3:00 the WWB got hit and this time the hook stuck.I reeled in a nice 34 incher that hit the 4 oz chart. parachute.We were heading east about 2 miles below #78 when the meter lit up with baitfish and scattered Rock.The WWB got slammed and was loosing line but then the fish got loose
.We reset it and then a planer rod got hit and Rod was soon fighting a nice one.The fish spit the hook about 100 feet from the boat
.Swung back to the bait and a tandem off the boards got hit.Jay showed us how to land a fish
p and soon a fat 38 was C/R ed.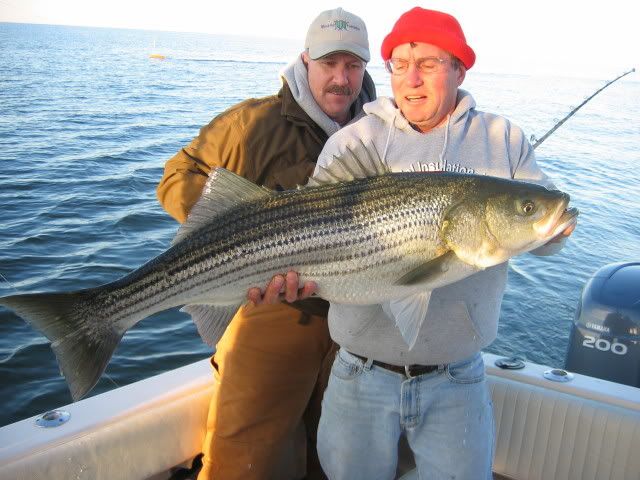 Vinny had us laughing as he took underwater video next to the boat with a new camera.Not sure how it turned out but it was fun to watch.
It was about 4:00 and most boats had gone home.My friend Alberto was still out and I called him to the fish.TFer Step Child joined in as well.We did figure eights over the bait and let four more go before it got dark.We had to use the spreader lights to reel in the rods and then radar to run back.Alberto followed us back to Breezy on a smooth as silk ride back.It was hard to believe that December was only 30 hours away as we put the boat on the trailer.