Discussion Starter
·
#1
·
Fished with Ric and Rodger Burnley on Friday night at the CBBT. First time ever fishing in a Jones Brothers boat and man what a great fishing boat. Plan was to fish the light line with some eels and do some catch and release. Ric had fished there during the week and had a great trip with Wes. We started off ocean side of CBBT for a little while then moved off the bridge a little bit and tired a place with no action. Around 8:30 we moved back closer to the CBBT on the bay side to set up for the outgoing tide. Once the tide got running out pretty good the bite was on!! I think we ended up catching 25-30 fish with the smallest around 38" up to 47" which Rodger caught for his release citation. We ended up with 3 releases on the night. Ric with a 45", Rodger with a 47" and I got one that was 44 1/2". Alot of fish in the 40-43 inch range and fat. We had Mike on the
SEADUCTION
and Ken in the
HEALTHY GRIN
on each side of us and there were tearing them up also. It was a great night out there!! All you could see were flashes from cameras going off, pretty cool. Thanks again Ric and Rodger, I really enjoyed the trip and ready to go again.
Me with my 44 1/2" release citation
Ric with a citation fish caught on light spinning tackle with a storm, awesome catch!!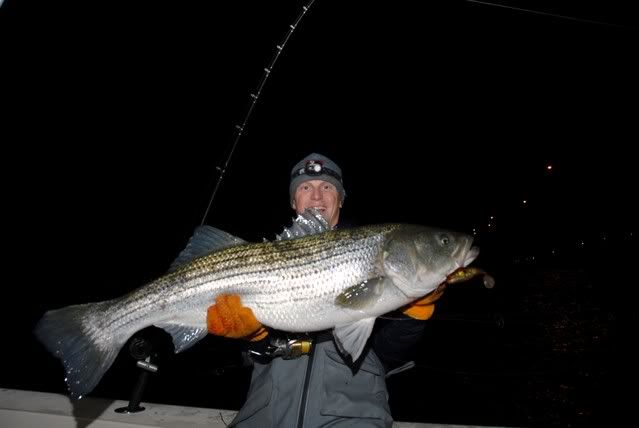 Me and Rodger holding some big guys. That was Rodger's release, 47" and had to weigh around 45lbs.