Discussion Starter
·
#1
·
I know title is fishing report - honestly , game plan was to fish.
Fellow TFer Ggable1 ( Grayson ) called me last week - he lost an anchor off Dobbin's island in Magothy river. It was a high dollar polished SS one . Since it was in 10-12 feet of water - I figured it would be a very simple recovery. We tried to go last week but storms put things on hold. One nice thing about this area - with no visibility underwater , no chance other divers finding the anchor.
My mom has been in hospital for last two weeks - she passed away on Friday afternoon. As you can imagine - been very hectic time. Felt good to go out on boat alone - just to unwind - and I looked forward to fishing. Grayson planned to meet me in his boat to mark where anchor was lost.
I stopped in Anglers for bait - figuring on getting anchor quickly and then fishing my way back to Sandy Point. Small craft was up but waves were only a foot or so. Prediction was for it to lay down later in evening.
Got to Dobbins early so used side scan to look around where Grayson described hanging the anchor. Found one large object - about 20 feet long. Hmmmm , with nothing else around - figured this might be the snag.
Since it was shallow - I used a 30 foot range on left or right only. This gave good detail. I noticed bright " spots " - I took to be metal of some kind. Grayson arrived and drop a marker very close to the object I had seen. He tied his boat off to a mooring ball and got in my boat. I normally do a " no recovery / no charge " type deal but Grayson had a bottle of 151 rum tucked under his arm - liked his optimistic attitude.
We side scanned close to his marker - both thinking - that looks like a huge tree. Dragged grapple and on second try - had it hooked. :thumbup: Cool - it was 4:15 - I'd be fishing by 5:00. Hooked up the tank to my gear and turned the valve. Normally there is a slight - Whoosh - as 3,000 PSI fills the hoses. No sound - Oh , oh. Looked at valve handle - it was spinning the valve open.
Some how - this tank valve had been opened a touch. Just enough to allow the air to escape without me hearing it. Normally I carry two tanks on the boat but six of my seven were being filled at dive shop.
Sh*t - what to do ? Made few calls - hoping a friend who lives near Magothy might be able to run to dive shop in Severna Park and meet us at his dock. No luck but did get ahold of my son. He was not too far from Severna Park and could get to dive shop to grab a tank for me.
Grayson used GPS to find Cypress marina - it would only be 1 mile from dive shop. We ran up to the creek and Tyler was there only 15 minutes later. He just shook his head at me as we waved thanks and headed back to the snag. It was now about 6:00 but had full tank of air.
Got to the snag and got gear on and went over the side. Water has dropped to 77* - from 82* last dive. Felt refreshing once suit warmed up. The wind had really stirred up the water - visibility was zero. Felt my way down the grapple line and bumped into bottom. Odd - grapple had hung on something but not the large object we had seen with sidescan. Felt the tines of grapple and found an anchor. Grayson told me he had 15 feet of chain on his- this one was tied to rope.
Oh well , clipped it to bag and sent it up. Swam it over to boat - Grayson was thrilled - until he saw it was not his. I assured him I'd find his anchor as he handed me back my lift bag.
Back down into the chocolate colored water and once again found the bottom. Slowly crawled ahead - moving my hands in arcs to feel for the snag. Quickly figured out what the bright dots were on side scan - old beer / soda cans. It was sad how much trash I felt - plastic cups ( I'll bet red Solo ) , bottles and cans ( some crushed ). No way to take them with me but felt bad leaving trash behind.
Crawled about 20-25 feet and came up to surface to get my bearings. Grayson pointed me to where he felt the object should be and I just swam towards bottom. Bump - there was the bottom so I crawled slowly and in 5-6 feet bumped into a massive tree. It was about 30 inches across and had limbs thicker then my arms. OK - time to get to work , I inched my way along it. Had to be extra careful not to snag my dive gear on a limb. My shears do fine on fishing line but not on something like this tree.
Crawled along it feeling mussels / barnacles - then a chain :yes:. It was wrapped around a limb - anchor down in the V of it. Took my time untangling the chain and then pulled anchor up. I could strattle the log and it made a great work bench. Felt for my lift bag clip and snapped it to the anchor. Inflated bag slowly and anchor rose to surface as chain ran through my gloves. Funny being in shallow water - still had chain left when bag broke surface.
Swam up the chain and towed it over to the boat. Grayson took the piece of line still attached and was thrilled it was his rode. He tied it to the railing - then pulled the anchor in. Still had daylight ( like it matters ) and almost full tank so headed back to search rest of the log. Surprisingly - no more anchors were on it.
Grayson has good sense of humor so made him take a " loser " photo.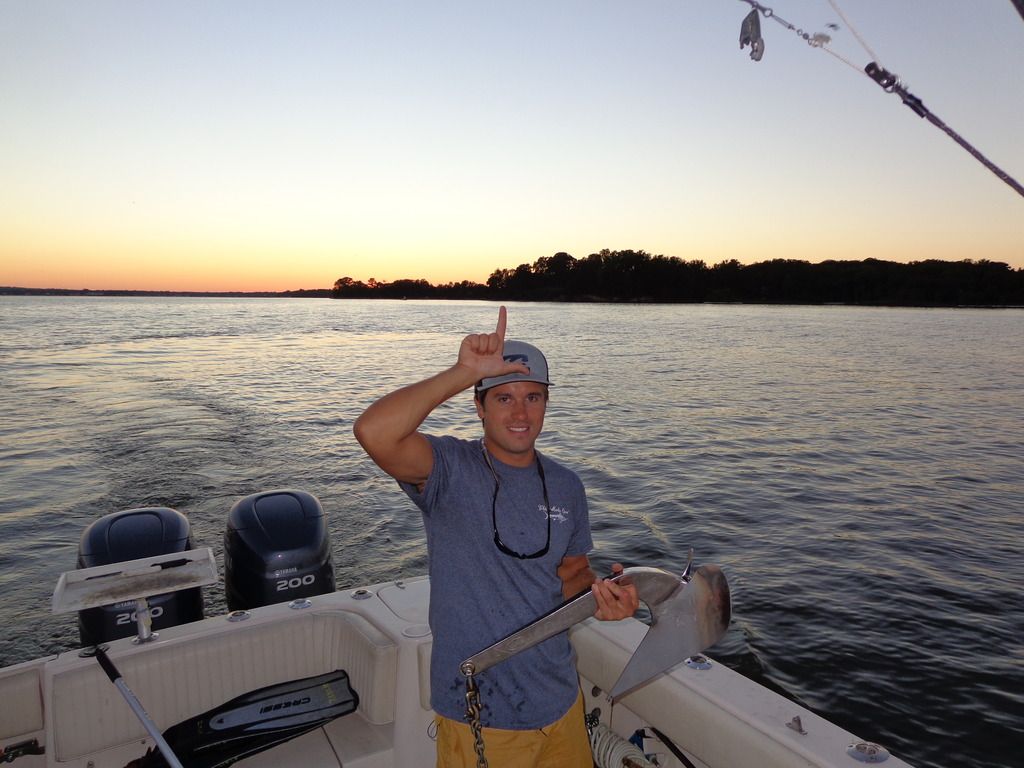 He could have cared less - had the nice anchor back in his hands. While I got gear off - he cleaned it and took photo for me.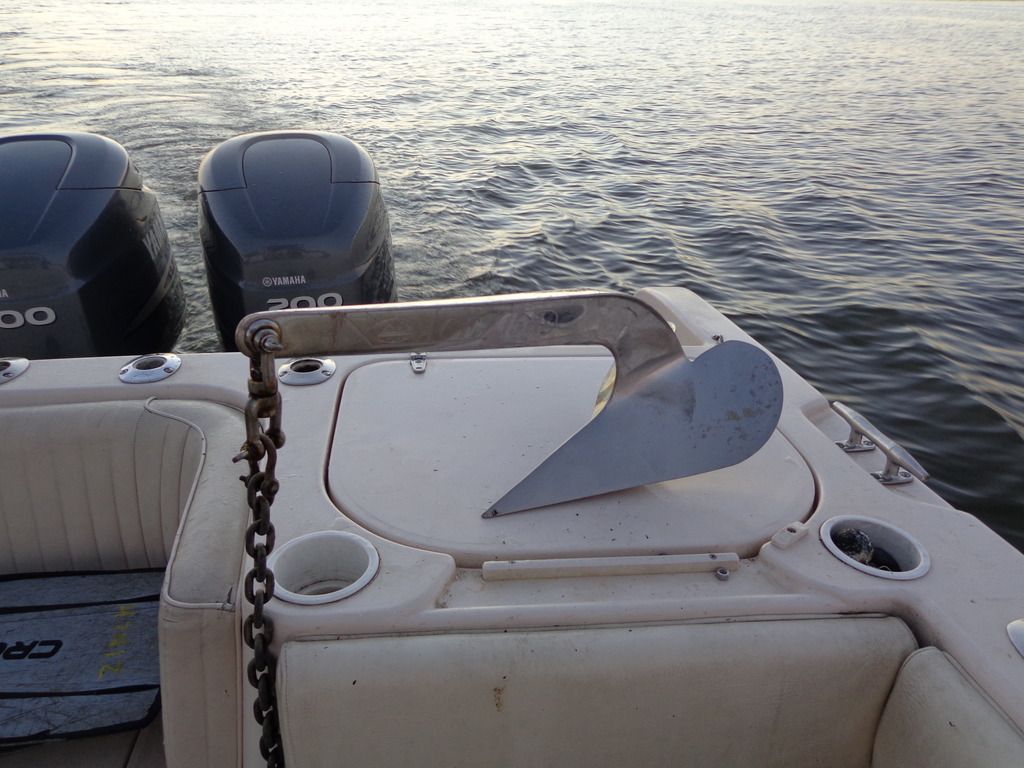 Motored 100 yds to Grayson's boat and he stepped off. Handed him his anchor and turned radar on - would be a losing race against the sun set.
Ran back on almost calm seas - debated fishing but decided best to get home before 10:00. Got to ramp and was putting things away when another fisherman came by to ask how I did. Explained I did not fish ( despite 10 rods in holders ) but instead was diving. Young guy with him asked - are you the diver from Tidal Fish ? I just laughed as I said yes , that is me.
Hoping to go fishing on Friday - with two tanks in the cabin from now on.