Discussion Starter
·
#1
·
I hate to trouble ya all with my personal problems here at my home and in my personal life, but I feel comfortable sharing this with ya and hoping maybe I can git some feedback from those of you who are parents.
Its my stepson Scoop. Man, I raised 2 of my own but this is another deal. I adopted him young enuf that I thought my values would rub off on him without any real coaching. For the most part the kid is not a bad boy, especially when you consider all the temptations out there for kids to misbehave on. He came to me with open arms when I adopted him, but maybe the fact that I wasnt willing to pay an additional $3 for the high-chair he was sittin in there at the Toano flea market last autumn has left him feeling rebellious. I mean, he spent the whole dagum winter tending fastidiously (another killer word) to the garden, with little to no problem. He seemed to be happy as we planted everything this spring and has been by my side tending to it so far, but dadgummit, today I come home to find the boy all in his cups. I dont drink, so I dont know if someone supplied him with the beer or if he stolt it. Regardless, its gardening time, and I have no time for this kinda irresponsible behavior from one I saved from adoption by some abusive parents. I need some help obviously, if he cant hang with doing his share for the household he can go on Craigs List and supply some Chinese sweatshop with child labor sewing the waistbands onto Hanes mens briefs.
I am rightfully embarrassed, but you cats are my friends. I hope you can fathom what has happened here without criticizing my parenting skills.
What brings a child to this behavior, and why I ask you?????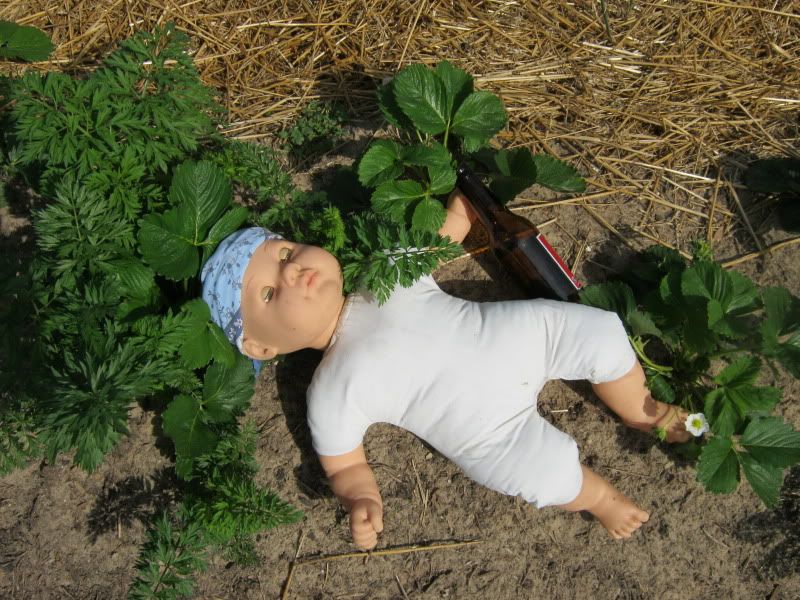 I tried slap the boy awake but he done outdrank his system and is on hold for the time being. I was a rowdy kid once, and can empathize in a small way as his parent. Regardless, potatoes are at risk and this kinda **** is unacceptable. He is still weak at the knees but able to kinda keep himself upright, passed out, with some help, at this point. I am brewing some 2X strong coffeee for the little scamp. If that dont work its off to Mike b's meth lab to see if he gots anything to pick him up a little. Mike b is a last resort however, as the last kid who rehabbed there is still weeding cabbage 4 yrs later and aint slept a wink. No dang wonder Mike b grows the best maters on the internet.
Now if any of ya all got any ideas on how to stomp some sense into this kid, please share that info. I cant tend all this gardening chit alone and I dont much cater to lacksadaisical children.
Brad, I value yur take on this. Is this little hellion lashing out at me cuz he spent the winter outside in diapers (prying that frozen chit away from em before washing him this spring was no fun). Or did I just purchase a tainted mail-order-bride, so to speak, and need to cut him loose?
Please help. I am at wits end, and dont want the negative PR when the homicide comes out on the CNN news.
He's a chip off the ol' block though, let him consume some booze and he's worthless as tits on a chikkin. You bastages been my friends thru thick n thin, dont abandon me now in my hour of need.
That little thankless SOB. It is like always, and I mean here's the truth: I show a liitle kindness & understanding by adoption and git slapped in the face for my trouble. The liitle parentless SOB used me to find a home for himself; now that he's settled in the true Scoop comes out. No wonder a family in Canada with too many kids from lack of passtimes in the wintry months put him up for grabs.
Thats it then. I have taken a stance on this questionable child-rearing question.
I am gonna fill the bathtub, drag his drunken azz into it, submerge him, and see just how outta the pic he really is. Personally, I think he has had time to shake it off, share an herbal treatment with Dad, and ingratiate himself back into the family.
Please dont let this news of my misfortune ruin yur alls day.
Thanks for hearing me out, this kinda stuff really tweaks me.