Discussion Starter
·
#1
·
I'm not really superstitious but today has me thinking there might be something to this Friday the 13th hype after all.
Last year - I donated a trolling trip to CCA to auction and a guy named Clayton won the bid. Well , the 2010 spring troll bite was slow and we agreed to wait until it got better. Schedules finally worked and Friday was picked as the day.
Clayton could not go but sent his son in law Pat and his two buddies Mike and the other Mike. I had great intell of a great bite on Thursday and figured it would be an easy day - only needed three fish.
Fellow TFer and good friend Mlag ( Mark ) helped me out by going along. We got to Breezy at 5:45 am and found a very high - low tide :eek2:. Water was up to dock and high was not until noon. We ran SE across a very lumpy bay. So much for 10 to 15. Ran to the CP marker and put over the full spread. The guys were amazed at the boards but soon caught on and helped set the rods. Once all 20 were out - we worked east / west watching the meter for bait. Lots on the west edge in 50 to 70 feet but no hits. Worked into 40 feet and a wire outfit with a 20 oz MoJo and Tony #21 got hit. The guys were excited but Mark and I knew something was not quite right. Soon we all saw the spunky , greedy 24 incher that ate a spoon half it's size. Pat did his best to make it look big for the photo.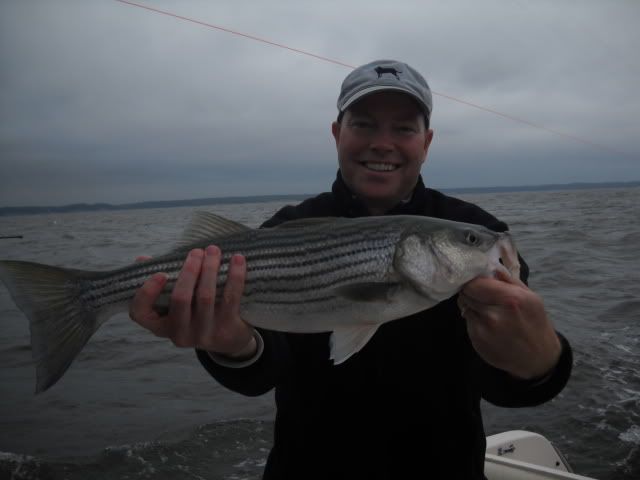 Not a keeper but at least a fish. Trolled back out deeper and saw better marks on the meter. Mike saw the starboard planer board acting odd and called my attention to it. We all watched in horror as it slowly began to submerged until the flags were just about under. Never in 10 years of pulling boards have I seen this happen. The rough waves swallowed the board and then it came back up. Not sure if it hung up on a branch or what but glad it cleared itself. 13th - Hmmmmm.
We trolled along the edges and had a hit off the downrigger but no fish. This was getting bad. Worked up to #78 and got a hit off a tandem. The other Mike reeled in a nice 35 incher and just as it was netted - another rod got hit. Mike reeled in a nice 32.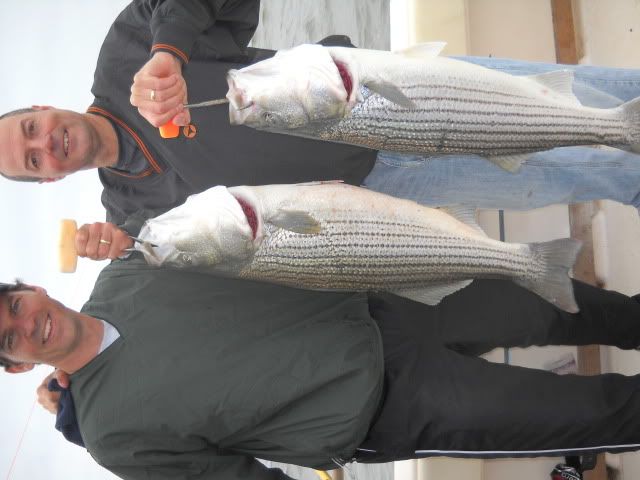 One hit a 3 oz white flashy parachute - other a 6 oz chartruese chute.
With new hope - we circled the area and got another fish on the planer. Pat reeled in another undersized Rock. His friends teased him to no end. Had to dodge a few nice waves but continued to work the 75 foot water. With time running out - they had to be back in Baltimore by 5:00 - another tandem got hit. Mark got the rod down but fish was gone. Reeled in to see the hook was broken off at the bend. This happens now / then - the stinger hook wears a groove in the lure hook dohdoh.
Son of a b*tch - Friday the 13th. We trolled across the channel and another tandem rod got hit hard - really hard. Rubber band snapped , rod bucked - then no fish. It got loose before any one could get to the rod. We fished right up until last minute but Pat did not get a keeper. Mike and the other Mike made sure their friend knew it - in a good kidding way.
Once back to Breezy - found ramp flooded but managed to get the boat on the trailer and head for home. Guys had a fun time and divided up the two fish. Not sure if it was the 13th curse or not but what a strange day.