Discussion Starter
·
#1
·
January 12th 2011 hunt
I set up a camera and some corn at this spot for the first time this year a couple days ago. I go check the camera two nights ago and I didn't turn it on properly where the screen was always lit up almost in the "read" function but not the "take" function. The corn is all still there. So I lay out a few more handfuls of corn and reset the camera. I hear it take a few shots of me walking around after dark. Good I say and head home.
The next morning was when we got a good snow, around 2 inches. Probably the most so far this season. After taking my son to school I go check the camera again. All the corn is gone and there are 77 photos in less than 12 hours. Cool. I put out a small bag of corn and head to work. I'm back on the spot at 330pm. At 4:15 a buck shows up, the same buck I shot two weeks ago and lost. He's got an irregular rack, one long spike on one side and a well formed 5 point on the other. He was fine as the day before I shot him. He makes me though and does the 180 to get up wind. 5 more deer show up but he's very nervous the whole time. Everyone else is oblivious. He ends up bolting out of there and takes a family of does and fawns with him. All except for one fawn for some reason who saw a 6 inch spike feeding in the mix so I guess it decided to stick around. I had ample opportunity at the spike but shot the small fawn. Since the other deer were nervous and followed the buck out of there, I thought this deer might too. So I took a quick shot with a moving animal. It hit far back with a 2 blade rage. The deer runs about 40 yards and stops. I see blood pouring out pretty well when it stops. A good 5 minutes go by and the deer lies down. Then of all things a fox shows up. The spike is still over the corn pile but spooks a few feet and goes on full attention with this large red fox around. But the fox is going straight for my deer. So the deer stands up now, wobbly legs and all and starts to move off with the fox right on its tail, actually circling around. I didn't have a clean shot at the deer I already shot but did for a split second have one on the fox at 35 yards. I drilled it. There was this horrific sound as the two blade rage connected with the animal in the shoulder. The arrow barely goes in the animal and the fox takes off back towards the direction of the car with my arrow and my million dollar 2 blade rage. I'd say it was a shoulder blade hit and the arrow barely penetrated. There was only a small amount of splatter blood in the snow at the shot site.
I later climb down once it was dark. The spike would not leave the food pile, even with me half way down the tree! The deer I shot who's now 40 yards away spooks though. I wait another ten minutes, scare off the spike and track the doe I shot. She's only another 10 yards away and expired. The entrance was mid section; the exit was even further back. I hit liver and gut. That smelled something awful. But the rage did its job and opened properly even though it wouldn't open on my practice target for some reason. The fox? Who knows? I have to go find him around lunch time today. The neighborhood would not think too kindly of a fox dead with an arrow in it. I butchered the deer on my own for the first time last night. Actually, I've never even watched someone else do it and I'd day I did a very good job. I even got the meat between most of the ribs and had sautéed back strap and tenderloin with onions and garlic last night. I finished everything by 10pm and shot the animal at 445. I hope I get better at this. My back is killing me today.
One more comment about the photos. After I go track my deer around 530pm and start cleaning it, it takes me roughly an hour or so to drag it near where I originally shot it and collect my climber stand. In-between that time I check my photos and 6 more deer showed up, including a nice 6 point I've had my eye on but haven't seen him in a while. Unbelievable! I couldn't have been more than 60 yards from them in the dark and with a strong wind. The other statistic of the day yesterday was that it was blowing a steady 20mph or more with winds doubling that at times. I got nervous and bear hugged my tree a few times. So… corn, late season, even a cave man can do it.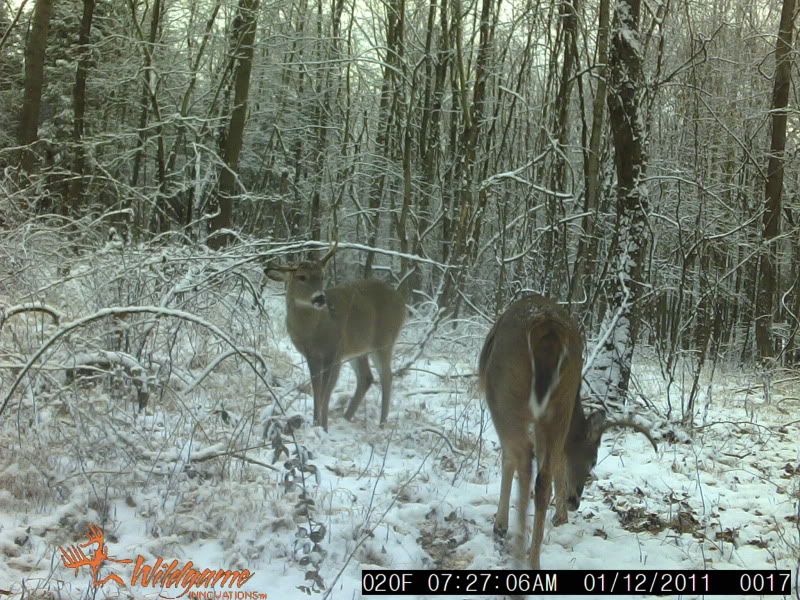 Check out the wound on his left shoulder above. Then on his right side in the picture below. This is a two week old wound.
This is the deer I shot two weeks ago and followed a decent blood trail for over 200 yards. This was the first buck I shot this season and I've passed on this exact deer probably a half dozen times. But since it was the last couple days of muzzle loader, I figured I'd try to fill a tag with my bow. Plus this buck chased off a well hit doe during the rut on me. Since then I've only let him go one other time and decided there wouldn't be a second. Well, I followed a blood trail crossing a drive way, then a street twice, the tarmac made it easy, then on to someone's front yard where I lost it. I asked permission and stayed out in the freezing cold for hours in the dark without any luck. The next morning I went back with my 4 year old who somehow found the blood. After a few attempts of cry wolf of seeing only red maple leaves, I wasn't so sure to believe him. Except he was right. I was a proud father at that moment. First I asked Ryan if he wanted to look up hill or down. I wanted to go up hill as that was an area I hadn't checked well the night before. He chose down hill, logically. Sure enough, he finds a stick with some blood on it. Now the trail was back in the forest with the help of leaves to pave the way, we were on to something. We followed it again for a couple hours and a hundred yards only to lose it. I made an effort. We hiked all over the forest that day with my son on my shoulders. Nada. Well guess what, this deer is back only two weeks later, alive and well. He quickly spotted me in my stand when I was 22 feet high and he was up wind, a strong wind I might add. I was certain it was the same deer with the irregular rack. If you look at the picture the entrance wound is high on the shoulder and off to the left on his left side. The exit wound is shown on the next photo in his neck on the left side of the body. Lesson's are being learned here. I kicked myself for taking the shot as you all should know. But I am amazed to see him so healthy and the first to show to the food pile. He bolted out of there in a hurry when a half dozen other deer didn't get the same vibe as he did. A strong gust of wind came by and he thought something wasn't right. I've seen him chasing doe well into December this year. He's a home body and will be interesting to see him next year. I just wish I could retract the shot now. Or have made a better shot I guess. He gave me a shot yesterday but with him being on high alert and the fact that he survived some serious trauma, I decided not to take it. Looks like he'll make it.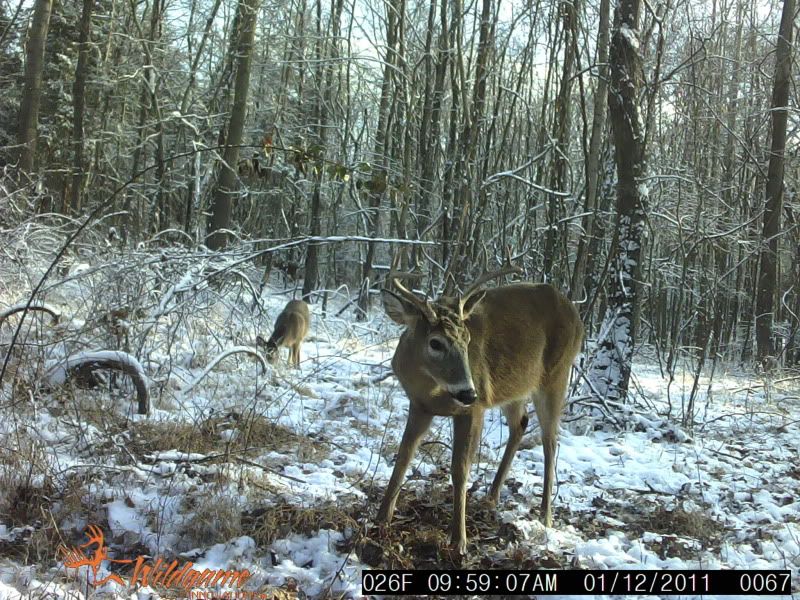 Then here's a picture of a decent 8pt buck, or what I call decent. Maybe a little skinny though. What do you guys think? He's getting old or isn't quite mature yet? His snout and face sure look distinct, almost old and gray?
Then check out the time line of the other photos. I shot my deer around 430 last night. The spike stuck around. I eventually climbed down, scared the spike off and retrieved the doe I shot. In-between the time that I climbed down and field dressed my deer, another herd shows up, including a solid heavy 6 point I've seen around. I had no idea they were ever there as they didn't know I was there. I was downwind in a wicked wind storm . When I reviewed my photos later that night, I thought my camera was acting up. The last shot is me collecting the data card last night on my way back to the truck. I was hoping the camera would have picked up the shot I made on the doe but I guess it was taking so many pictures of the spike that it didn't have time to reset for the shot.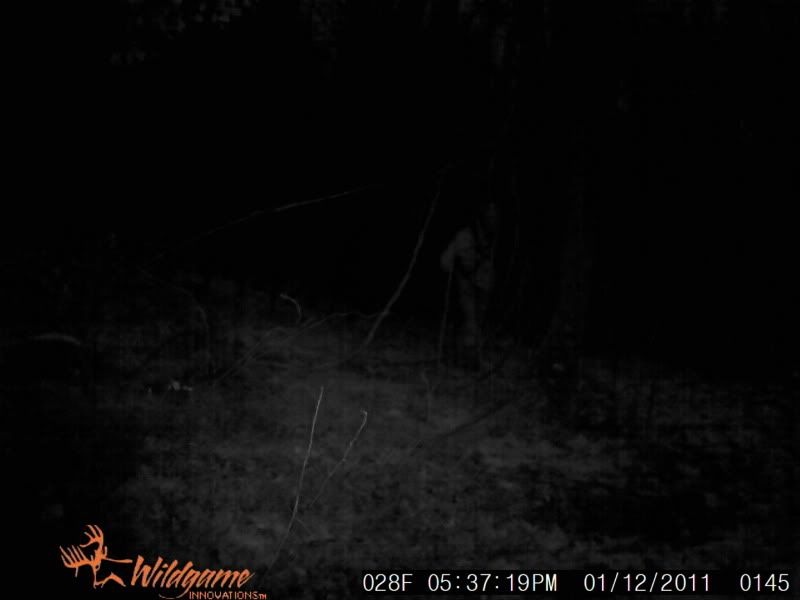 This is me going to retrieve me deer.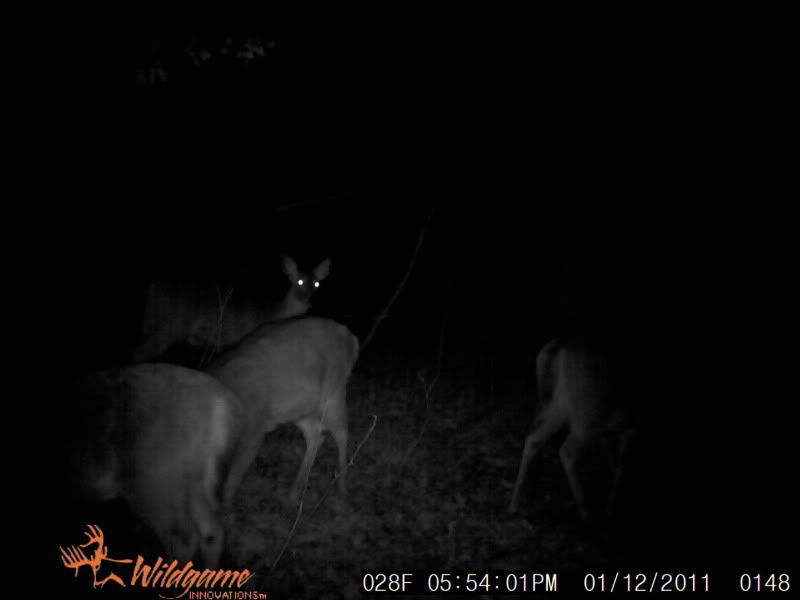 20 minutes later these guys show up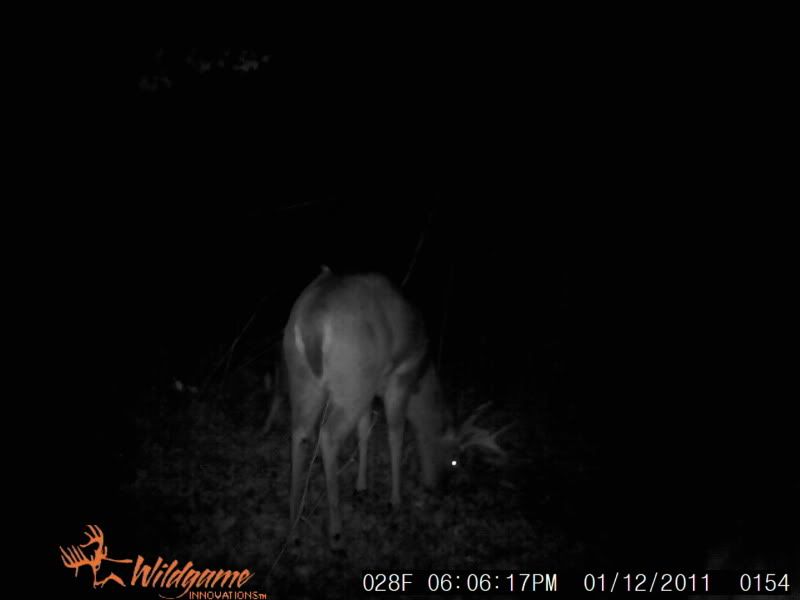 And a good one shows up with the group of doe. I saw him last weekend and I think he's still tending the fawns or a few left over doe believe it or not.
Here's me pulling my card after retrieving my deer.
I hope you enjoyed the time line. Let's see if I did this right.