Discussion Starter
·
#1
·
Well, I've had a run of misfortune the past few days work wise........All the awesome fishing reports have been driving me crazy but moms car has broke down two days in a row.......1st day, bad starter.......day 2, coil goes bad. Dont mind at all helping MOM out but this has put me behind on Paying customers:eek2: So after missing 3 days of hot fishing, I finally get to go out today with my buddy Nate......................So I think.
We wanted to launch at Shipping Creek and fish EB but do to are late(1:30) start, we decided to launch at the comm. ramp out of the Magothy and fish the mouth of the Chester. Half way there, on Belveduere Shouls, we found a nice hump with a few fish. Shut the motor of, jigged the hump, went to restart motor and NADA. Being a mechanic, I did all that I could.........narrowed the prob. down to the starter. With no other boats in-site, it was time to call Sea-Tow.
Here was our view for the rest of the evening:
I WOULD JUST LIKE TO SAY: Every year when I pay that Unlimited Towing fee, I bulk and think "I have never used this service". Well let me tell ya.......I will gladly pay that $120 with a smile from now on.........Take a gander at this invoice.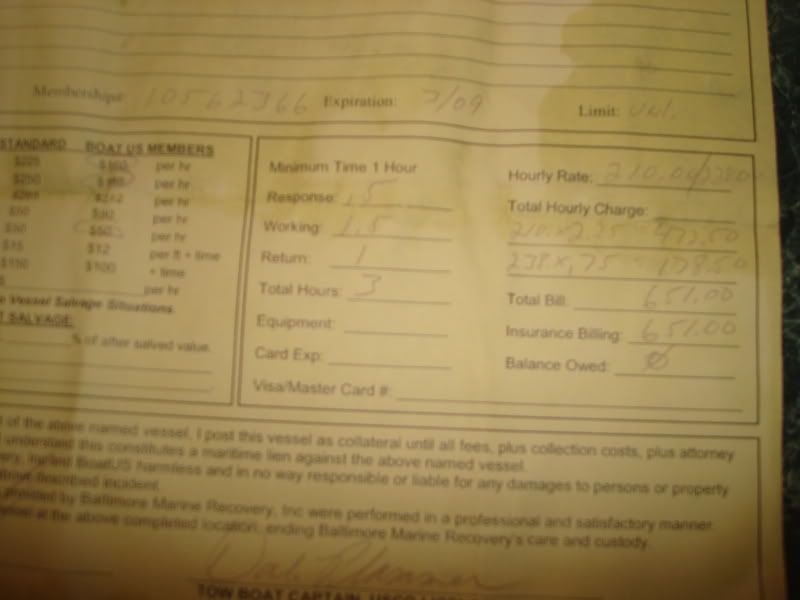 If it dos'nt come out clearly........it was $651 from .6 miles east of Red#10 to Grays cr. in the Magothy..........Tow Boat was there in 30 minutes, very curdious, I never had to do anything.......he hooked everything up and told us to enjoy the ride. I asked him to atleast drop it down too 2.8 knots so I could deploy a trolling spread but he would'nt go for it. He did say though, that we could throw out some lines and maybe pick up some blues........I guess he dont know they are all but gone. At 8 knots, if it were August, it would have been "MACS ON:yes
. I tell ya, next time we've had a few to many to drink......or just feel lazy, I'm gonna un-plug a couple criticial wires, and call Sea Tow for a nice relaxing ride in(just kidding).
Fact is guys, this towing is worth every penny........
Got the boat home....comformed starter problem.....starter off.....get new one tomorrow.