Discussion Starter
·
#1
·
Took the kids down to Lake Rawlings on Wednesday to go diving.It is an old quarry where the rocks for the CBBT were blasted out.It is about an hour south of Richmond,Va - long 190 mile drive for us but well worth it.We got there around 11:00 and only a few other divers from a fire department were there.Wednesdays are half price days and are never crowded.I got into scuba diving to learn more about fish and it really opened my eyes to how fish behave.In our bay it is tough to see but in clear water you can really learn alot.The lake is full of big Bluegills that are fed by divers so they are not scared of people at all.In fact- they followed us all day.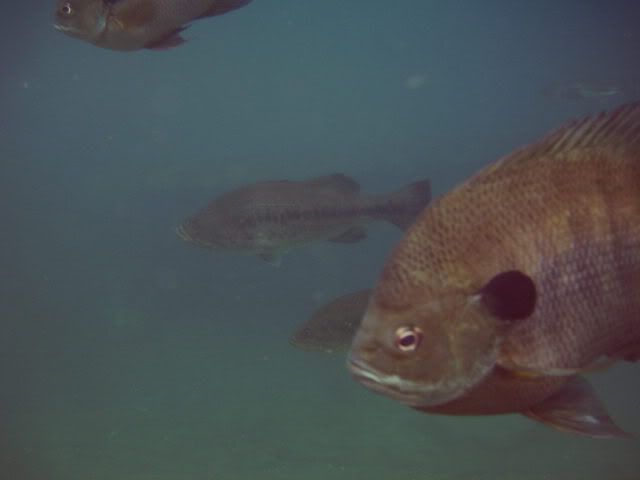 They love hotdogs and it was a mob scene once they smelled the hotdogs.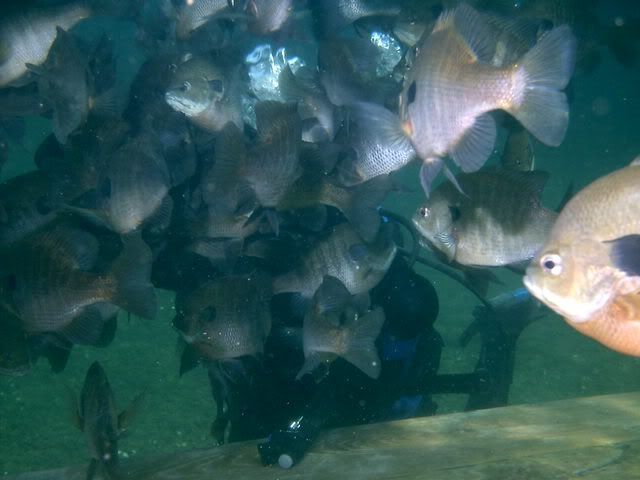 The Bluegills even tried to bite through the Ziplock bag.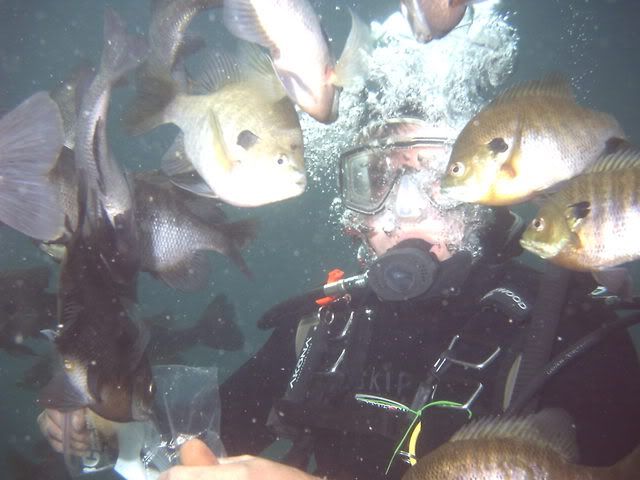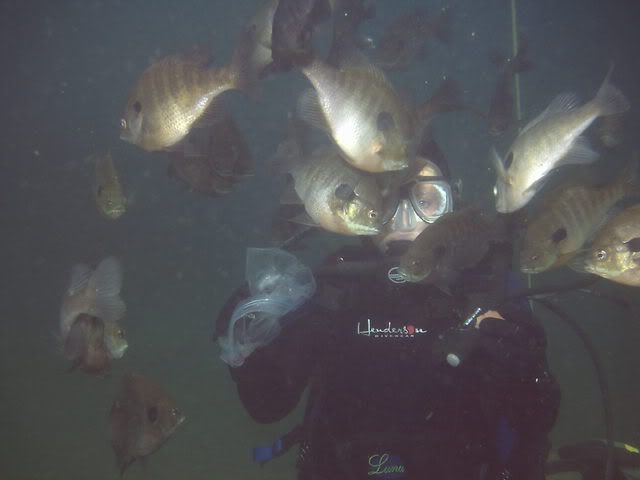 They swarmed around the kids who had a blast feeding them.It was fun hearing them laugh underwater.It was a real treat to me to be able to actually see for a change.In the bay most dives feature visibility of 2 feet or less.At Lake Rawlings- we could see 55 feet down to the bottom :thumbup:.There are old cars/buses/boats and an airplane in the lake and we saw all of them.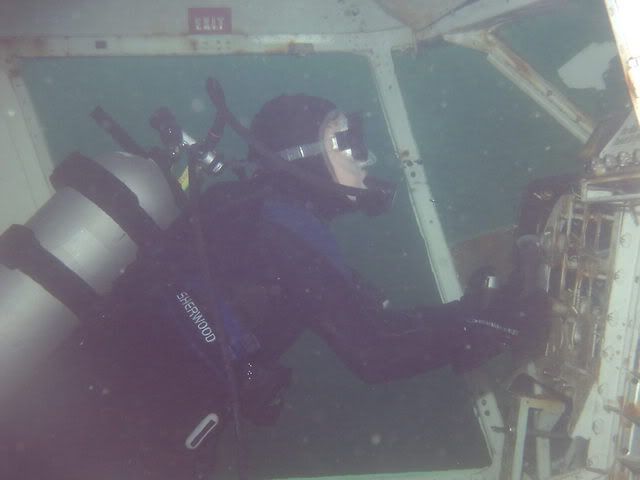 Here's Tyler eye to eye with a LM Bass.
Not sure if underwater basketball will catch on but it was fun.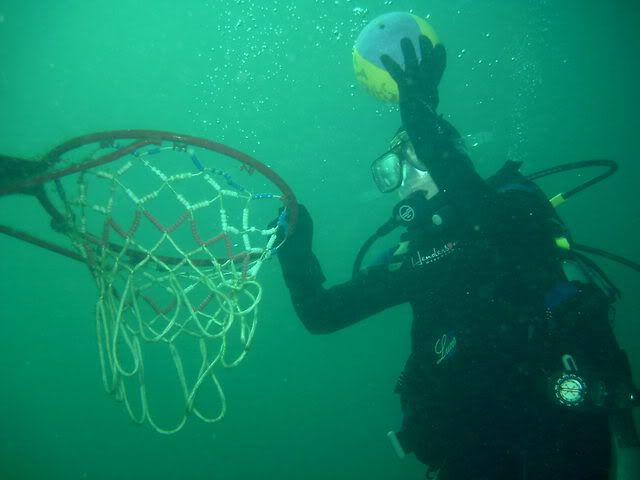 Saw one Bluegill that was hurt but it had healed over.No idea what did it but it shows how bad an injury fish can live through.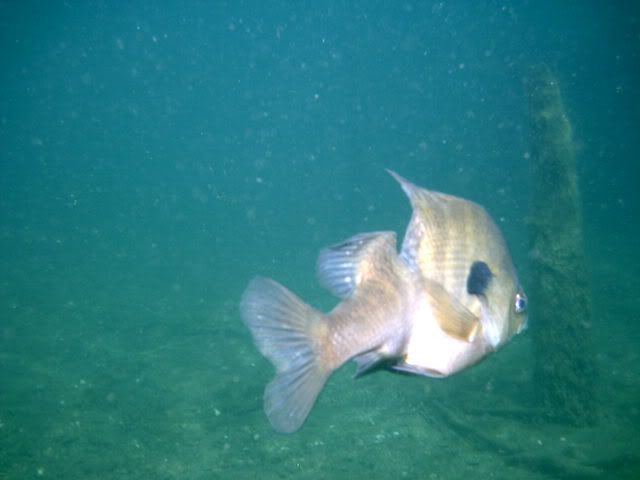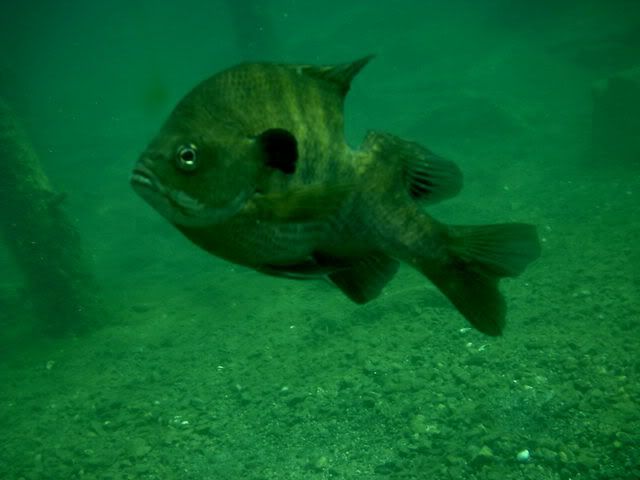 While the kids explored a sunken boat-I watched a Bass stalk some minnows.
The small minnows just swam very slowly and paused alot.Now/then they would dart a few inches but for the most part they stayed still.I think I might slow down my retrieve on some lures ;-).You could lay on your back and look up at the trees along the shoreline.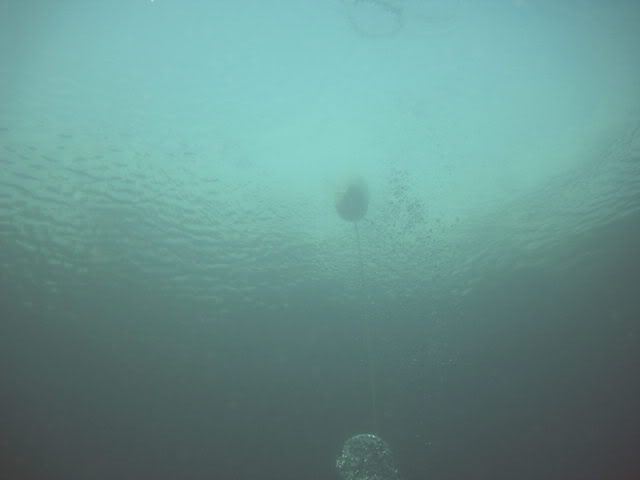 We did two nice long 1 1/2 dives with a nice lunch break in between dives.The water temp. was 70* until we got to 45 feet, then it dropped to 55*
.The deeper/cooler water was not as clear and no fish were in it.We packed up an headed home around 5:00 pm.Long day but alot of fun.Wish our bay had even 10 feet of visibility - it would offer great local diving if it did.