Discussion Starter
·
#1
·
Hit the LIP at 7PM, Bucket and Wild Bill followed up at around 8PM. Usual suspects at the LIP tonight and I started plugging a Gotcha Plug at first trying to catch some bait. After a few slings, I was rewarded with a small bluefish.
Bluefish was immediately placed on the 1502 and sent out live on the bottom. I then went back pluggin with the others. A few (3-5) Spanish were decked from right before I got there till I got there. I saw two decked myself, but they were making everyone work extremely hard. Even the Blues for that matter were few and far between. Turned out that was my only blue for the night.
Bucket and Wild Bill show up with some semi-ok bunker Bucket picked up earlier. I know Bucket was not impressed with the bunker, but he scored it anyway! Set out some on the heaver's as my earlier live blue mysteriously got off the hook without me seeing what happened!
Not much happening until the tide switched back and the water started to move, then I got on the board with a Atlantic Sharpnose:
I missed a few other small runs, but oh well. Helped out another fisherman with a fish finder rig and he scored a nice little sharpnise for himself. After that Bucket then scored another sharpnose. As we were getting ready to pack up and head out, Bucket gets a thump and picks up his rod. When he sets the hook, the line starts to peel and the fight is on. After about 10 minutes or so, we finally see it's a BIG SOUTHERN RAY that's been giving him a workout. Everyone on the pier helped out and we finally were able to net the sucker:
Bucket got a workout that's for sure and the Sea Creature name sticks with him again as he kneels over his big ray: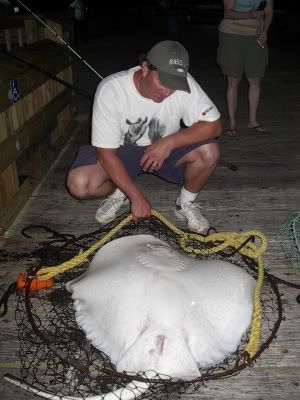 After landing that monster of a ray we packed it up and headed out. On the way out, there were a whole bunch of small grey trout stacked up in the lights in the wash, but they would not touch a jig when we tried real quick.
The rest of the pier had some catches of small croaker, spot, and roundhead tonight from what I could see.
Taking the day off tommorrow from fishing!
Out till next time...............................................
[grin][grin]