Discussion Starter
·
#1
·
The Virginia Saltwater Sportfishing Association (VSSA) is hosting a live youtube event featuring Dr. Bob Allen on Wednesday, December 9th, from 7 pm to 8 pm. Dr. Allen has been fishing the waters of the Chesapeake Bay for over 50 years. He will be sharing his old school techniques of wire lining for striper and flounder. He will also share some tales from the past on how much the bay has changed over the years. You can ask questions of Dr. Allen via the youtube chat panel and he will answer your questions live. We plan to do a speaker once per month so over time we hope to provide you with a significant amount of great videos on how to target species in Virginia. Next month will be deep dropping scheduled for 12 Jan 2016 at 7 pm.
This event is free and open to the public while streaming live. Once the live streaming has ended, the video will be available only to members of VSSA. To access the live event, visit the VSSA website at:
http://www.ifishva.org/
Please share this with your fishing buddies to help spread the word.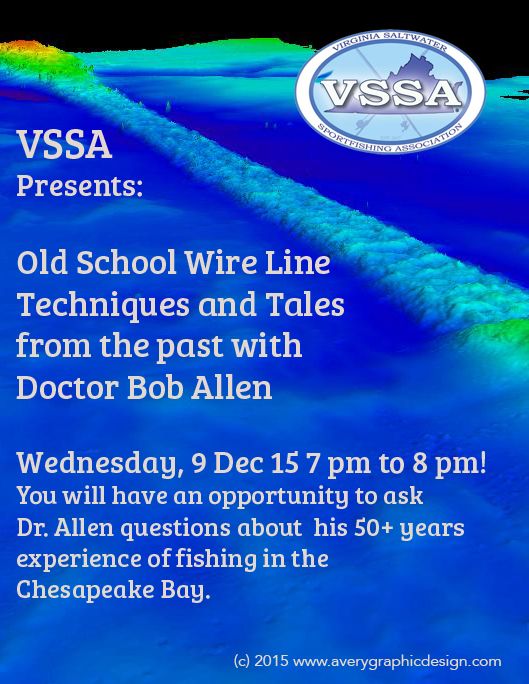 Virginia Saltwater Sportfishing Association (VSSA)
ifishva.org
joinvssa.org
https://www.facebook.com/groups/IfishVA/