Discussion Starter
·
#1
·
Stopped in at Tyler's to get ice and some 9'' shads.Fellow TFer Papa Bear (Dave) met me and my friend Tom there and followed us to Breezy Point ramp.Got there at 7:15am and as I backed in-noticed one of the passenger side trailer tires was leaning :eek2:.A bearing had burned out on the way down.Launched the boat and had barely pulled up the ramp when the tire came off the trailer.Really good luck not losing it along the road.Tossed it in the truck - would deal with it after we went fishing.Catman (Leon) was launching next to us and soon we were under way.SW wind about 10 knots put hardly a chop on the water and we set out the boards near #78A and turned south along the western channel edge due to a north bound ship.Had about 5 rods out and as I handed one to Dave to let down the planer line- it slipped out of my hand and went over.Lucky for me- the rubberband did not break since the reel was only on "clicker".Quickly reeled the next rod in-bringing the clip to the boat.We were able to grab the line and began pulling in all the line in order to retrieve the rod.Tom and Dave were busy with that while I slowed the boat.Looked up and we had a fish on the far planer rod.I reeled in a 29 incher that hit a single chart. parachute.We got the rod back but could not reel the tangled 350 yds of line back on.Small price to pay for getting back a Penn 320LD and high dollar trolling rod :thumbup:.The WWB got hit and Dave reeled in a 27 incher that ate a 13/0 silver Cripple Alewive that was half it's length.We got everything out and about 9:00 a single off the board got crushed.Tom reeled in a nice 39 incher.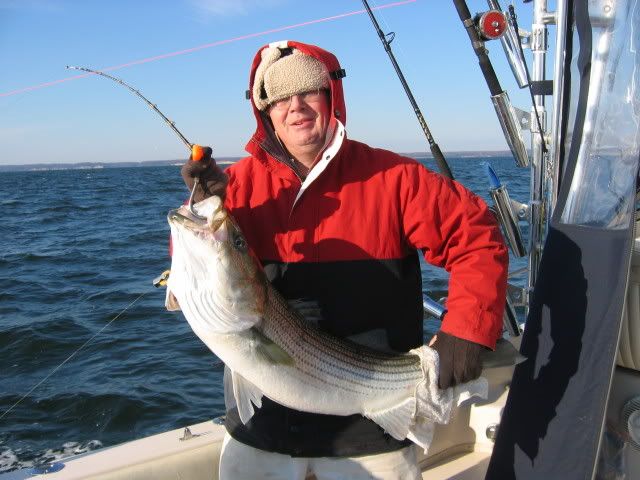 We stayed near #78A to #78 and favored the west side.Alot of bait in the 57* water.Saw a few Gannets diving and we just did a big circle.Around 10:00 another rod got hit and Dave reeled in a nice 35 incher -again on a single white parachute.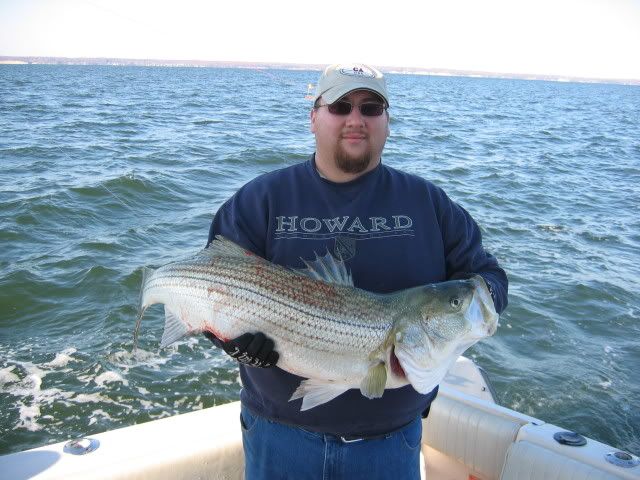 This one gave us our "over" limit but good luck was on our side as Tom reeled in a 27 incher off the single side again.It was sunny out and getting calm - might explain why the singles did well.That was until I talked to Leon -he had most fish off his deep rods-go figure.
About 10:30 Dave got a nice 34'' that went back but it sure fought well.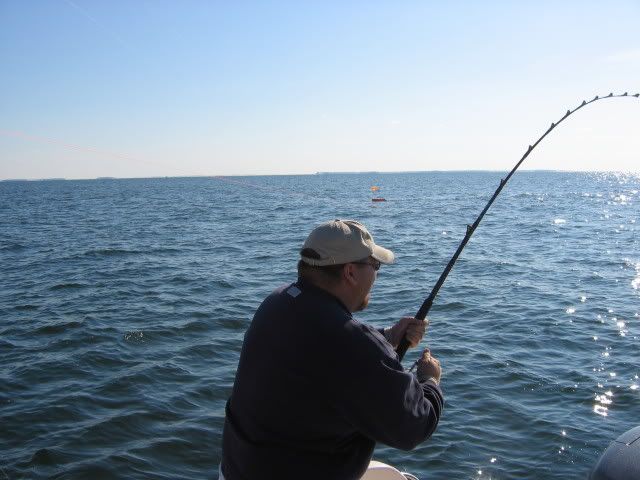 Right at noon - a Rock took a lunch break and ate a chart. umbrella off a downrigger set at 30 feet.Dave reeled in the frisky 30 incher.The wire rod back 100' with a 20 oz white MoJo got hit and I reeled in a nice 34 incher.Dave got the next one-a fat 24 incher that hit a tandem white off the boards.We were just south of #78.It was almost 1:00 so we decided to troll back north one more time and pull the lures for the day.Alot of bait was showing in the channel - down 20-40 feet.Had a good strike on the other wire line outfit pulling a chart. 13/0 CA but the fish missed getting hooked.Dave caught the last one at 1:40 - a fat 34'' to finish off our trip.The breeze picked up and dark clouds were south of us as we pulled all the rods in.Got back to the ramp and Dave took his fish and headed off on a long drive home to York,Pa.Having two nice Rock made the drive better
.Tom and I fixed the trailer tire but I discovered my tool box with alot of trailer stuff was at home :eek2:.I took it out over the weekend to make room for a ton of sand that a Boy Scout needed for his Eagle project.Luckily I had extra tools in the boat and Leon was kind to loan me some bearing grease :yes:.I looked on the bright side that my dad was not there to tease me about negelecting to repack the bearings last weekend.I always do them around Halloween but let it slide one too many trips.At least it was not dark or raining
p.Got the boat home safe/sound after stopping every 15 miles to check the other bearings for heat.Some might look on the bad side of this trip but I think I had good luck even with the mishaps.Bearings will be repacked tomorrow and my trailer box NEVER leaves the truck again.I would have paid $20.00 just for the hand cleaner that is in there
.