Discussion Starter
·
#1
·
Fellow TFer Get the Gaff (Bill) invited me along to fish PLO.Met at 5am in Millersville along with Bill's friend Bob.Picked up my friend Alberto near Deale and continued the long jounery south.Saw a few other boats on trailers headed the same way.weather was unreal for late December and going over the Rt. 4 bridge- we glimpsed a calm bay.Once at PLO - we saw about 25 empty trailers so we knew it would be others out there.Ran across flat seas to near marker #65.
Radar showed alot of boats south so we set out the boards and headed east.Had about 7 rods out when a planer board rod got hit.The guys let me reel it in and soon a 21 incher was in the boat.It hit one of Bill's 6'' Storm lures - he rigs a 9 inch and 6 inch lure - giving a chance for the under 28 inch fish.We elected to keep it but knew it forced us to stay in Md water or count it as my Va. limit.We worked across the channel and then another planer rod got hit.The fish hit a white bucktail on Bill's rod but as Bob just got to the rod-the fish spit the hook.Radio chatter was slow fishing so we decided to stay put and work the scattered bait we saw.Current was starting in and then Bob got a fat 36 on a deep chart. umbrella rig.Bill got the next one - a nice fat 35 incher.These fish are very heavy for their length.Alberto got the next one- a real nice 38 incher that went 26 lbs :thumbup: - like I said-fat fish :yes:. His fish and Bill's both ate a BBR (battered beyong recognition) 8 oz Alien white parachute.It used to be silver/pink with blue eyes but that was about 45 fish ago
.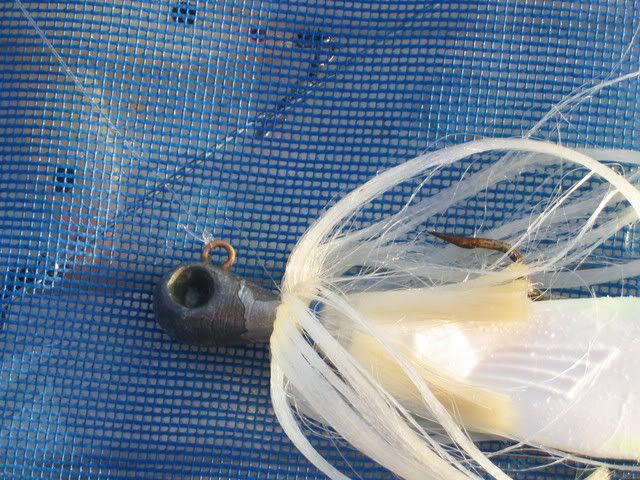 I reeled in the next fish - a monster that went almost 24 inches
p but sure will make a good dinner.It hit a 9'' Storm lure.We worked slightly north to # 66 but then came back to #65.Got another 35 incher on the BBR - that lure catches more then it's share- 60 feet off the boards.We got two more unders and then I had a good one on the 180 back umbrella that came off.It pull some drag - hurt losing it even though it had to go back.Bob got another nice one then Bill reeled in another 24 incher.Alberto got another one about the same size.This made our under limit :yes:.Alberto took my turn and got a nice 37 ish one that was let go.We reeled in lines at 4:00 and just as I started to reel in a WWB daisy chain- it got hit.A fat little 28 ish Rock was let go after a long reel in.We ran back just as the sun was sinking low.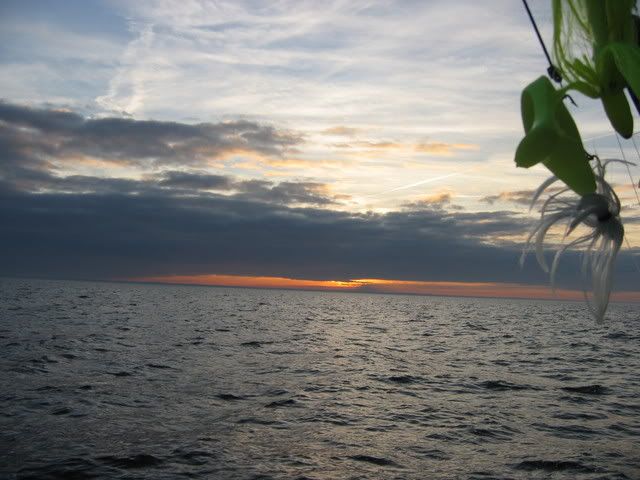 Heard alot of VHF chatter- sounded slow for most.We felt good about our 10 fish but even better about getting out on such an awesome day.Not often you see 55* in late December with almost flat seas.