Discussion Starter
·
#1
·
Left Sandy Point at 7:40am with fellow Tfers AIK68J (John) and Blue Lou (Lou). Both guys have fished with me alot and I was looking forward to a fun day with good friends.We punched our way towards Bloody Point through the 1 inch chop - unreal for December.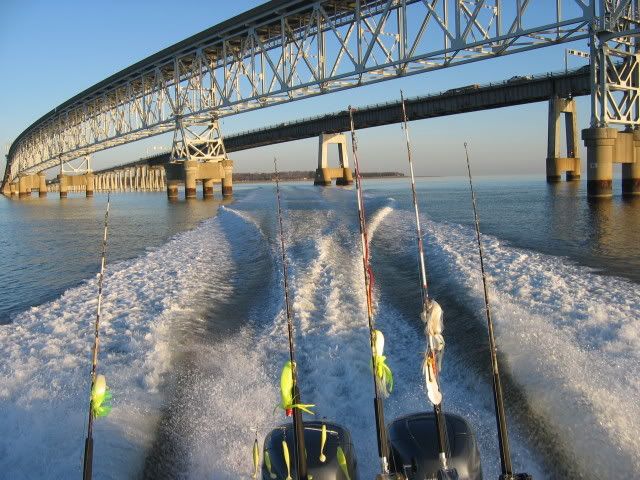 We ran SE towards Bloody Point and passed a few boats trolling near #86 but continued south.Saw a good amount of bait on the meter in 55' on the west edge about 1 mile from the light so we put the spread over.We had about 10 rods out when John spotted a marker with a flag and we had to alter course to avoid a gill net.We had a strike on a planer but it was a Menhadden - we found scales on the hooks.Next strike was a Rock that hit the WWB - tandem 13/0 spoon and 6 oz chart. parachute.John reeled it in an Lou did a good net job and soon the fat 39 incher was on ice.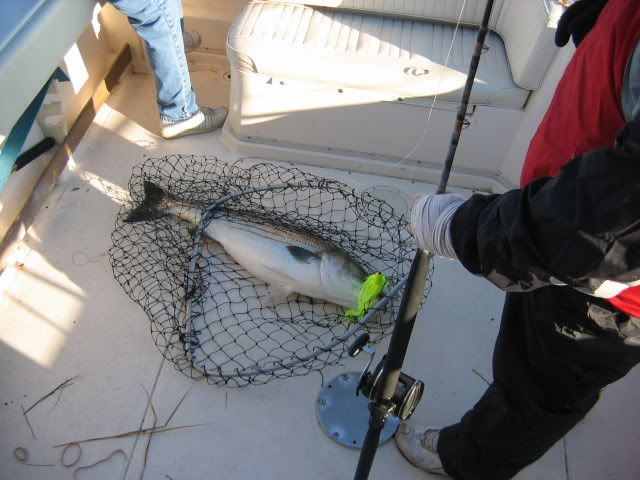 We had to go due south to stay away from the nets but a planer rod got hit and Lou reeled in a nice 37 incher that hit a 4 oz white parachute off the board-80 feet back.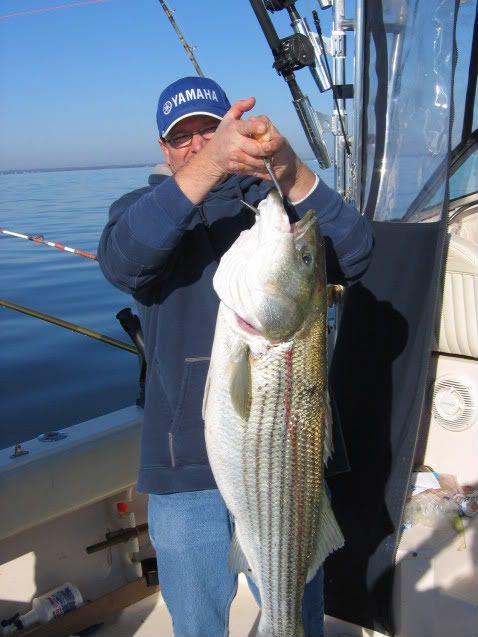 The fish inhaled the lure.If you look in the background - you can see how calm it got.With two keepers in the box - we could turn ENE and angle toward the light.I was fixing breakfast when another rod off the boards got hit.
John took care of reeling in my dinner - now that is a real friend :thumbup:.
The fish was about 35 inches and hit a chart. 4 oz parachute back 70 feet.It was only 9:10 and we were done with the over limit.Too nice to go in so we trolled across the channel and found more bait.Got another hit on the WWB and Lou reeled in a nice 38 that was released.It hit the parachute.Went south to almost #84A and then worked back west.We got another hit on a boat rod- 200 feet back with a 6 oz chart. parachute/spoon combo.It ate the parachute.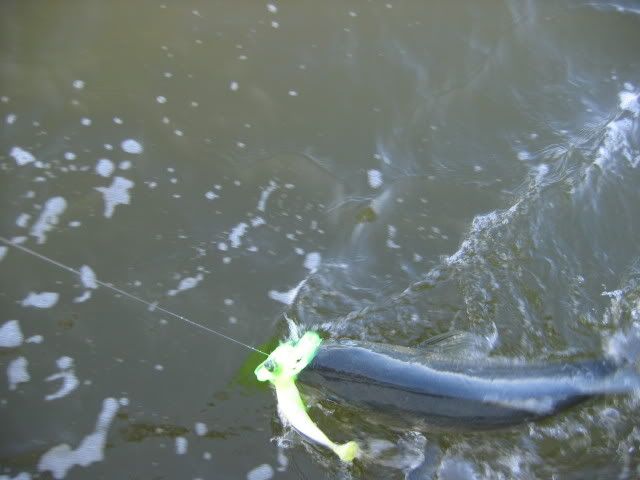 Water is slightly stained but not really dirty.Temp was 48-49*.
We swung back around and I continued to shuck oysters (thanks Mlag).We got over a big pocket of bait and a planer rod went off - then another- then another.All off the single sideWe did our best getting two of the three to the boat. John got a quick photo of one of them.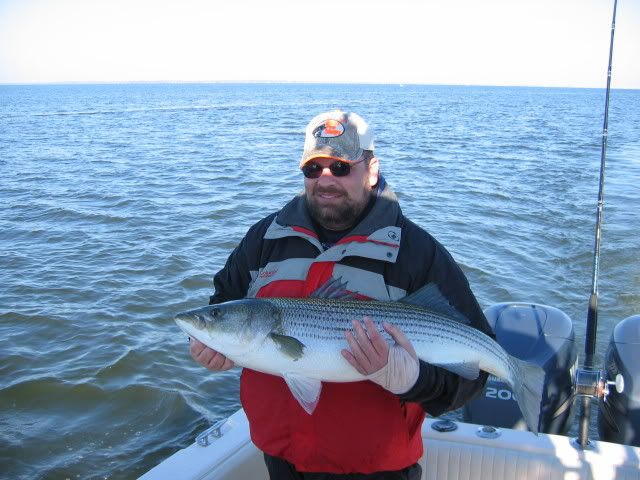 We were just resetting rods when a downrigger rod got hit.That one I reeled in and it was 27 inches.Cool - an under 28 incher.Another planer rod got hit-this time a tandem.It was a good fish and stayed deep.Once at the boat-we saw it to be about 44 inches and fat.We also saw the hook barely in the jaw.I leaned over to grab the fish (we do not net when C/R) and I grabbed the lure.Just as I went to grab the lip- the hooks pulled free from the lead head.The swing hook brass had worn through.We swung back and got another hit off a board rod.John reeled it in and Lou released it.I climbed up on the hardtop for some photos.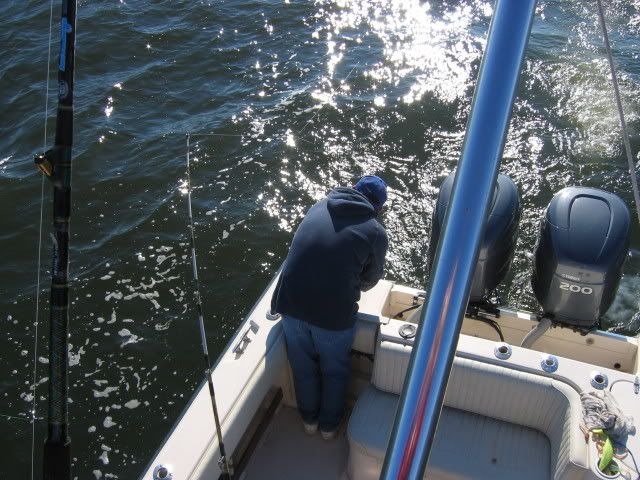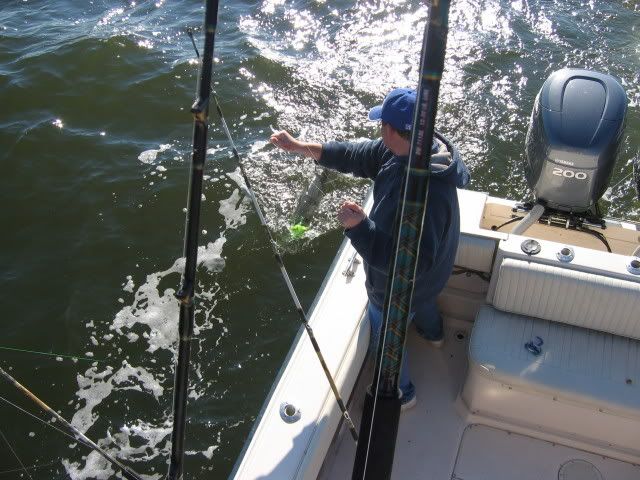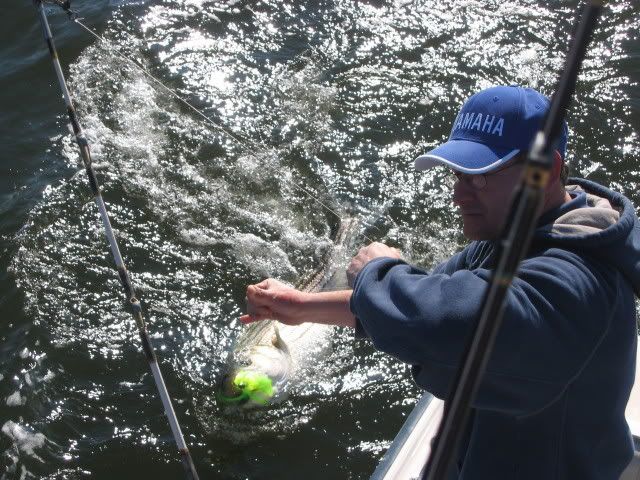 A downriiger at 40 feet got hit and the guys let me reel in a nice 38 incher.We worked our way north and I got back to the sweet oysters.I was watching the meter and trying to open an oyster and slipped.Found out why they are called shucking knives- when you drive one into your finger and under the nail - you say " damn sh ucking" knife
. Luckily it was more blood then pain.We worked along and got one more fish as it started to get choppy.Headed back to Sandy at 25 knots with the seas chasing us.Great day out there.