Responded to a "Looking to HO" request for Sunday. Blew off work and boogied to the boat. Left HHS @ 6:30 gas & go @ R&R 2.14 gal with a waypoint for 78A
Turned into the following and started setting the lines.. slow going for those not used to temps being 10 degrees below the norm this early.. finally got 8 out and took the helm..
WWB 225 w/9.0 TA / white CB shad under in the box and the skunk was off..
We had run almost to 78 with the following and the time it took for me to put out the spread..
Started an E/W pattern, WWB hits.. I'm on it but it never pulls tight.. redeploy and resume the pattern.
Dave grabs lunch and inside port planer line snaps with a chart spinner bait lure.. Dave brings the sea lice laden trophy in for the box..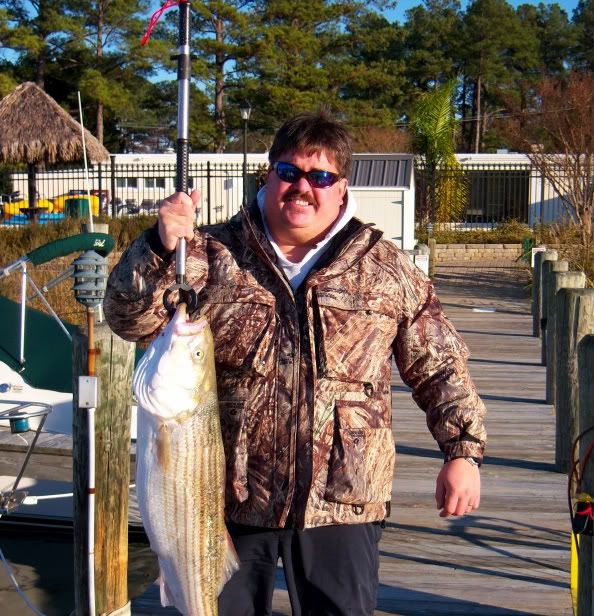 Next fish was off a boat rod, white 6 arm umb w/12oz back 100.. just under under.. finally some pullage..NICE!!
alrighty well things are looking good continue splitting the 8's and sticking to the float plan.. around 1 a wire line CB mojo / spoon white tandem w/28 oz goes off and Dave on the rod.. several cranks and a lift and nuttin.. :eek2:
I knew that was a nice fish and upon pulling up the rig determine that the BPS swivel inline with the spoon stretched the split ring..e.g. all that was on the mono was a stretched out split ring.. @#$!#$!#$!#@$!#@$ WTF?? 150 lb WHAT??? arghhhh
Several lessons learned, great, great day on the water, good company and we made it back to port safely..