Discussion Starter
·
#1
·
I decided to hit the Nanjemoy because I wanted something secluded, and I thought I'd have a shot at some yellow perch and pickerel. I fished the entire flood tide from about 10:30 to a little after 3:00. The water temp at the launch on Friendship Landing was 37* when I launched, and the salinity was 6. There was some fishy-looking structure right by the launch, but there were a couple bass boats fishing it, so I headed upstream stopping to jig any deep holes or cast at fishy looking places. The channel was generally 9-10ft with some spots that were 20ft deep, and the channel frequently ran very close to shore. I didn't have any luck at the places I stopped, so I kept heading upstream with the thought that the fish might be in fresher water. There's hardly any development along the way, just the occasional dock or duck blind: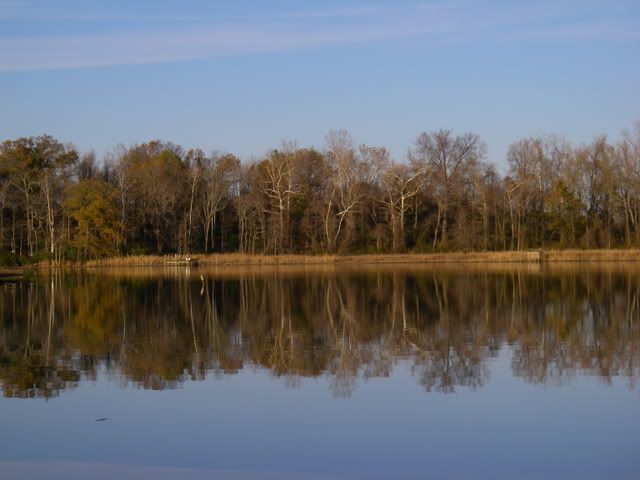 About half an hour from the launch, I found a place that had a bunch of fallen trees that was in the sun, so I casted and jigged around the trees. I ended up catching a couple of small yellow perch (~7in), which made my day: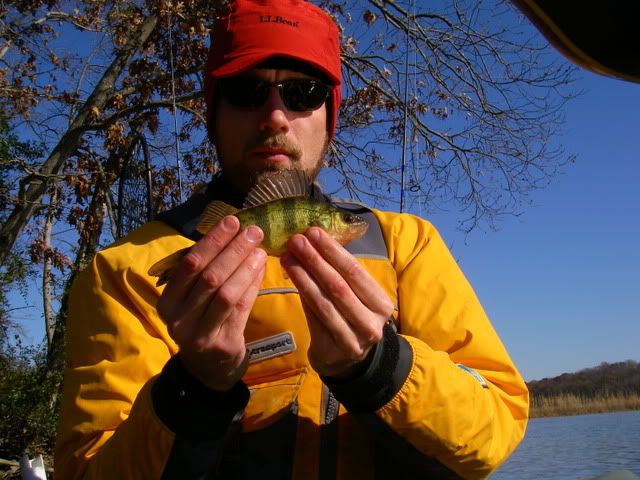 It looks like I was about to play a harmonica.
The water temp was 38* and the salinity was 1.5 where I caught the perch. I kept working my way upstream without any luck. I found another stand of fallen trees, but there was another boat working it. I chatted with the guy for a while, and he had caught a couple nice largemouth earlier that day on a black and blue jig-n-pig. He said small crankbaits in firetiger were also good this time of the year. He also said that he could take his bass tracker boat up the river to where it hits Route 6, which would be about 5.7 miles from the launch.
I continued upstream until a little after 3, when I was about 4.5 miles (based on the docks I can see on Google Earth) from the launch. Up there, the water was mostly 4ft deep in the main channel, but the channel was quite braided so there were lots of areas that were only 1ft or less deep . My Mirage drive wasn't much of an advantage in the Nanjemoy because of the varying depth and abundance of woody debris.
I caught the perch on a 2" white Gulp grub and a 3" chartreuse with silver flake grub. During the course of the day, I also tried a 1/2oz Silver Buddy, a 4" electric chicken BA, a 4" soft jerkbait, a 4" chartreuse twin tail grub, and a spinnerbait. Apparently, I should've gone with dark colors. I primarily fished in water 2-5ft deep looking for pickerel, but I also jigged in the deep holes as I found them.
There was tons of birds around. On the way back, I saw a kingfisher, an eagle, and all kinds of ducks. It made for a pretty nice day.