Discussion Starter
·
#1
·
Left Sandy Point about 7:20 am with fellow Tfer REM1224 ( Ralph ) and my work buddies Tom and Jaun. We had extreme high tide - piers were almost under water. Outgoing current would soon start - but we had a south breeze that would oppose it. Not best conditions but sure beat working. :yes:
We ran under bridge and began to look for Spot. Still getting hang of new meter but saw blips on bottom in 20 feet so we dropped anchor and sent down bloodworms. Current was slack so first 20-30 minutes only yielded 2-3 Spot. We stayed in place and as current began moving - Spot started to hit. Kept eye on sky - looked ugly for a while but passed over us.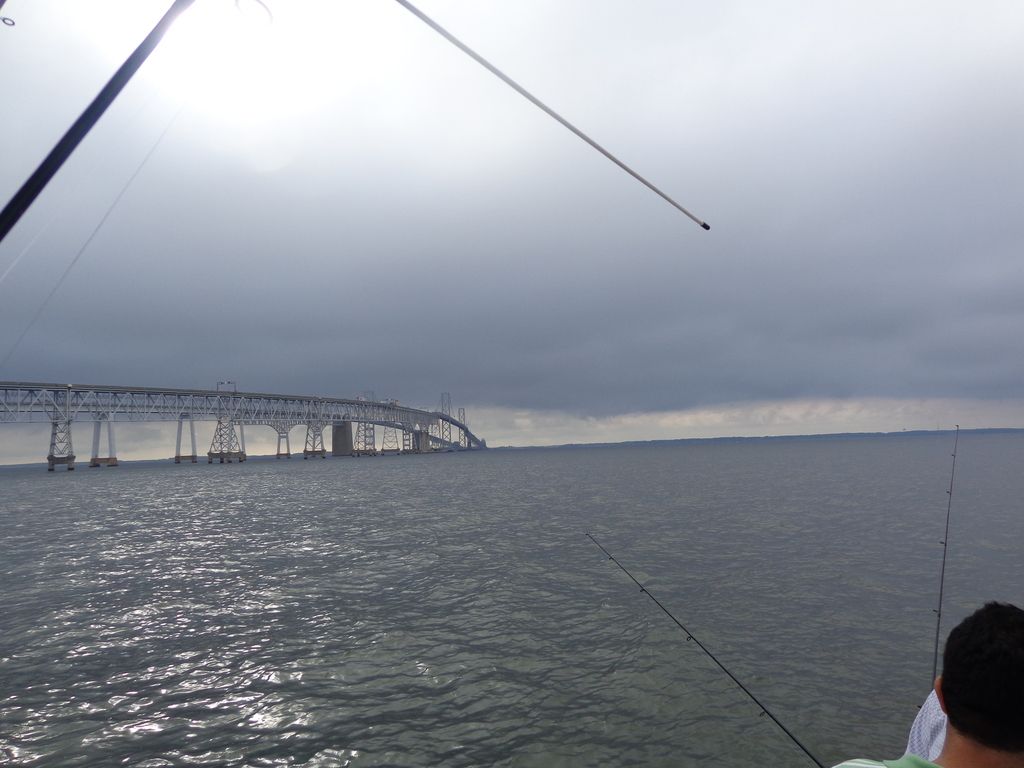 It was a slow but steady bite and we only got 5-6 small Perch mixed in. Wind picked up to predicted 10 knots but current was strong enough to keep stern into wind / waves.
With hopefully enough Spot in livewell - we racked light bottom rods and set out line lining rods. We ran over to east side - no secret where. Surprised to only see a few boats and we set Spot over. Current and wind allowed for a slow drift - at times we went east - rather then north with breeze or south with current.
The lively Spot soon got Rockfish attention and Ralph put a 30 in the cooler. We all had hits - not sure who got which ones but soon we had four in cooler but all over 28 inches. Great start but prefer first ones to be under 28. This way - if next ones are over 28- we can keep them. With first ones over 28 - we would have to release any more overs. We discussed options - we were on a school of big Rock but catch/release not good idea with 80+* water temps and live bait.
Had to shake my head - light blue Sea Hunt boat came roaring up to about 30 feet of us - then turned away. Guess we were on his spot ????? Wind picked up so we ran north along 30-35 foot line to look for smaller fish.
Found some nice marks but no hits. Moved a few times as wind increased and whitecaps formed. So much for 10 knot wind.
We took gamble and ran west to near Podickery Point. Set anchor in 30 feet and stern was facing north. Current was waning but outgoing - this made it tough to live line. We used two rods and added weight so Spot got deep quickly.
This worked and we got hits from under 28 inchers. Took time to photograph one with the 8 inch Spot it took.
Ended up with nice limit of overs and unders - with 3 Spot left in livewell. We let them go and then ran back to Sandy Point. Surprised it was 3:00 - day flew by , something that hardly ever happens at work.