Discussion Starter
·
#1
·
July 16th, 2015: October in July

Summary
Today was like October in July, both weather wise and fishing wise, and it was a real joy. With me today were Ron and Norm, , and the idea today was to go south and try our hands at jigging, and if that was a bust, to put out a trolling spread and target blues. Afterwards, we were planning on targeting night croakers on a live hard bottom on the western side if the wind did not kick up too much, as it was predicted to do.
We ended up doing an all jigging trip, and we all caught 6 to 8 stripers each, which ranged from 16 to 17 inches, to a 21½ incher caught by Norm, which was harvested. Today, we encountered our first breaking fish of the season, and they were in fairly shallow water. I was the last to land a fish, and caught fish first on the top water plug, then the 6-inch z-man, and finally the bronze rattletrap. Ron caught all of his fish on a rattletrap, and Norm caught all of his fish on a rattletrap with the exception of one fish which he caught while using my top water rig. Most of the fish were in the 18 to 20 inch range, and we probably released a couple of just-legal keepers. Last year, we would have limited out early; the new harvest size rules are working as intended. We were underway at 7:00 pm, finished fishing at 9:20 pm, and pulled the boat at 10:30 pm. We did not have enough time to target croakers.
It was a Nice, but Unremarkable Sunset
Conditions
The conditions today were spectacular, and featured mild temperatures, dry air, and cloudless skies except for a few cumulous to the eastern horizon. Poplar could be seen clearly from the mouth of the South River. Light winds during our time on the water were preceded by 15 to 20 knot winds late in the morning, and were followed by 12 to 14 knot winds after midnight. There was no chance of rain, and the stationary front was still to our south, but was having no influence. The barometric pressure was starting to fall after rising over the last 24 hours.
The winds were out of the north in the morning, laid down at about 2 pm, shifted to out of the south at about 6 pm, and then increased after sunset. Winds were 1 to 2 knots at the start, and increased to 5 to 8 knots late. Waves were anywhere from flat to a mild chop, and was a 1-foot chop on top of 1½-foot rollers when we returned to the marina with the wind at our backs. We had no problem today with boat wakes. The air temperatures were about 75° on the bay and about 80°inland. Overnight lows were in the low 60's. The water temperatures were 80° on the main stem of the bay.
High tide at Thomas Point Light was at 5:56 pm, and low tide was at 11:34 pm. High tide at Bloody Point Light was at 5:10 pm, and low tide was at 11:01 pm. Sunrise was at 5:53 am, sunset was at 8:30 pm, and the new moon was 0% full and waxing. The salinity at Annapolis was around 5.7 PSU, and up slightly over the past few days.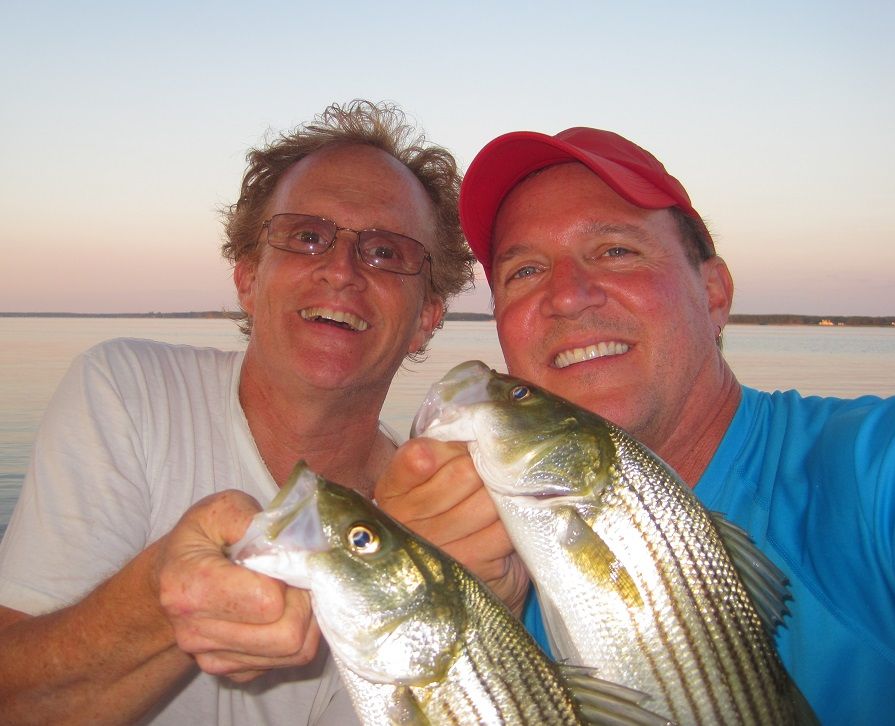 Sometime During the Blitz

Lures Used
I brought and used my beat-up bronze rattletrap, the 4-inch chartreuse Chug Bug top water plug, the 6-inch pearlite Z-man with the beat up ½ oz head, the old reliable battle-scarred silver Gotcha with the red head, and a small chartreuse & black Roostertail spinner with chartreuse hairs and a silver blade. Brought, but unused were the 1 oz silver Lil Bunker spoon, and my tiny, beat-up 1/8 oz jig head which I use with chartreuse Berkley 3-inch Power Grubs.
Norm brought his usual variety of jigs and plugs, but his bronze rattletrap got the lion's share of the work. He also used Chug Bug top water plug for a while. Ron forgot his tackle box, and so Norm loaned him a couple lures. We brought a 4-rod trolling spread of metal, bloodworms, squid, shrimp, and whole menhaden, but did not use any of this.
Details of our October day in July may be found below.
---------------------------------------------------------------------------------------------------------------------------------------
---------------------------------------------------------------------------------------------------------------------------------------
Mixing it Up
The area north of the bay bridge has been on fire of late, but we wanted to mix it up today; we thought that we would venture to the south and try our luck, and maybe even catch some of those big blues that we had been hearing about. We got a late start, and left home at about 5:30 pm. Norm picked up our sub sandwiches for dinner earlier, and this bought us back some time.
I Would be an Osprey
We arrived at the marina at a 6:20 pm to see the flag hanging limp on its flagpole. We launched the boat in short order, and before we knew it, we were screaming across a flat bay at 39 miles per hour and looking for working birds. We didn't see any breakers, but somewhere in the middle of the channel, we saw an osprey crash into the water and come up with a fish in its talons. The fish looked to be in the 10 to 12 inch range, and it looked like either a bluefish or a croaker. "If I were a bird, I would definitely want to be an osprey, so I could go fishing every day" I thought to myself as we continued on.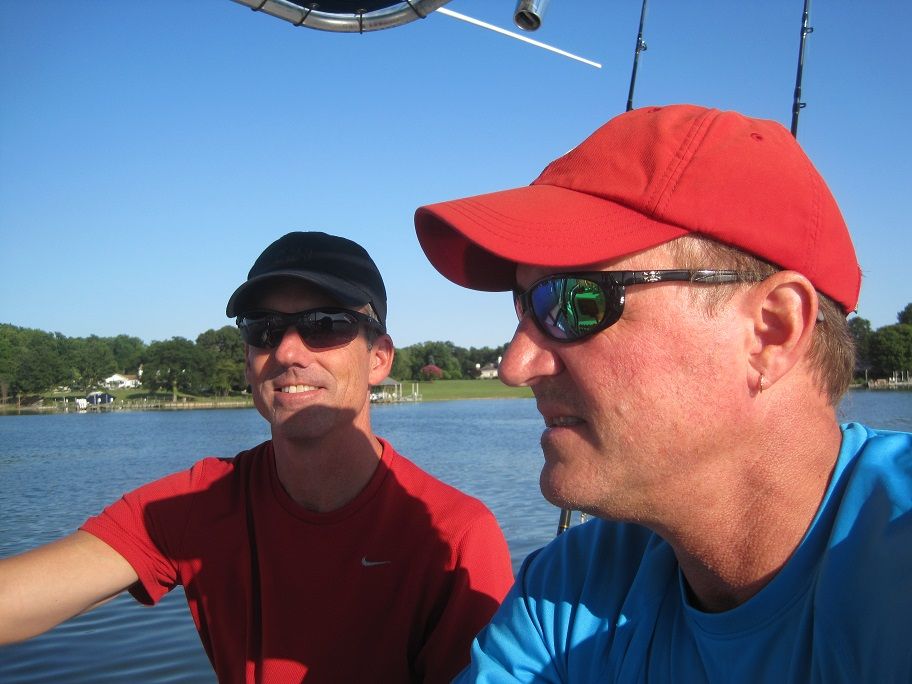 Underway

A 2014 Keeper for Norm
We arrived at our intended location at about 7:30, set up shop in shallow water, and all started tossing our trusty bronze rattletraps. We stayed at this first area for ten fruitless minutes, and moved a short distance. After a while, I mixed in a few casts with my 6-inch pearlite Z-man and I tossed my old silver gotcha a few times for good measure. Minutes after arriving at this second spot of the day, Norm called out "Oh I'm on!" I looked over to see Norm with a bent pole in his hand, and I knew that this was no dink. Minutes later, he was hoisting a spry 19-inch rockfish over the side. This first fish of the day just smashed Norm's bronze rattletrap, and the skunk was sent packing at 7:40 pm. After a quick picture, the fish was released.
"Two Down, and One to Go"
After a while, we moved a short way to another spot, also in relatively shallow water. At this stage of the game, the tide was starting to ebb and the ensuing current carried us along at a slow pace. Several minutes after the three of us started casting at this third spot of the day, Ron tied into a 19-inch striper of his own at a little after 8 pm. This fish inhaled Ron's rattletrap right at the boat, which made for a short fight and an easy landing. "Hmm, two down, and one to go", I thought to myself as I was snapping a picture of Ron and his fish, referring to the fact that the skunk was still on my back. While we were casting, we spotted a great blue heron wading and doing what we were doing, looking to catch fish.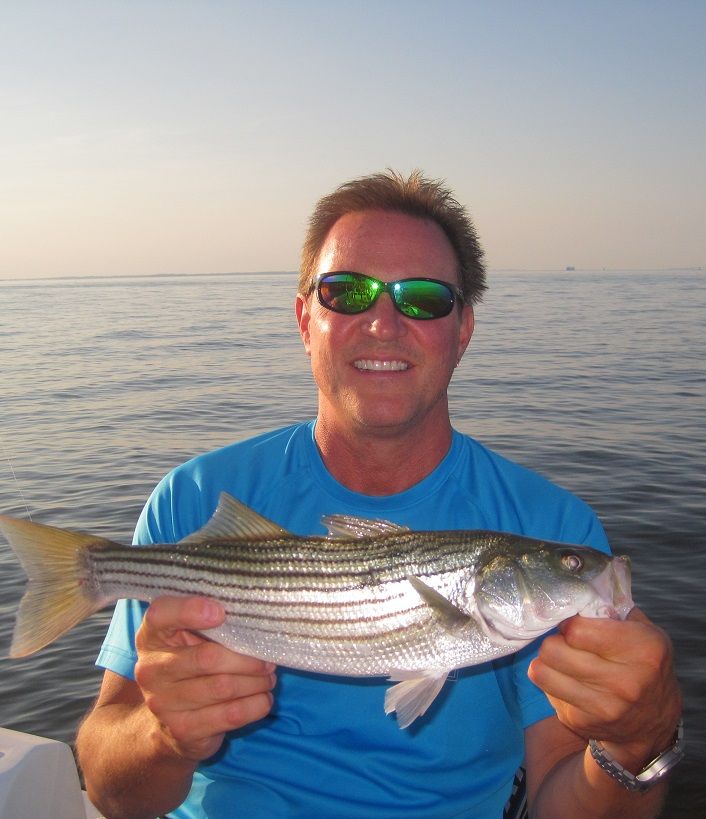 The Current Pick Up
After fifteen minutes at this third spot, we moved to a fourth shallow water area a short distance away and resumed casting at about 8:15. Five minutes after arriving, Norm tied onto and landed another rockfish on his reliable rattletrap; the 17-incher was quickly released after a short fight. The current was starting to pick up, and it carried us towards the structure that we were casting to. I mixed things up, and tried the small chartreuse Roostertail spinner in the hopes of catching a perch. I got no takers.
Two, to Two, to Nothing
We were at this fourth location of the day for ten minutes before we moved again to reposition ourselves and, hopefully, to find bigger fish. We got set, and this time, the current carried us parallel to the structure. This drift allowed us to cover a lot of ground with no effort or repositioning. At one point at this spot, Norm spotted several cow nose rays in the distance, each marked by its two distinct tips breaking the surface. Soon, the fourth fish of the day was inhaling Ron's rattletrap. Ron made short work of the 19-incher, and it was released. As we continued drifting, I thought to myself "this is nice and all, and it's a gorgeous evening, but I'd like to catch a fish."
The Pivotal Moment
Everyone who fishes can cite a pivotal moment in any successful outing. That moment in the spring when that 40 incher smashes a chute after hours of trolling; that thirty minutes on an oyster bar when you are bailing big double header croakers one after another; while live lining, feeling that spot getting nervous over structure seconds before that unmistakable "thunk" followed by that 36-inch summer trophy striper peeling off line. Today's pivotal moment came at 8:35 pm, minutes after lamenting to myself about how I had yet to get so much as a sniff on anything.
I saw a disturbance out of the corner of my eye and turned to look. It took a few seconds to register, but within casting distance, a small patch of water was boiling. I stared at the scene as small baitfish leapt in unison, becoming completely airborne as the water continued to roil. "What's that?' I said aloud, pointing. "Is that what I think it is?" I added. As the three of us looked on, a couple of large caudal fins briefly broke the surface in the midst of the melee. "Oh that's breakers!" I announced in an excited tone.
October in July
Norm, fully aware that I had yet to get so much as a strike, called out "Get on it Don! Grab your sh-t and get up to the bow!" I grabbed my Quantum Cabo rig with the 4-inch Chug Bug, made my way to the bow, and made a cast. The cast landed a foot beyond the breakers, and within seconds after starting my popping retrieve, an unseen predator starting slashing at my plug. The plug disappeared; I waited a couple seconds, and made a hook set. Instantly, my rod bowed over double, and my line started slicing to the left. "Oh hell yeah! I'm on! Finally!" I yelped, as I began a retrieve. This fish was strong, and a couple times, it stripped a small amount of line in its quest for freedom. I fought the fish to the side of the boat, and suddenly, it was gone. "Oh damn! Lost it!" I announced. "That's ok, you got pullage! Tee it up again!" Norm responded.
I made a second cast at the feeding fish, and hooked up again almost instantly. This second fish did not fight quite as hard as the first and appeared to be a little smaller, but this time, I was able to bring it in and land it. "Oh hell yeah! The skunk is off the boat completely!" I said, as I went and unhooked the 19-inch rockfish. Ron and Norm had allowed me to make the first couple casts in order to get the skunk completely off the boat, but were now casting their rattletraps into the fray. Within seconds, they were both hooked up, and as I was releasing my fish, I could hear small amounts of line peeling from Ron's reel.
The Fog of Battle
Things got a little hazy over the next 10 minutes, but we each caught 3 or 4 fish apiece as the blitz ebbed and flowed before the fish dispersed for good. I mixed it up during a short lull in the breakers, and caught a fish on my Z-man. Sometime during the fog of battle, Ron broke the tip off of his rod, and so Norm lent him one of his rods. As Ron was swapping in his rattletrap onto Norm's rig, the blitz resumed and Norm grabbed my rig with the top water plug as I continued with the conventional jig. Norm made a cast, and made short work of a 19-incher on top water as I landed another with my Z-man. These fish were all 19 to 20+ inches, but we did not measure any of the larger ones.
Norm on the Helm

Alive with Life
The breakers had now subsided, but the area was alive with activity. Earlier, we heard red bellied woodpeckers, and as we were basking in the glow of the fall-like rockfish blitz, we heard a bunch of unseen herons roosting for the night and making a lot of noise. During this time, the mosquitoes found us, and so we all applied bug spray. The sun was now very low in the sky, and would soon be dipping below the horizon.
The Last Hurrah
This area was now pretty fished out; it was a little after 9 pm, and we moved back to one of the areas that we had covered previously. As soon as we arrived, the catching resumed, and continued for about fifteen minutes. We each caught two or three fish here, including the big fish of the night "This one is probably legal!" Norm exclaimed, as this late fish was running parallel to the boat. Norm boated the striper shortly thereafter, and we all knew that it was probably over 20 inches. "Let's measure it," I suggested, as I was getting out a measuring tape. I measured and re-measured the fish, held it up, and announced "twenty one inches and change! Anyone need meat?" The fish was iced down, and we continued casting for a short while.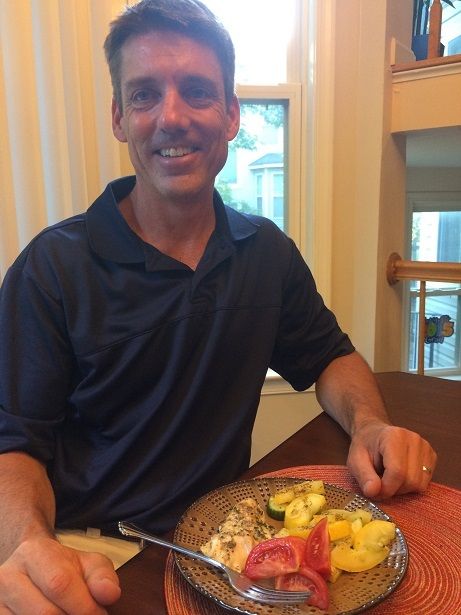 Over the Weekend, Ron and Family Dined on Rockfish from the Bay and Vegetable from his Garden

Surgery
During this last bit of catching, we saved a 19-incher by carefully extracting a deep hooked rattletrap from behind the gill plate. "We need the doctor! Don, we're going to need your help with this one!" Norm observed, and during the "surgery", Norm held the fish vertically while I removed the hooks with a hemostat. We were concerned that the fish would not make it, but after the extraction, I revived the fish by aerating its gills in the water. The fish shot off in an instant to parts unknown to grow and breed.
Croaker O'clock?
It was here at this final spot of the evening where I finally landed a fish on my bronze rattletrap. Contrary to Norm and Ron, all my other fish were caught on top water or my 6-inch Z-man. We finished fishing at about 9:20 in diminishing daylight just after the sun had gone down, and ate dinner. It was completely dark and we were almost finished dinner when I suggested, "What do you think? Croaker o'clock?" I would have hit the oyster bed in a heartbeat, but Norm and Ron put the kibosh on the croakers at this late hour.
Day's End

Bugs, Crab Pots, Swells, and a New Moon
We stowed gear and got underway at close to 10 pm. It was a moonless night, and we carefully picked our way though the crab pot fields with the aid of the searchlight. I was manning the light, and a lot of bugs homed in on the light, making my job difficult. Bugs were swarming towards the light; many of them were hitting me in the face, and a couple got into my mouth. I made a slight adjustment, hiding behind the console tower, and this seemed to work. We eventually made our way into the open bay and made a quick crossing. It was breezing up a little, and we encountered some 1½-foot swells in places; luckily, the wind was at our backs. Once we got close to the mouth of the South River, it was necessary to break out the searchlight once again. This time, Ron manned the light, and we made it back to Lake Ramsay without any problems.
Sweet Fillets
We pulled the boat at about 10:30 pm, cleaned and transferred gear, and made our victory walk to the cleaning station at about 11. I made quick work of filleting the fish, and afterward, Norm sheepishly asked me "How are you with meat?" I replied "Seriously? I've got plenty of rockfish, plus perch, croaker, blues, and not to mention tuna and mahi from last year's Outer Banks trip. I assumed that we were going to give the whole thing to Ron." Norm and Ron ended up with one fillet apiece, and the sweet meat was put to good use over the weekend. I arrived home after bidding Ron and Norm farewell, and I was in bed at about 12:45 pm. I awoke for work a little over four hours later at 5 am a little woozy. I didn't think so at the time, but it was probably a good idea that we canned the croakers; the hardheads remain unfinished business.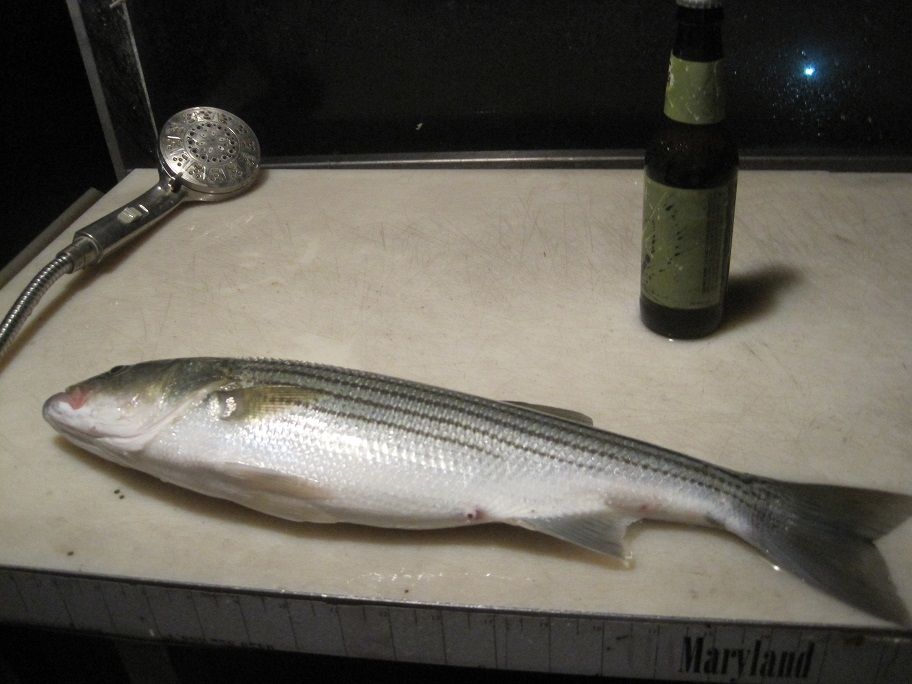 Sometime After 11 PM