One and Done, May 8, 2015
This story is dated due to the time lag in writing it, and so not as much of a fishing report as it is a tale of a great time on the water in fantastic conditions. The trip in question started about 12 hours after this trip concluded:
http://www.tidalfish.com/forums/sho...quirrel-Theory-A-Day-of-Catching-and-Relaxing
Summary
After a successful day yesterday catching fish while enjoying gorgeous weather, I caught my one-man limit in a little under an hour after deploying my 9-rod spread. The 32½-inch rockfish hit a 6-oz all chartreuse single chute set back 40 feet. I was heading east at the time, was near red 86 above Bloody Point, and was in about 90 feet of water. I caught the spawned-out female at about 9 am, and lingered on the water another three hours while enjoying the gorgeous weather and flat seas. I did not get another strike, short or otherwise, the rest of the day, but I was good with it.
It Was a Fast Limit Today, but I Lingered Longer on the Water
The wind kicked up to 5-7 knots out of the south at the end of the day after being calm at times much of the morning, and with an outgoing tide opposing the wind, I had some difficulty pulling the planer boards. Just as I got the last board recovered, the DNR police pulled up alongside and measured my fish. I was glad to see them out here enforcing the game laws, and I was grateful for not only the idyllic weather, but for catching a keeper striper.
The boreal jellies, grass, and pollen were about the same as yesterday. Lines were checked regularly. Conditions were very forgiving most of the day, which was why I lingered on the water.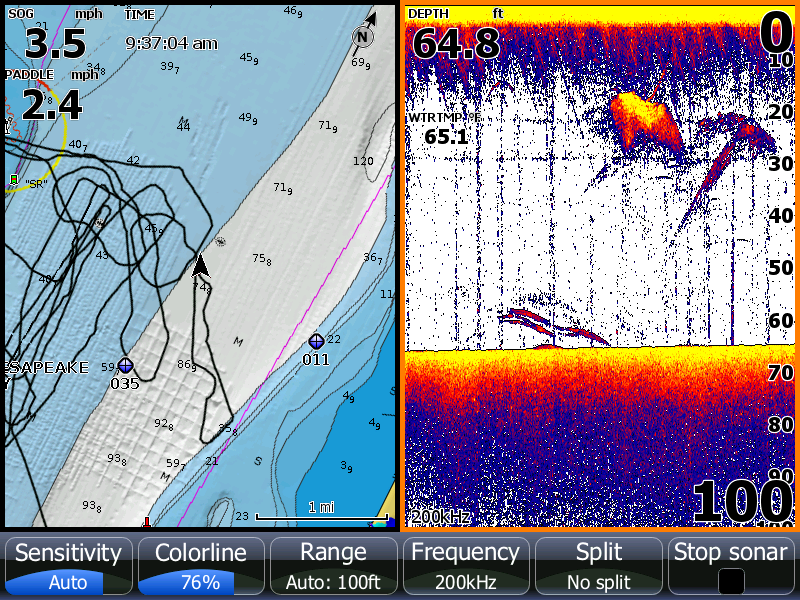 The Marks Were More Sparse Than They Were Yesterday
Fresh Rockfish Dinner the Following Saturday
Conditions and Observations
I was treated to perfect conditions for a second day in a row, which does not happen very often. The morning temperatures were about 62° at the marina, about 55° inland in Bowie, rose slightly to about 65° by mid morning, and stayed there until I was off the water. The high temperatures inland were in the high 70's. Overall, the temperatures were cooler than yesterday.
Winds were out of the south all day, were anywhere from calm to 4 knots most of the morning, and breezed up to 5-7 knots by early afternoon. There was a fair amount of fog and low clouds in the morning, which burned off by mid morning, and there were high thin clouds in the late morning and afternoon. The waves were anywhere from millpond flat to a 6-inch chop most of the day, and increased to a 1½ to 2 foot chop late in the game.
Flat Seas and Light Winds
High tide at Thomas Point Light was at 8:21 am, and low tide was at 3:30 pm. Sunrise was at 6:00 am, and sunset was at 8:05 pm. The moon was 86% full and waning. The salinity at The Gooses was about 10.5 PSU, the same as it was yesterday, but it did fluctuate slightly over the past 24 hours.
Baits/Spread
All shads were 9-inch.
Port Board Rods: 100', 2 oz white single; 80', 4 oz chartreuse single Spankin' Striper with white shad; 60', 4 oz chartreuse single; 40', 6 oz chartreuse single.
Starboard Board Rods: 100', 2/4 oz white Spankin' Striper with chartreuse shads; 80', 2/4 oz white tandem; 60', 6 oz all-white Alien with silver tinsel with a 9" see-through green glitter shad in tandem with a 2 oz Alien with a purple head and chartreuse hairs with a 9" pearl shad (Skip Special); 40'. Yesterday, after I lost the 6/9 chartreuse combo to an unseen piece of debris, and I swapped in an 8 oz white Chesapeake Bay Lures paddle tail as a fill in. Today on that 40' back rod using the combo that I call "Lucille", I swapped in a 3/7 oz white tandem.
Boat Rods: being as I was solo today, I decided to forego the boat rods today, to leave permanent fighting lanes open. 20 oz combined BFG tandem, larger bait/smaller leader cut down to about 2 feet to trail immediately behind 6-arm white umbrella, would have been put back 75 feet back. 24 oz Chartreuse Chesapeake Bay Lures paddle tail with 6-arm chartreuse umbrella, would have been put 50 to 60' back.
"Way Way Back": WWB, tandem 11/0 silver crippled alewife on a 30-foot leader with extra Sampos, and a white 3 oz chute on a 9-foot leader.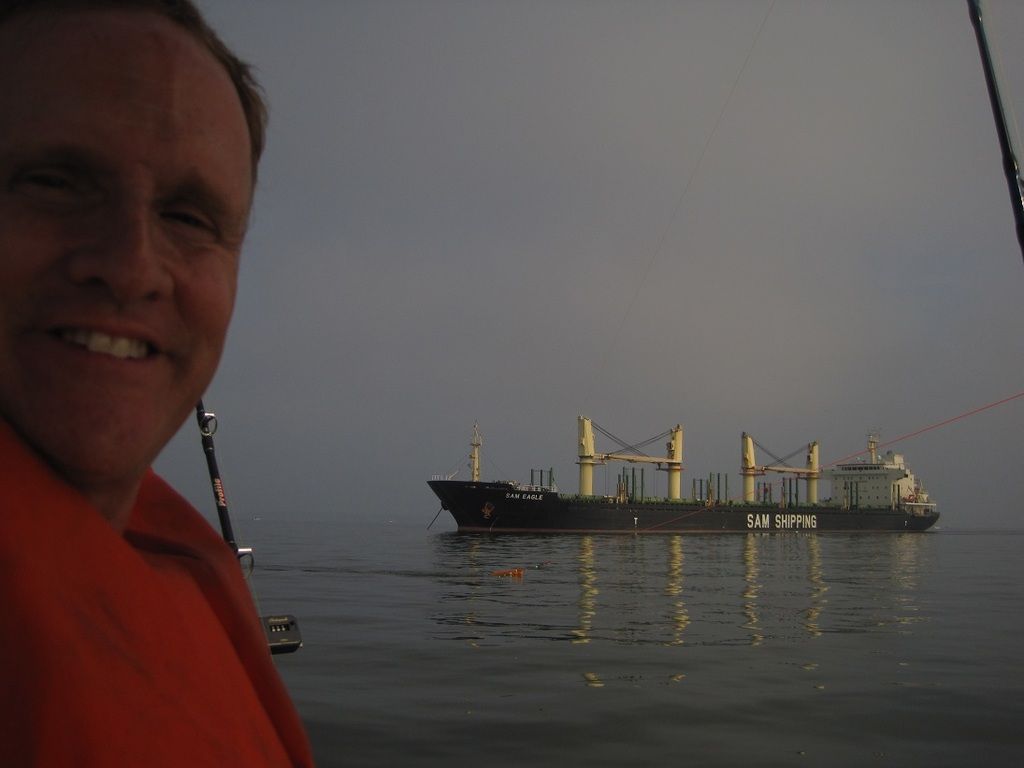 Details of this one and done limit may be found below.
---------------------------------------------------------------------------------------------------------------------------------------------------
---------------------------------------------------------------------------------------------------------------------------------------------------
Woozy
After a very enjoyable trip out yesterday with Norm and Scott, I journeyed out solo today, about 12 hours after the three of us had returned. I was exhausted the previous day after 12 hours on the water, and I awoke this morning at 4 am more than a little woozy. Within minutes after rising, what I was about to do was sinking in, which left me pretty wired. I got to the marina, loaded my gear onto the boat, and left a float plan in plain sight on the truck's dashboard.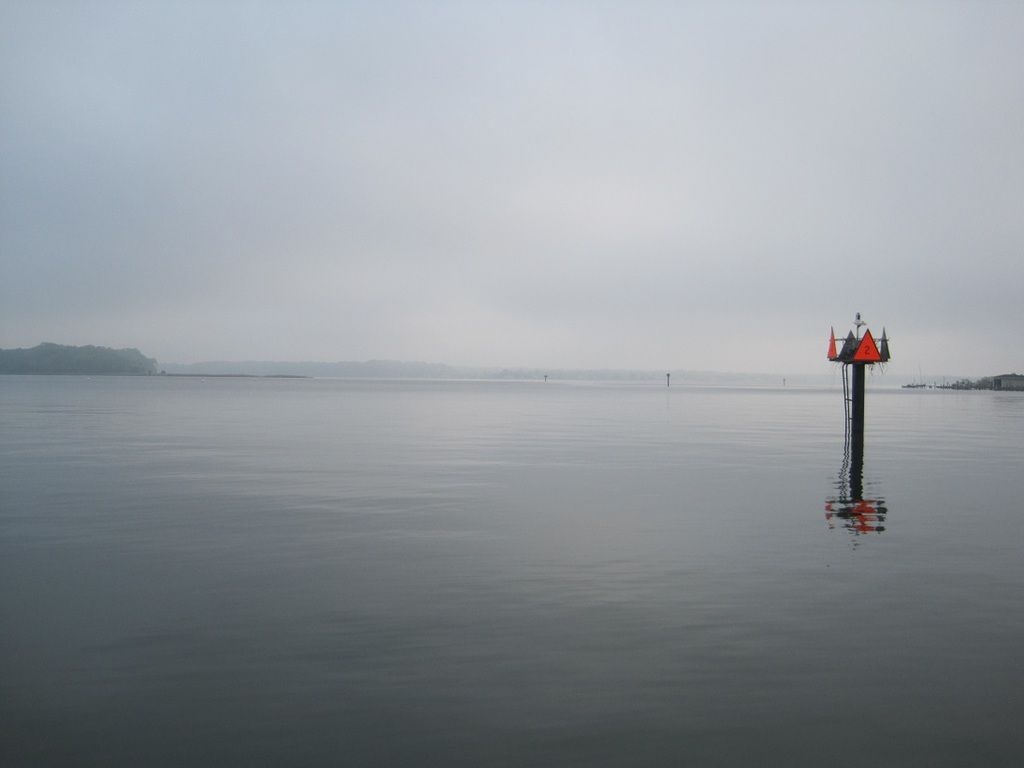 Lake Ramsay was Almost Mirror Flat
An Eerie Scene
The gear was loaded onto the boat by 6:50 am, and I was underway at 7:05 under low-hanging clouds and patchy fog. At the marina, several pairs of mallards, a singing mockingbird, a few song sparrows, and one or two tree swallows saw me off. It was dead calm as I entered Selby bay, and the water resembled a mirror. I made my way out to Thomas Point, and the lighthouse was shrouded in fog and low-lying clouds; the whole scene was a little eerie.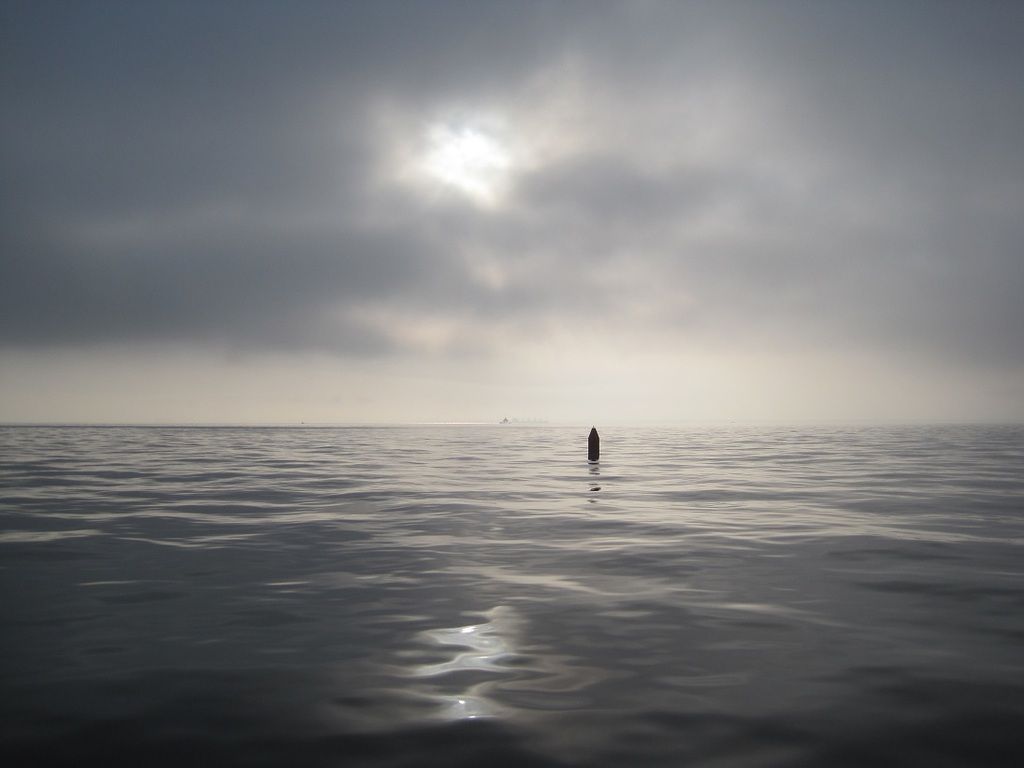 Nine Rods
I set an eastbound heading on autopilot in about 15 feet of water. By the time I had the boards deployed, I had passed the ledge, and was deploying my first rod in 38 feet of water. I did not get the marks here as we had seen 24 hours prior, and by 7:45 and just northeast of the anchored "Sam Eagle" ship, I had all eight planer rods and the way-way back rod deployed. Today, I decided to forego the boat rods altogether, being as I was solo.
A Turn of Good Luck: Fish On!
I headed to the southeast and into the channel, and decided to curl around to the southwest towards some boats, and back to some marks that I had seen. However, another boat off of my starboard side made turning right almost impossible. So, I continued on towards red 86 and a small underwater canyon on a due east heading, where I figured that I would turn around to the port side. At 8:40, in about 95 feet of water, and just under an hour after I had deployed the spread, I heard a loud smack in the direction of the port bow. I looked forward to see the #4 planer rod, placed forward of the console twitching violently in its rod holder. "Holy sh-t! Fish on!" I said aloud, as I checked the autopilot. I then started my hat camera and an overhead stationary video camera, picked up the rod, and began my retrieve.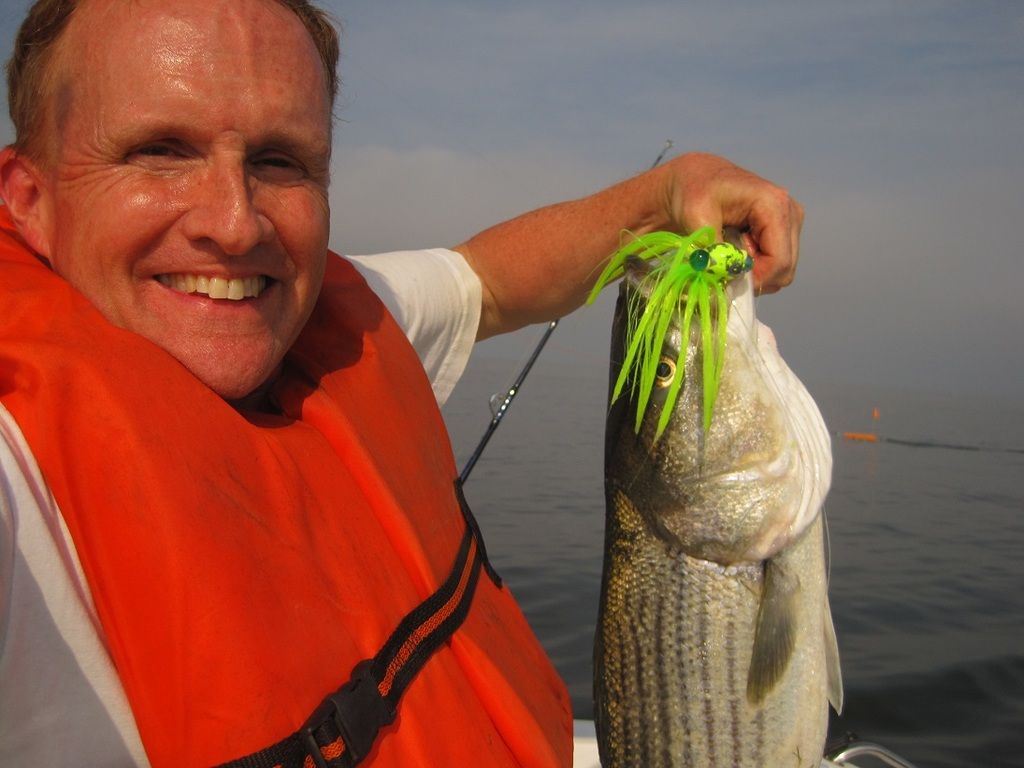 Cell Phone Selfie
Since the rod was mounted forward of the console tower, I had to pass it around two other planer rods before I could start the retrieve. "This is the short rod, back 40, which is a good thing," I thought as I looked around briefly for approaching vessels. I paused briefly, holstering the rod in a holder, and donned a pair of rubberized work gloves to assist me in the hand landing. I picked up the rod, resumed the retrieve, and pleaded aloud "Stay on" to an unseen fish as my vessel tracked to the east on autopilot.
"It's Going to be a Keeper!"
"There's a reason why I canned the boat rods," I reasoned to myself as the fight continued. This fish did not fight as hard as the 38-incher that I caught and released yesterday, but it held its own. I continued to look around at regular intervals to make sure that no other boat was approaching. After about five minutes into it, and several head shakes, my quarry came into view. "Hot damn! It's going to be a keeper!" I said aloud, as I was readying to hand land the fish. The fish appeared to be shorter than the slot fish that I caught the previous day. No sooner had I spotted the fish, than the fish spotted the boat, and made a mad dash for freedom, diving straight down and towards the propeller, as it did a few more last minute head shakes. "Whoa! Whoa! Get away from that prop!" I said aloud, and I attempted to lead the fish to the port side.
A Flawless Landing
"He's pissed!" I added aloud, as I once again brought the fish to the surface. The fish was now tiring, and I passed the rod around the port side planer rods and backed up towards the bow. With the leader fully retrieved, I set the rod down, hand-lined the final six feet, and bent over to grip the beautiful specimen of a striper. The next twenty seconds seemed to last five minutes as I struggled to grip the fish with my gloved hand, but I was eventually able to grab the fish and haul her aboard. As I had done previously, I exercised care when hand landing the fish, as the specter of falling overboard was on my mind as I was bent over the gunnels. The fight and landing went off flawlessly.
One and Done
"Wait a minute, it looks kind of like a runt. I better make sure that it's not a short" I said aloud again as I readied the measuring tape. I made a made a quick measurement, and yelped "Oh hell yeah! 32½ inches! One and done!" I exclaimed with glee. After a couple pictures, the fish was iced down, the line was reset, and I turned back towards the west at 9:10 am. By now, the fog and low clouds had burned off and had given way to high thin clouds.
She Shed a Few Scales
Enjoying the Day
My intent was to pull the lines as soon as I returned to the western side. This was not what I did, and I ended up enjoying this spectacular day for another three hours. I did not get another hookup, let alone any short strikes, but I was good with it. As I headed west, Bon Jovi's "Blaze of Glory" played on the stereo as the sun warmed my skin. I eventually curled back around to the east, and to the south. I marked bait, sometimes accompanied by fish, in fits and starts, but did not mark as much as we had done the previous day.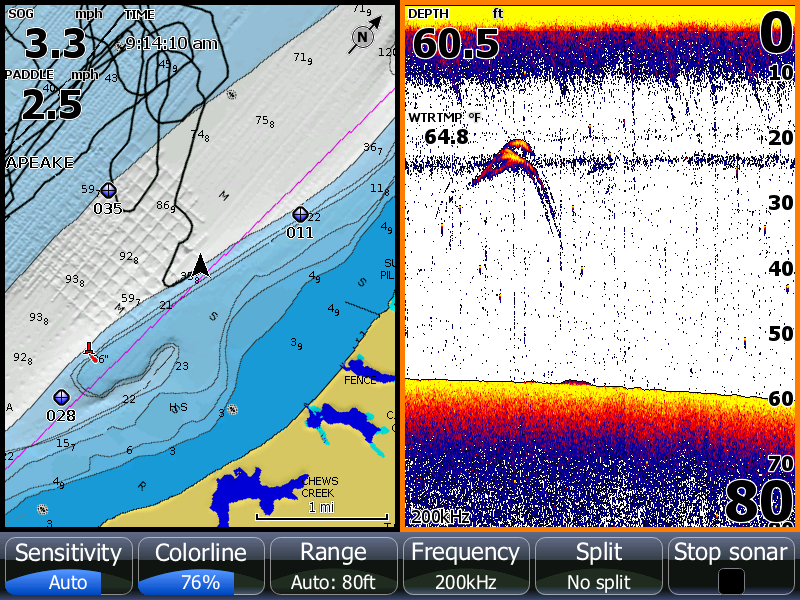 Minutes After Icing Her Down
Rock and Roll Lunch
Between 9 and 10 am, the wind breezed up slightly from nil to 2 knots to 4-5 knots. At about 9:45, I checked the way-way back line to find only a small amount of grass on the three-way swivel. However, the line came in extremely tangled, which left it out of commission for the rest of the day. At about 10:30, the wind lay down again to almost a calm. As I did my slow troll guided by autopilot, I noshed on a peanut butter and jelly sandwich, deer bologna, Old Bay cheese curls, applesauce, and apple slices, as Foster the People's "Pumped Up Kicks" was followed by Pearl Jam's "Black" on the radio's stereo speakers.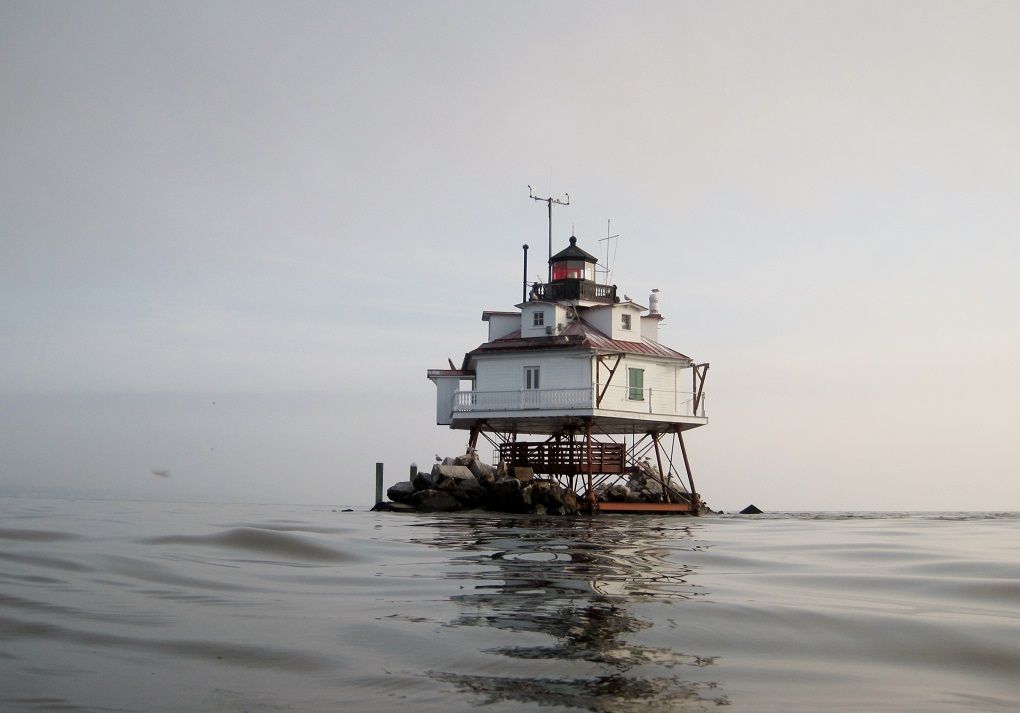 Milking It
I started pulling lines slowly at 11 am, combing out the hairs on the chutes as I retrieved each rod. In the channel there was very little grass, but there was a lot of yellow pollen on the surface of the water and heavier concentrations of grass on the western side. I was on the western side when all of the rods were pulled, but I re-deployed the two #1 100-foot rods for a short while. It was a gorgeous day, and I wanted to milk it as long as I could. At 11:30, it breezed up again to 4-5 knots, but it did not diminish my mood.
"Put it away now!"
I trolled for another 30 minutes, but it was now past noon and it was time to pull the plug. I retrieved the last two rods as The Red Hot Chili Peppers' "Give it Away" was jamming on the stereo. As I was putting away the rods, I sang along with the Chili Peppers with my own lyrics. "Put it away! Put it away!"
A Difficult Retrieval
It was now 12:30, and I was near the SR green and red can outside of Thomas Point Light. The tide was now outgoing, and the breeze was now 7 to 9 knots out of the south. These conditions made the solo retrieval of the boards difficult to say the least. With no one permanently on the helm, and while retrieving the first board, the board passed to the vessel's stern as the planer line passed under the boat and under the idling motor. I had to raise the motor to retrieve the line and board. Retrieval of the second board was not much easier. There was only a 1½ to 2 foot chop, but the wind and tide going in opposite directions really mixed it up.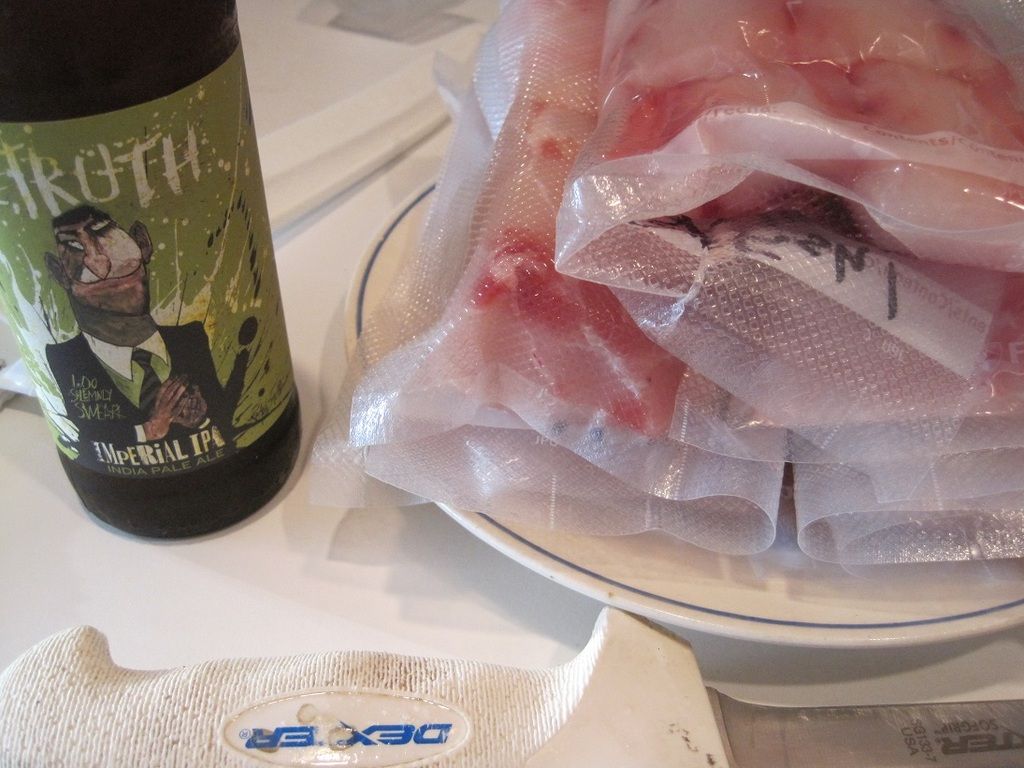 DNR Fish Check
As I was pulling the last board back into the boat, a very familiar vessel approached. It was none other than the Maryland DNR Police. They pulled alongside, and asked me if I had any luck. I told them of my good fortunes, and they asked to have a look. Because of the swirling water, the officers did not board me. Instead, a female officer fended off the two vessels and a male officer measured my fish after I had handed it over to him. They handed the fish back to me, commenting on how cold it was, and then thanked me for wearing my life jacket. "It would be kind of dumb if I didn't wear one out here alone" I answered.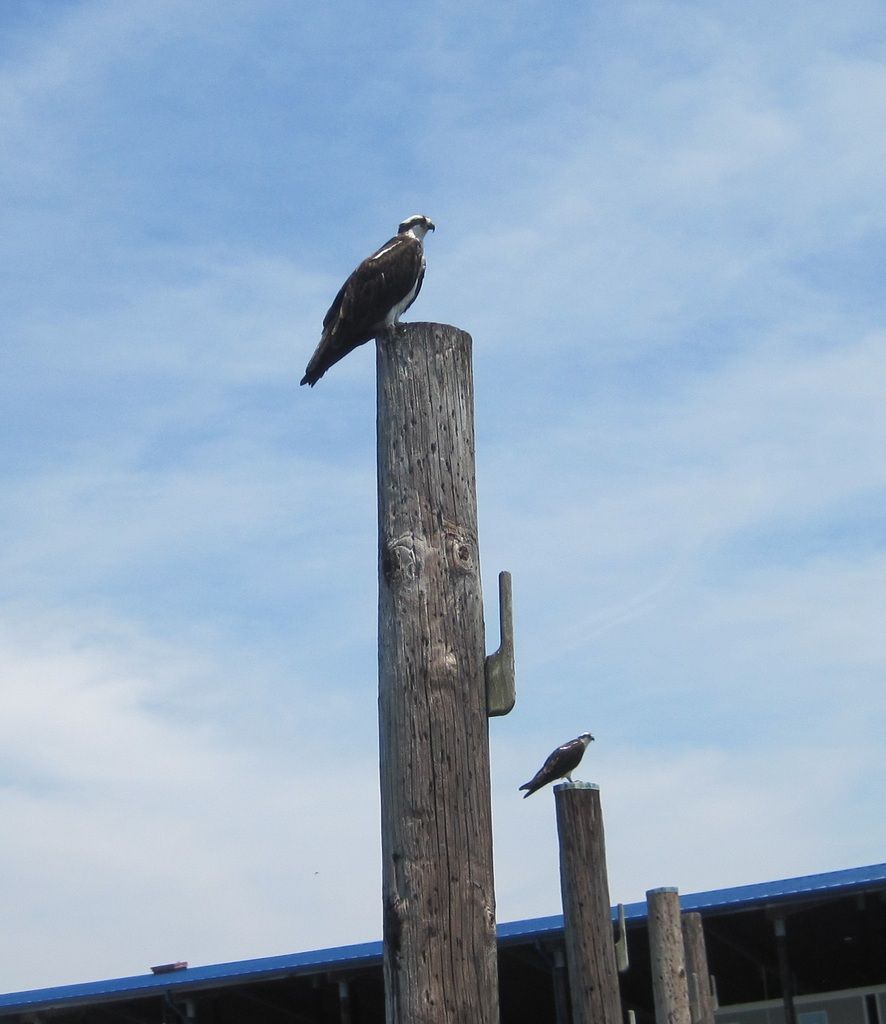 Wrapping it Up
I returned to the marina, and was pulling up to the ramp at 1:15 pm. I had the gear transferred, and the boat pulled by 2:15. As I was getting ready to pull the boat, I saw a brown water snake in the water by the ramp. The snake took refuge in some pilings, which caused a little concern.
I treated Unfinished Business to a drink of gas, and I returned the vessel to the dry storage spot by 2:45. As I was spraying a gentle wash of fresh water on the rods, I was serenaded by a white-breasted nuthatch. I had the fish and a rod cleaned, and was heading home by 4 pm. Just after cleaning the fish, and just before departing the marina, I saw a green heron at the end of a finger pier as I was draining excess water out of the cooler at the ramp. With the water warming quickly, this could be my last shot at the big pelagic stripers before they depart for New England, and I am grateful to have had such good fortunes the last two outings.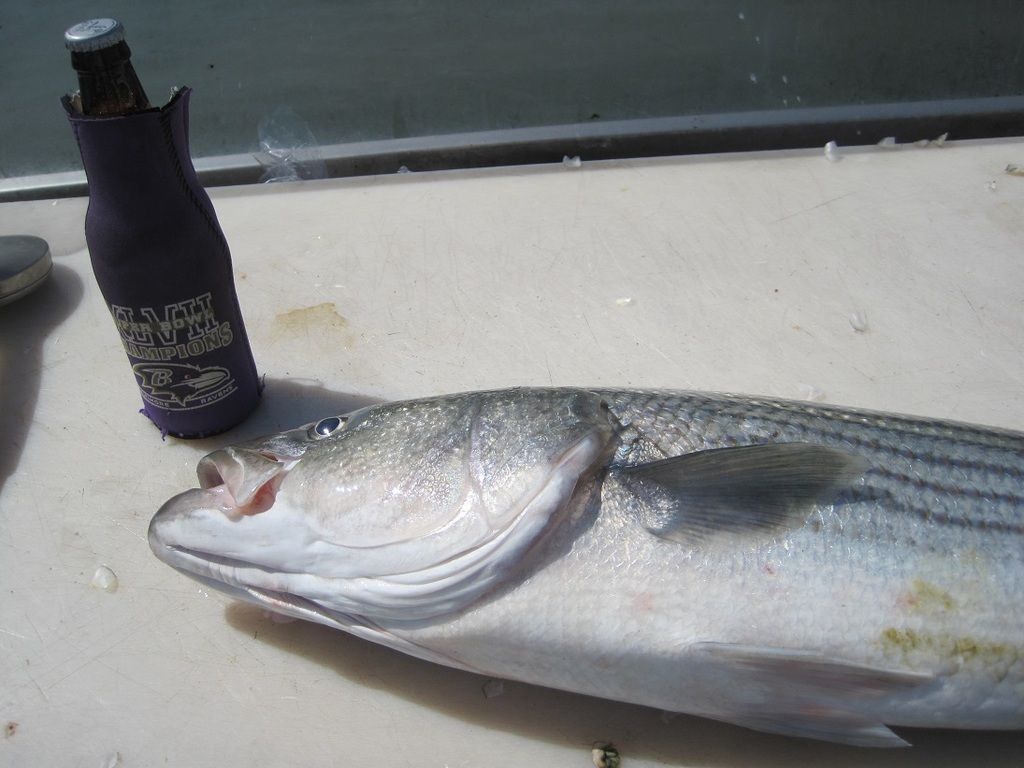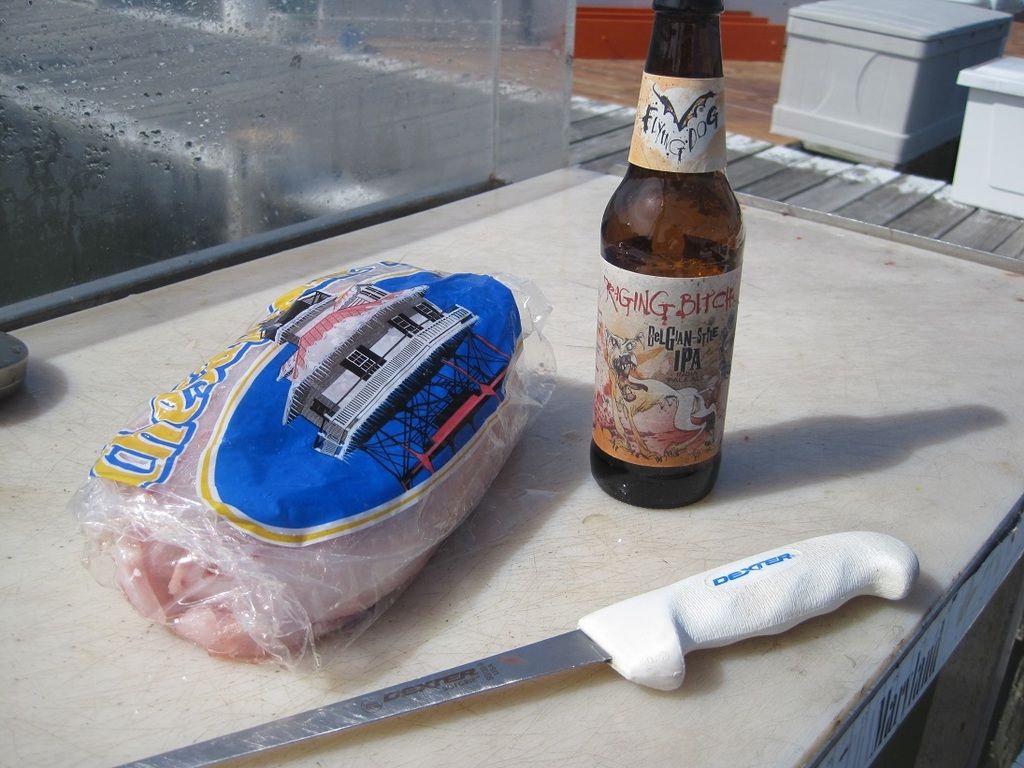 Saturday Morning Breakfast
Life is Good
The following weekend, Norm and I, in separate locations, enjoyed fresh rockfish with our wives. On Saturday morning after processing the fish from Friday, Kate and I had panko encrusted rockfish and eggs for breakfast. Saturday night after enjoying a day of relaxing and bird watching, we dined on grilled striped bass fillets using a Martha Stewart recipe.
This recipe is centered on an olive oil marinade recipe, and had to be grilled in an aluminum pan instead of directly on the grill using my wire mesh grilling basket; the trophy fillets were just too thick for the basket.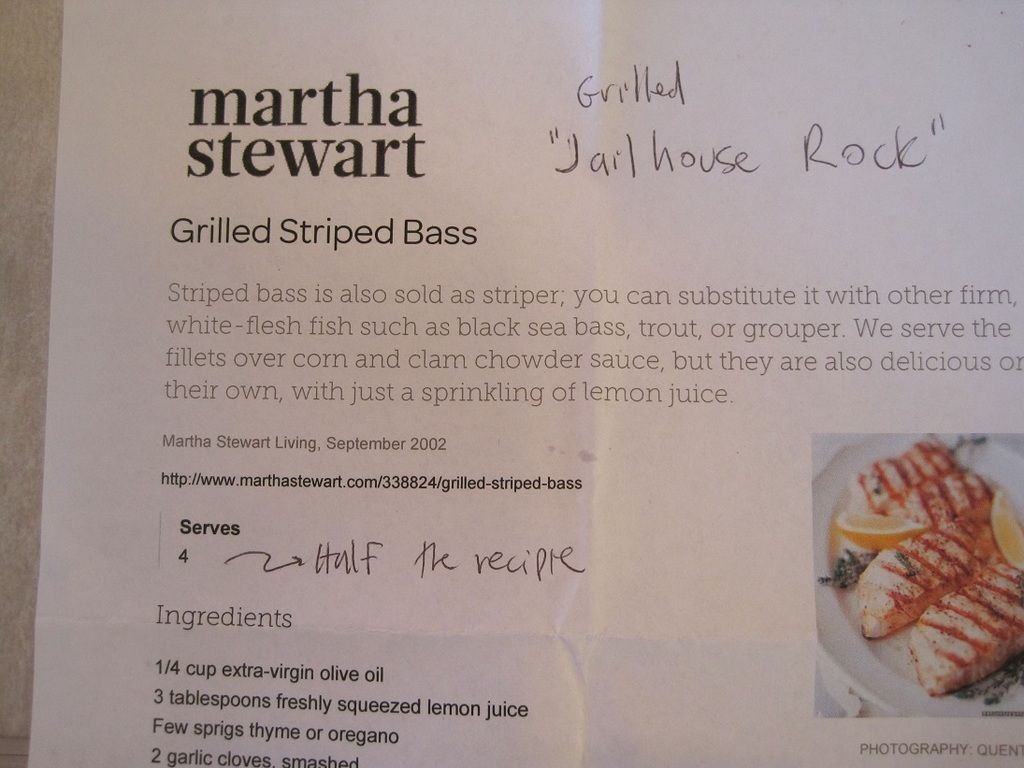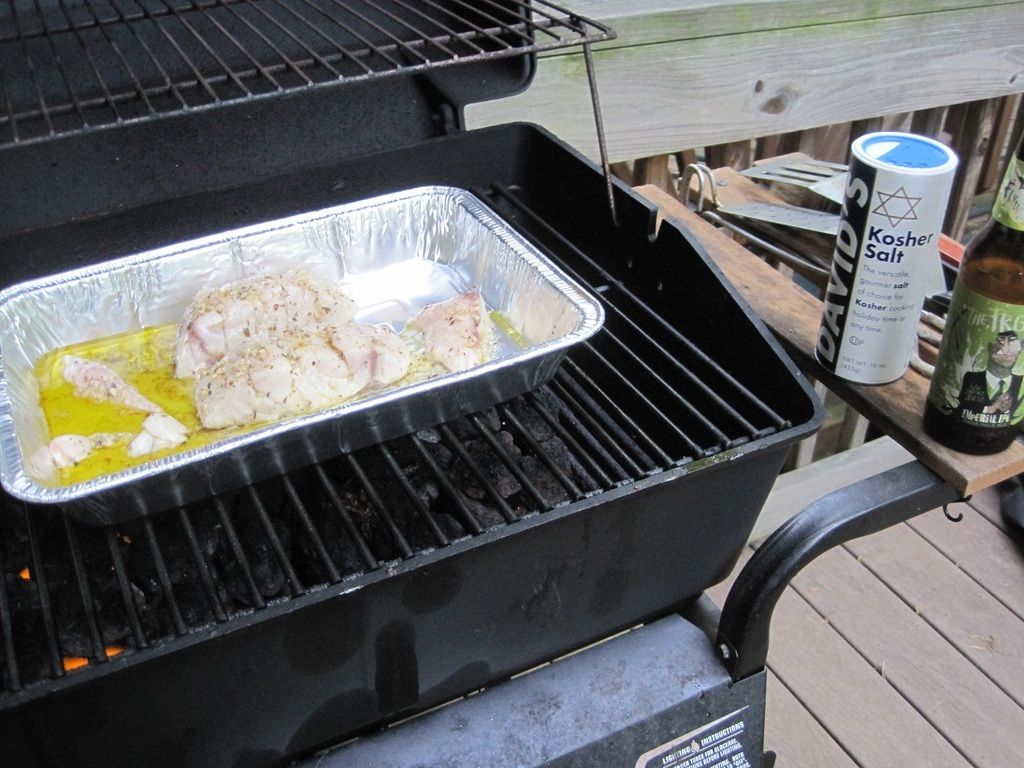 The Kosher Salt was Key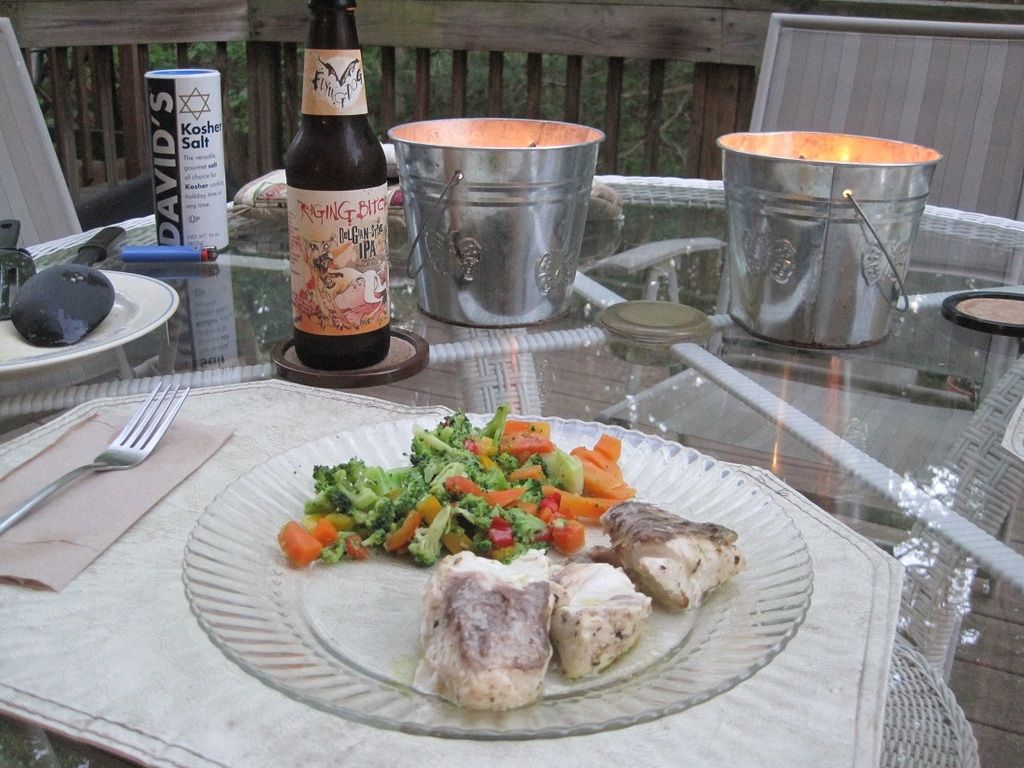 Life is Good!
Scott too was planning on a fresh fish dinner with his wife, and all of us ate off of the fish that Scott caught. Norm raised the bar, when he and Sherry had grilled striper fillets with backfin crab meat with veggies and wine on their boat Witch of November while anchored somewhere in the Chesapeake watershed. Life is good.
:thumbup:
Dinner Aboard Witch of November