Discussion Starter
·
#1
·
Went diving just above Annapolis,Md in the Chesapeake bay on Wednesday.The water temp is 70* - which is great for mid October.Dove a well known snag that alot of guys fish over and most times I find a few anchors.Found a small mushroom then next time down I found 6 anchors all tangled together.I was able to bring up a danforth and a local made anchor called a Rockhall anchor.It looks like a " Popeye" or pirate ship anchor.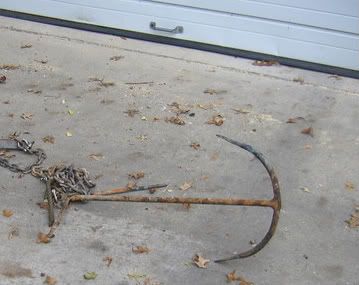 These have a cult following and I get $60.00 for them :thumbup:.There was another one in the mess but I had no way of marking where it was.Brought the two up and swam them over to the boat.Took a gamble and instead of using the grapple anchor rode as a desent line- I swam over to about where I came up and dropped back to the bottom.The viz. in the bay is about 3-4 feet until you hit bottom-then it is about 1 foot.Sinking down to the bottom in 30 feet was strange but soon I "landed" and started searching for the anchors I had left.More by luck then skill- I bumped into them again and got to work trying to free them.The danforth was wedged in tight to the Rockhall and due to stirring up the bottom-I could not see at all.Tried to free one-then the other but no luck.Tried twisting them apart-then pushing but still no luck.I was half tempted to leave them but the danforth was a big one.Finally put my lift bag on the chain and used that to help pull it free.That did not work but held the anchors up enough for me to feel around them.It turned out to be just one anchor- not two :eek2:.I went up the chain and deflated the lift bag.In the "clearer" water I looked to see my guages and saw 800 PSI left.Got back on the bottom and twisted the anchor free.Put the lift bag on it and brough the beast over to the boat.My buddy was not thrilled pulling it in
but managed to get it over the side.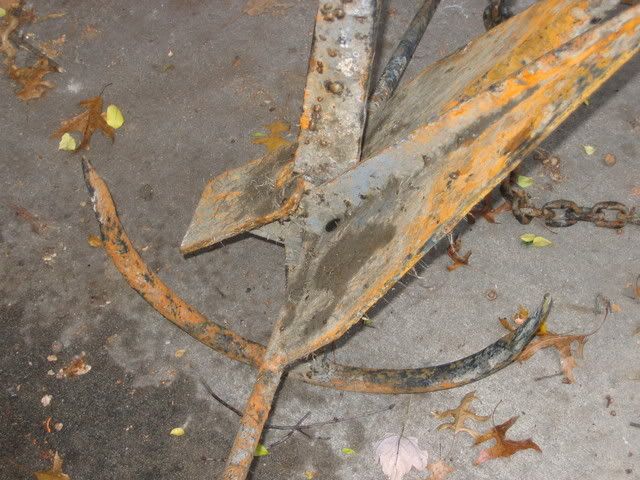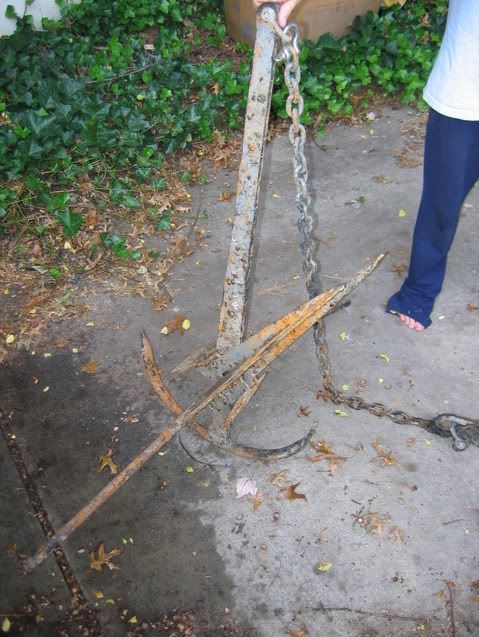 I think I found out who lost it and also found out they sell for $300.00.Most guys give me a 50% finders fee :yes: so hopefully this monster will be worth 50 gallons of fuel :clapping2:.