Discussion Starter
·
#1
·
Friend lost an anchor near Hacketts on Saturday afternoon. The line came untied from the chain - but he had GPS numbers for where he set anchor. Fellow TFer REM1224 ( Ralph ) went with me to try and find it.
Since boat was wet - made great excuse to fish as well. We launched at 8 am and headed to Hacketts. Dropped over a cinder brick on a line and marker jug on GPS numbers of lost anchor. Idea was to use side scan to spot the lost anchor. We searched slowly and Ralph adjusted the unit to really dial in the bottom. We saw a few things that might be the anchor but not 100% sure.
I watched as a few rays splashed along surface - bay diver's best friends. Current was moving so we went over to 15 feet to try for Spot. Fellow TFer Mlag ( Mark ) was out and had some - we anchored nearby as he headed NE to go after Rock.
Ralph and I caught Perch after Perch and moved around but no Spot for us. Mark called me and said " Get here quick ! ". Now Mark and I fish together often - so I knew he was on a hot bite. I told him I did not have Spot - he said he could give us a dozen.
Put boat up on plane and off we ran to his location. Covered distance quick at 30 knots and pulled in close. Mark said to anchor tight so we would be side to side - he had school of Rock under his boat. Two charters were close to his stern and one skiff was LTJ casting in between - what a cluster.
Mark's crew handed over a net of Spot and Ralph and I baited up. Over they went and I missed one but Ralph hooked up[ a nice 28 incher. I rebaited and sent Spot over - 30 seconds felt the hit and 5 count - set the hook. Now bear in mind there were 3-4 other lines from various angles in the water - I had a fish on but also some other anglers line. I could feel my fish but also another one.
No one on Mark's boat was hooked up and two charters had drifted 100 feet away. The LTJ boat was not hooked up - Hmmm , I must be losing my mind.
As my fish came near boat - Ralph had net ready and we saw it was around 30 incher. Right behind it was another one - but smaller. Not uncommon for Rock to follow a hooked Rock to surface. Ralph netted mine - but up came two Rock ??????
We saw the leader went through mouth of the 30 incher - out the gill cover - and the hook was in the 27 incher. No wonder I could feel another fish - but how the hell did this happen ?
It took few minutes to sort it out - I was there and have photo but still shake my head. The first Rock inhaled the Spot and the Spot somehow shot out the gill cover. The second Rock then grabbed the Spot and was hooked - putting first on on the leader - like a stringer.
Mark's crew threw up their hands - I just smiled and said " I'm done - got my limit ". Ralph rebaited and got his second fish - we gave Mark his Spot back and slowly pulled anchor. We honestly did not fish five minutes to get our limit.
Ralph and I discussed the odds of this happening - gave up trying to figure it out. Ran back to Hacketts and current was slack enough to dive. Donned gear and went over.
Got to bottom and Ralph pulled cinder block up. Put pin in bottom and began a circle search - each time letting out 6-7 feet of line. The lost anchor had 8 feet of chain on it so I played odds and made each circle just a touch shorter. Water was warm but could only see about 6-8 inches. Round and round I went - very relaxing pace. Scan with light - swim few feet - scan with light. Kept one hand rubbing bottom - often I feel things before I see them. Had about 70 feet of line out and saw few blurs of ray or fish but no close encounters of the critter kind :thumbup:.
Hard to discribe but told myself this pass was it. Sure enough - spotted chain and found anchor. I've gotten this one back for the unnamed TFer before so it was like bumping into long lost friend. Sent it up on lift bag and retrieved the line and metal stake. Ralph pulled in anchor and helped me in.
Still had 1/3 tank of air - hmmmm , where to next ? We ran to bridge to go after a ladder we spotted on side scan. Quick call to bridge police to let them know a diver would be in water. They said OK - so over I went. Tied rope to ladder that had a jug on it - then came up and helped Ralph pull it in.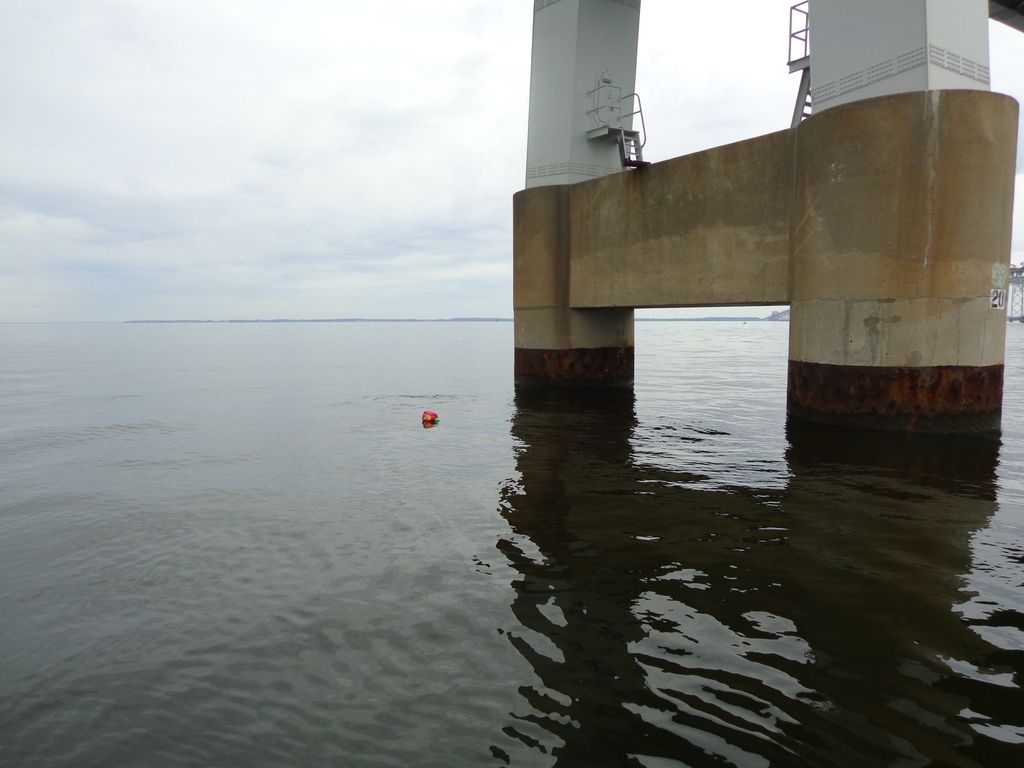 It had been on bottom a while and our idea to hang it back on bridge was not going to work. Put it back where we found it and then headed in.
I'm on night work this week so made for long day but was fun. Still shaking my head at getting a two for one Rockfish special - day I'll remember for a long time.