Discussion Starter
·
#1
·
Tough decision today.............fish or hunt? Bucks are on the move.....but.........I needed one last livelining fix. Had my dad meet me at Sandy Point as I planned to pull the boat at the end of the day. Stopped at Anglers on my way to Sandy Point and picked up 6 eels ($1.99 each) just in case the spot in my pen were not too healthy. It was a good thing, because as I pulled the pen, I was surprised to find it empty:eek2: There were about 40 in there when I left it last Friday. Only thing I can figure is that the low tides caused pen to rest on the bottom causing the top to collapse a little allowing spot to escape. Whatever the case, I knew that it was going to be a tough day without any spot. I am surely going to miss the sunrises on the South River. One last one until next March...........
The South River had a lot of floating debris this morning.....mostly leaves and branches from the high winds this week. The water is about as clear in the river as I remember from the last couple of years. Looks like mother nature blew out the "bad" water and replaced it with clean fresh water from the sea.:thumbup:
As I entered the park via water, I noted the water line on the jetty rocks. It was high tide as I arrived, but the water level looked more like a low tide. I would estimate that the water level is still approximately 18 inches below the normal level.....................
Fishing for the most part today was pretty slow. My dad caught one 19" rock on an eel after fishing for about an hour. We lost a couple to snags in the rockpiles and basically wore the remaing eels out. We went to Hacketts with hopes of maybe finding a few remaining spot. It was a beautiful day on the water today. Hard to believe it is November 1st. It felt about like June 1st. The sun was high in a clear blue sky. We shed our sweatshirts and fished in tee-shirts for several hours around mid-day.......................
After drifting Hacketts for maybe an hour and a half, we had about a dozen small perch in the livewell......................about a half dozen big perch in the cooler.....................and these (2) frisky little fellows...................................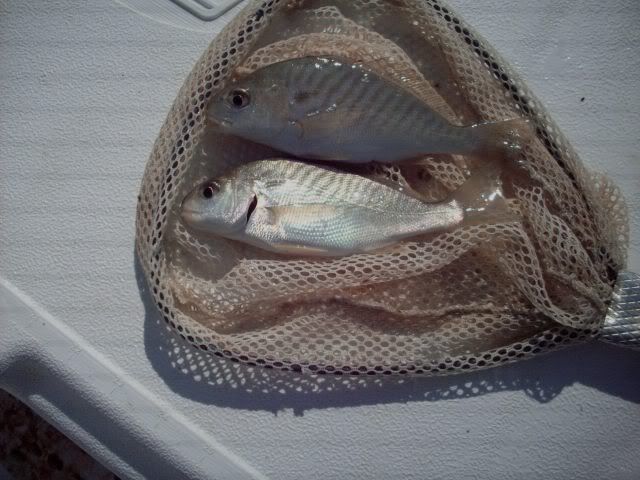 I thought about putting them up on ebay, but we opted to try for more rock. We used our perch first, saving the spot for the perfect tide. Well, my dad used his spot to no avail. My dad put his rod up and said, "Wouldn't it be neat if you catch a 30 inch rock with our last spot?" He no sooner finished saying that and my spot gets crushed. I count to 5 and set the hook and get nothing but air. Dangitman.............oh well, we almost had the perfect ending.
We headed into Sandy Point (now at low tide) and the water level is really noticeably low. The jetty rocks are completely out of water with about a foot of sand visible under the rocks...............................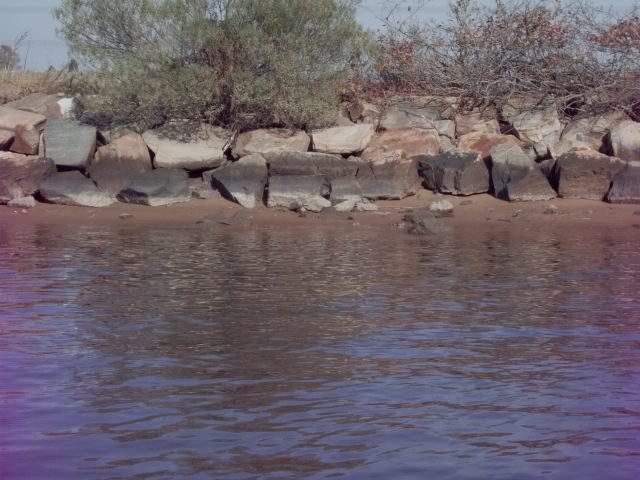 No problem launching or pulling boats at ramp. Water level is still sufficient. Saw Rem1224 (Ralph) at the park when pulling boat. Glad to see someone else got to enjoy this beautiful day. Well my livelining season is over. Next up.........December hawgs from Point Lookout. Can't wait.........................................Mark