Chronicles of an Obsession: Hunt for the World Record Hogfish PART II

Volume 5 - Confusion II (The Ides of March)
Written by Pete (WhiteLakeBuc) and Steve (Di Hrd)
The winter of 2009 was upon us, the bitter cold air and cooling water made our hogfish missions very challenging. The end of January 2009 and the beginning of February 2009 yielded a combined total of zero hogfish. Nada…. None…. This was really confusing because a month earlier we had some great hogfish catches. It was time to re-evaluate what we were doing and reassess our hogfish knowledge to come up with a different plan on how to catch winter hogs.
In the winter of 2005/2006 we had found an area that has been really good to us….. especially jigging. We called this spot "Area 51". Area 51 is out in the gulfstream and is a series of ledges starting in 155 feet deep and extending out to 220 feet deep. Some of the ledges have overhang, some are just crumbled rock outcrops, and some are just large live bottoms. There are many tropical fish species found here and we felt good about Area 51 having just the right mix of water temperature, habitat, and food to harbor large groups of winter hogfish.
February 6, 2009
The winter cobia and pompano jigging bite was in full gear and we headed out to give them a shot. All morning we were back to our old ways…… jigging. Once again, Area 51 was good to us with African pompano and cobia along with the white trevally, aj's, and almaco's mixed in. One of the ledges in Area 51 was looking "REALLY GOOD" on the fish finder so we decided to try hogfishing. We knew from our mission on January 3rd that winter hogfishing was different and required a tweak in the presentation and technique. Rigged up and ready to go, we drop in on a ledge 180 feet deep on the edge of Area 51. After several drifts, Pete comes tight and lands a big BULL.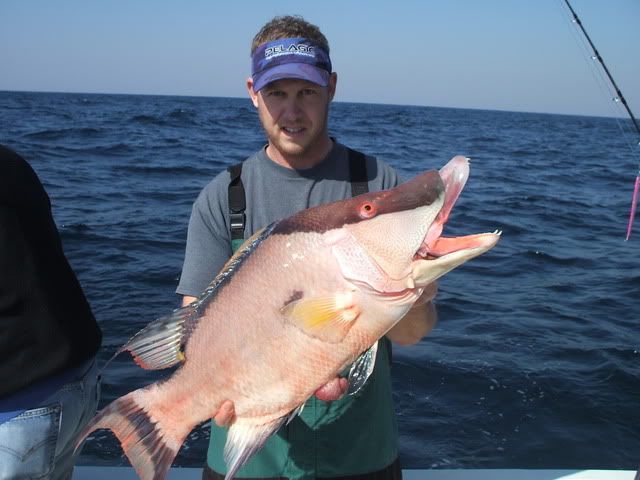 Fishing the rest of the day we had one more hogfish pull off and another get cut in half by a barracuda. The knowledge we had gathered on this trip was very valuable. We now had extended the depth range to target hogfish and also sharpened our skill on how to catch them during the colder months. The hog pictured above was Pete's largest hogfish at the time and the deepest we have ever caught one.
March 2009
With the success inevitably comes failure and in our case…… a curse. A subsequent hogfish mission to Area 51 during the end of February was bittersweet because we had success catching 4 hogfish in 180 feet, but Steve's engine would develop an injector problem (probably due to ethanol) and kill our hunt for the world record for the time being. Little did we know, but March would prove very tough for us in the coming years both on engine problems and catching. To this day, neither of us have landed a hogfish in the month of March.

Chronicles of an Obsession: Hunt for the World Record Hogfish Volume 6 - INNOVATION
April/May 2009
The waters inshore of the gulfstream were starting to warm, the mahi began to show, bonito were busting clouds of glass minnows along the beach and there sat Steve's boat. The mechanic was backed up and could never give a time on when he could repair the injector problem. It was now a time of reflection. Our goal is still catching the world record but how could we get closer to our goal without a boat?
The first thing we did was reassess all of what we had accomplished over the past year. We began by reviewing the tackle. What had worked and what didn't. Looking back, both of us noticed an increased hookup percentage when we had used lighter tackle. In reflection to the hog mission in October 2008, we noticed that the heavy grouper rods did not have quite enough sensitivity and we caught more fish on the lighter rods. The rods with a greater percentage of graphite used in construction had yielded better results. Talking about this one day, Steve comes out of his garage with a Bass Pro Shops Pete Maina Signature Series Musky Rod. It was 7'6" made of 100% IM6 graphite and rated 20 to 40lb, 2 to 4 ounce lure weight. It had a nice tip action with tons of back bone and the graphite construction really helped the sensitivity. At the time, it seemed a little "unconventional" to use this rod for hogfishing, but thus far, nothing about hogfishing was conventional anyway. We strapped a reel to it, tightened the drag to 20lbs, and pulled hell out of it. It was a thing of beauty, great bend, tip action, and unbelievable sensitivity. Without saying, we both knew we were on to something but how could we verify it without Steve's boat?
As luck would have it, Steve's friend that owned the commercial dive boat called and said he needed a hand for an upcoming trip. Steve obliged and a week later he was 50 miles off in hogfish territory. His job was to stay topside, gut the catch, ice the catch, and maybe take a turn diving it the boat owner allowed. The day began slowly and on the first dive, the boat owner shot a couple of hogs and Steve caught one on rod and reel. The next spot was on fire and Steve could tell by the screen there were hogs down there thick. He switched over to the musky rod and BAM! It was like night and day. The musky rod really opened up a new avenue in the presentation, the technique, and the methods. On this particular dive, Steve caught more hogfish from the boat on rod and reel than the diver had speared. Much to the dismay of the boat owner, Steve replicated this again later in the day catching more hogs on a single stop than the diver speared. It was for sure another breakthrough in our quest for the world record. The breakthrough? Refining our tackle specifically to the needs of the technique.
Upon Steve's return, he conducted a review of the musky rod came up with a couple of suggestions to make it even better. First off, it needed a little more back bone and it needed to keep the tip action and sensitivity yet have strong overbuilt components. Researching the different rods, we could not find any factory models that had all of the criteria we needed. This problem is what pushed Pete into building custom rods. A custom rod was the only way to get all of the features we needed. Pete's father has built many surf rods so he knew how to get Pete started on building. We began by researching different blanks. Riley Rods was kind enough to assist on the blank search and we discovered the Batson IMU76XH. This blank was designed for musky fishing but it had all of the tangibles we needed for hogfishing. Steve chose the Batson IMU76XH and Pete selected a St. Croix 2M76HF that was also designed for musky fishing. With tutelage from both Pete's father and Riley Rods, Pete constructed the first two rods specifically built for hogfishing. The rods were constructed using components associated with jigging rods and the final product was light (constructed rods weighed less than 12 ounces), REALLY strong, yet REALLY sensitive.
To date, Pete has been through 6 hogfish rods and has finally come to a favorite. The Phenix Black Diamond Hybrid PHD700XH cut from the rear to 6'9". The St. Croix 2M76HF cut from the rear to 6'9" is a close second and he fishes it depending on the presentation used. He also uses a Phenix Black Diamond Hybrid PHD660XH built as a spinning rod. Steve still fishes the original Batson IMU76XH for all presentations and breaks out the Pete Maina musky rod with a Daiwa Millionaire reel from time to time for the fun of it. A picture of the Batson IMU76XH can be viewed in the third picture up from the bottom. The final hogfish rod design is a hybrid between a freshwater musky rod, a grouper rod, and a jigging rod.
Hybrid Design:
Pictured are the St. Croix 2M76HF w/Saltiga SA20 (Left)
Phenix Black Diamond Hybrid PHD700XH w/Trinidad 16NA (Right)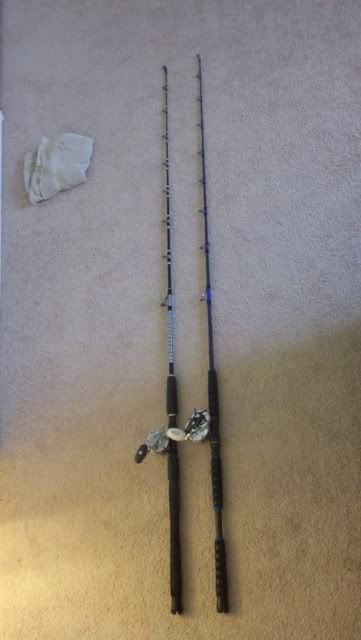 Pictured are the St. Croix 2M76HF w/Saltiga SA20 (Left) Alternate View
Phenix Black Diamond Hybrid PHD700XH w/Trinidad 16NA (Right) Alternate View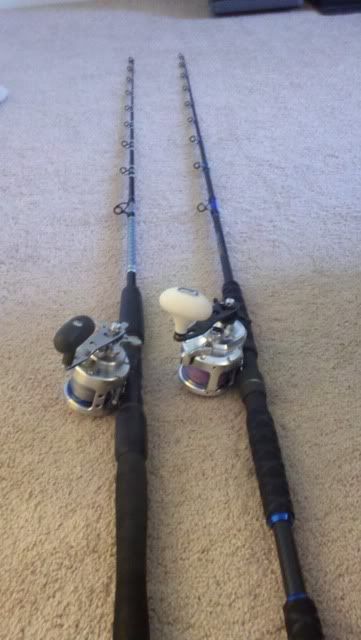 We have tried many different reels for hogfish and most of them end up destroyed. They break because we fish HEAVY drag and it causes anti-reverse problems along with premature wearing of gears. The reels needed to be feather light, super strong, durable, and capable of at least 20lbs of drag at full spool (Manufacturer drag ratings are misleading because they test the drags with an empty spool. Once line is added, the drag rating goes down). The closest thing to these requirements was the Daiwa Saltiga conventional star drag reels. Until the summer of 2010, Pete used a modified Daiwa Saltiga SA20 and Steve uses a Daiwa Saltiga SA30. Shimano redesigned the Trinidad in 2010 and introduced the new A series. The Trinidad A series holds a slight advantage over the Saltiga due to is dual dog anti-reverse system and adequate drag that did not require any modifications. Pete currently uses the Trinidad 16NA and the Saltiga SA20's as backup. Here is how the Saltiga SA20 modification was made to achieve 25lbs+ of drag at full spool.
First, install carbontex drag washers with an extremely light coating of Cal's drag grease. Then go to the hardware section at Lowes and get some nylon washers:
Remove the handle, drag star, and all metal washers then lubricate around the bearing: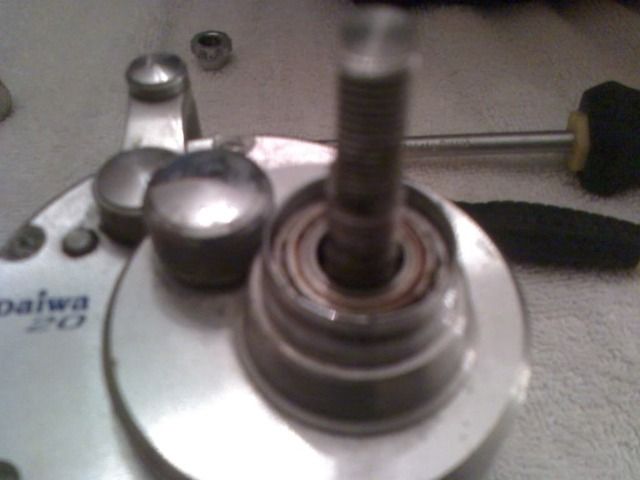 Install two of the nylon drag washers: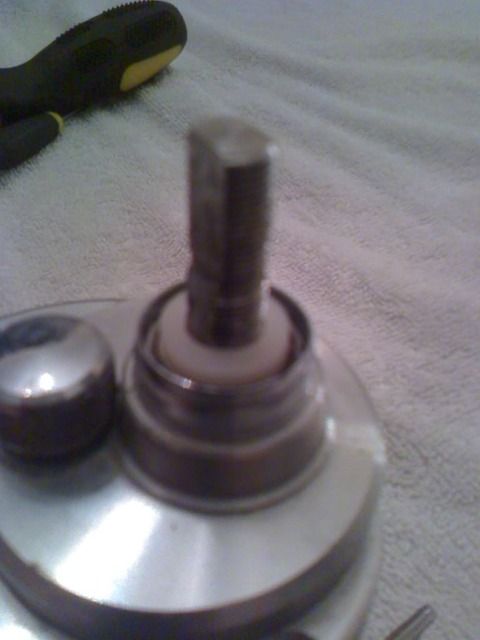 Reassemble: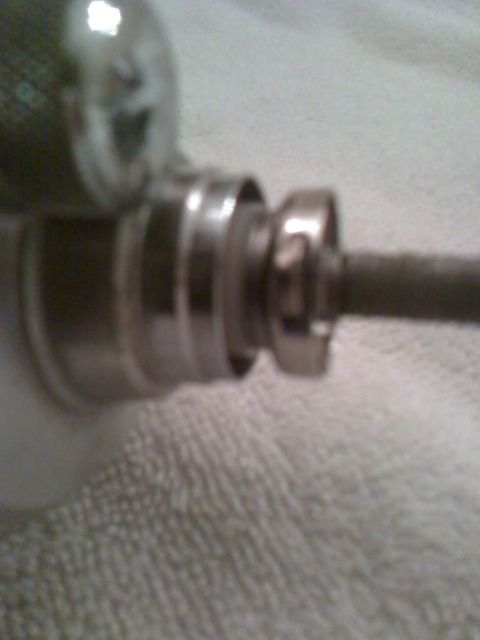 These nylon washers create additional pressure on the drag stack thereby increasing the drag. Doing this mod will void the warranty, damage your anti-reverse, and cause premature wear on the reel. With the combination of nylon washers and the internal carbontex drag washers, the Saltiga SA20 could produce up to 35lbs of drag before structural failure. Other good reel choices that do not require modification are the Saltiga 30T, Fin Nor OFC16L, Shimano Trinidad 16A. These reels are larger and heavier but work great.
Chronicles of an Obsession: Hunt for the World Record Hogfish Volume 7 - LIMITATION
June was now here and Steve's engine had not made it in front of a mechanic yet due to the shear amount of people inline ahead of him. With warm weather and calm seas upon us, our patience grew short and decided to take Pete's bay boat out in search of the world record. The problem with taking the bay boat was this: WE NEEDED TO GO 45 MILES OFFSHORE! And that was to places we had confidence in. In order to make this trip happen, we needed several things. The first and most important was slick flat calm sea conditions with little chance of thunderstorms. It seems like every day during the summer there is a chance of afternoon thunderstorms plus taking a bay boat 45 miles isn't for the slight of heart either. Well, our balls got bigger than our brains and it was time for a mission.
June 13, 2009
We had studied the weather endlessly for days and finally saw favorable conditions. Our mission was to inch our way out to hogfish territory on the bay boat. Upon leaving the inlet, we were greeted with a residual southeast swell that made running a bay boat 45 miles a bit difficult. We altered our course and decided to run more north and try some new ground. We grouper fished our way out and made it to the 40 mile range by mid day. Finally in hogfish territory we began looking and fishing. Throughout the day, we marked many nice ledges and live bottoms, of which, none produced a hogfish. It is kind of funny when you are out 40+miles in a bay boat and hear the people talking about you on the radio. It made for some interesting comments.
This day would produce zero hogfish but some nice grouper were caught and we were able to test out the new rods.
Steve with a nice 21lb gag caught on the Pete Maina musky rod and Daiwa Millionaire.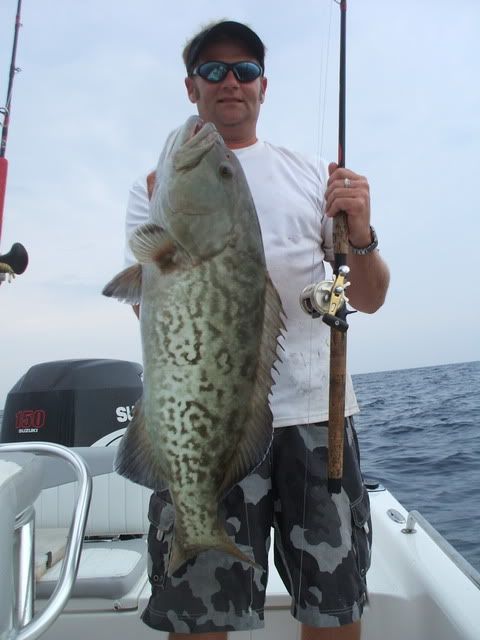 We would end up encountering a thunderstorm on the way in and had to wait 3 miles offshore while it moved up the beach. Needless to say, going 40+ miles in a bay boat is quite an adventure.
June 23, 2009
The days leading up to June 23 were filled with anticipation. We had watched a high pressure build and slick calm conditions were forecasted from all of the weather models so we planned a hog mission. This trip would also be in the bay boat because Steve's mechanic had yet to fix the injector problem. We felt the conditions were right to fish in the 45 to 50 mile range off Carolina Beach where we knew hogfish were holding. The morning started off slow but by mid afternoon we had found a nice bite of hogs. Switching back and forth from the prototypical grouper rods to the new hogfish rods made huge difference in the catch rate. This trip would also prove to be pivotal because a brand new technique was discovered by accident. The new technique, completely different than what we had been doing, was extremely efficient and it yielded unbelievable results. Armed with tackle specifically designed for hogfishing and three completely different ways to catch hogs, we felt the world record was right around the corner………. so we thought.
Pete with a nice Bull from 6/23/09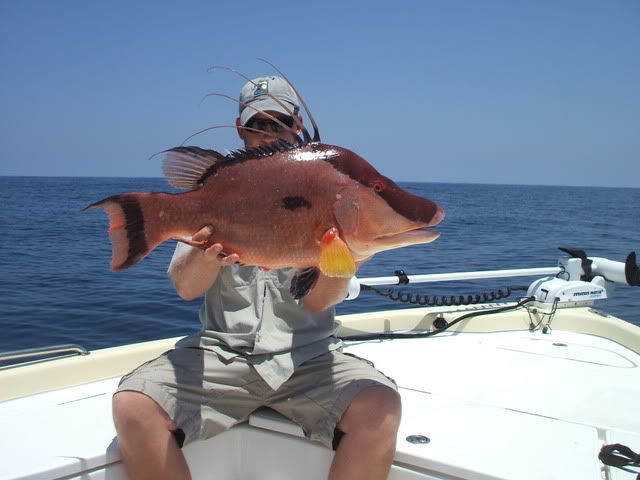 Steve with a Tranny from 6/23/09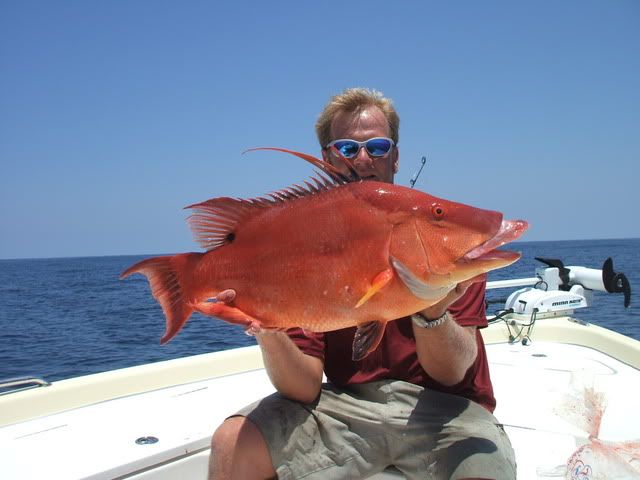 We continued to catch hogs on this day and really got to put the new tackle to use. One problem discovered was the bay boat has limited fish storage abilities.
Chronicles of an Obsession: Hunt for the World Record Hogfish Volume 8 - EXPLOITATION
The first of July came and Steve's mechanic had yet to even look at his engine. This was very frustrating because we knew of several people that had taken their boats in for service and had them back two weeks later. Steve decided enough was enough, picked up his boat and took it to another mechanic that he felt more comfortable with. This meant that we would not have his boat back anytime soon and the bay boat missions would continue in our hunt for the world record.
Reflection on the past fishing adventures sparked a new idea. Remember when Steve had caught more hogfish on hook and line than the commercial diver had speared? Well, the idea came of commercial fishing for hogfish on hook and line. We thought about it, scrutinized it, and finally came to an agreement that it could be done. You see, in 2009, the regulations for hogfish and sale of hogfish were quite different from today. In 2009, hogfish were included in the "reef complex species" according to the North Carolina Department of Marine Fisheries (DMF), and a limit was considered a combined 20 fish per person per day. This meant we could keep a recreational limit of 20 hogfish per person per day just as long as we did not keep any other "reef complex species". The regulations on selling the hogfish did not require a federal grouper/snapper permit either. Legally, we were allowed to sell our recreational limit of hogfish with a North Carolina Commercial Fishing License. Pete called DMF and confirmed the regulations, purchased a commercial license from a friend, and by the first week of July we were setup to try our hand at commercial fishing for hogfish.
July through September 2009
By now, we were certified hogfish killing machines that were only limited by the weather and the capabilities of the bay boat. Every chance there was a weather window, we were out catching hogfish……and LOTS of them. Pete had developed superstition again and would only wear the same shirt, UNCW hat, and shorts….. again.
Fishing from the bay boat limited us to quick strike missions where we could focus only on a small area. At the time, we felt this was a great hindrance, but as time passed, this limitation taught us a very valuable lesson….. Paying attention to detail. In Steve's boat, we were able to fish anywhere we wanted and if we decided to run 10 miles to a different area……. We would do it. In the bay boat, we would run out 45 miles and only fish one small area per day. By fishing one small area, we had to really pick apart the structure to maximize our efforts and garner more bites. We found that irregular parts of the structure were more conducive to catching. For instance, if a ledge was 100 yards long, we found that fishing a small irregular feature, such as a rock outcrop, would be the "hotspot". So instead of fishing a ledge 100 yards long we were able to divide the ledge into smaller areas and create more spots out of a single larger structure. We kept a high pace, rarely anchoring, and fished as many spots in a day as possible. These tactics would prove deadly. Had we not been limited by the functional ability of offshore fishing in a bay boat, I am not sure if we would have discovered this way of fishing.
July through September of 2009 runs blur in memory. We fished many days with outstanding catches. The following pictures show our success of commercial hogfish fishing in a bay boat.
Steve with a 18lb++ Bull on the Pete Maina musky rod and Daiwa millionaire.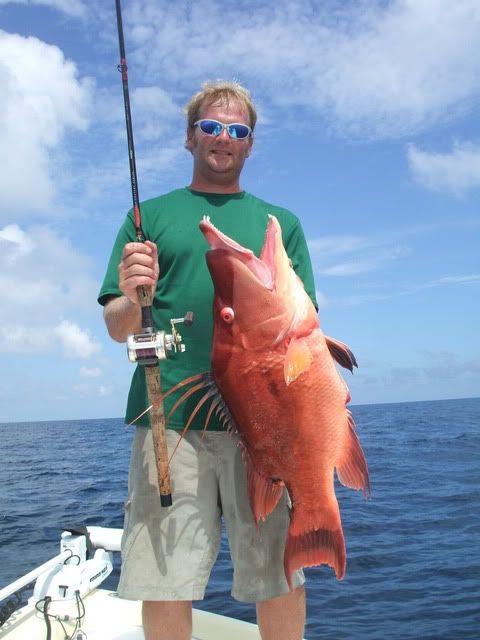 Pete with a Tranny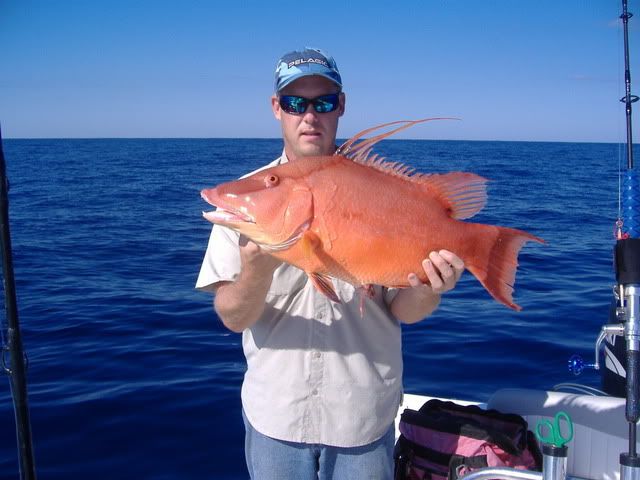 Pete with a nice Bull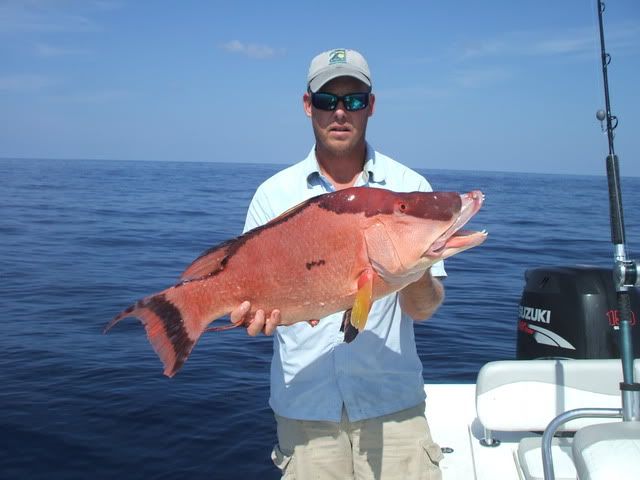 Signature hogfish picture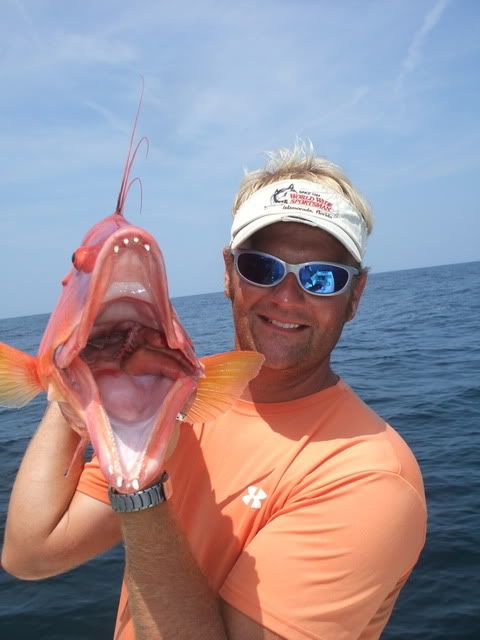 Pete with an 18lb Bull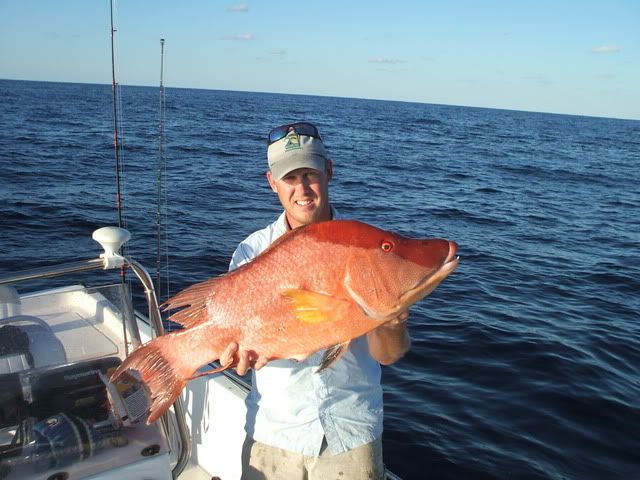 Cruise missile quick strike mission
Commercial mission
Commercial hog mission August 2009.
Commercial hog mission September 2009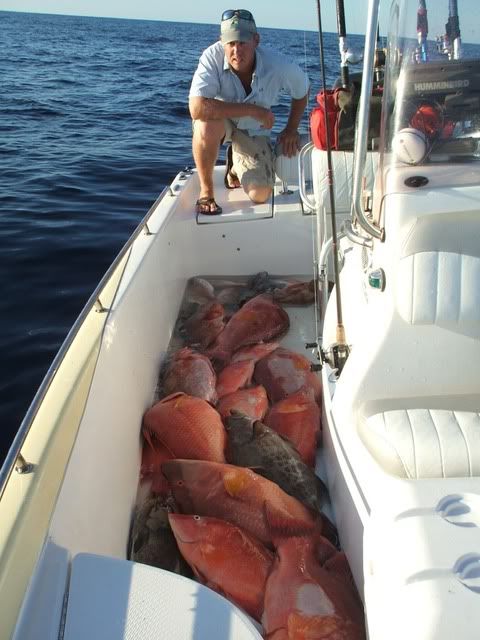 Commercial hog mission October 2009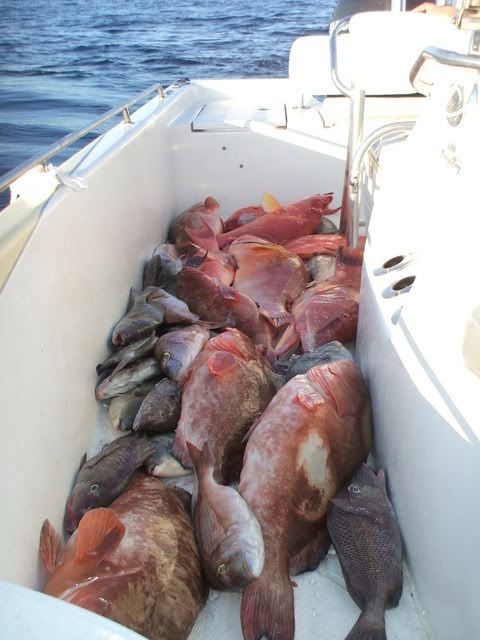 Commercial hog mission September 2009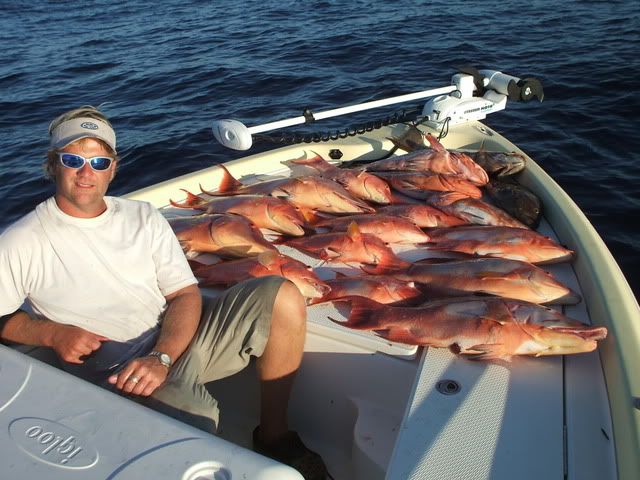 Pete was EXTREMELY CAUTIOUS in taking the bay boat that far offshore. Everything had to be perfect and a lot of luck was needed as well. I think god was smiling on us because we never got caught in bad conditions, never took a beating, and rarely did we even take spray. We were very cautious, fished fast, and headed back in before the chance of usual afternoon storms. Looking back at the pictures, one can see that it was "slick cam" on the bay boat fishing days. Anything other than perfectly calm conditions and the mission was canceled….period. Maybe fishing in the bay boat also enhanced our understanding of weather too.

September 2009
The end of summer came along and fall was upon us. The high pressure dominated summer pattern was a thing of the past and with September came the cold fronts. These passing cold fronts diminished our "window of weather" to literally a couple of hours. We would check out the water temps, conditions, and mapping to determine an area to fish and make the most of it. These trips were like tomahawk cruise missiles with one purpose, one mission, and one target in mind. Once such mission in September, would yield the largest hogfish we had ever caught at this point in our hogfishing career.
We found a ledge at the end of a previous mission that was about 2.5 feet tall with some overhang. This ledge was approximately 50 yards long and right in the middle of it, sand had covered up most of the ledge leaving a little rock outcrop. We felt this little feature had potential to hold something special. On the first drop, Pete missed a good one. The current went slack and we had to reposition the boat, this time, we nailed it and were rewarded with 2 bites. Steve landed HOGZILLA that weighed 19.2 lbs eight hours later and Pete caught a Tranny at 18.3 lbs. Both of these bites happened within 1 minute of each other on the same tiny rock outcrop surrounded by sand. Steve's HOGZILLA is estimated over 20lbs at the time of catch but a digital scale confirmed the weight of 19.2lbs eight hours later on land. Both of these hogs were the largest we had caught at the time. Pete's 18.3lber is still the largest Tranny we have caught to date.
Steve with his 19.2 lb Bull HOGZILLA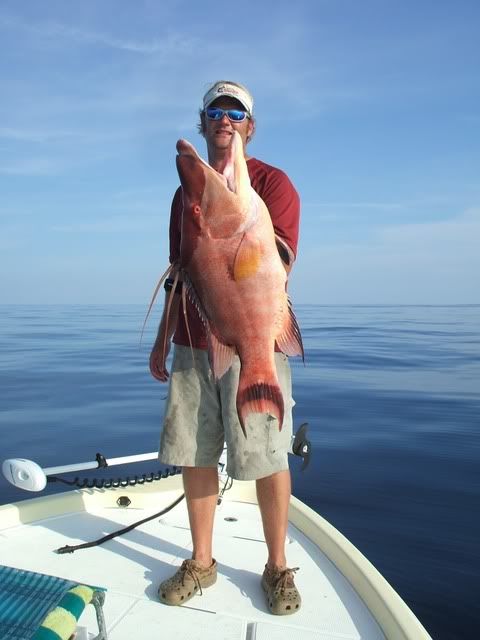 HOGZILLA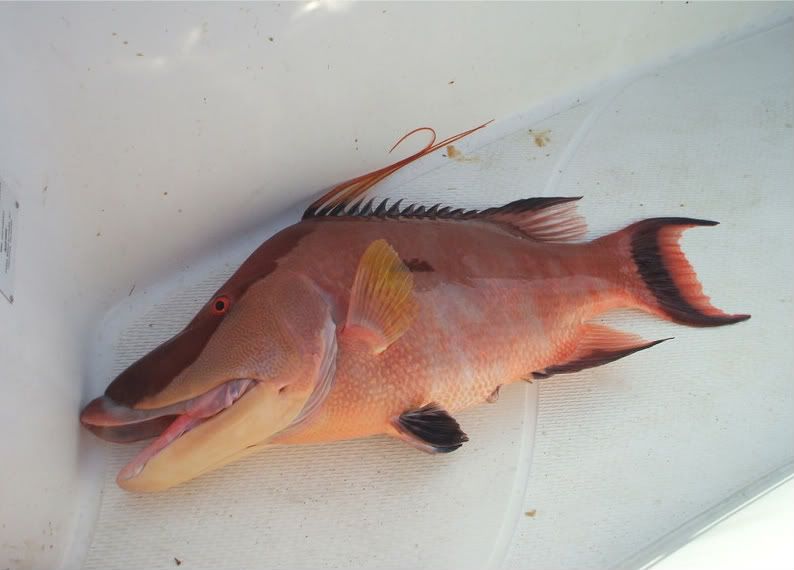 Pete with his 18.3 lb Tranny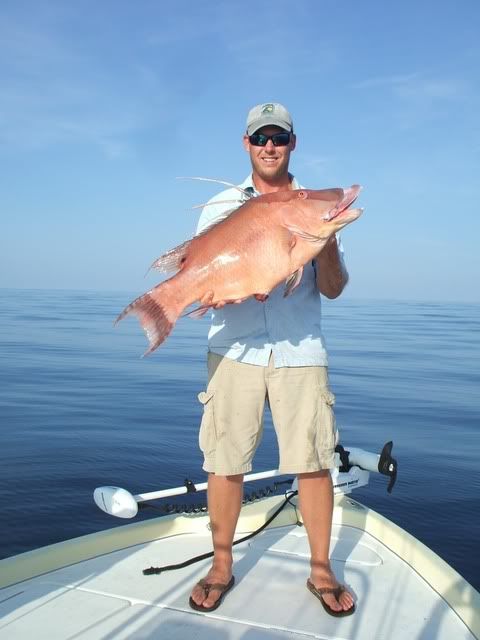 A few weeks later, we would have a chance to return to the same tiny rock outcrop on a cruise missile quick strike mission. The weather window was setup where we had enough time to get out there fish this one spot and head back in ahead of an approaching frontal system. We made it out there and on the first drop we both hooked up with GIANT RECORD CLASS hogs with both of them ripping 25lbs of drag and cutting us off on the rocks. Very reminiscent of the January 3rd mission that we had our ass handed to us. From the January 3rd mission to the pair of big ones caught at the same time earlier in September to now. What is it about the big hogs that run in pairs? Is it coincidence? Never heard the divers speak of big ones running in pairs either. We passed it off as coincidence but then in August of 2010, we would have another encounter with a pair of bruisers resulting in the largest hog we have ever landed that would tempt the world record.

November/December 2009
With passing cold fronts, cooler weather, and shorter days, the fall of 2009 would be good to us when we could get out. Pete's superstition of wearing the same shirt, shorts, and hat was beginning to ease and Steve got his boat back from the mechanic. November would give us two quick strike missions in the bay boat, both being productive and also gathering data on hogfish feeding and movement patterns in cooling water.
November 2009 - Steve with another big Bull just shy of 19lbs at 50miles
Pictured with the Batson IMU76XH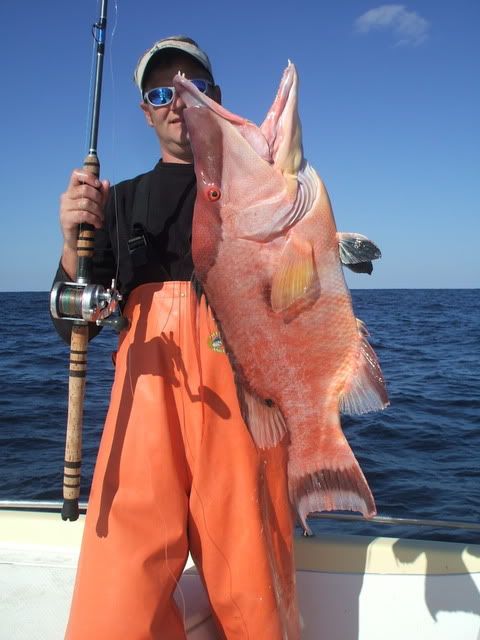 2009 would come to a close and so would another year of chasing the world record. Although we came close with a 19.2 lb hogzilla and MANY MANY over 18lbs, the world record still eluded us.
TO BE CONTINUED:
The next Chronicles of an Obsession: Hunt for the World Record Hogfish will review 2010, Steve NEARLY breaks the record with HOGASAURUS REX, limit out under the old law and the new law, the end of the commercial hogfishing venture, and the plan for 2011.
Near record HOGASAURUS REX