Discussion Starter
·
#1
·
Got a call Monday afternoon from fellow TFer Mlag ( Mark ). TFer 5th tutition ( Marty ) called Mark - trying to round up a last minute crew to fill out 5 spots on the charter boat " Patent Pending ". You never have to twist my arm to go on a charter boat - always learn some new tactics. The fact Marty is the mate and it is a new 46 foot Markley made it a no brainer.
Jim from Marty's baitshop - TFer Dricitt ( Don ) , his buddy Rich and Barry finished out the crew.
No matter what - this was going to be a fun filled day. Just like a kid on Christmas Eve - sleep never really came.
Got to the boat at 5:45 am as the others arrived. Capt. John was running late but he had the boat keys. Not that any of us could have gotten the huge boat out - she is in a tight corner slip. Capt. John arrived right at 6:00 and lines were cast off. We motored out slowly past the jetties and then headed ESE to about 35 feet of water. Everyone on board fishes and the spread was set out quickly.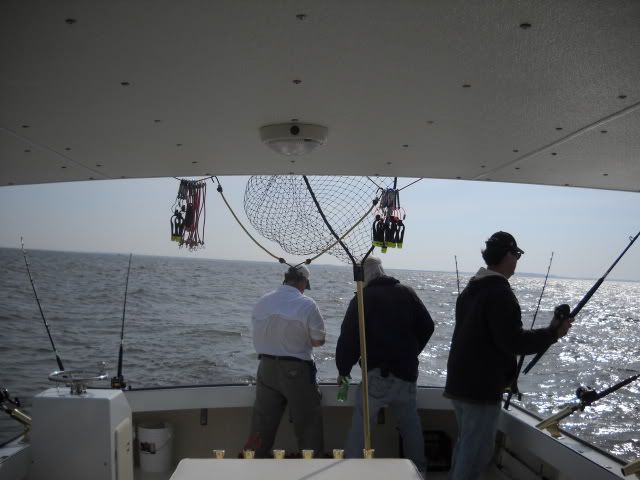 22 rods out before we knew it - we looked around for more. Last rod I set was 100 feet back umbrella with 16 ozs - guys teased me that was mine. Wind was from south but the big boat laughed at the 2 foot chop.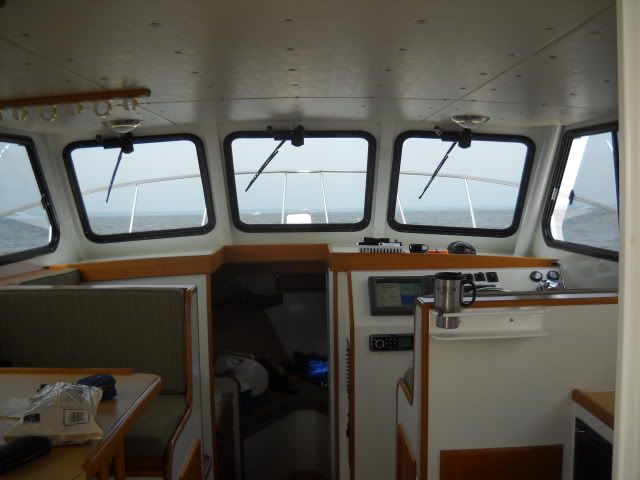 Guess it took about 30 minutes before the first fish hit. Rich reeled in a nice 34 incher to start the day. It hit a tandem off the boards. Jim got the next one - about same size. It hit a chartruese lure as well - off the boards. We circled back and got a hit but no hook up. Don got the next fish - off a boat rod. We worked the channel edges and the deep umbrella got hit. Guys pointed to me - thanks doh. Even with 16 ozs and an umbrella - the fat 38 incher gave a good fight. It was only about 8:30 - we all thought it would be a quick day.
Well , current slowed and so did the fishing. We all relaxed on the seats and Barry told us about fishing in Germany - were he does some work. You have to go to a class to learn the rules and there is little public fishing areas. Time went by and Marty did a good job checking the rigs but all were clean. He switched a few things around but the south breeze seemed to hold the out going current. We had trolled east / west all morning but Capt. John swung and trolled due north. Odd but he is the boss.
Remember him being last to the boat ? Well , he stopped off and got crab cakes for us and fried them on the boat. No lie , lunch fit for a king.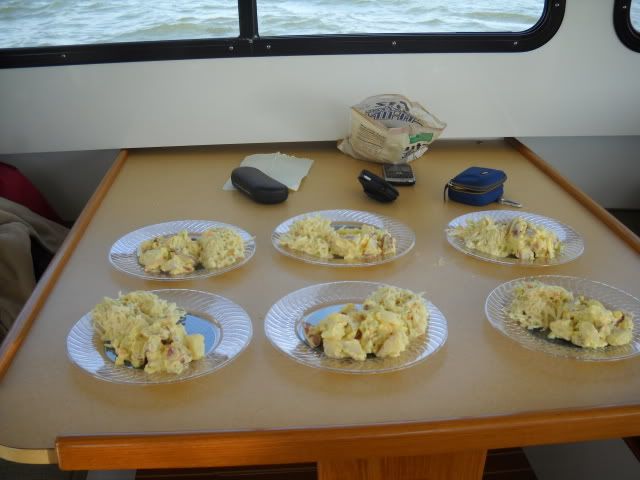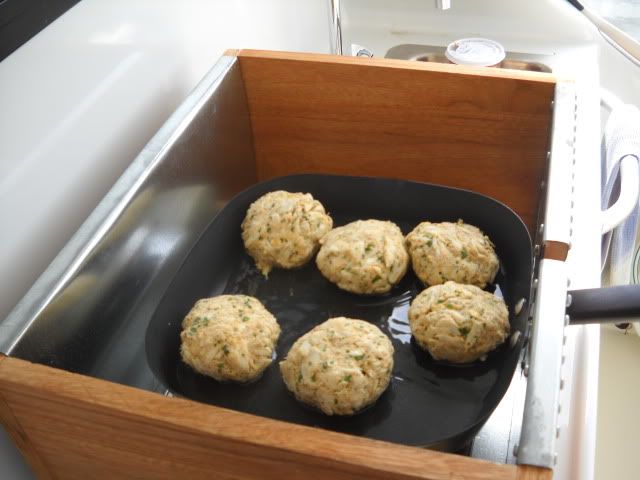 Now anyone who fishes knows how eating a sandwich often draws a strike.
Needless to say - seven guys eating hot crab cakes almost guaranteed a strike. Sure enough - one bite in - FISH ON. Mark set his lunch down an reeled in a nice 36 incher. With five in the box and full bellies - life was pretty good.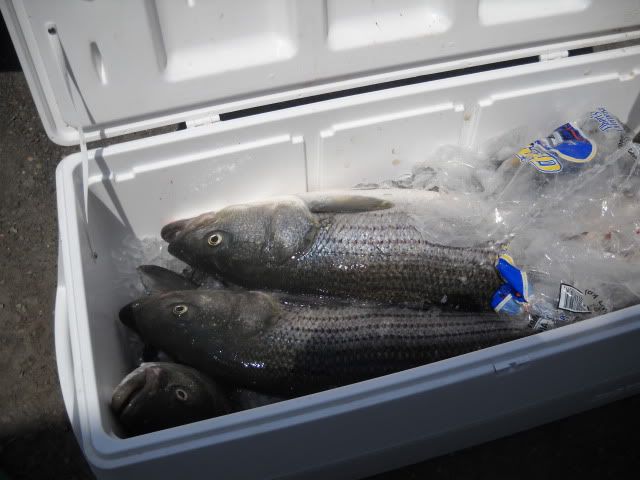 The last fish did not hit until about 12:30 but it was a good one and Barry was rewarded for being last angler. Just a kiss shy of a citation - the fat 39 1/2 incher finished our day. We all pitched in to reel in the rods and headed back to Deale as the breeze picked up.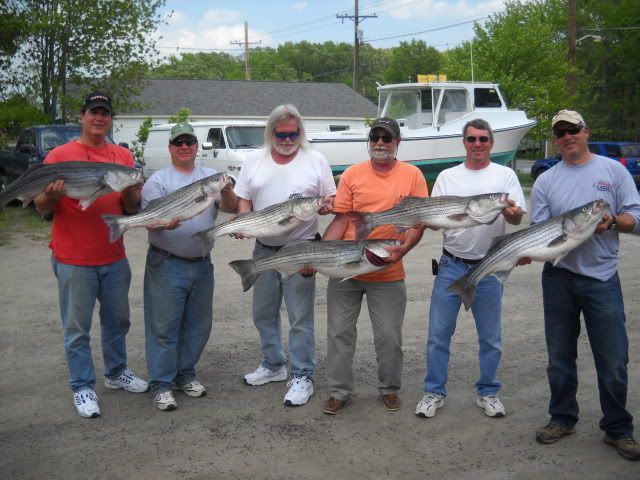 Capt. John runs a catering / restaurant and we stopped there to clean the fish out back. While he checked on business - one of the waitresses brought out a small tray of fried Rockfish nuggets. What a great ending to a fun day.