Discussion Starter
·
#1
·
Fished today with fellow Tfer HomeHealer (Mallory) and her mom -Myrna. We have fished together a half dozen times and it is always a fun/easy day.Left the ramp at 8:00am - gotta love a late start.The DNR auxillary gave me a quick safety check and we found my port (red) light was out.Unscrewed it and twisted it and it came on :thumbup:. No big deal but good that he caught that it was out.Saw three Parkers at the ramp and they were heading home due to it being too rough for them
.
Not often in October you see the bay flat calm.Ran the short distance to Dolly's and saw 4 other boats catching Spot.Water temp. is 68* and we had the very start of outgoing current.Saw alot of boats running south for the boat show this weekend.
We started catching Spot right away and even caught 5 small Croakers.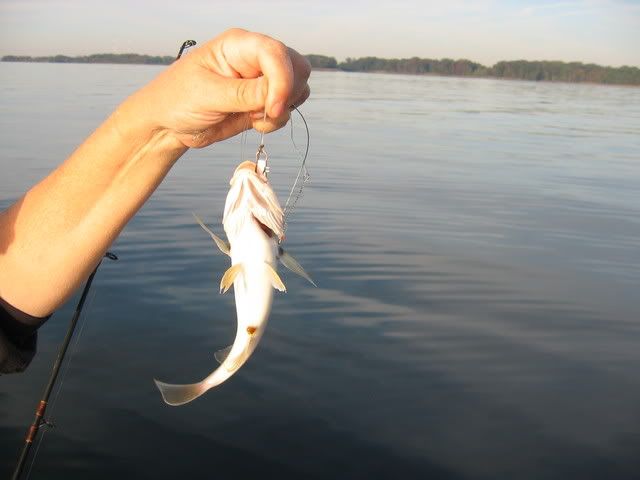 Surprised to see them this late.The Spot were biting well and it only took about 45 minutes to get about 40 of them.Took time for a few donuts or we would have been done quicker
p.We took off our sweatshirts- unreal to be in Tee shirts in mid October.Pulled anchor and ran east to the western Rockpile area.Found Rock waiting for us as the first drop was meet by a nice hook up.Myrna got the fat 21 incher in as Mallory hooked up next with a nice 22 incher.I got the next one that was about 23 inches with only one eye.With three in the box we rebaited and missed a few and had a few Blues hit the Spot.Added one big split shot because the current was picking up and sent fresh Spot over.I was using the head and heard the ladies yelling and then splashing and a THUNK on the deck.Came up from the cabin and they had landed a real fat 24 incher :thumbup:.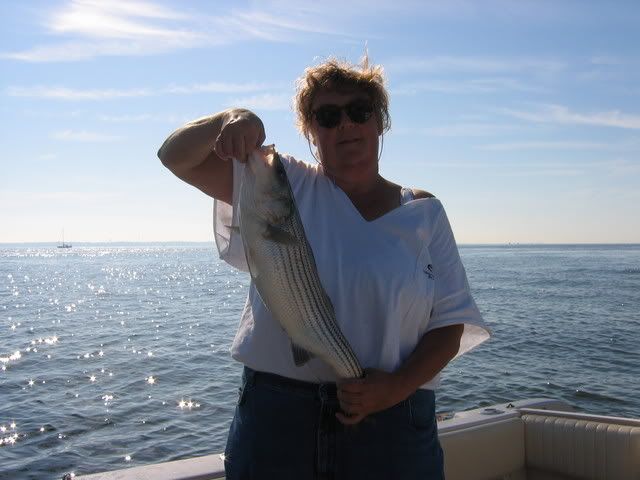 Myrna got the next one that was about 22'' and that made 5 in the cooler.We got hit by more Blues but then Mallory set the hook on a 22 '' Rock and that one finished our limit.Looked at the GPS and it was only 10:05 :yes:. We switched to circle hooks and C/R 4 more Rock about 21-22 inches and then the current was running too strong.Pulled anchor and ran to the eastern rockpile to look for Blues.A few boats were there casting and it was tricky trying to drift in the fast current.I'm not one to crash a party so we ran ENE to the Sewer pipe and dropped anchor above it in 24 feet of water.Put over strips of cut Spot on our Spot rigs-minus the weight and soon 10-14'' Blues were hitting like crazy.We caught them two at a time.It was a blast but what a mess they make.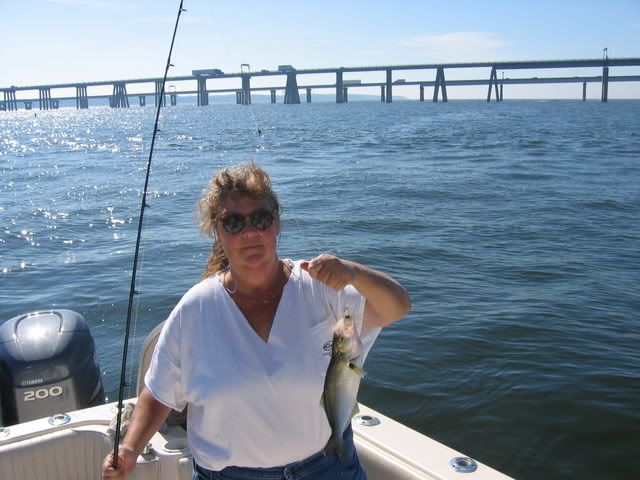 We used the smaller live Spot and hooked them a funny way.Threaded a #4 long shank hook through the mouth and then inserted the hook close to the Spot's tail.
It worked really good-we hooked about 80% of the strikes.Myrna had packed a killer lunch so we took 10 and ate.Gotta love fishing with ladies :thumbup: .Fellow Tfer Spynet00 (Dave) called me and I told him where we were.Him and his dad got in on the fun by anchoring next to us.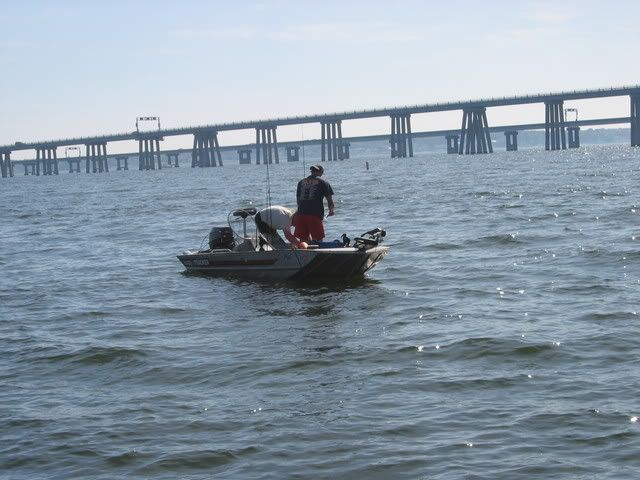 I'm guessing we caught over 50 Blues before the current stopped running.The water was clean and the temp. had gone up to 70*
) - which should keep the Spot around at least another week.Got back to the ramp and split up the catch.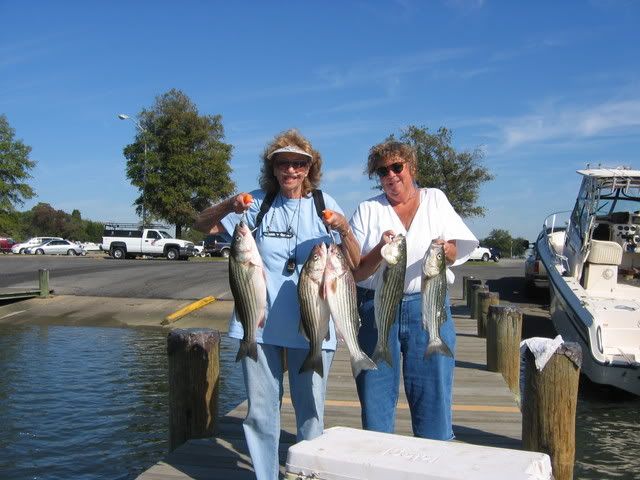 What a great day to be out on the water and tomorrow looks just as nice.