Knew today was going to get windy but hoped to catch our limit before it got too rough.Started out the morning dragging a bucktail but not off the boat
. A deer was hit on Rt. 260 and the police had just gotten there.They tried to warn me of the carcass in the road but it was too late.I had to drive over the deer at about 10 mph - what a steaming mess in the road I left behind
p.Bambi got hit by 5 tires before flopping out from under the trailer.That was enough excitement for the morning and we got to Breezy at 7:15 am.Fellow Tfers Stinkbait (Jim) , Rem`1224 (Ralph) and Mlag (Mark) helped get all the rods in holders and out we went.Ran right to the western edge near #78A and put over the spread.Since it was cloudy-I switched a silver 13/0 CA spoon to gold for the WWB.Had all the rods out at 8:00 and trolled east towards the marker.Water temp. was 54-55*.The WWB got hit at 8:25 but the fish missed the lure-not uncommon with big spoons.5 minutes later a tandem off the board 55 feet got hit and Jim reeled in a fat 36 incher.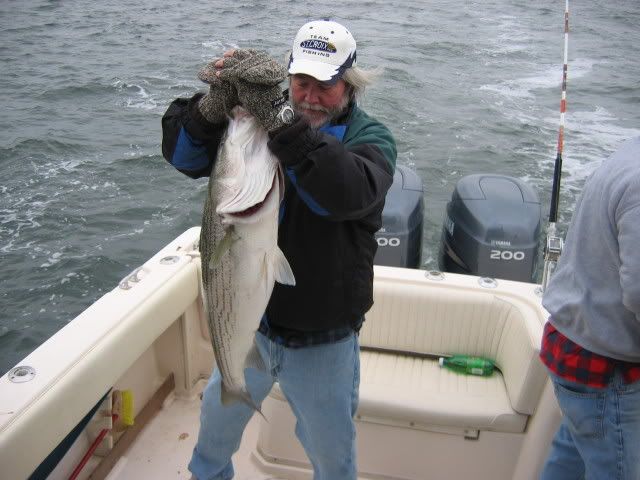 Jim owns Marty's baitshop and the fish hit on a green/chart shad from his store :thumbup:.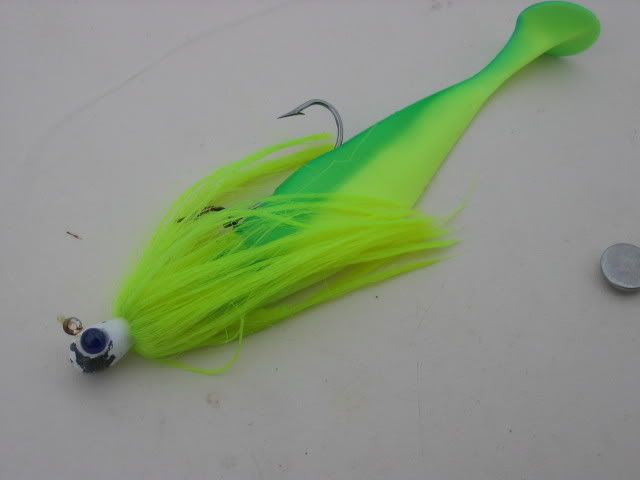 That color has been good as well as purple.Jim carries some nice shads.The wind was picking up but it was not too bad-yet.Around 9:30 a tandem white off the boards got crushed and the fish took alot of line on the first run.Ralph really did a good job fighting the big Rock.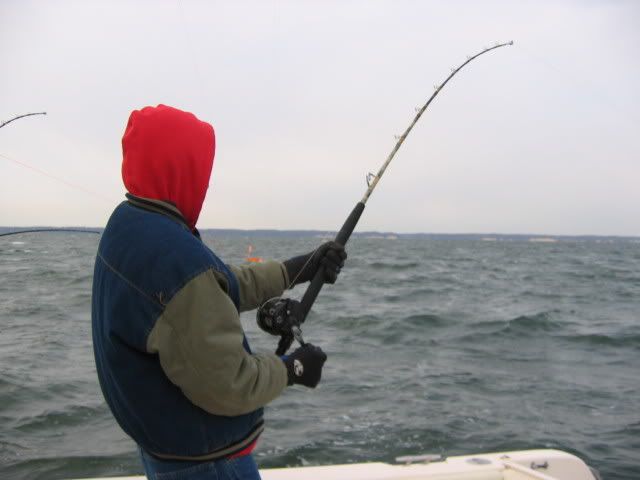 The fat 43 incher was soon in the boat and we saw it was deeply hooked so it went into the box.It hit just past #78 in 70 feet.
About 10:00 the WWB got hit again and this time the hook held.Mark let Jim reel it in - part being nice and part knowing it was 320 feet back
p.Jim got the 37 incher in and we only needed one more.It was starting to whitecap and we knew it was going to get rough once the wind shifted to the north.I was just getting to the third donut when a wireline outfit got hit.The crew told me to reel it in - not wanting to leave the warm enclosure
.I love the feel of a Rock on wireline and this one really fought well for it's size.We got the fat 36 incher in the boat and worked in towards shore-hoping for calmer water.Just crossed the channel edge when the WWB got slammed but the fish missed the hooks on the spoon.Saw alot of bait in 55 feet -east of CCNPP - in fact the most all day.Up to then the meter showed very little.Pulled everything in as the wind really started to gust.Ran back along the western shore and it was calm enough to run 27 knots.Found birds just north of Parkers and stopped to jig on them.we were drifting 2 knots- so it was more like trolling.The Rock were very small so we left and headed back to the ramp.Weatherman was dead on today, as we loaded the boat on the trailer- the wind was gusting past 20 knots.