Discussion Starter
·
#1
·
I'm never confident fishing on a NE wind - seen too many times the predicted 5 to 10 be closer to 15 to 20 and Monday was no exception.
Left Breezy Point ramp at 5:45 am with my buddy Doug , Larry and Jeromy. Got out to the jetty and sure enough found some nice waves waiting to do battle with the Grady. She took all the bay could throw her way as we bounced out at 18 knots to #78A marker. The incoming current was pushing against the NNE wind and made for a wet ride - got to love windshield wipers and curtains.
Once in 55 feet - meter was lighting up so we put over the spread. Had 4 lines out and a tandem 100 feet off the board got hit - rubber band broke - but no fish.
:52:
Hate when that happens - it takes a good hit to bust a #64.
Got everything out as we trolled SSW - with the wind. Prepared the crew for the roller coaster east / west troll and swung across the deep water. Turned into the waves and trolled the east edge - marking good bait. Did not take long for a tandem 6 / 3 to get hit 70 feet off the clip. Doug had his hands full with a nice fish - we could see the rod dipping as the fish shook her head. No choice to slow down - we had to hold at 3 knots or risk the bow swinging with the wind. One of the few complaints I have about my boat - she loves to go side to the waves - if left on her own. Auto pilot held course and soon we saw a nice mid 30 incher. A wave slammed the corner as Jeremy dipped the net. Fish shook the lure as he swung the net and fish into the boat. Whew , too close.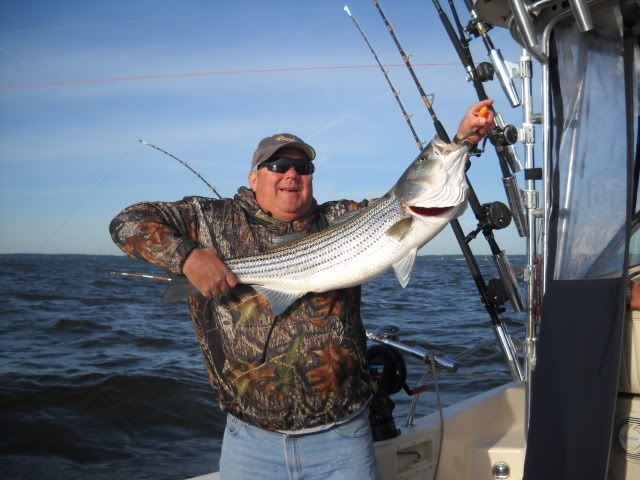 Fish hit a 3 oz spear point white flashy parachute from All Tackle.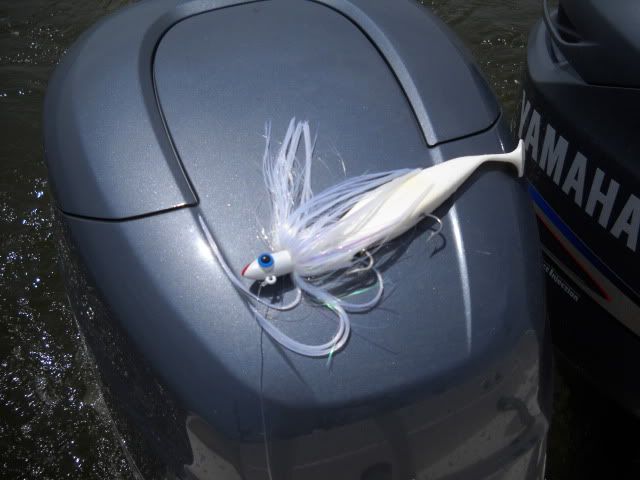 We worked the area as the NE breeze continued to push us south. Went up into 45 feet on west side but liked the deep water marks better. Moved a few lures around but nothing else hit as the current slowed to slack. Not looking good but we saw the whitecaps slowly subside. Found decent bait clumps above the power plant and circled it until out going current started about noon. Got another hit off a 4/ 2 tandem - Larry reeled in a nice 30 incher but Doug held it up.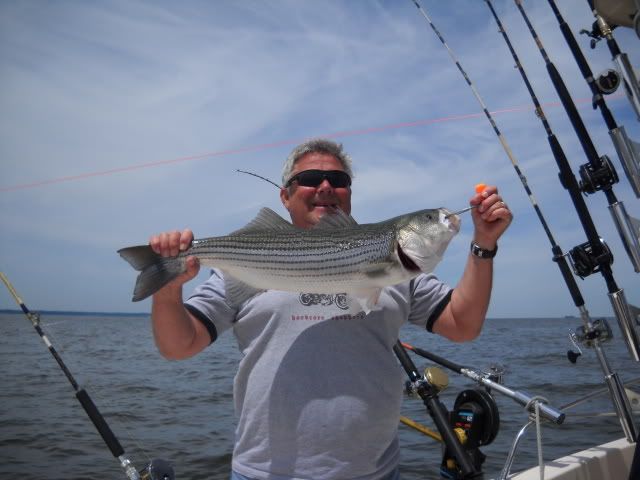 It hit a Spankin' Striper glow in the dark with a glow in the dark shad.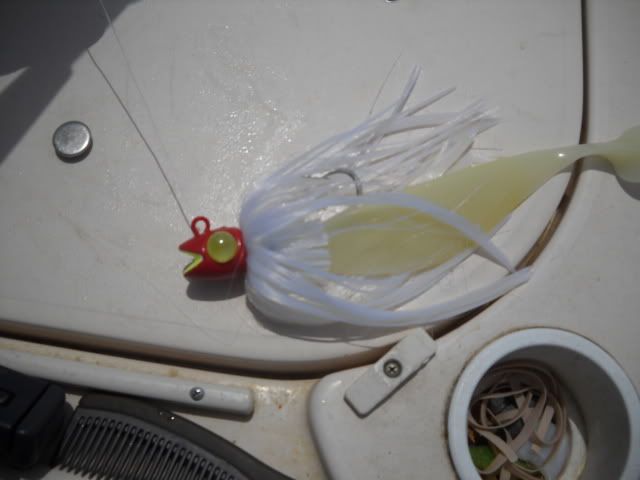 It does not show in photo but in the water - really glows bright. The out going current brought a stained water but fish began to hit. Doug reeled in a fatso 26 incher that hit a blue / white 11/0 Cripple Alewife that is half it's size. Do that next week fish and you are dinner :yes:.
The wind died out and sun was shining - good marks and current , no other boats around - life is good. Worked a large figure 8 pattern and soon got them dialed in. We got two more keepers to finish our limit - all off tandems.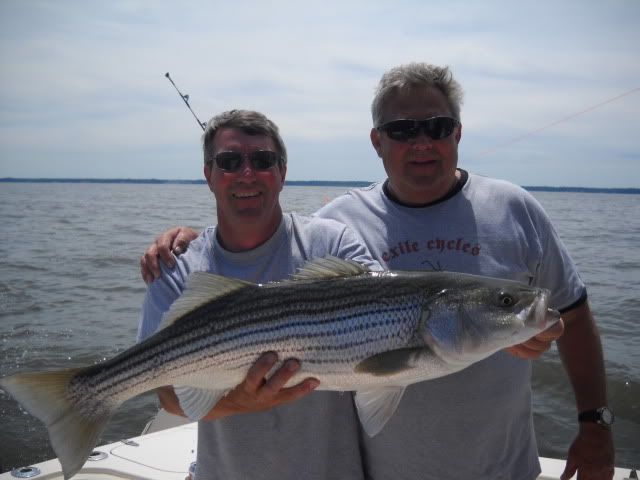 Played C/R as the current was still moving nicely. Managed to get 4 more - all about 30 to 34 inches. All but one hit the tandem rigs. Fish were split between the beat to sh*t lures and some new ones I have out. The lone single that got hit carried a new shad color that Jim at Marty's sells. It is a clear sparkle with a light blue back.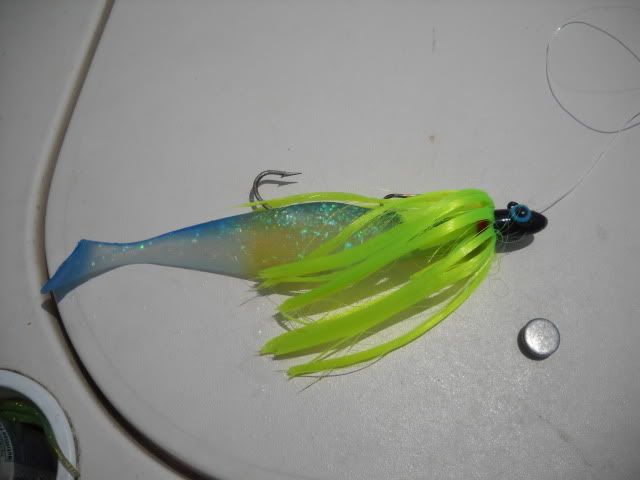 In the sun - it really looks good. Current was slowing so we trolled north along the 60 foot edge and began to pull lines in. Jeremy finished our day by C/R a fat 30 incher that fought like a demon. Ran back at 35 knots over a near flat bay.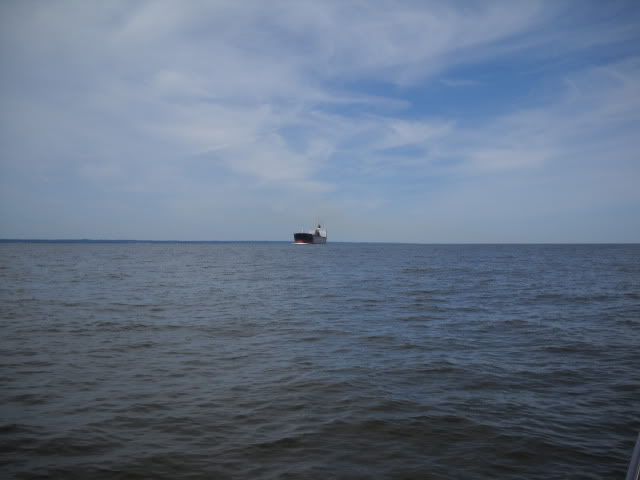 The outgoing water was dirty as we ran near #78. The day started off rough but ended about as nice as it gets.