Discussion Starter
·
#1
·
Left Sandy Point at 6:30am with fellow TFers Rem1224 (Ralph) and Scottaylor (Scott).It was blowing about 15 from the north as we made our way out to the bridge.Used radar since it was still dark out.Pulled into Dollys and brought up a spot "pen" that was filled on Friday.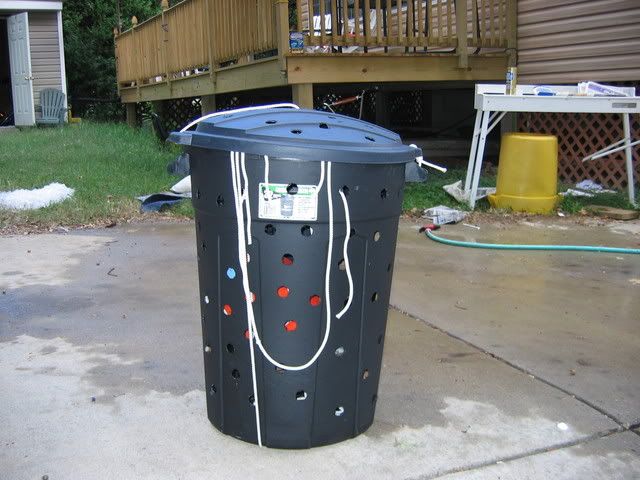 As the guys pulled it from the water-the sound of flapping spot was music to our ears.Put the 50 or so spot in the livewell and then ran south to the Severn river.We were in a tournament for the Severn River Rod and Keg club (SRRKC) and could only fish in the river.Good thing because some gusts hit 20 and the bay was right choppy.We anchored near David Taylor to be protected from the wind.It was chilly - where did the 80* weather go :eek2:.Water was still warm-70*.Got set up and we all put out spot around 7:10.The spot were nervous and I got lucky with the first hit.A fat 21 1/2'' (to the Vee of the tail) was iced down.Ralph got hit next but the spot was mauled - the rock spit the hook.I got the next one - it hit a chocolate donut
.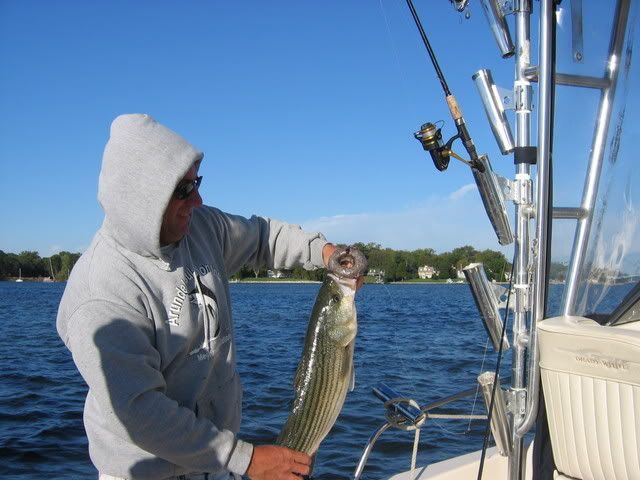 The current was almost slack but the fish were biting.Ralph got another hit and this one was hooked well.The fat 24 1/2'' (ttV)was a real fighter.Scott was trying hard but could not buy a strike
.I got another hit and this one was 25 1/2'' (ttV) and fat as a pig.We had one spot bitten by a Bluefish and then Ralph hooked a beast.It ripped drag off his reel and then got away.Damn-that hurt to lose a fish like that.Scott got a hard earned hit and set the hook into a nice 20" (ttV) so now we all had one to check in :thumbup:.We got one more at about 21 inches and then the bite stopped at 9:30.We pulled anchor and went to catch Perch since they were also a tournament fish.We caught plenty near the bridge but all were small.Tried near the old RR bridge and caught spot and small croakers (4 of them).Weigh in was at 1:00 so we all rafted up and held our breath that our fish would win.The 25 1/2 incher tok 1st place :clapping2:.These river fish were fat.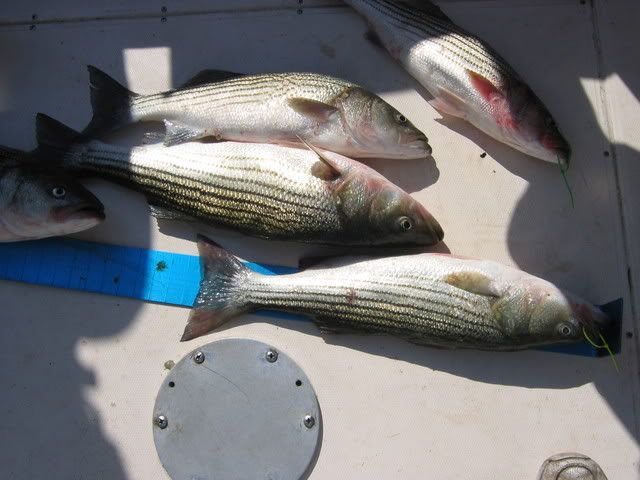 We shared a few beers and told stories and then battened down the hatches for the ride back to Sandy Point.Ran out the river at 30 knots but once around GreenBury point-we saw whitecaps.Trimmed the bow down and slowed to 24 knots.The ride was smooth and we took no spray on the windshield :thumbup: at all.We were all surprised at the quality of the Rock in the river and agreed it was a fun day despite the wind.