Discussion Starter
·
#1
·
Saturday crew: Mike, Lanie, Steve (Dixie), David (Forth Island), and Dr. Ike.
Sunday crew: Mike, Lanie, Steve (Dixie), Mark, and Alex.
Saturday: Departed Hampton at 7:20 am with Lanie and Dr. Ike and picked up the rest of our crew at Rudee inlet at 8:30 am and ran south. Calm seas making good time but got to the party late. Hit the first school of fish off the duck research pier and quickly put 5 in the box. Bite turned off and could not acquire the school so we ran to the second school just north of the Wright Memorial. Too much pressure scattered the school but picked away and caught 4 more. At 2:30 pm we decide to run north towards home to try to find another pod of fish but never saw them or birds so we run home. White seemed to be the color and many fish came on the umbrella in the shotgun position. With the number of boats and pressure on these fish, we learned get there early and get your fish early. It did not help to see 3 NC trawlers netting striper running smack in the middle of the recreational angler boats. The trawlers were forming conga lines running back and forth scooping up every fish they could manage.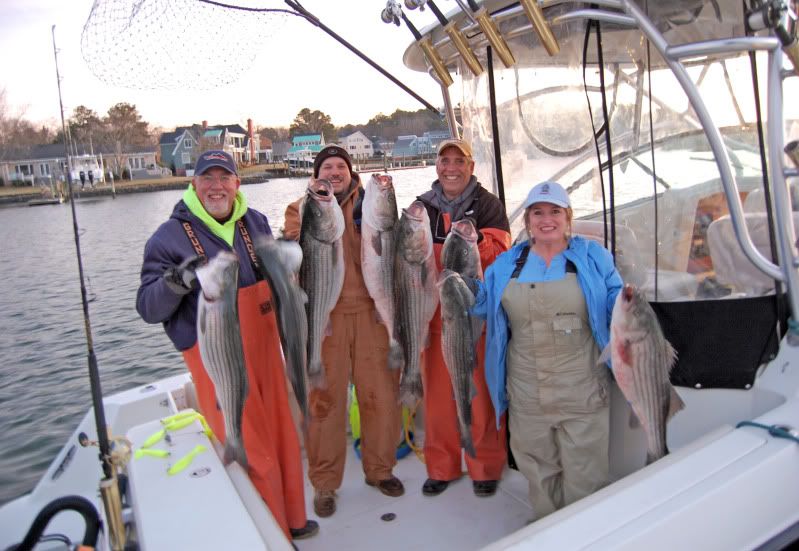 Lanie and I spent the night on the boat at Rudee Inlet Station Marina and had dinner at Rudee's Restaurant with Ike and his wife Kathy. I left a cooler at my marina so Ike was kind enough to bring our fillets back to Hampton when he picked up his car. This kept us legal so we didn't have striper fillets on the boat for our Sunday trip. Got the boat all toasty warm and popped in a DVD movie, a really stupid one called Lottery Ticket. I think I made it 15 minutes and I was asleep by 8:30 pm.
Sunday: Up at 4:30 am and did some re rigging and got the spread ready. Left Rudee inlet at 6:30 am to flat seas. Ran to just north of the Wright Memorial and it was game on getting our limit by 10 am. Did some C&R for a while then checked the forecast. Wind was supposed to shift N then NE so we decided to run home at 11 am before thing blew up. Talked to Robert on Reel Escape and Bret on The Attitude and seem there were plenty of fish to be had north of us too. Made it back to Rudee Inlet early to drop off our crew. Lanie and planned to stay over Sunday night too but with the crappy Monday forecast we decide to run home to Hampton Sunday afternoon before seas build too much.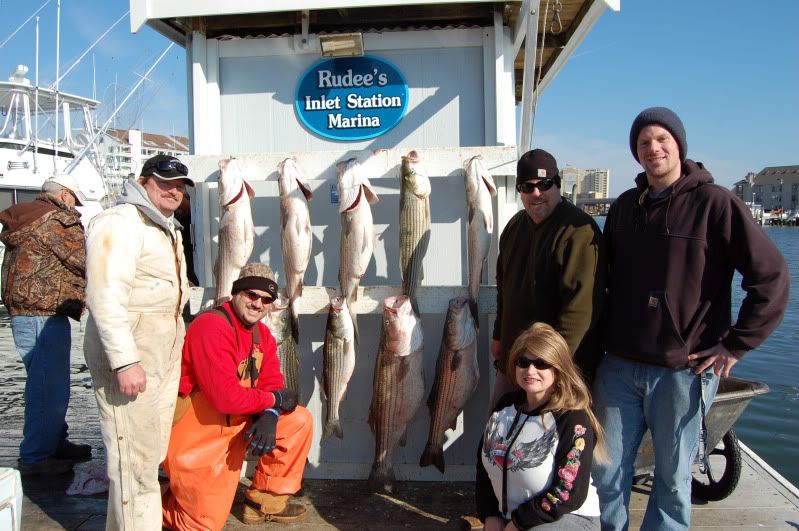 Get back to Saltponds at 2:30 pm to see our inlet blocked with the dredge crew but glad to see them there as our inlet is rapidly closing up again. I guess the dredge crew didn't expect too many boats to be out but they got their stuff moved so we could pass to get in.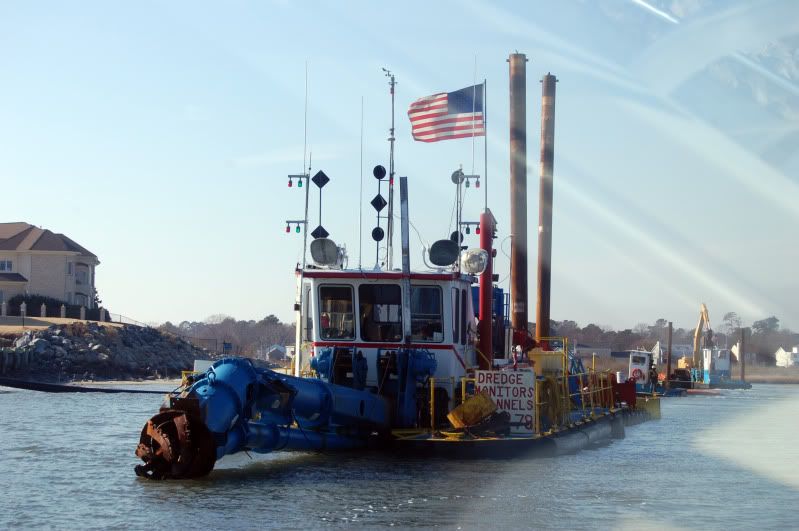 Great weekend of fishing. Looks like everybody who made the run south (or North from OI) were rewarded with full fish boxes. I will not make that run again in my boat this season unless the fish move closer to our waters. But I knew if we didn't go I would have kicked myself for not. Interesting that Saturday's fish stomachs were empty but Sunday they were packed full of bunker.
Here are some other pics in no particular order. I'll email out the rest of the pics to the crew.